Business Class flights to Orlando
The best cheap business class flights to Orlando from London we found this month were £1,567 for a return ticket. To get today's best price simply complete the form on this page and we'll get back to you quicker than you can say "what was the first name of that English actor who was in Lord of the Rings and Pirates of the Caribbean".
Flight time from London: 9 hours 10 minutes
Airlines flying business class to Orlando direct from London: Virgin Atlantic and British Airways fly Business Class from London Gatwick to Orlando International. Norwegian offers a Premium cabin with extra legroom from Gatwick.
Airports in Orlando: Orlando International
Distance to Orlando: 4,339 miles
Virgin Atlantic have business class flights to Orlando International direct from London Gatwick's North Terminal. British Airways and Norwegian Long Haul fly direct from Gatwick's South Terminal to Orlando International.
If you fly Virgin Atlantic Upper Class you'll be able to relax in the new Clubhouse at Gatwick's North Terminal, which features floor-to-ceiling windows, a woodland themed play area for kids and a Clubhouse spa where you can indulge in a treatment before your flight. There's an a la carte menu and a gorgeous marble bar where you can sip on a cocktail crafted by East London cocktail bar, White Lyan. As a Business Class customer you'll also benefit from a chauffeur-drive service to whisk you and up to 2 travel companions to and from the airport. Virgin currently flies a Boeing 747 to Orlando with 14 lie-flat Business Class seats in a herringbone 1-2-1 layout.
British Airways has invested £400m into its Club World product, including a swanky new lounge at London Gatwick's South Terminal with seating for up to 469 guests, so there's plenty of room to relax and unwind before your journey. The lounge is 40% larger than the previous Club World lounge, and is decorated with artwork from UK artists including Turner-prize winning painter Chris Ofili. Facilities include hot and cold buffets, a full service bar and an abundance of plug sockets for charging plug sockets. BA flies a Boeing 777 on the route to Orlando, which is equipped with Club World seats that convert into fully flat beds.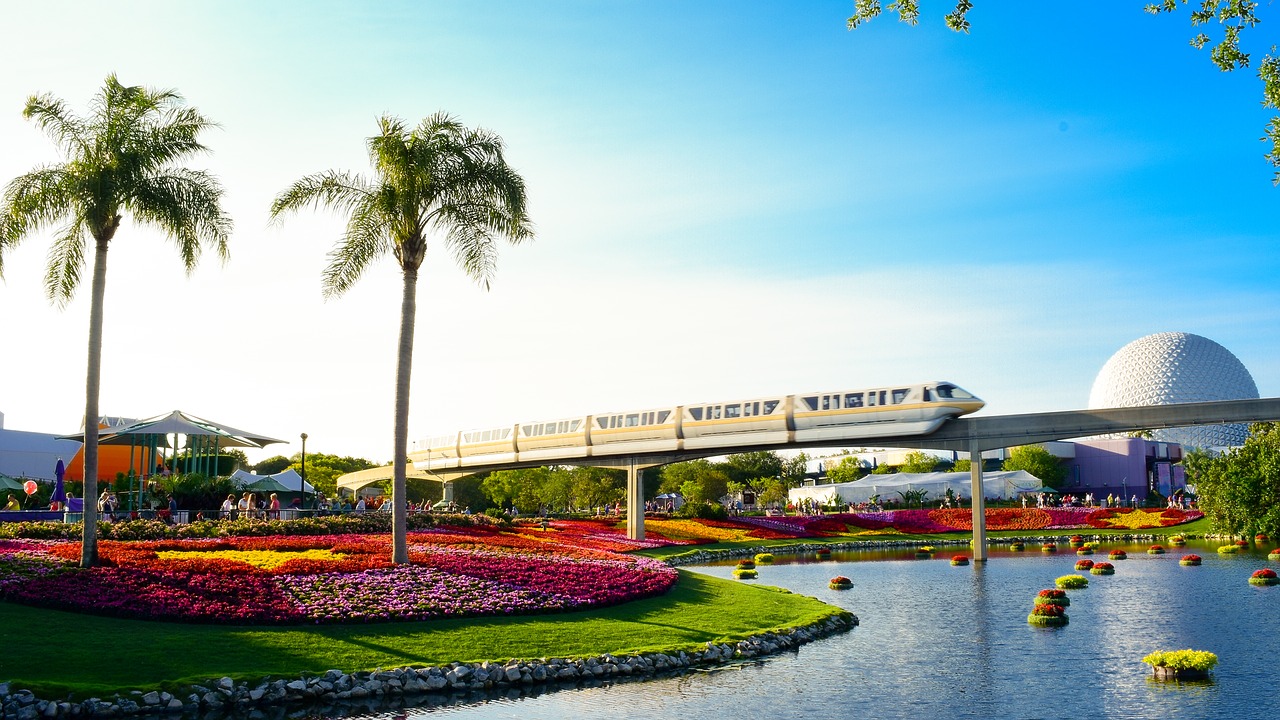 Getting to and from the airport
The best way to get around Orlando is by driving as the US has a car culture and things are very spread out. You can hire a rental car that can be picked up and dropped off at the airport – just book online or visit one of the car rental desks at arrivals. Alternatively many of the hotels have complimentary shuttle buses from the airport.
Rideshare apps like Uber and Lyft are allowed to pick up passengers from the arrivals curb, or you can hail a taxi from the taxi stand. Local buses cost about $2 and will take you to downtown Orlando, International Drive, Florida Mall and SeaWorld.
If you're flying into Orlando because you're heading on a cruise, some cruise lines will offer transfers to Port Canaveral, so be sure to check with them.
Hotels in Orlando
Orlando has no shortage of hotels, from luxury five-star golfing resorts to three-star hotels and self catering accommodation for large groups. Whatever your travel style, when business class flights to Orlando touch down, passengers go on to stay in one of the 400 hotels, so you'll be sure to find something to fit your taste. If you plan on spending your entire holiday at theme parks then we'd recommend staying at Disney World or Universal. Here you'll find everything from the Four Seasons and the Hilton to themed hotels like Disney's Polynesian Village Resort and Disney's Animal Kingdom Lodge. The hotels here usually offer free shuttles as well as early entry to the theme parks. Alternatively, you can find many more affordable accommodation options on International Drive, which is close to the theme park and also boasts plenty of nightlife, shopping and entertainment. Business travellers will like the Hyatt Regency Orlando, an upscale high-rise hotel with multiple restaurants, resort-style pools and a spa.
Things to do in Orlando
Most visitors come to Orlando for the theme parks and sunny, warm weather. Orlando is home to Disney World, Universal Studios, Epcot and a whole host of other family attractions.
Walt Disney World – The land where every child's dreams come true, Walt Disney World is filled with theme parks, including Epcot, the Magic Kingdom, Disney's Hollywood Studios, Disney's Animal Kingdom, Disney's Typhoon Lagoon and Disney's Blizzard Beach. You could spend your entire holiday just exploring Walt Disney World.
Universal Orlando – If you have older children and you love rides, then Universal Orlando is the place to go. Make sure you visit The Wizarding World of Harry Potter where you can quench your thirst with a cup of butter beer. If you like your thrills then you'll probably want to line up for the Hollywood Rip Ride Rockit, which send you up a 17-story vertical climb, before plummeting down at 65 mph.
Kennedy Space Center – Besides theme parks you can also visit the Kennedy Space Center, where NASA launches rockets up into space. Here you can see the space shuttle Atlantis up close, as well as learning about NASA's missions, including the race to the moon. If you time your visit right you may even be able to buy tickets to the viewing area to see a real live rocket take off!
Airboat tours – The southern part of Florida is home to beautiful wetlands, and the best way to explore is by taking an airboat, which can skim across the water while you look for wildlife or look out at the swamps, marshes and rivers. This is the ideal chance to spot alligators, eagles and other forms of wildlife that inhabit the Everglades region.
Practical Information
Orlando is generally hot and humid with little variation, although humidity is at its highest between June and October, which can lead to periods of heavy rainfall. Whatever time of year you visit, you can certainly expect it to be much warmer than London, so remember to pack light clothes and sunglasses.
The best cheap business class flights to Orlando can only be found offline with a SkyClub agent. So please complete the online form or call us on +442072551234 and we will find you the best business class deal in town. Thanks for taking the time to read this article, we hope it has helped you.