The best cheap business class flights to Dubai from London we found for a client in the past month were for an amazing £1,590 return. To get today's best price simply complete the form on this page and we'll get back to you quicker than you can say "Burj Khalifa".
Flight time from London: 6 hours 55 minutes
Airlines flying business class direct to Dubai: Emirates, Qantas, British Airways, Virgin Atlantic, Royal Brunei
Airports in Dubai: Dubai International Airport (DXB), Al Maktoum International (DWC)
Distance: 3,401 miles
Airlines with Business Class Flights to Dubai from London
Five airlines currently offer flights from London to Dubai-International Airport. British Airways, Qantas, Royal Brunei Airlines and Virgin Atlantic all fly from Heathrow. Emirates operates from both Gatwick and Heathrow and is the most popular airline for business class travellers on this route.
Emirates utilises the double decker A380 on this route, which features an onboard bar for First and Business Class customers. In July 2017 the airline revamped its onboard lounges with a sleeker design, ivory palette, and bronze and wood grain accents. Each Business Class seat on the A380 converts into a fully flat bed and is equipped with a personal mini bar so you can help yourself to drinks during the flight. Another fantastic perk of flying Emirates business class is the complimentary chauffeur drive service, which enables you to be whisked to and from the airport in a luxury BMW.
If you live in the north of England, Emirates also offers a daily direct A380 service from Manchester with First and Business Class cabin.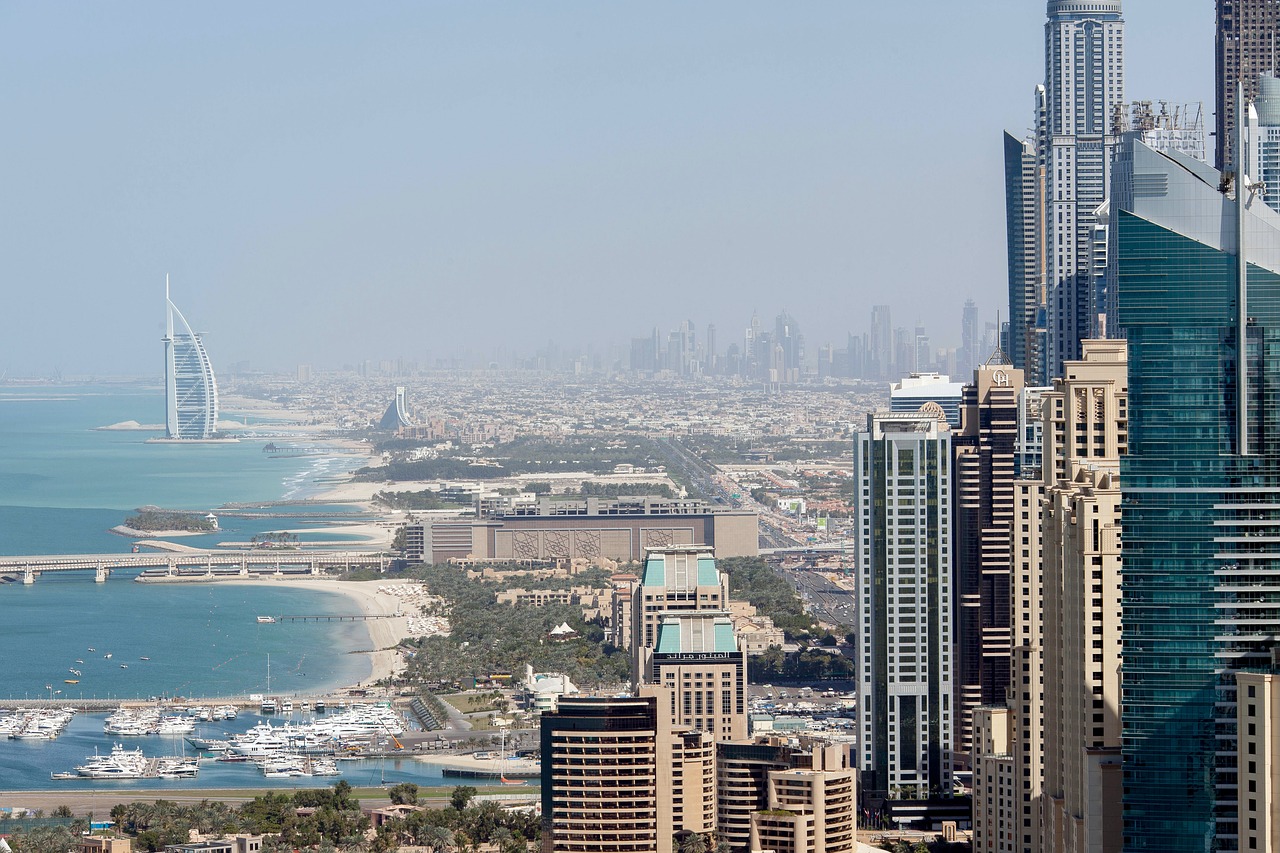 Getting to and from the airport
Your hotel may have a pick-up service from the airport, so be sure to ask when booking. Taxis are the best way to get around Dubai and are metered with reasonably-priced fares. Just hail one from the taxi rank outside arrivals – they're available 24/7. If you prefer public transport you can also take the Dubai Metro which is air conditioned and runs every 10 minutes from Terminals 1 and 3. Taxis and connecting buses are available at most metro stations.
Hotels in Dubai
Dubai is the land of hotels, including some that are so luxurious they've been awarded seven stars. The Burj al Arab is arguably the most luxurious hotel in the world, featuring decadent suites, nine world-class restaurants, three swimming pools, a helipad and an optional chauffeur driven Rolls Royce. However, if that's out of your budget, there are many hotels in Dubai offering comfortable rooms and excellent service.
Why not compliment your business class flights to Dubai with a stay in Rixos the Palm Dubai. It is a very affordable 5-star hotel located on The Palm and features its very own beach, a beautiful swimming pool and chic beach club. Rooms are spacious and you have the option of ultra-all-inclusive, bed and breakfast or half board packages.
Travelling to Dubai on a business trip? The Conrad is located in the heart of Downtown Dubai but provides a lush terrace garden, pool and lounge area for the ultimate city escape. Alternatively the world's tallest hotel – JW Marriott Marquis – is another great business hotel with a state-of-the-art meeting space.
Things to do in Dubai
Built on the back of the oil industry, Dubai is a destination that has become iconic for its skyscrapers and high-rise buildings, in particular the world's tallest building, the Burj Khalifa. The tourist industry is the fastest growing sector within Dubai's economy, and you'll find most recreational activities centre around the city's hotels. Whether you want to go skiing on an indoor ski slope or dine in an underwater restaurant, Dubai has something for everyone, but it's also important not to forget Old Dubai if you want to get a taste of the Emirati culture.
Burj Khalifa – Take the elevator up to the observation deck of the world's tallest building for 360-degree views of Dubai from above. From the Burj Khalifa you'll be able to see an aerial view of The Palm and The World Islands, as well as catching a glimpse of the skyscrapers that dominate the skyline.
Jeep Safari – If you want to get away from it all, take a jeep safari tour. You'll feel like you're on a rollercoaster ride as you drive up and down sand dunes through the desert. After you've watched the sunset over the horizon you'll head to a camp site for belly dancing and a feast under the stars.
Jumeirah Beach Walk – The JBR Walk is a promenade on the waterfront where you can spend the afternoon shopping in stylish boutiques or dine in one of the open-air restaurants. This is a great place to visit in the evening for dinner and an evening stroll.
Dubai Mall – Dubai Mall is the largest shopping mall in the world and features over 1,200 retail outlets, 120 dining options, a 22-screen cinema and an aquarium. If you're a lover of shopping, this is the place to shop-till-you-drop.
Business Class Flights to Philadelphia, Practical Information
If you're a British national then you'll get a free 30 day visa on arrival when you arrive in Dubai. You'll need a passport that's valid for six months after your arrival date, so make sure to check your passport's expiry date.
The weather in Dubai can get extremely hot, so make sure to drink plenty of water and wear a high SPF. Winter (November to March) is certainly the best time to visit, when temperatures are more bearable and humidity is lower.
Dubai is a Muslim country, so be respectful of the local culture, particularly during Ramadan. Ramadan is a time of fasting, so even water should not be consumed in public during this time. While alcohol is available in Dubai, it is only available in licensed hotels and clubs – it cannot be consumed in public. For a full list of local laws and customs, refer to the UK government's travel advice for Dubai.
We will find you special, discounted fares that are not available online. So, by the time you take your business class flights to Dubai, you'll feel happy knowing that you've paid less than the person seated nearest to you! Have a great trip and – if you want to save money – please book with SkyClub.
Further Reading: