It's tough being a Business Class traveller. Spacious suites, endless free flowing champagne, menus from world class chefs…it's a hard life at the front end of the plane.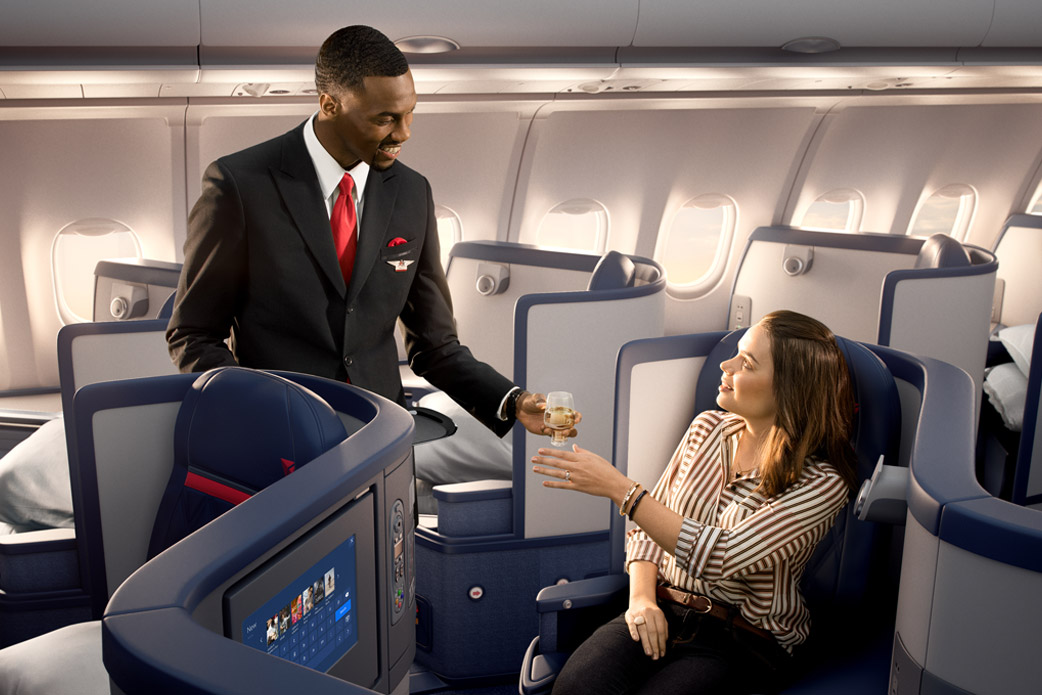 A report by news.com.au reported some of the funniest things overheard in business class, ranging from "If only they had Dom Perignon champagne, to "the mattress on my fully-reclining chair just isn't thick enough."
So here at SkyClub we thought we'd have a bit of fun by putting together some of the struggles only people who fly business class would understand:
7th course from the menu? Oh go on then…
The beauty of business class flights is the inflight dining. Forget tiny economy meals served in plastic trays – in business class you're served multi-course menus that can go on for hours. Amuse bouche? Yes please. Whole lamb shank? Oh go on then. Trio of three desserts? Alright if you insist. Mid-flight snack? Mmm…OK if I really must.
Before you know it, you've spent 90% of the flight eating and you're walking off the plane several kilos heavier than when you boarded. A buggy to the terminal would come in really handy…
There are too many drinks on my table, I can't get to the toilet…
"My husband and I flew first class with Singapore Airlines for our honeymoon and he seemed determined to try every drink on the menu. At one stage he was triple parked with champagne, a Singapore Sling and, rather incongruously, a hot chocolate with marshmallow. He'd got drink envy when he saw my order!" – Jayne Morris, Girl Tweets World
With all those pre-flight glasses of champagne, cocktails and single malt whiskeys, it's tempting to want to order one of everything on the menu. The problem? Not being able to get up to go to the toilet because your table is too full. First world problems…
Sleep vs watching ALL of the movies. Decisions decisions.
You board the plane and see that nice, comfy lie-flat bed waiting for you. It even has a fluffy duvet, pillows and a set of pyjamas to change into. But wait, there's also a giant 16-inch entertainment screen with Bose noise cancelling headsets! Do you pop your pyjamas and eye shades on, or do you stay up and watch as many movies and box sets as possible? You've paid a lot of money for the flight after all, it would seem sill to waste it. If you spent £1500 on an 8 hour business class flight to New York, for every one hour you spend sleeping, you've slept away £187.50 of the flight!
Usually first-time business class passengers choose to stay up for the duration of the flight, while seasoned business travellers know to get some valuable shut eye on the flight.
The inflight hangover
"Once on a long haul flight I'd imbibed well in the lounge then enjoyed two of every drink that came our way (my partner doesn't drink alcohol). It would be have been rude to waste it wouldn't it? After a splendid umpteen course meal (with loads more drink of course) I promptly fell asleep. Upon waking the seat next to me was empty. I had no recollection of where I was, who I was or where I was going. I asked a flight attendant, she replied: "you're on a plane sir, and we're flying to Hangover I suggest you get a little more sleep before we land" – Neil Henessy-Vass,  neilhennessyvass.com
Ever woken up at your destination feeling slightly hungover? It's easy to get carried away with all those free glasses of bubbly in the lounge and on the plane, so it's not uncommon for business class passengers to wake up feeling a little bit worse for wear on arrival. Even though your blood alcohol level is the same on the plane as it would be on the ground, the lower pressure makes you feel like you're slightly more tipsy than usual. The air in an aircraft is very dry and, coupled with the diuretic effect of drinking alcohol; you may become dehydrated much faster than you would on the ground.
Figuring out how to work the seat…
"The first time I flew business class I tried to make my bed and I would liken the experience to my one year old nephew trying to find Peppa Pig on Netflix using an iPad. I now just save the embarrassment and call for help!" – Amar Hussain, Gap Year Escape
Business Class seats are brilliant. Forget the cramped conditions of cattle class – in the front end of the plane you're treated to seats that can lie flat at the touch of a button. But with all those buttons, it's sometimes difficult to figure out which button does what. This usually results in an interesting few minutes sliding backwards and forwards trying to figure out how to get yourself comfortable. And if you've ever lost a bottle of water or valuables down the side of the seat, you'll know that the bed doesn't recline flat, meaning you have to call a flight attendant for assistance.
What are your struggles when flying business class? We'd love you to leave a comment below!