Business Class has come a long way in the past decades. From sofa-style seats to fully-flat reclining beds, carriers are constantly competing with each other to take their Business Class offerings to the next level. As a result, many factors that used to be perks at the front end of the plane have now become standard.
However, in the battle to stay ahead, each airline carries a trick or two up their sleeves to remain at the top of their game. Here are some benefits you may not know you're entitled to when travelling in Business Class:
Pyjamas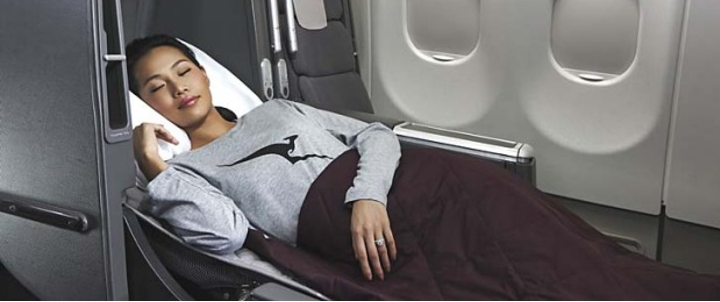 Yes, you read that right. Who's ever heard of flying on a plane with pyjamas on? Well, in Business Class, this is definitely a treat. There's nothing worse than arriving at your destination with your suit pants wrinkled from hours of sitting and sleeping, so being able to change into something comfortable and in style is a real advantage. In addition, you won't have to pack extra clothes as you can just leave the airline ones behind (or take them with you if you grow attached to them).
Airlines like Qantas, Etihad and Qatar all offer pyjamas on long-haul flights (6 hours or more). Qantas' current grey cotton set has been created by well-known Australian designer Peter Morrissey and have been worn by celebrities such as Sacha Baron Cohen, Black Eyed Peas rapper will.i.am and actor Mia Wasikowska.
On-board Showers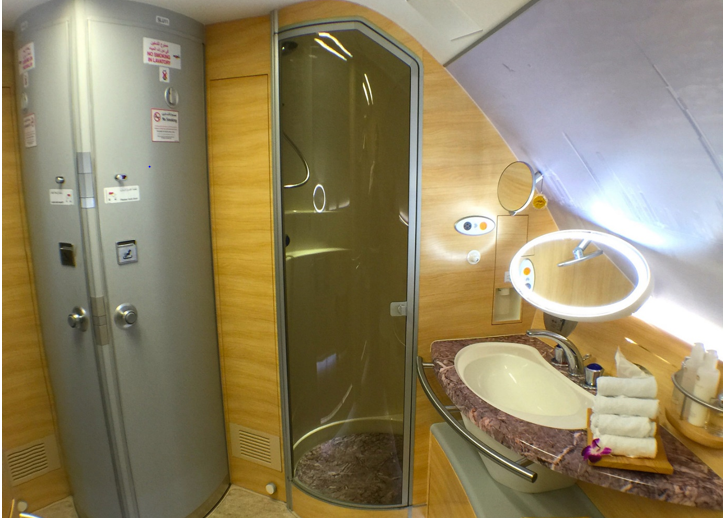 So now, it's not enough to just shower before you leave your home, or even shower in the lounge pre-flight. A few select airlines offer on-board showers for those who want to feel refreshed after a long flight! Imagine arriving at your destination freshly scrubbed with washed hair, literally ready to hit the ground running.
Emirates is the first commercial airline in the world to have showers on-board, and Etihad followed shortly after. The Airbus A380 superjumbo is the only type of commercial jet that can accommodate on-board showers, and Emirates have quite a few. In fact, there's not one but two spacious bathrooms with under-floor heating, earning them the name 'shower spas'. This has got to be the ultimate inflight indulgence, right?
Complimentary Massages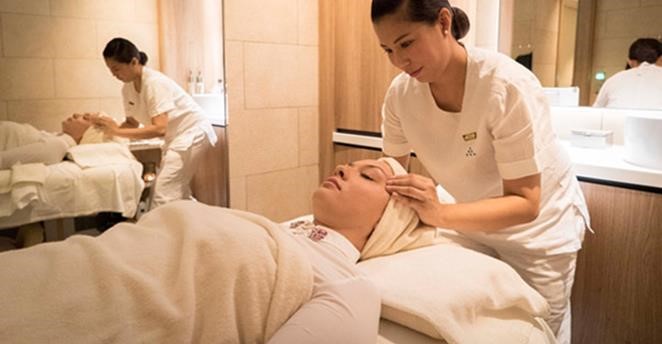 Who doesn't like a massage? Even better, it's free! Your business class ticket can also be a pass for a complimentary massage at a premium lounge. A number of airlines are incorporating spas and well-being havens within their Business Class lounges, helping travellers to feel fresh and at ease before their flight.
At many of Etihad's Business Class lounges, customers receive a complimentary 15-minute massage in their Six Senses Spa. Meanwhile, Virgin Atlantic's Clubhouse in New York offer a variety of spa treatments and pedicures together with massages – they even offer haircuts on-the-house while you sip on a glass of champagne and watch the planes take off.
Flying Chefs
Gone are the days when airline crew simply reheat your inflight food and arrange it as best they can on your plate to try to present you with a meal that justifies the price tag on your Business Class seat. Airlines have upped the ante by having flying chefs, bringing the dining-in-a-restaurant experience to 35,000 feet.
Austrian Airlines' inflight chefs are from gourmet catering company Do&Co, who apply finishing touches before food is served to guests. Turkish Airlines goes a step further by serving up a rich variety of Turkish and International dishes which are prepared on board and served with fresh ingredients. Some airlines also go as far as employing sommeliers to advise guests of the best wines to go with their meal choices.
On-board Bars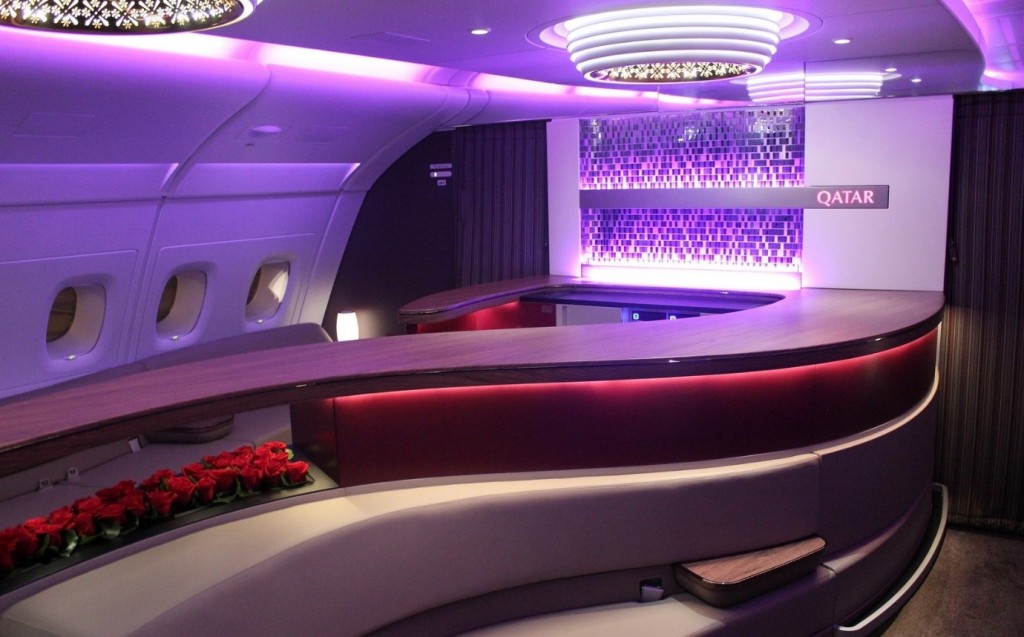 Cocktails, five-star hors d'oeuvres and live sporting events can only mean you're at your favourite Saturday night haunt, right? However, all of this can be found in many Business Class cabins of top airlines where you can sit in comfortable chairs or laze on luxury sofas while you have your choice of tipple delivered.
Qatar Airways boasts a spacious lounge and bar on the upper deck of its A380 where Business Class passengers can enjoy a fully stocked bar, chandeliers and a range of indulgent canapes. Not to be outdone, Korean Air's Celestial Bar, being sponsored by Absolut Vodka accordingly offers six signature cocktails including Absolut Raspberry Delight and Absolut Pear Deluxe.
Get in touch with your SkyClub consultant to discover these Business Class perks. They'll ensure you receive your complimentary pre-flight massage, take an on-board shower after indulging in your flying chef prepared meal, enjoy a night cap at the on-board bar, and then slip into some comfortable pyjamas for the remainder of your flight. This is what Business Class flying is all about!