Plan on flying business class from JFK airport in New York City in the near future? Choosing who to go with is a more difficult task than you might realise, as most major carriers from around the world land and take off from here.
Purchasing business class flights to New York allows you access to a number of lounges, which can vary widely in quality. If this is an important part of your overall travel experience, here is what you can expect from the best business class lounges at JFK airport.
British Airways
After checking in and clearing security in Terminal 7, you'll have the option of accessing a complimentary treatment at Elemis Spa. Available to BA Business Class/First Class passengers and Oneworld members, it will put you in the right frame of mind for your upcoming trip.

While the pre-flight dinner (served during evening hours) is reserved for business class ticket holders flying with British Airways, all other passengers accessing this lounge will be able to access the snack buffets in the lounge, which serves chips, crackers, cheese, fruit, juice, beer, etc.      
Virgin Atlantic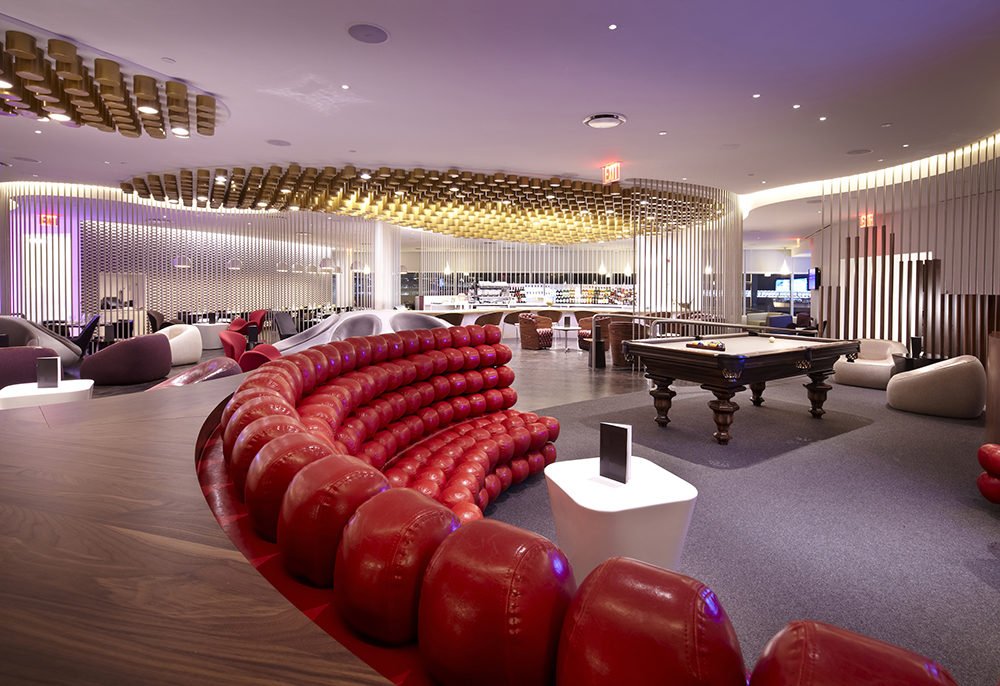 Those looking for an unforgettable business class experience will want to spend some time in the JFK Virgin Atlantic Clubhouse.

Situated in Terminal 4, it boasts seating that is delightfully retro in its design. many of these have privacy screens installed, allowing you to relax after rushing through security.

There is also a bar with an extensive selection of drinks on hand, including a brand of champagne that is typically only served to first-class passengers once you are in the air, so be sure to live a little by having a few glasses.

With a full-service restaurant and a spa that includes a hairdresser that will give you a new look prior to your trip, you may find yourself traveling with Virgin Atlantic more often in the future.
Delta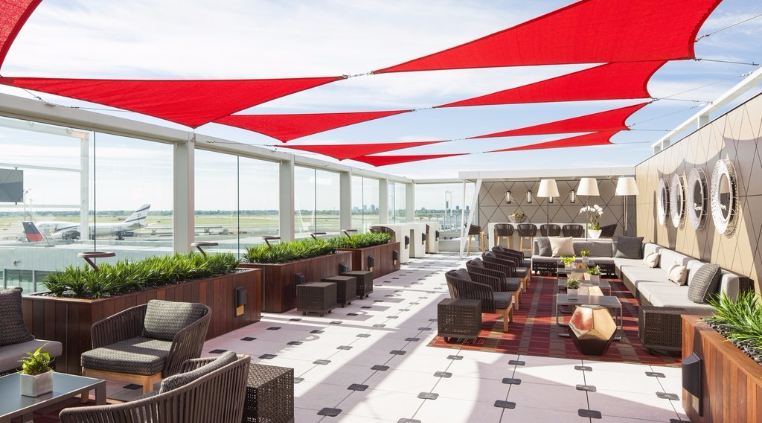 Flying internationally on an American carrier? If you want to unwind before your flight, check out Delta Sky Club, as it is easily one of the best lounges of all the USA-based airlines flying out of JFK.

If you had to book it across Terminal 4 after long lines at check-in and security, the shower room located within will help you freshen up before boarding call.

Delta Sky Club also boasts an outdoor patio, which is a perfect to get some fresh air if the recycled air inside the terminal is starting to wear you out.

Got a bit more time to kill? Apart from the usual snack and dining options, there is a TV room where you can catch up on the news or the latest sports highlights.
Emirates
If you love taking business class flights, then you are probably aware of the passion that Emirates has for offering a top-quality product.

This desire to be among the best airlines in the world can be seen in the style, amenities, and service provided at its JFK business lounge, which starts with a chauffeur picking you up at your hotel or home.

The abundance of seating in the lounge makes certain that the place never feels crowded, which will put you at ease before your flight.

If you are hungry, the buffet contains a wide variety of options, and if you don't feel like getting up to re-fill your plate, attendants will be more than happy to do it for you.   
To book business class flights from New York or to find out more about the airlines available, call a SkyClub representative on 0207 255 1234. We'll be able to get you the very best fares, guaranteed.