The Airbus A380, a revolutionary feat in the aviation world, is impressive enough as it is. But just as you would make a home your own, airlines have uniquely branded their Airbus A380s by fitting it with impressive elements in a bid for the much coveted luxury travel market.
So, who's got the best A380 experience out there? Here are some highlights to help you decide for yourself:
Singapore Airlines
You can't talk about the A380 without mentioning the pioneer of the superjumbo – Singapore Airlines. This award-winning airline was the first launch customer, entering it into commercial service in 2007 from Singapore to Sydney. With its wide-body, double-decker space, SQ continues to lead the way with its premium offerings.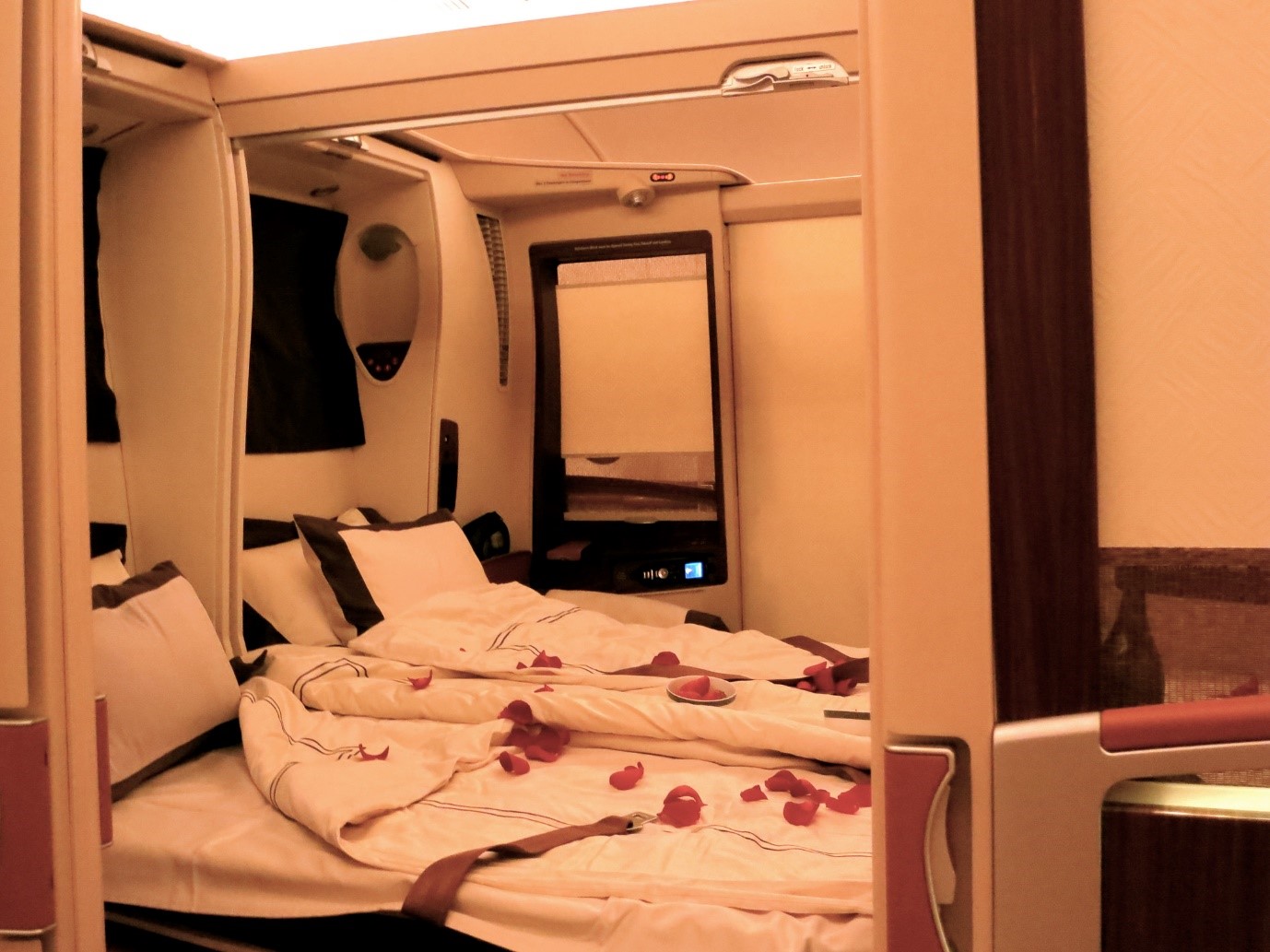 Singapore Airlines is the only carrier operating the A380 that allows you to convert two seats into a double-bed in their Suites Class. Can you think of a better way to start off a honeymoon? You'll immediately feel pampered once you're handed Givenchy pyjamas, the Salvatore Ferragamo amenity kit and tuck into your 'book the cook' prepared meal. Together with Singapore Airlines' legendary customer service, travelling on their A380 is definitely a show-stopper.
Korean Air
While some airlines have on-board bars, Korean Air goes a step further with an on-board lounge. Korean has the fewest number of seats of any airline on their A380, dedicating a good deal of space at the back of the upper deck to the amazing Celestial Lounge. With plenty of seating, a flat-screen TV and clean, stream-lined décor, you'll feel like you're in a scene from the Jetsons whilst sipping on your favourite tipple.
Teaming up with Absolut Vodka, your typical Wednesday night inflight can quickly turn into something more interesting. Get jet-happy with a choice from their signature aviation-themed cocktail menu, or go 'bar-hopping' between the Celestial Lounge and the other Business Class lounge located at the front of the upper deck. And if you're suddenly up for a spot of shopping, wander past the economy section to the Duty Free Gallery. On Korean Air's A380, you won't feel like you're on an aircraft – more like a flying hotel.
Emirates
Ever flown on a private jet? Taking a shower on Emirates' A380 is probably as close to that private jet feeling as you can get without actually being on one. The experience is simply unforgettable.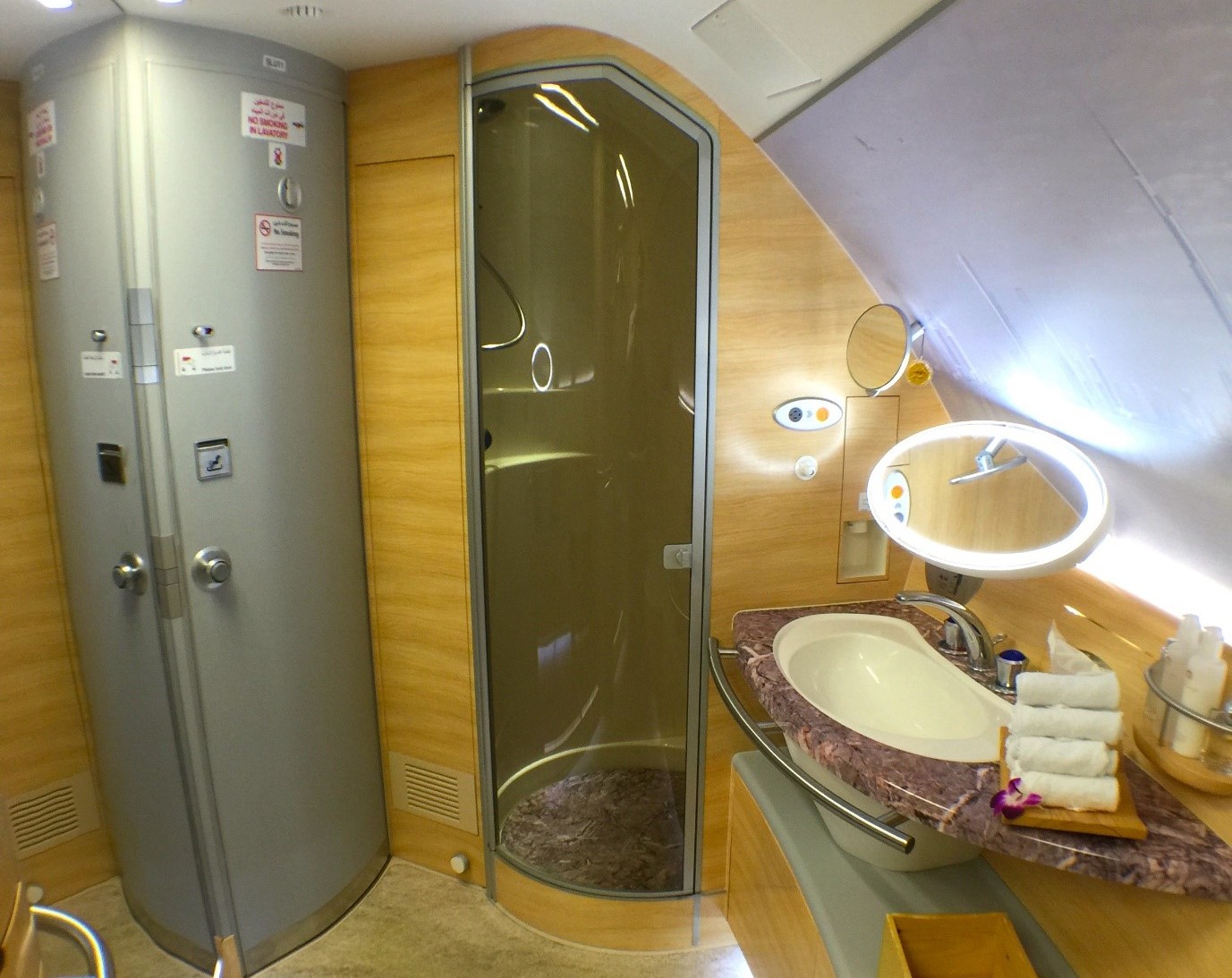 But it's not just the fact that you're cleaning yourself at 35,000 feet that's extraordinary, but all the extras you get to enjoy that you would normally expect in a luxury hotel. For example, there are two full time shower attendants on long-haul flights who are there exclusively to clean the shower and bathroom facilities. Not only does the shower have heated floors, but you can choose your preferred temperature! And just like any good five-star hotel, all the toiletries are provided too. Supplied by bespoke beauty product company, Timeless Spa, you can 'refresh' or 'revive' yourself from their collection depending on your mood. The humble act of washing is re-invented on Emirates A380. 
Etihad
Now you've arrived at the 'cream of the crop'. Talking about reinventing things, Etihad has 'reimagined' commercial air travel. On-board their A380 you'll find the pinnacle of luxury flying which Etihad calls The Residence.
The Residence is a private three-room suite featuring a living room, bedroom and private ensuite with shower. And if you've no problems with the price-tag, then a Savoy-trained butler whose exclusive duty is to cater for you comes as a standard inclusion.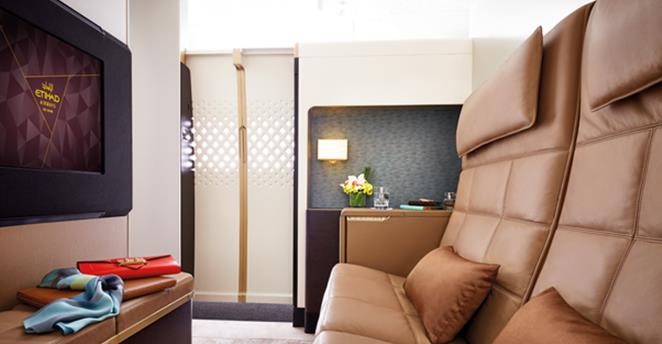 But if you're looking for something a little more modest, the First Class Apartments are an excellent alternative which come with a leather armchairs and separate 6 foot, ten inch flat beds. On the A380 you'll also be treated to The Lobby, which is the on-board lounge where you'll be served your choice of beverage and snacks whilst watching the latest on the plasma flat screen. Etihad definitely has not done things by halves on their A380.
In an age of technological aviation advancement, where the A350s and B787s are paving the way, the A380 is still leading the flock when it comes to the passenger comforts it packs on-board. Your dedicated SkyClub expert can help get you on an A380 for your next Business Class trip or holiday. Simply call or email today for your ultimate superjumbo experience.