American Airlines (AA) owns a modern fleet of Airbus and Boeing aircraft types that are fitted with Business Class cabins for passengers wishing to fly across the world in comfort.
Standard features in Business Class on AA's international flights include Bose Noise Cancelling headsets, premium dining options and amenity kits filled with rejuvenating skin care products. But what are the differences between the cabin configurations? Let's take a look:
AA Dreamliner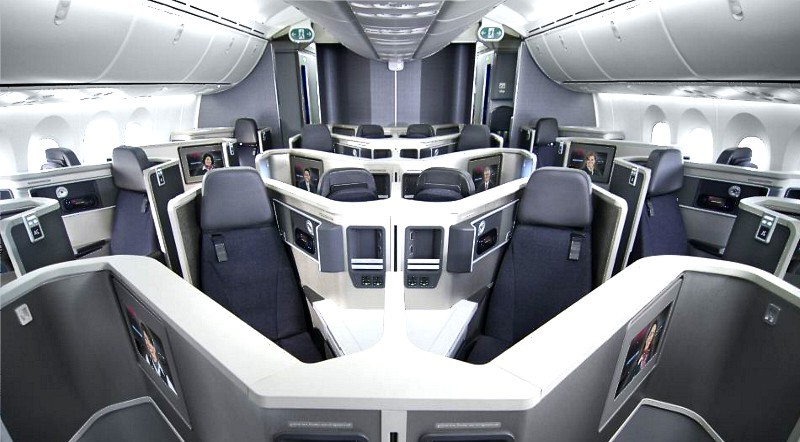 The 787 Dreamliner is the newest aircraft offered by Boeing, designed to offer a better passenger experience with dynamic LED lighting, bigger windows, spacious stowage, cleaner air and reduced cabin noise.
AA's Dreamliner features 28 Business Suites with seats that convert into fully lie-flat 77-inch beds or a unique 'zero gravity lounge position'. Each seat offers direct aisle access with industry-leading living and table space, meaning guests can stretch out while resting or working. With Wi-Fi capability, AC power outlets and USB ports at all seats, you'll be able to respond to emails, update your social media accounts and catch up on work while up in the air.
The personal entertainment system installed in the 787's Business Class suites is the largest across the AA fleet, consisting of a 16-inch touchscreen monitor that offers a large selection of on-demand entertainment. Passengers can access up to 260 movies, 240 TV shows, 13 radio channels, 375 albums, 20 games and international live TV.
AA is also the first US carrier to provide a walk-up bar stocked with snacks, meaning you don't have to call a flight attendant if you're feeling peckish between meals.
AA Boeing 777-300ER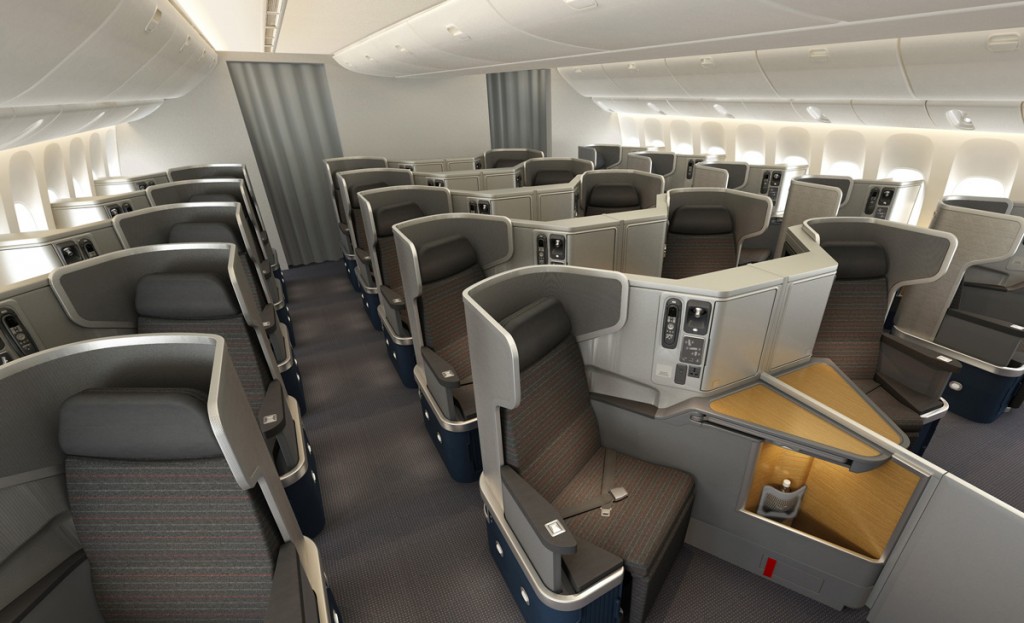 The Boeing 777-300ER is AA's flagship international aircraft featuring three cabin classes, so you'll have the chance to experience AA's next generation Flagship First Class suite or Business Class cabin.
Business Class features 52 fully lie-flat seats with direct aisle access, each measuring 20.5 inches in width. The cabin also boasts international Wi-Fi capability,  AC power outlets and USB ports at every seat. Passengers can watch entertainment on their own personal 15.4-inch touchscreen monitors and help themselves to refreshments from the walk-up bar.
Airbus A330
When you fly AA's A330 you won't have to worry about stepping over someone to get out of your seat because all seats in the cabin have direct aisle access. The A330-200 offers 20 Business Class seats measuring 20.5 inches wide, while the A330-300 is configured with 28, measuring the same width. You'll experience state-of-the-art entertainment with up to 250 movies, 130 TV shows, 18 radio channels and 380 albums, plus you'll be able to plug in your electronic devices using the AC power outlet and USB port at your seat. However, this particular aircraft type doesn't have Wi-Fi onboard, so you won't be able to use the Internet if you're flying on the A330.
Retrofit Planes
American Airlines also operates two models of aircraft that have been retrofitted: the Boeing 777-200ER and the 767-300. These redesigned aircraft types feature refreshed interiors, increased entertainment options and Business Class cabins with direct aisle access and fully lie-flat seats.
The Boeing 777-200 features 45 Business Suites with seats that become fully lie-flat beds and provide infinite adjustability in the upright position, including a unique z-shaped lounge position for increased comfort. All seats offer direct aisle access, USB ports, AC power outlets and 16-inch touchscreen TV monitors packed with on-demand entertainment. The 777-200 also features a walk-up bar and international Wi-Fi capability so you can keep in touch with friends and colleagues from the air.
Meanwhile the Boeing 767-300 retrofit features fully lie-flat Business Class seats that feature dual tray tables and a work surface. There are AC power outlets and USB ports at every seat but instead of seatback TV screens, passengers are supplied with individual Samsung Galaxy TabTM 10.1 tablets to stay entertained throughout the flight.
Transcontinental Flights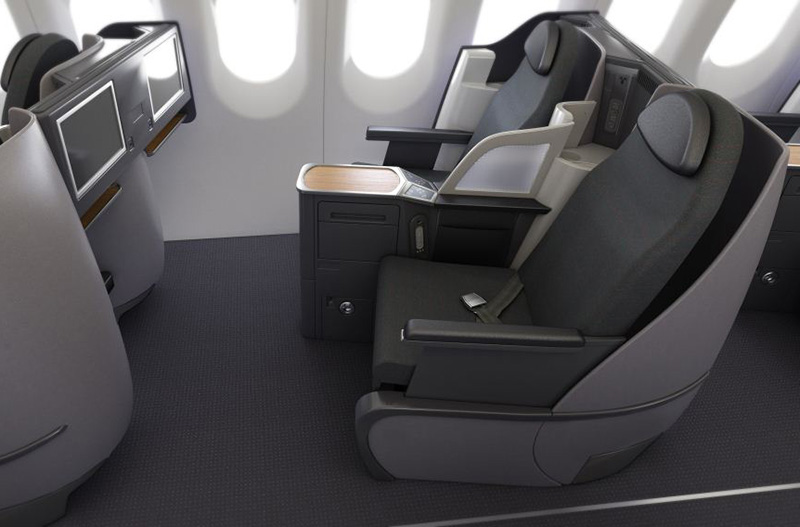 American Airlines is also the only airline with 3 classes of service on transcontinental flights within the USA. On the Airbus A321 you can fly coast to coast in Business Class, which features lie-flat seats to ensure you'll arrive feeling well-rested.
Are you interested to learn more about AA's Business Class cabins? Are you looking for Business Class flights at reasonable prices? Our knowledgeable SkyClub experts can assist you with your inquiry. Simply call 0207 255 1234 or submit a request online.