From the pre-flight glass of champagne to the wine pairings that go with each meal, the wine list is an important aspect of the First and Business experience.
Many world class airlines invest a lot of money into hiring the best sommeliers and wine connoisseurs to create a perfectly curated list to compliment the dining experience. These wines are then rigorously tested to ensure they still taste great in the cabin environment at 35,000 feet. If you're a wine lover yourself,  here are some of the airlines with the best wine lists in the skies:
Emirates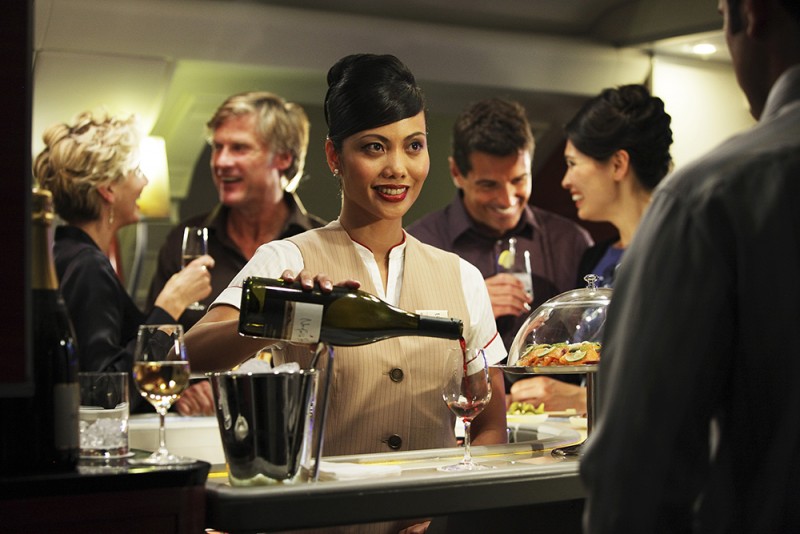 In 2015 Emirates went through 1.3 million bottles of wine and champagne in First and Business Class, and it's projected this figure will reach 1.8 million by 2020. The airline has invested $609 million in its wine programme since 2006 and offers 70 wines, champagnes and ports daily onboard its fleet.
Wine is definitely a priority for Emirates and their wine cellar in Burgundy stores 2.2 million bottles, of which some are only ready for drinking in the year 2025. The carrier's wine list includes versatile wines from world-class vineyards in France, Germany, the USA, South Africa and New Zealand, including vintages and limited editions.
"Bordeaux wines are the core of our offering as they pair really well with the extensive menus we have on board – from white and red meats to vegetarian options. We choose these wines not only for their flavour, but also because they maintain their quality in the cabin environment," says Sir Tim Clark, President of Emirates Airline.
When you fly First Class you'll be able to sip on a glass of the latest vintage from Dom Pérignon, the 2006, which retails at just over £100 per bottle. The champagne has a floral and fruity taste, with candied fruit and toasted notes, along with hints of liquorice.
Qatar Airways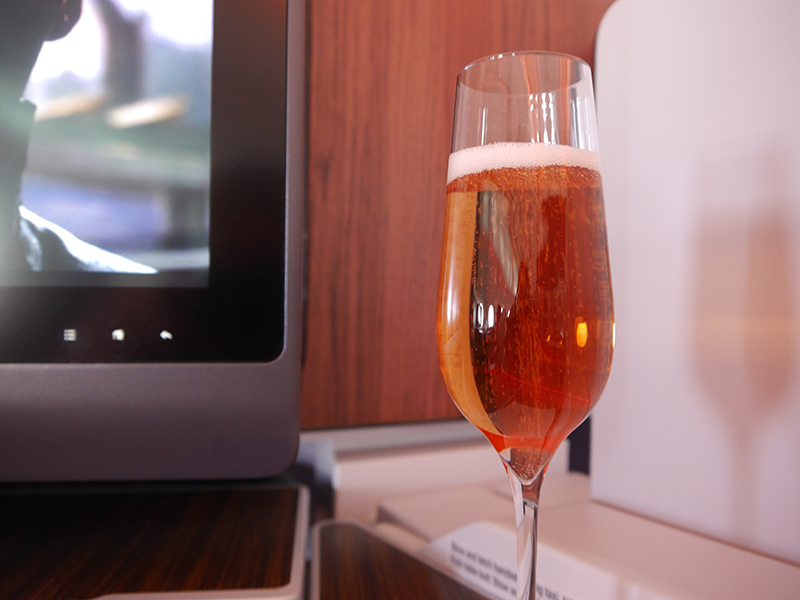 Qatar Airways has gone to extreme lengths to ensure its wine is palatable for First and Business Class customers – to the point of sending Master of Wine James Cluer to scale Mt. Kilimanjaro in order to test his Qatar Airways wines at similar altitudes to those you'd reach on a long haul flight. He took with him nine selections, including a Taittinger rosé champagne and 40-year-old port, which apparently you cannot leave the aircraft without trying. Some of the best wines you can enjoy while flying business class with Qatar Airways are Billecart (a fruity, sparkling wine) and the French Red from Chateau Phelan.
Cluer says that when we fly the cabin environment is much drier and therefore dries out our nasal cavities, meaning it's more difficult to smell and therefore taste. Wine experts therefore choose wines with richer flavours and stronger aromas to make up for the loss in taste.
Cathay Pacific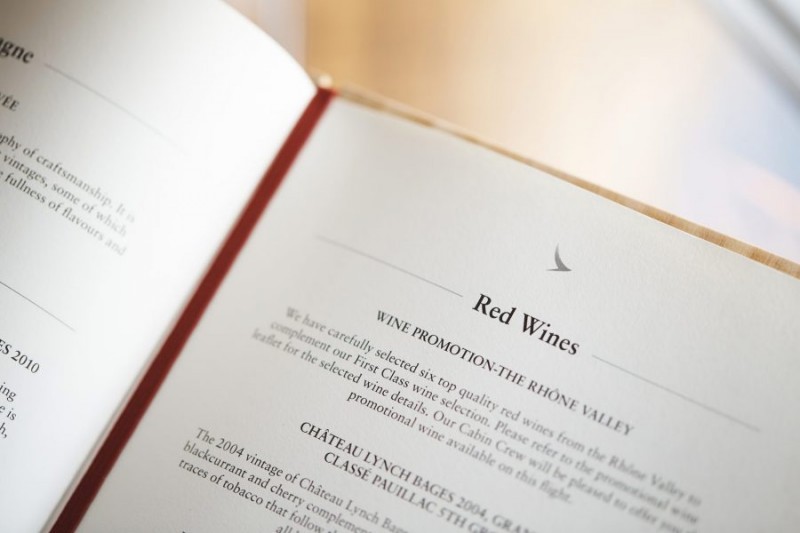 Cathay Pacific's wine list is curated by wine panelists Debra Meiburg and Roy Moorfield. Debra was named as one of the "7 People to Watch" by Decanter magazine, while Roy is an Australian wine writer, educator and broadcaster, who has been giving advice on wine selections at Cathay Pacific for more than 30 years. The menu includes:
First Class – Bedrock Syrah North Coast 2015, Soho McQueen Pinot Noir 2015, Marchesi de' Frescobaldi Mormoreto, Toscana IGT 2010
Business Class – Château Noaillac Médoc 2014, Tenacity Old Vines Shiraz 2016, D.V. by Doisy Védrines 2013
The airline's collection of wines numbers around 80 and these are sourced from France, Italy, Austria, South Africa, Australia, the United States, and New Zealand.
Etihad
Etihad's wines are chosen from boutique vineyards and are presented to passengers by "Food & Beverage Managers" who are hospitality experts with experience of working in the best hotels and restaurants around the world. They'll guide you through the menu options and recommend the perfect accompaniment for your meal, whether that is a glass of bubbly or a nice glass of red or white. If you choose to book a 3-bedroom suite in The Residence onboard the A380, you'll be have a special wine list, with a champagne choice of a Billecart-Salmon 2004 Blanc de Blancs Grand Cru or a Billecart-Salmon NV Brut Rosé.
Singapore Airlines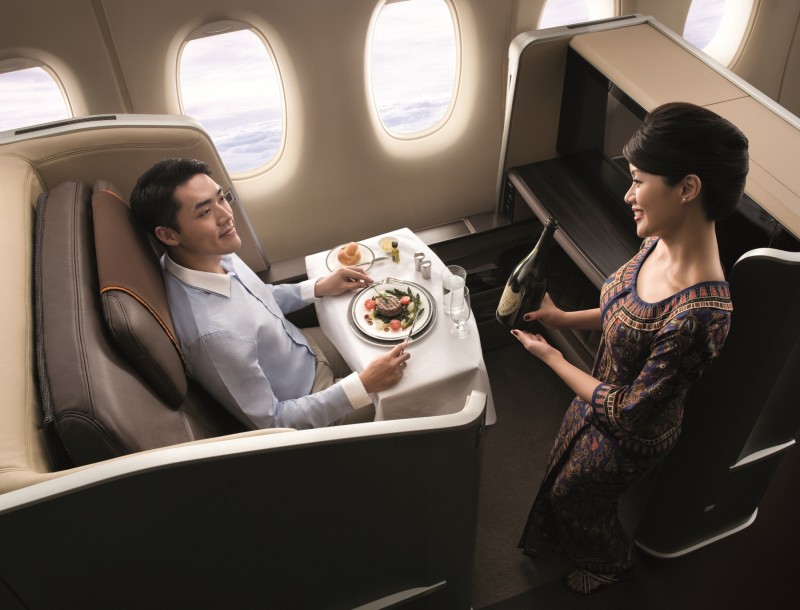 At the Singapore Airlines catering facility in Singapore, the airline tests and tastes its wines in a pressurised room to simulate a cabin environment. The airline's wines are chosen by a panel of celebrated wine experts including Jeannie Cho Lee, Michael Hill Smith and famous wine writer Oz Clarke. Onboard the aircraft your wine will be poured for you by qualified "Air Sommeliers" who have been trained to know absolutely everything about wine. Ninety-three Air Sommeliers rotate across the fleet to service all classes of travel on SIA flights and to become one, these professionals must first attain a Level 3 Award in Wines and Spirits from the London-based Wine & Spirit Education Trust (WSET), before undertaking a nine month in-house sommelier programme. Rigorous stuff. On longhaul flights in both first class and Suites Class, Singapore Airlines offers both Dom Perignon and Krug.
Air France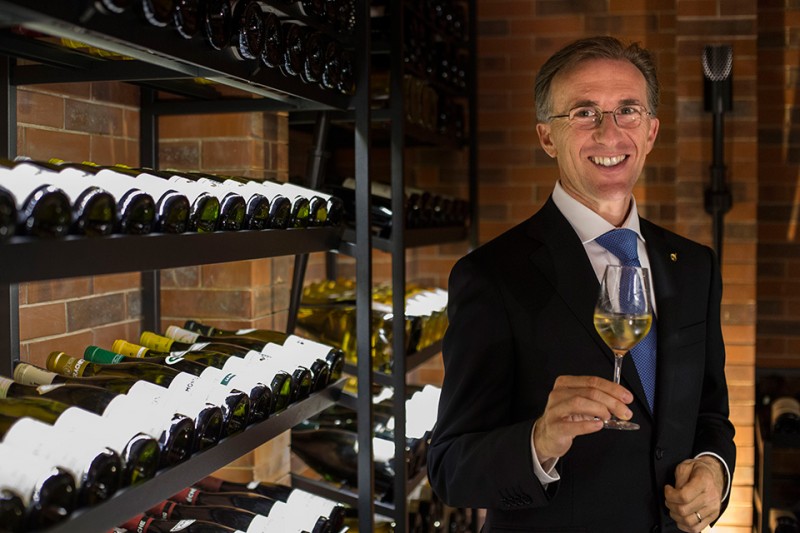 With France being one of the best wine producers in the world, it's not surprising that Air France has made it onto our list. the prestigious wine and champagne list has been created with great care by Paolo Basso – named the world's best sommelier in 2013 – and by wine experts Bettane and Desseauve, authors of "Le Grand Guide des vins de France". Wines are sourced from the very best vineyards and Air France is the only airline in the world to serve complimentary champagne across all cabin classes. Champagnes available onboard include:
La Première (first class):
Taittinger Comtes de Champagne Blanc de Blancs 2006, Krug Grande Cuvée, Veuve Clicquot La Grande Dame 2006, Amour de Deutz 2007
Business class:
Taittinger Brut Réserve, Deutz Brut Classic, Laurent Perrier Brut, Charles Heidsieck Brut Réserve, Joseph Perrier Cuvée Royale Brut