Travelling on your honeymoon or with your significant other for that special occasion should begin as inimitable and unforgettable as the milestone you're celebrating. What better way to kick-start it than by getting off the ground in luxury and style? Business Class is not just for business travellers, it can be the ideal way to start your new adventure together.
Some airlines are more than well-equipped to cater for those taking to the skies in pairs. Leading carriers feature Business Class seats that pose as the perfect prelude to a romantic getaway with service and amenities that will help you get your holiday started early.  Here are some to look out for:
Asiana
For those who are unfamiliar with this carrier, Asiana is a Korean airline whose hub is Seoul. On the Airbus 380s and some Boeing 777-300ERs, its latest Business Class seats are featured in a staggered 1-2-1 configuration. The E and F odd-numbered rows in the middle are the best seats for couples as they are right next to each other and on the 777s they are even slightly angled towards one another. The privacy screens are not too obtrusive or bulky as can be found on other airlines, making conversation with your partner very easy.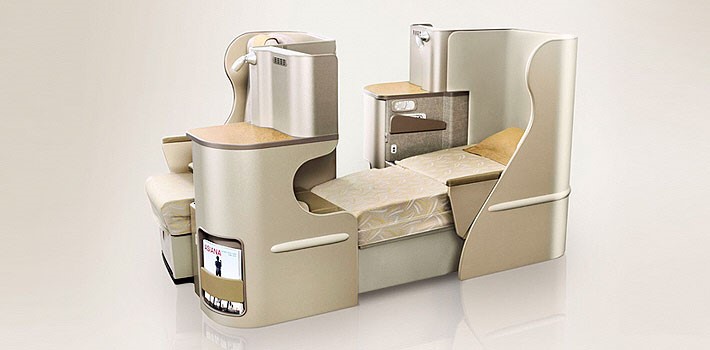 You'll have plenty of room to stretch out with seats that are 21.3 inches wide and up to 80 inches long on the A380. On-board, Asiana has fantastic in-flight amenities, entertainment and a lounge as well as the lavatories with dressing rooms (also on the A380) to ensure you're looking your absolute best.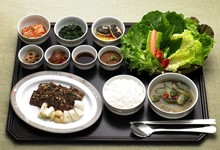 The highlight of its Business Class service is the award-winning in-flight meal with both Korean and Western dishes available. Sommeliers have personally selected the wine menu and the coffee is Rainforest Alliance (RA) certified. Asiana's trademark warm customer service is sure to start your honeymoon or special trip on the right (flight) path.
Qatar Airways
Qatar Airways knows how to do premium service well. Let's face it, their Business Class is pretty spectacular across their entire fleet. But if you're travelling with your sweetheart, look out for the Dreamliner B787. On this aircraft, row six is semi-private and separated from the main Business Class cabin by the bar and has just two seats angled towards each other – what could be a more perfect start to your honeymoon?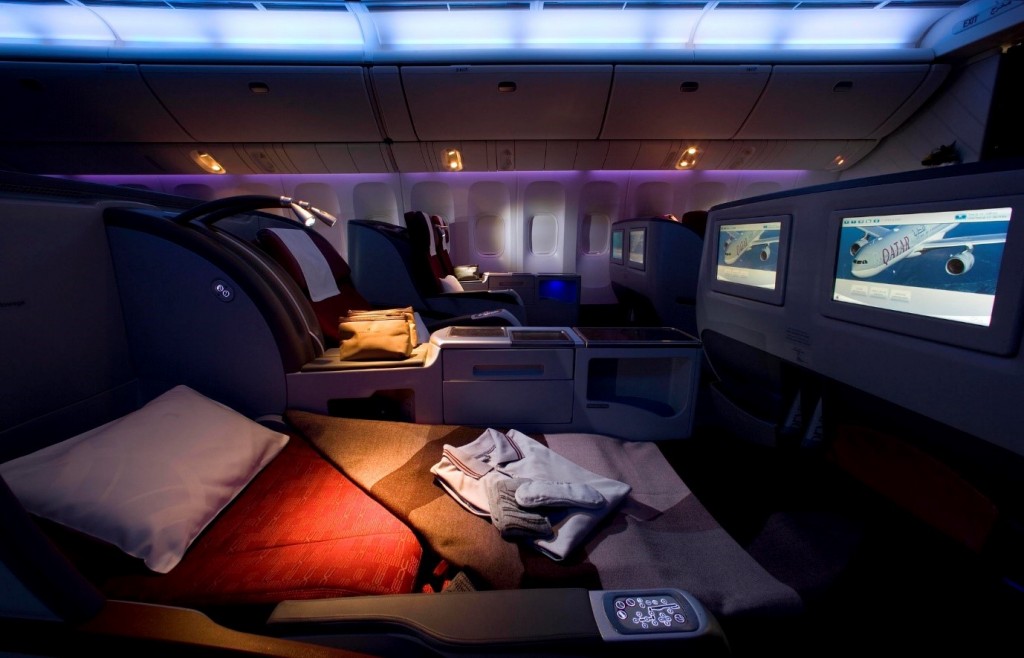 No matter which row you're seated in though, you'll certainly get some rest with one of the largest seat pitches in the sky measuring at 80 inches long in the flat-bed position and 30 inches wide with the armrest lowered. Dream of the romance to come in fine sleepwear and Italian Frette linen provided in-flight, while their premium amenity kits will have you arriving at your destination fresh and revived. Recently, Qatar Airways partnered with BRIC to create a new line of luxurious amenity kits. The line includes products for both male and female passengers, such as lip balm, hydrating facial mist, and anti-ageing moisturizer. Qatar not only know how to do Business Class, they also know how to help make your romantic retreat just that bit extra special.
Lufthansa
Lufthansa has now finished retrofitting its entire fleet with the new Business Class product. What makes these seats somewhat unique compared to other airlines is that they are configured in two-seat blocks and are angled towards each other. Needless to say, the arrangement really lends itself to couples.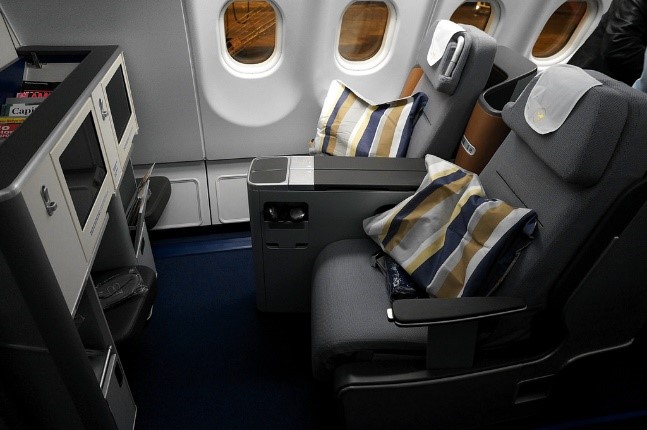 This also means that you'll have to fight over a window seat (is that a good way to start a loved-up break?). Couples are further at an advantage when booking with Lufthansa, as this seat arrangement can be found on pretty much all of their aircraft so your chances of securing a pair are excellent.
The new seats recline to an almost 2 metre flat-bed and you can enjoy hours of film and TV on the 15.4-inch in-flight entertainment screens. Furthermore, Lufthansa have recently introduced an 'inflight restaurant service' where tables are set with ceramic crockery and meals are served directly from the galley with trays and flight trolleys replaced by plates. Well, everyone needs a good restaurant meal to get the honeymoon started!
Many leading carriers are more than happy to oblige you if you mention you are on your honeymoon, by providing a bottle of bubbly, a cake, maybe even flowers served at your seat. Just let your SkyClub consultant know and they can help with the little extras. If you are planning your honeymoon, your SkyClub expert can also tell you more about other carriers that have 'honeymoon suites' onboard for a truly unforgettable start and finish to  your most special time away with your significant other.