The Boeing 747- often nicknamed the 'Jumbo Jet' or 'Queen of the Skies'- has a distinctive hump upper deck, making it easily recognisable when in the air. This four-engine, wide-body aircraft has a double deck configuration for part of its length, which Boeing intended for use as a First Class lounge or space for extra seating.
By June 2020, 1,556 Boeing 747 aircraft had been built, and 15 747-8s remain in order. Sadly, the manufacturer of the Boeing 747 announced that production will end after a 54-year run. the Boeing 747 remains one of the most popular and successful aircraft types to date. The 747-400 passenger version can accommodate 416 passengers in a typical three-class layout, 524 passengers in a typical two-class layout, or 660 passengers in a high density one-class configuration.
But which airline offers the best Business Class onboard the 747? Let's take a look…
British Airways
British Airways is the largest operator of the 747 and offers three different configurations of the aircraft, all with 4 cabin classes – First, Club World, World Traveller Plus and World Traveller. Club World Business Class features a comfy chair that converts into a 6ft long fully flat bed, along with a memory foam headrest and quilted blanket. Passengers can charge up their electronics using the in-seat power supply and watch on-demand movies on a 10.4 inch personal entertainment screen. Other perks include a luxury amenity kit containing Elemis skincare products, access to private loungers and luxurious spa treatments, as well as dedicated check-in desks and priority boarding.
Created by some of the world's top chefs, the Business Class menu offers three-course meals to suit every taste, from hearty dishes to healthy salads, plus an array of treats and healthy snacks that passengers can help themselves to during the flight. For those flying on selected North America and Middle East night flights, Business Class passengers benefit from the Club World Sleeper Service to maximise sleep time and avoid jetlag. They are greeted with a night cap upon boarding the aircraft and a quick breakfast before landing.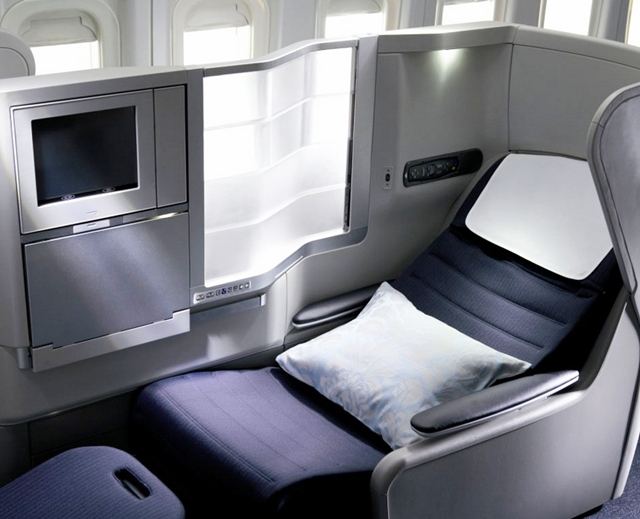 Lufthansa
The Lufthansa 747-8 features all-new Business Class product, which includes redesigned seats, overhead bins, colours and materials. Spread over two floors linked by the staircase, the totally-reworked cabin design opens up a completely new feeling of space. The ergonomic seat converts into a lie flat bed and has a user-friendly seat control panel so it can be adjusted to suit the occupant's needs. Guests can watch entertainment on a 15-inch seat-back screen, which can be moved and tilted on its bracket to suit the viewer's sight line.
In Business Class on long-haul flights from Germany Lufthansa serves seasonal menus, which every two months. Whether the flight is short or long, within Germany or elsewhere in Europe, guests are offered a full meal on board on every route. Lufthansa has made huge improvements to the meal service by using china instead of reusable tableware, a coffee mug, material instead of paper napkins and a new wine glass. The airline has also changed the meals themselves to include more variety, fresher ingredients, plus bread and pastries "fresh from the baker".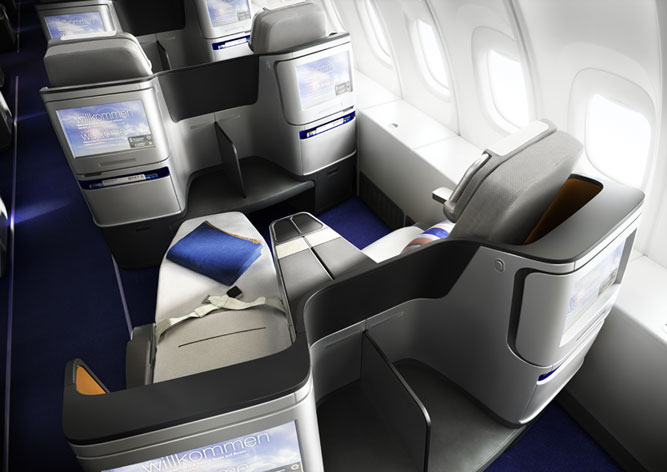 KLM
KLM's 747 boasts 15 lie-flat World Business Class seats in the nose of the lower deck and 20 on the upper deck. Seats on the upper deck are arranged in a 2-2 configuration, while the lower deck feels a bit more spacious since the seats are slightly staggered. Designed by a Dutch designer, the new World Business Class offering includes 180-degree flat bed seats covered with the finest sheeps-wool in rich, dark hues.
Each seat is equipped with in-seat power and a 17-inch personal entertainment system, as well as a divider between the two seats for added privacy. Passengers are also supplied with a double-faced pillow made with different fabrics for different purposes- a silk finish for a cool and comfortable touch on one side, and a crisp, white cotton for when it's time to go to sleep. KLM is the first airline to use a cradle-to-cradle carpet; the carpets are sustainable creations based on high-quality recycled materials, including old KLM stewardess uniforms.
When it comes to wining and dining, KLM offers meals prepared by top Dutch chefs, who create ever-changing menus based on destinations and fresh ingredients. Meals are served on beautifully crafted tableware created by famous Dutch designer Marcel Wanders, featuring an unmistakably Dutch design. To top it off, World Business Class customers receive Viktor & Rolf amenity kits and a Delft Blue miniature house filled with Dutch gin.