Flying in Business Class isn't just about being comfortable, it's also a chance to dabble in fine dining. Gone are the days when airline food was so shockingly poor that you preferred to starve rather than subject yourself to the over-salted, watered-down options that not even countless glasses of cheap wine could mask. Air travel today allows you to sample menus that reflect a destination's iconic cuisine or a celebrity chef's signature dish.
Here are some such dishes that are making bad in-flight meals a thing of the past. Lick your lips!
Korean Air
Korean Air's Business Class is the flight for the health conscious. Hailing its food program 'from farm to flight', it boasts the freshest and healthiest food of any airline.  The beef and chicken originates from the southern pastures of Jedong in the region of Mt. Halla on Jeju Island, while organic ingredients such as paprika and cherry tomatoes are strictly supervised at Korean Air's catering centre during the production process.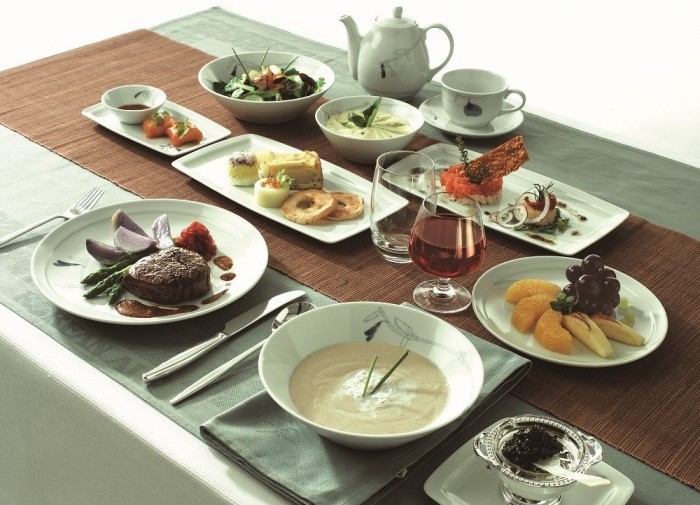 The signature dish, the cold bimbimbap – made up of mostly rice and vegetables – is a taste of Korean authenticity that's not to be missed. The program also includes a formal Korean menu which is served in courses that can typically include an appetizer, a main course with a number of side dishes and dessert. You will always get a balanced meal in Korean Air's Business Class.
Emirates
With an astonishing 451 worldwide menus that encompass every route, season and customer taste, it's no wonder Emirates has their own catering facility. From Arabic breads and biriyanis, to Indian desserts and British 'toad in the hole', every discerning passenger is catered for here.
Award-winning specialties include wild Iranian caviar with sour cream and blinis (a type of thin pancake) and the lobster tail starter. This is all served on China tableware on tray tables laid with fine linen for a real five-star dining experience in the sky.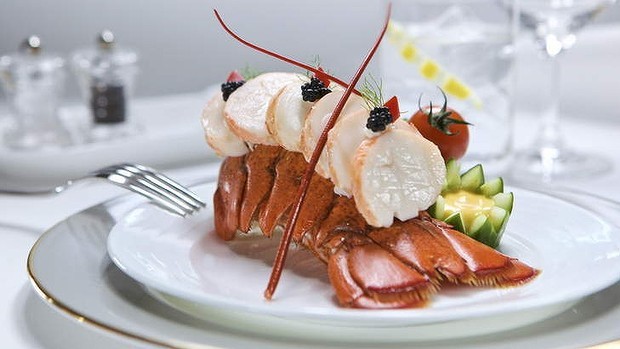 Emirates isn't shy on hiring celebrity chefs to lure guests into their Business Class either. Names like Neil Perry and Gordon Ramsay have whipped up many a delectable palate-pleaser for Business Class travellers. Need more? Well, as if that wasn't enough, guests are also spoilt with Belgian chocolates and truffles from fine chocolatier, Godiva. When flying Emirates, you can choose a business class dining option that matches your lifestyle preference. If you want to order healthier options, look for the heart symbol on the menus. You can also taste authentic Japanese cuisine and the Dalmore King Alexander III, a unique single malt created by Master Distiller, Richard Paterson, available exclusively with Emirates flights.
Austrian Airlines
Need a caffeine fix whilst flying? This one is for the coffee connoisseurs. On Austrian Airlines, as good as their food menu is, the one thing passengers rave about is the onboard coffee offering. This comes in the form of a traditional Viennese coffee service Austrian calls 'The Flying Coffee House'. Included are ten different specialty styles which the flight crew are all trained to whip up any time at your command. These are all served with a traditional Austrian bundt cake Gugelhupf.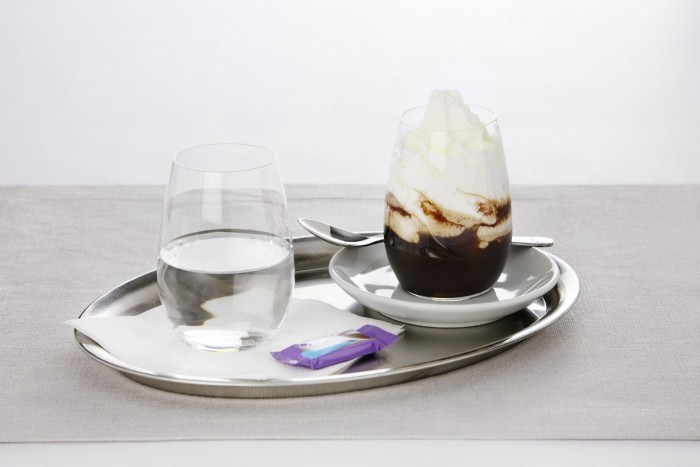 If you're the latte type, try the Franziskaner which is fine black coffee, foamed milk, topped with whipped cream and dusted with cocoa powder. For something a little different, a must-try is the Maria Theresia's black coffee combined with a delightful orange liqueur. Or combine coffee and dessert with the Wiener Eiskaffe that marries a double espresso, vanilla ice-cream and whipped cream perfectly. But if you're more the 'night-cap' sort, go for the Kaffee Baileys black coffee, whipped cream and cocoa powder with the nutty flavour of Baileys swimming throughout. Whatever your preference, 'The Flying Coffee House' is sure to tantalise your inner Barista.
Did you know your SkyClub expert consultant can help you pre-order your Business Class meal preferences, particularly if you have a special dietary requirement? They're just a phone call away in helping you choose your next five-star in-flight dining experience.