When discussing which airlines in the world are the best, Emirates is often cites as being one of the top carriers in the skies. Aggressively targeting passengers in the upper end of the market, Emirates offers world-class international Business Class and First Class products that have become extremely popular among frequent fliers.
In-flight bars. On-demand dining. A functioning shower at 40,000 feet. These are just some of the luxuries you'll enjoy when flying on this Dubai-based carrier. 
If you want to have a more comfortable journey but don't know whether to book a First Class or a Business Class flight on Emirates, this article will help you make up your mind.
Business Class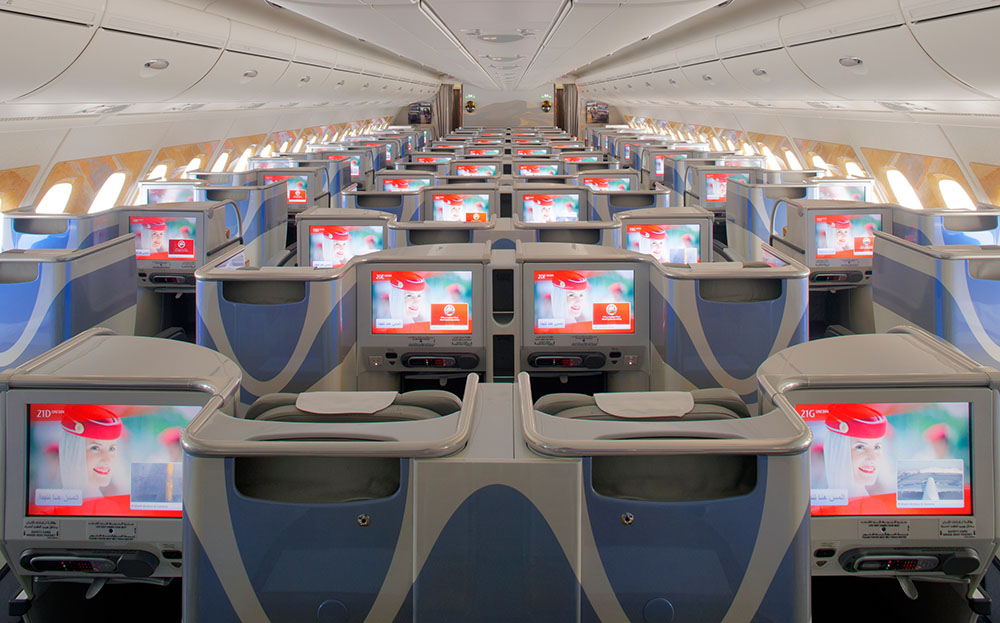 Your business class experience on Emirates begins with its complimentary chauffeur service, which can be booked to drive you from your front door to the airport.
After spending some time relaxing in the Emirates lounge, you'll be given a Fast Track card, which will allow you to pass through security and immigration in an expedited manner.
Shortly after taking your seat on board, you'll be handed a pre-departure beverage (a choice between champagne, rose champagne, or orange/apple juice.
Casually sipping on your drink of choice, you'll now get a chance to become more familiar with your seat. Measuring 78" in length, the design of these fine leather seats was influenced by those commonly found in sports cars.
Each seat in Business Class has direct aisle access, but reviewers report that the window seats on Emirates business class offer more privacy, so book wisely if you trend towards the introvert side of the scale.
The on-board entertainment system is another strong point, as it comes with a 23" inch wide screen, and it offers over 2,500 movies and TV shows, including channels with live news and sports. An HDMI port is also available for passengers to stream content from their devices if they so choose.
While the seat has the storage capabilities and AC outlets you would expect to see on Business Class flights, Emirates ups the ante with an in-seat mini bar. Stocked with items like sparkling water, pop, juice, and other refreshments, it is another touch that separates this airline from its competition.
Another feature that sets frequent travellers talking is the onboard bar, which is available for the use of both First and Business Class customers. 
Consisting of a bar, seating, and an TV which shows sports matches and major live events, it is a social place where you can kill a few hours socialising with fellow passengers.
At meal times, Business Class passengers are able to choose from a selection of dishes created from locally sourced, gourmet ingredients, which are served on Royal Doulton bone china and with cutlery by Robert Welch.
After dinner, freshen up using products provided in your complimentary amenity kit. Using products made by Italian luxury brand Bulgari, you'll feel, look, and smell better than you did before setting foot on the plane.
First Class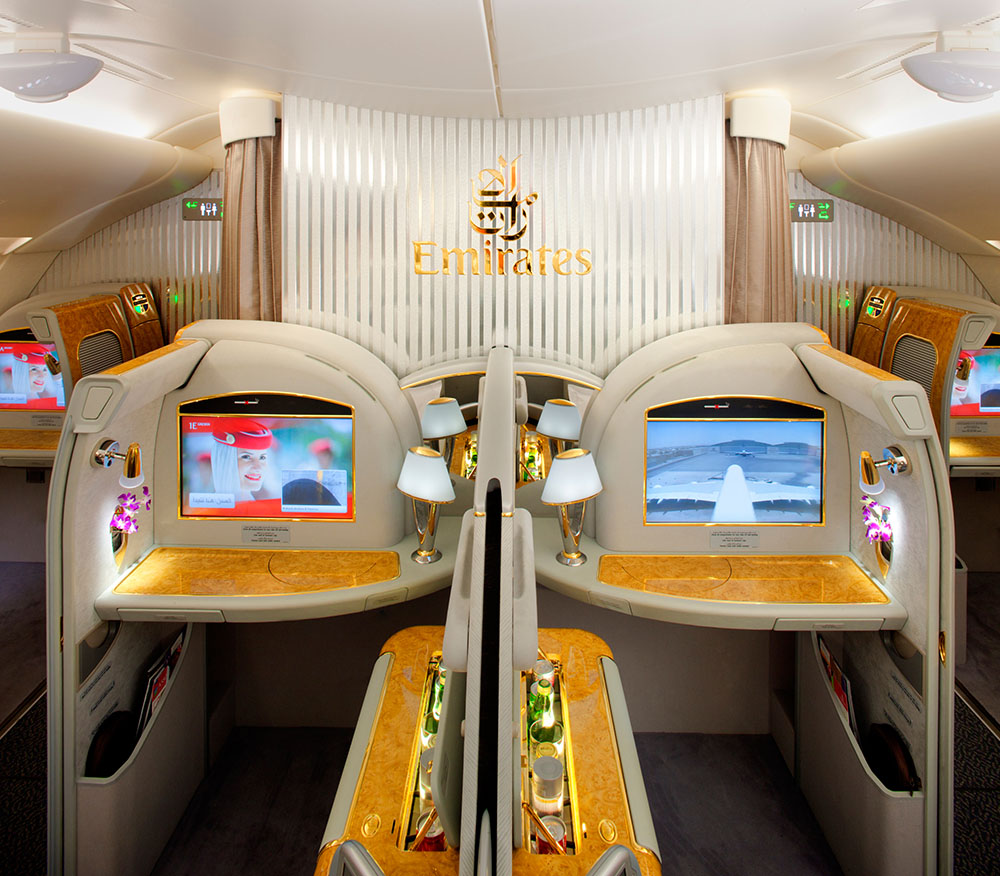 Passengers traveling in First Class on Emirates are entitled to all the amenities listed above, but they also get exclusive access to perks that have made Emirates the talk of the airline industry.
There are only 14 seats in First Class versus the 76 seats in business class, creating an intimate atmosphere in an elegantly designed cabin.
Seats come with a personal desk lamp, as well as a writing kit. Just as in Business Class, the in-seat minibar is present, but this time there's also a snack basket outfitted with chocolates, cookies, pretzels, and other nibbles.
While your ticket may cost more than Business Class, if you can spring for it, we recommend doing so. You'll have your very own private suite, which makes use of a sliding door to separate you from the rest of the cabin.
First class passengers have access to their own exclusive bar. It is smaller than the main lounge, but contains top shelf alcohol that is not available to business class patrons.
Not hungry at set meal times? Dining is available on demand. The number of dishes available for order is staggering, and presentation of said dishes is often on par with what one would expect in a five-star restaurant.
However, there is no amenity in Emirates first class quite like the world's first in-flight shower spa. Coming with a heated floor, it will likely be the most unforgettable shower you'll ever take.
Once you have completed your shower, a detoxifying juice and fruit plate will be served to you, providing the finishing touch on what will surely be the highlight of your flight.
At bed time, you'll be provided with a sheep skin blanket, as well as the world's first moisturising pyjamas infused with sea kelp moisturizer. Gently releasing in micro doses as you move around in your sleep, they will help keep your skin supple in the ultra-dry cabin air.
This sleepwear also comes with a pair of slippers and an eye mask, all of which you can take home with you after your flight.
Conclusion
Emirates is quickly becoming known for having some of the most attentive crew and innovative amenities of any carrier in the world.
However, it is not hard to see that there are certainly differences in service levels between Business class and First class.
Reviewers who have had the opportunity to sample both products note that attendants in Business are a bit more rushed as they attempt to serve a greater number of passengers. Furthermore, when one part of the airplane offers an in-flight shower, private suites, and on-demand dining, and the other does not, it is a prima facie case to say First Class on Emirates is a superior product to Business Class.
That said, the offerings in Business Class are generous enough to make Emirates one of the best options in the skies at this fare level. 
However, if you have the money to afford a First Class ticket on Emirates, flying in this manner is the best way to tick off 'fly first class once in my life' on your bucket list. Plus, here at SkyClub.com we can help you save money on your airfare. Whether you choose to fly Business Class or First Class, we can offer private fares that are cheaper than those found online. Just call 0207 255 1234 or submit your date preferences using the web form on this page.