When it comes to taking a long-haul flight across the world, sometimes there's no better way to pass the time than by watching the latest blockbuster movies or your favourite TV shows.
In First Class there's a great deal of competition between airlines to offer a truly luxurious service, so in addition to spacious beds and high-end dining, they also pay a great deal of attention to in-flight entertainment.
If you struggle to get to sleep, here are the best in-flight entertainment systems to keep you occupied throughout the journey:
Singapore Airlines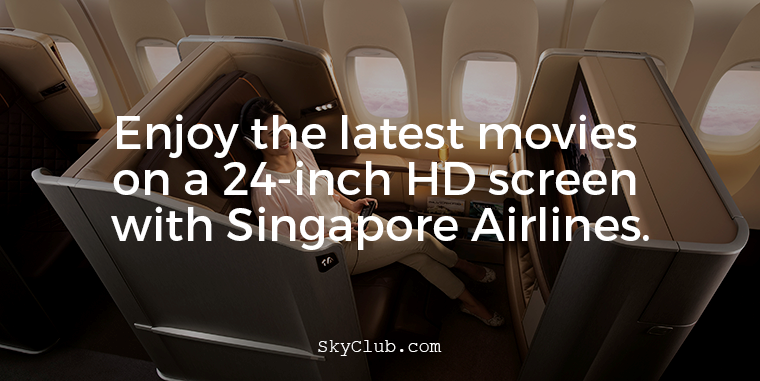 It shouldn't be too surprising that Singapore Airlines appears on this list, as they have a strong reputation for delivering a world-class experience for their First Class customers. 
The airline's in-flight entertainment system KrisWorld offers 1,000 different entertainment options, which includes a variety of TV shows, leading Hollywood films, video games, mobile apps, and music from virtually every genre in existence. 
First Class passengers have the privilege of viewing their chosen entertainment on a 24-inch personal LCD screen, which can be controlled with a video touch-screen handset. To complete the private viewing experience, Bose noise cancelling headsets are supplied to block out cabin noise.
Additionally, those seeking internet connectivity will be in luck, as they offer wi-fi in flight on the A380, A350 and some Boeing-777ER aircraft. Depending on the WiFi service provider and aircraft type of your flight, price plans provided may be either volume-based or time-based sessions; read more about their connectivity options here. Text messaging is also possible from the air, allowing you to keep in contact with colleagues or friends and family on the ground as you cruise above the clouds at 30,000 feet.
Emirates
When it comes to the greatest freedom of choice, the entertainment options on Emirates rank among the very best in the airline industry. 
In First Class, their ICE system presents 2,500 channels filled with movies, complete seasons of the hottest TV shows, and news channels that are live and up to the minute with the latest happenings from around the globe. Although if you're a telly addict, you might never want the flight to end with such an expansive collection to choose from.
Emirates also has internet access available to its passengers and is thought to have some of the best speeds aloft in the world. 
On all A380 aircraft and select Boeing 777 aircraft you'll be able to enjoy 10MB of free data – enough to send a Tweet and update your Facebook status to let family and friends know that you are in the air and on your way home. After that you can pay just $1 USD to use up to 500MB, allowing you to send important emails to clients and complete more intensive tasks.
Qantas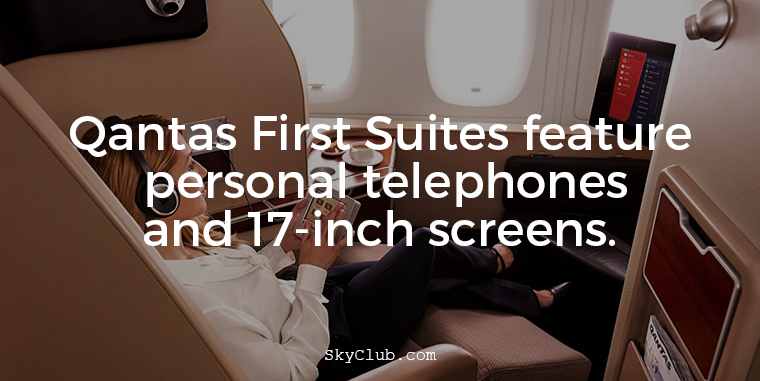 For those traveling to and from Australia, the entertainment options available to those in First Class on Qantas are bound to impress the affluent traveller.
17-inch touch screens will allow you to watch latest releases and television episodes with ease, while complementary noise-cancelling headsets will allow you to focus on them without being distracted by your snoring neighbor.
However, one of the most unique features available to First Class passengers are personal telephones which allow you to make voice calls and send text messages to friends, family, and business associates on the ground.
Etihad Airways
Finally, one of the best First Class options out there when it comes to entertainment is none other than Etihad Airways. 
Inside their distinctive First Class apartments, well-heeled travellers are able to lounge back in plush seats while watching some of the latest cinema offerings on their very own 24-inch flat-screen TV. 
Etihad is also committed to offering major world sporting competitions as they happen via dedicated channels, and with an audio library that offers over 400 albums, those looking to relax to their favorite tunes will have plenty of options available.
Ready to sit back, pop your noise-cancelling headset on and watch the latest movies in the comfort of First Class? Contact SkyClub to let us know your requirements and we'll find your First Class fares at the best possible price. Call our UK office on 0207 255 1234 or submit an enquiry on the website and we'll do all the legwork for you, ensuring your journey is a smooth and enjoyable one.