Consider yourself a foodie in the truest sense of the word? If trying out the world's finest cuisines is a passion of yours, then Four Seasons Hotels and Resorts have come up with a travel concept that will be of great interest to you. 
Starting in 2017, this prestigious hospitality group will launch three private jet journeys to the world's foremost culinary destinations, with the intention of helping participants explore the cultures and places that shape the flavours of the world.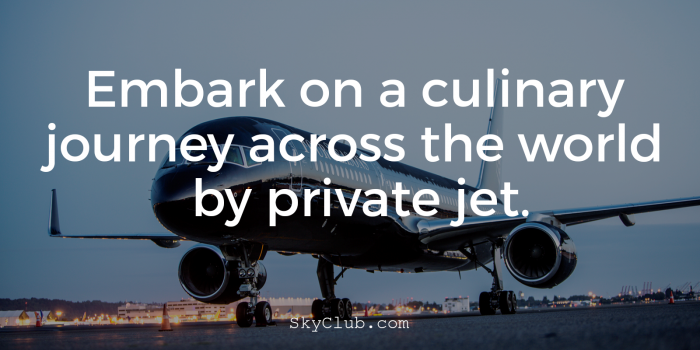 From hunting down the most Sublime Khao Soi in the back alleys of Chiang Mai, to touring the best bakeries in Paris, travellers will gain a deeper appreciation of what makes these culinary disciplines so well-loved.
Rather than simply tasting individual dishes, this exclusive odyssey will take you behind the scenes of the world's finest restaurants. With some of the best chefs in the business leading the way, you'll follow along as they go about their daily routine of tracking down fresh produce, lean meats, and succulent seafood at local markets.
Tour members will also have the opportunity to attend talks given by food historians, who will shed light on the history of the cuisines being explored.
Overall, this concept is turning out to be an exciting new use of the Four Seasons private jet fleet, with guests staying in Four Seasons hotels and resorts for the length of their trip.
Below we outline the activities available on their headline food itinerary, Culinary Discoveries:
Culinary Discoveries (May 27 – June 14, 2017)
Developed in partnership with Noma (one of the best restaurants in the world) this round-the-world trip will take you through leading centers of gastronomy in Asia and Europe.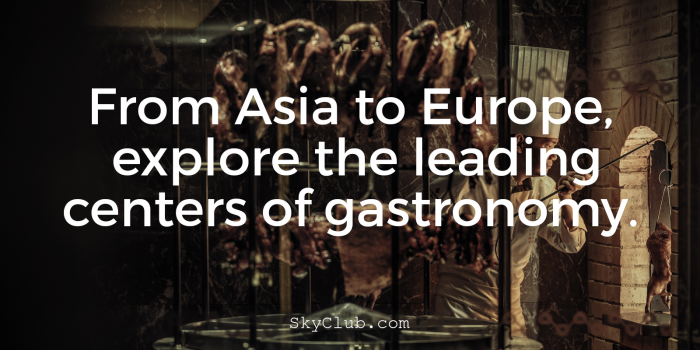 Asia: Korea – Japan – Hong Kong – Thailand – India
It will begin with a private dinner with one of the most decorated chefs in Seoul, Chef Jong Kuk Lee, where you will experience his renowned farm-to-table cuisine. A visit to a local Buddhist temple will help you further comprehend how Korea's cuisine has been influenced by this Eastern religion.
Next, your charter will spirit you across the Sea of Japan to the gargantuan city of Tokyo. Together with Michelin-starred Chef Namae Shinobu, you will learn the art of foraging, as the first half of your day with him will be spent in the forests outside of the city. In a private dinner later that night at his Michelin-starred restaurant L'Effervescence, you'll be able to taste food prepared using the ingredients sourced from earlier that day.
Your stop in Hong Kong will have you participating in a street food tour, cooking classes and tours of local markets, while your stop in Chiang Mai will have you experiencing the finest of Northern Thai Cuisine in a private dinner with Garima Arora, a native of India and former Noma chef now based in Thailand.
You'll close out the Asian part of your itinerary in India, with an introduction to the aromatic curries and colourful spices of Mumbai's tasty street-food.
Europe: Italy – Portugal – Denmark and France
The European leg of this journey will begin in Florence, Italy, where tour members will have the opportunity to get the inside scoop on how Chianti wine makers craft their finest vintages. Next up you'll jet off to Lisbon, where market tours and Michelin starred dining will be the order of the day.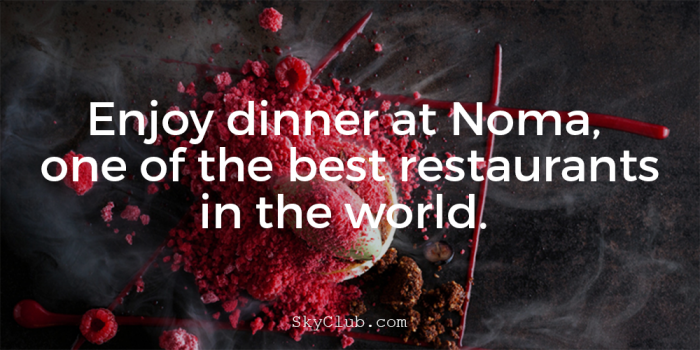 If you are looking to forage for your own ingredients when you get home, but you weren't exactly paying attention when you were in Tokyo, you'll get a second chance to sharpen those skills in Copenhagen. The culinary team behind the restaurant Noma will take you on this experience again prior to having a private dinner prepared with those ingredients later that evening.
Finally, your tour will come to an end in Paris, where you will have a farewell gala dinner at Le Cinq, which is situated in the tastefully appointed environs of the Four Seasons Hotel, George V.
The Trip of a Lifetime
With some of the finest food of your journey to date being on your plate here, it will be a two and a half week stretch of eating and learning that will stay with you for the rest of your life.
In addition to Culinary Discoveries, Four Seasons is also introducing an all-new Global Getaway journey in 2017 as well as an updated itinerary for one of the Private Jet's most popular journeys, International Intrigue.
While just one of these trips will cost you the princely sum of over $135,000 USD – as the saying goes, you can't take your money with you when you're gone. Life is measured in moments not things, so if you're a die-hard gourmand, why not splash out on a whistlestop tour of the world in unforgettable style? Our SkyClub representatives make sure you're booked on one of these unforgettable Four Seasons tours – just call us on 0207 255 1234 or submit an online request.