There are numerous articles about first class and business class flights on airlines like Emirates, Singapore Airlines, and British Airways. When it comes to flying with American Airlines, however, there is a bit more confusion on whether it is worth ponying up the cash/points for a first class ticket, or whether buying a business class ticket makes more sense.
Below, we'll break down the difference between these two modes of travel on one of the biggest name carriers in the USA.

Business Class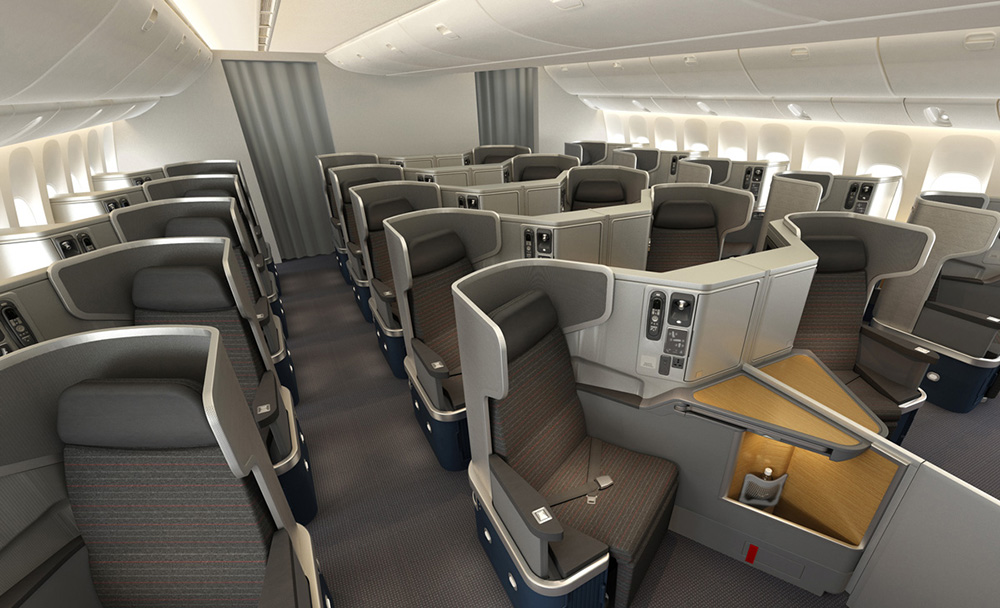 Your business class experience on American Airlines begins at the check-in desk, where there is a separate lane available for you and other business class passengers.
You'll also gain access to exclusive security lines which will help you breeze past the TSA faster than the masses flying economy, and when boarding call comes, you'll board right after first class takes their seats.
Prior to heading to your gate, you'll have access to the Admirals Club, which is American's branded airport lounge. Inside, you'll find snacks and finger foods which will quiet any hunger pangs prior to your flight, shower suites which will allow you to clean yourself up before boarding, and a business centre which will allow to fire off a last-minute e-mail if your phone/laptop is out of juice.
On the plane, you'll have access to a 19" wide lie-flat seat. It comes equipped with a universal AC power plug, along with USB and AV ports that will allow you to operate and/or charge your devices.
Amenity kits are supplied, coming with beauty products supplied by C.O. Bigelow, 3LAB, and Cole Haan, in addition to the standard sleep masks, toothbrushes, and bottles of mouthwash.
Finally, you'll get your own pair of BOSE noise-cancelling headphones for the duration of the flight, though flight attendants will gather these one hour before arrival.
When it comes time to eat, you'll get order your meal from a menu which grants you a variety of choices, including options for vegetarians.
When the cabin lights are turned down for bedtime, a complimentary pillow and duvet blanket will be made available to help you get comfortable before you lay down to rest.
At additional cost, you can also gain access to American's Five Star Service, which offers guidance and concierge services that can help make certain that your trip goes off without a hitch.
First Class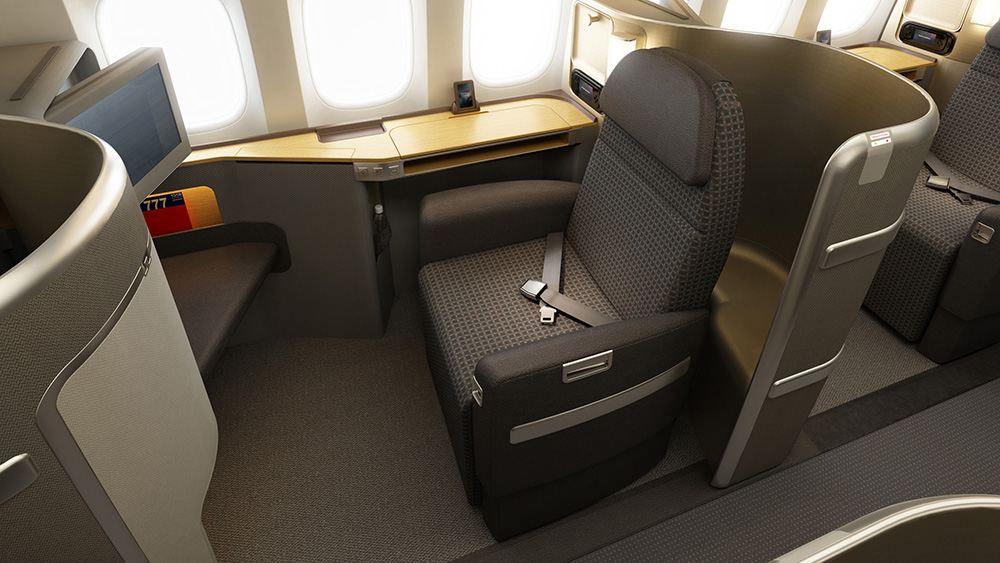 American's separate first class cabin can only be found on its 777-300ER planes, offering a total of eight seats in a 1-2-1 layer.  Should you be lucky enough to have access to it, you'll be privy to all the advantages mentioned above, but with exclusive access to the following perks.
Where available, you'll be allowed to enter the Flagship Lounge, which is for the sole use of first class passengers. Within, you'll have the option of being served a full premium meal on the ground before departing on an international flight.
Premium beer, wine, and spirits are also available, as well as representatives that will aid you with any travel-related concerns.
Depending on your airport of departure, you may also have the privilege of being checked-in and ushered through security privately. When the time comes to board the plane, you'll get to walk on as everyone else waits impatiently for their turn.
You'll get a seat that is 21" wide and lies-flat, but one that also swivels 90 degrees and comes with its own ottoman.
Premium food will be served to you at meal times, and at bedtime, you'll get to change into a pair of complimentary pyjamas, which you can take with you following your flight.
Which should you fly: First Class or Business Class?
While the standard of service in American Airlines first class is higher than its business class product, some reviewers report that it falls short of what is common in first class cabins on other international airlines. 
Passengers report that you get more privacy in business class than in first class, as business class on American comes with a reverse herringbone arrangement which allows passengers to enjoy their flight without being disturbed by those seated next to them. Comparable first class seats on many of American's planes lack screens that would provide a similar amount of discretion.
First class seats come with the same pillow and blanket you get in business class, but you also get an extra pillow and a thin mattress sheet. Another perk of flying First Class is the pyjamas which you can change into in the bathrooms for a more comfortable flight. Food is reported to be marginally better than in Business Class, but you are served Gosset Grande Reserve champagne before take-off and Lily O'Brien's chocolates before landing.
If you're a value-hunting traveller you might prefer to buy a Business Class fare as their product is already great. However, First Class does always offer those little extra perks. Whether you choose to fly first class or business class SkyClub can help you to find the best possible deal on you flight tickets, so you'll always be getting value on your fare.