In the past ten years, airlines from all over the world have made strides in catering to the business and luxury portions of the market, with carriers from the Middle East leading the charge. Looking to buck this trend, the main thrust of Lufthansa in 2021 and beyond is to be considered Europe's first five-star airline by upgrading its offerings to its customers, with a particular focus on those in the mid-range and luxury sectors of the market.
By clearly communicating its bold new offerings to the public, Germany's leading carrier hopes you will realize this. They have already started down this path by doing away with unpleasant surprises like hidden fees, and by clearly stating what you can expect when flying with Lufthansa, such as having free checked baggage and the food choices available on board before one even books their ticket.
The changes go far beyond clarity in its advertising though, as changes are actively being made throughout the airline, from economy to its first class lounges.
Affordable luxury for the masses: introducing premium economy class
Already well known for its first class offerings, Lufthansa is rolling out improvements to its other sections, which includes the introduction of premium economy class. It has already begun to be offered on Lufthansa's long haul routes as of November 2014, with further expansions in the offing after reports of early success with this innovative new way to fly.
This class is suitable for business people and other folks looking to save money on flights, but are looking for a level of comfort above what is available in coach. What advantages does it confer over normal economy class?
Premium economy offers 50% more space, allowances for an extra free checked bag (up to 23kg), a drink to welcome you aboard, an entertainment screen that is two inches bigger than the ones in regular economy, a wide selection of magazines and newspapers, a water bottle and an amenity bag filled with toiletries allow you to clean yourself up prior to arrival at your destination.
Those that are skeptical about the added space improvements needn't be so pessimistic, as Lufthansa has done more than create extra leg room, as the width of the seat and armrests, as well as generous back recline and adjustable head rests make them considerably superior to the ones available in coach.
Additionally, your seat comes with other useful amenities, as Lufthansa has also included storage space for personal effects, a power socket for electronic gadgets, as well as a drink holder for any beverage cans and bottles that you end up consuming during the course of your flight.
What's more, meal service for premium economy customers comes with a touch of class, as you can select from a short but inspired menu, which is then served on porcelain tableware – not bad for paying a bit more on top of a normal economy fare!
The fun doesn't end once you step off the plane though, as those in premium economy can now access Lufthansa's business lounges for a fee of €25, enabling the more humble among us to get a peek behind the gilded doors after years of ruminating.
Brand new and refurbished lounges across the globe
First class, business and premium economy passengers alike will be thrilled to find out what Lufthansa is doing with its lounges around the world, as many of these stately but aging facilities have been given a long overdue facelift over the past few years.
These efforts will continue in 2022, but those traveling through Frankfurt will bear witness to the clean, modern designs that have graced the Lufthansa Business Class Lounge. Needless to say, the airline remains committed to following COVID-19 protocol and ensuring that travellers are comfortable, as well as safe. Once inside, you'll find plenty of seating with ample access to power plug points, two buffet stations (with one focusing on snacks, while the other offers light meals and alcoholic beverages), and clean spacious shower rooms with all the toiletries you'll need to freshen up before or after your flight.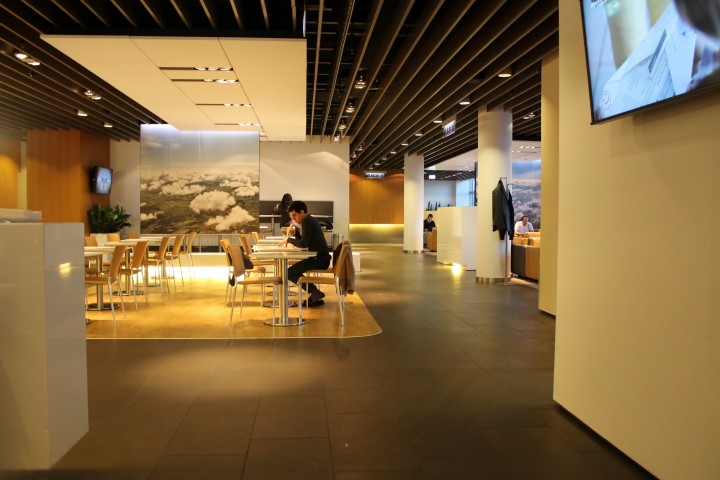 In-flight dining overhaul just one of the changes coming to business class
While the food in business class and above has never been anything less than extraordinary over the years, the meal service is now in the process of being transitioned from being held at fixed times to a model that will enable passengers to request food at a time of their choosing during the flight (take off and landing excluded).
On top of this new flexibility, the standard of cuisine will be aimed at emulating the quality of meal that you would expect in a fine dining restaurant, an improvement that will enable them to continue to compete with the aggressive offerings of other service-focused competitors from across the globe.
In addition to improvements in the kitchen, a new amenities kit has been put together by Samsonite, and a vastly improved digital entertainment system will be rolled out in business class in the coming year. This will double the amount of movies, TV shows and music files available for the amusement of travelers, thereby delivering the added value that these customers expect for the fares they pay.
Finally, the continued roll out of lie-flat beds will continue through 2022, which gives the customer a perfectly horizontal two meter long mattress that will allow those in business class to get a restful sleep before arriving home to their families.