When scheduled flights just don't offer enough flexibility or you don't feel safe travelling with large groups of people, private jets are always an option, especially when going on vacation with friends and family. Emirates, which was voted luxury airline of the year in 2013 and was a runner up in the following years, also offers a private jet experience with the same service and luxury offerings you've come to expect from one of the world's top airlines.
If you charter one of their A319 jets, you can fly up to 19 guests wherever you want, whenever you want. Each aircraft can fly up to 8-hours non-stop and you have the freedom to choose your departure and destination airports, even if they're outside the Emirates network. With a cabin fit for a king, the private jets have suites that are even better than those found in First Class on standard flights and you'll have a multilingual cabin crew on hand to cater to your every need.
The Interior
Inside the aircraft you can relax in a luxurious environment, with a spacious living and dining area. There are ten Private Suites for each of you and your guests, which are larger than those found in First Class. With sliding privacy doors, flat-bed seats, ambient lighting, a mini bar and 32-inch LED screen you'll feel like you have your own private bedroom up in the air.
You can customise the lounge area to suit your own needs during the flight, so it can be converted into an office space for conferences and meetings, a place for relaxing if you're travelling with family, or a private restaurant for you and your guests.
If you want to powder your nose, you can do so in the powder room, or you can take a quick shower in the Onboard Shower spa before settling down to sleep. Finished in walnut and marble and stocked with luxury spa products, the shower spa offers a relaxing space to pamper yourself.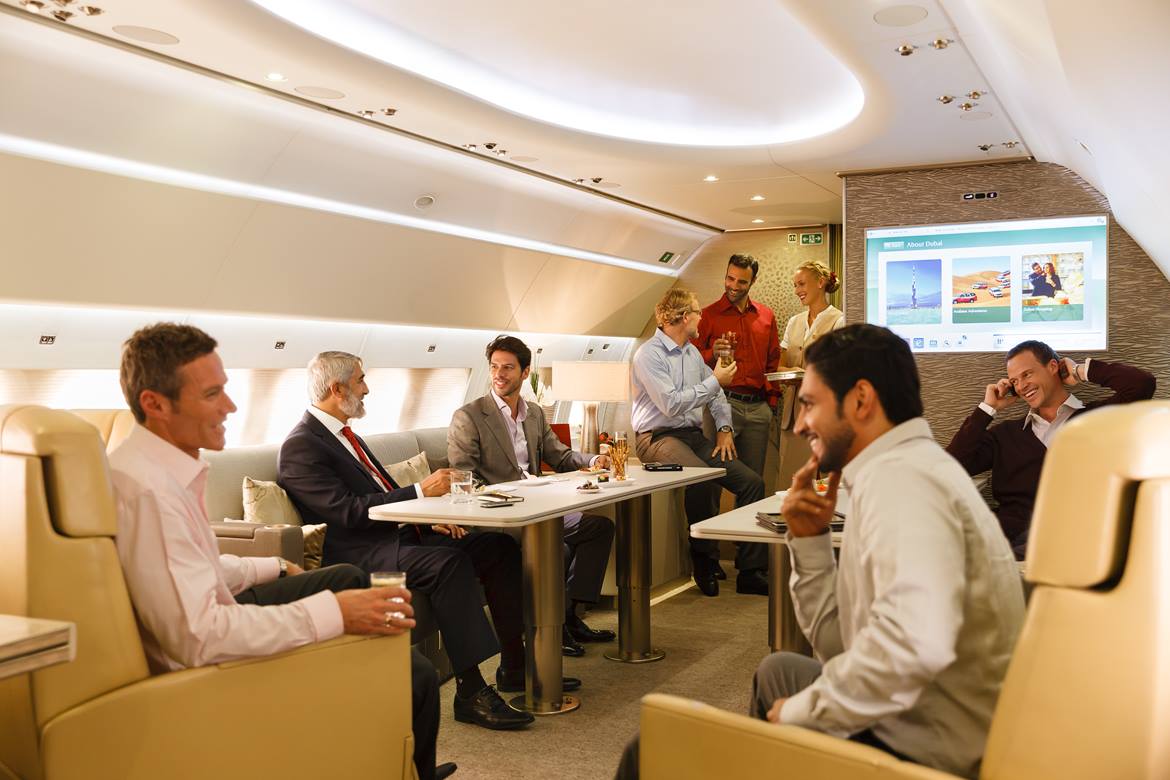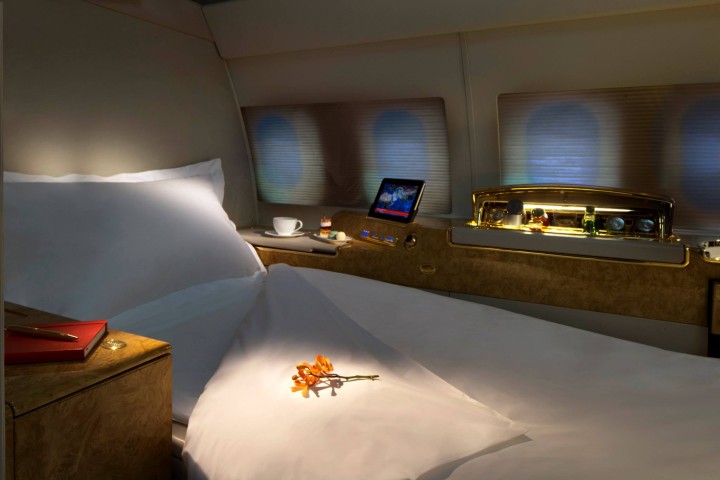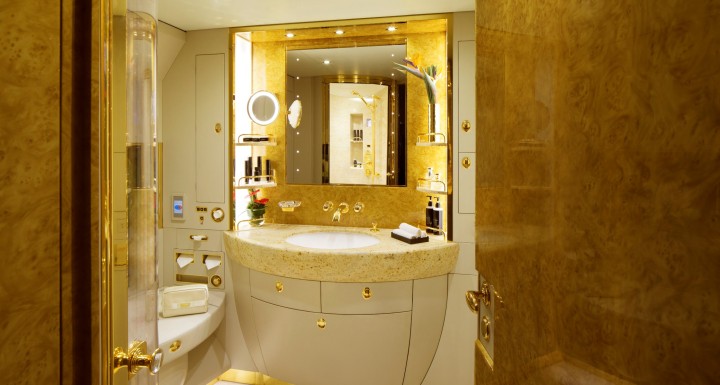 Inflight Entertainment
The A319 features Emirates' award-winning entertainment system, ice. You can access over 1,500 channels of on-demand entertainment on the 32-inch screen in your private suite, or watch a movie with your friends and family in the lounge. You can also watch an important sports game or keep up to date with breaking news. The aircraft is equipped with WiFi, mobile phone connectivity and a state-of-the-art video conferencing system, so you can stay connected at all times.
Dining
When you fly by private jet, you have a custom menu and a choice of dining styles, so you can have your meal in your own private suite or entertain travel companions with a banquet-style dinner. The gourmet meals contain only the freshest ingredients and are prepared by master chefs.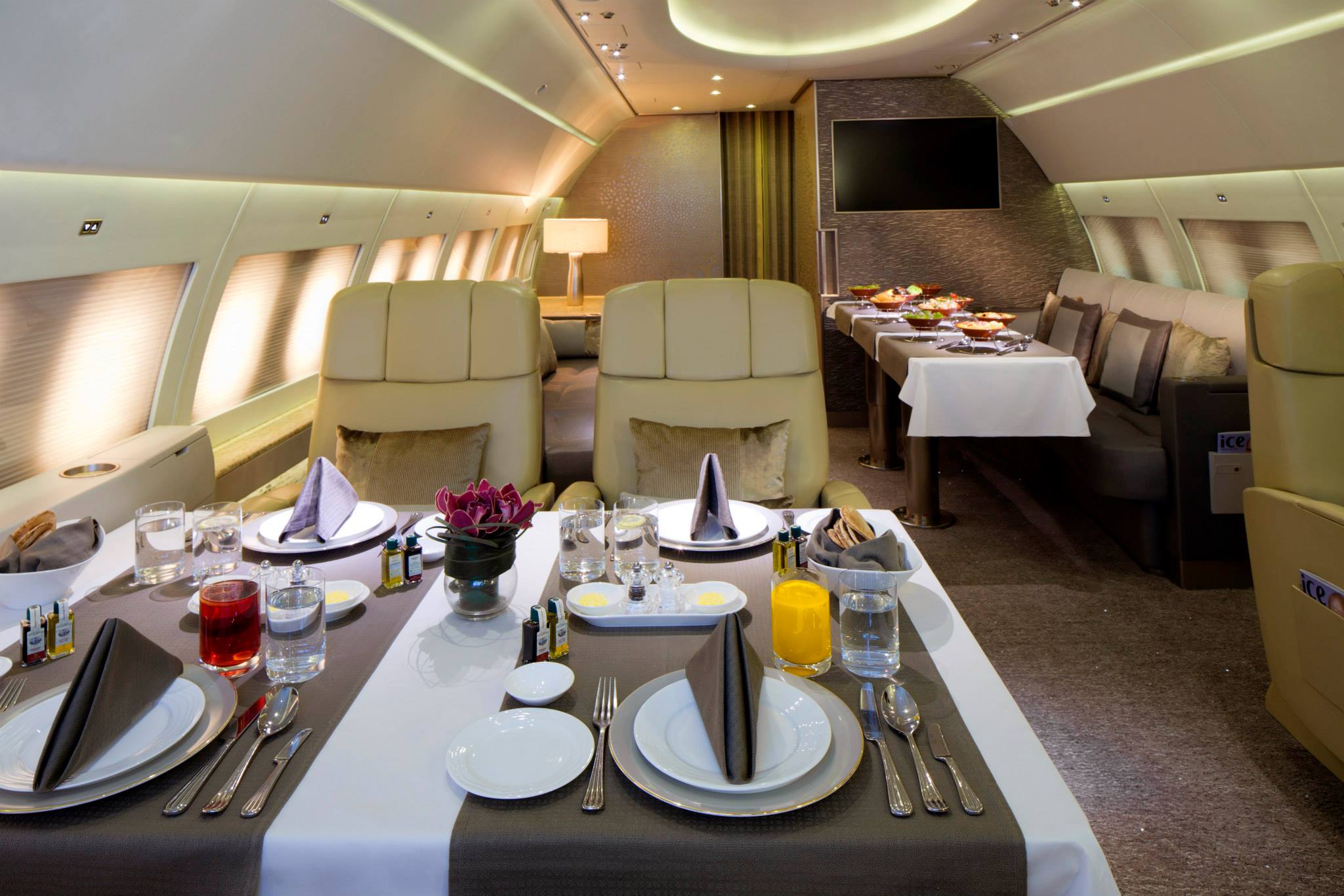 Chauffeur Drive
As with Emirates First Class, your VIP experience doesn't just start when you board the plane. You'll be whisked from your door to the airport in a chauffeur driven car and when you arrive at your destination, there'll be a car waiting for you to take you wherever you need to go. In 2021, this is definitely one of the safest and most convenient ways to get to you destination.