Virgin Atlantic's motto 'Flying in the Face of Ordinary' perfectly aligns with everything you find in their products. With a flamboyant CEO, Sir Richard Branson, leading the way, this grassroots airline has always done things a little differently from other headlining acts. As a result, they've amassed a long list of happy customers who have a love for the exceptional. From being the first to introduce seatback TVs in every seat, to a Swarovski crystal-studded onboard bar, and frequent flyer programme for your pet, Virgin Atlantic is constantly at the forefront of commercial aviation creativity. All to ensure its customers' travel experience is always out of the ordinary.
Here are some more reasons to fly Virgin Atlantic's Business Class which they fondly call, Upper Class:
Clubhouse Lounges
Virgin lounges offer an escape from the hustle and chaos of some of the world's busiest airports. Their Clubhouses are enormous and include amenities like a spa, salon, hot tub, amazing viewing areas and many other ways to relax and actually enjoy yourself before your flight.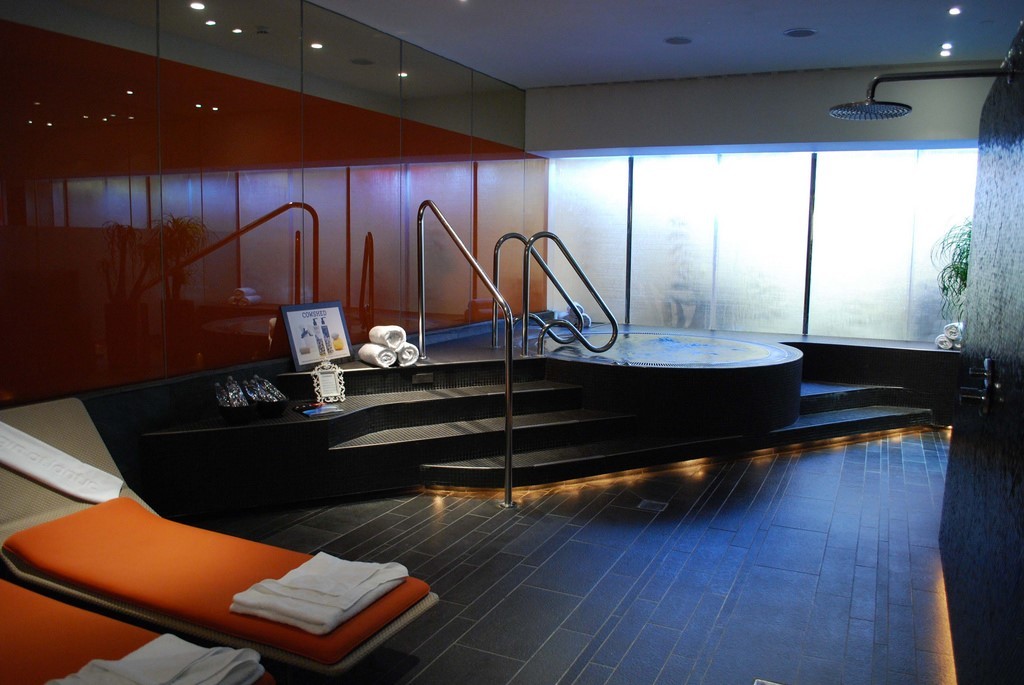 A full bistro restaurant is common place in Virgin Clubhouses where you can order from an a la carte menu with a wide range of options even for the most discerning foodie. Dishes are all made to order which means they are fresh and delicious. You'll be spoilt for choice at the lounge bars too, where mixologists can magically whip up your favourite cocktail.
Relaxing should be the order of the day if you're in a lounge – it is what it's called after all, and Virgin Clubhouses provide a variety of quirky but very comfortable ways to unwind. From hanging bamboo pods to sunken '70s style seating areas, and even a cinema and games area – it's almost like they never want you to leave!
Flying Comfort
But of course, you will have to leave eventually, even if you don't want to. But don't worry, the pampering only continues when you board a Virgin Atlantic Upper-Class cabin. The in-flight luxury begins with your seat, which are set at an angle from each other in the herringbone style, ensuring a high level of privacy as well as comfort. The high screens cocoon you in your seat, providing you with peace and quiet to either work or play.
Enjoy hotel-like service with Virgin's trademark 'turn-down' feature. When you're ready to sleep, a crew member will come and transform your seat into a 6-foot bed and lay a comfy mattress, fresh white linen, a fluffy duvet and a plump pillow for the ultimate in-flight sleeping experience. In the sitting mode, it's like relaxing in your favourite sofa in the soft leather upholstery, and you can put your feet up on the ottoman or invite a guest for a nightcap.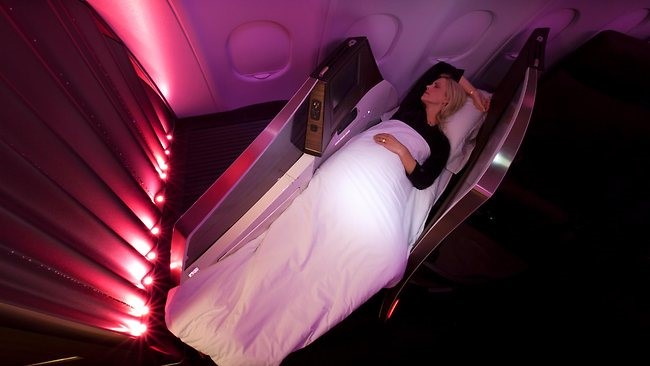 Inflight Dining
Eat anything, anytime from Virgin's varied menus that includes a graze menu, pre-dinner drinks service and special menus featuring dishes from celebrity chefs like Lorrain Pascale.
Your meal is served on elegant table settings with specially designed crockery and cutlery. A fun and quirky feature are the salt and pepper shakers which are shaped like airplanes which would make excellent souvenirs (and we're sure Virgin will let you take some home if you ask nicely).
A unique addition to their inflight dining experience, and a nod to its British roots, is their famous high tea service. Enjoy a selection of freshly prepared sandwiches, cakes and scones served with clotted cream and jam all served on a tiered plate and partnered with Fairtrade teas and coffees. It's a touch of Pan Am glamour and the highest altitude afternoon tea you will find.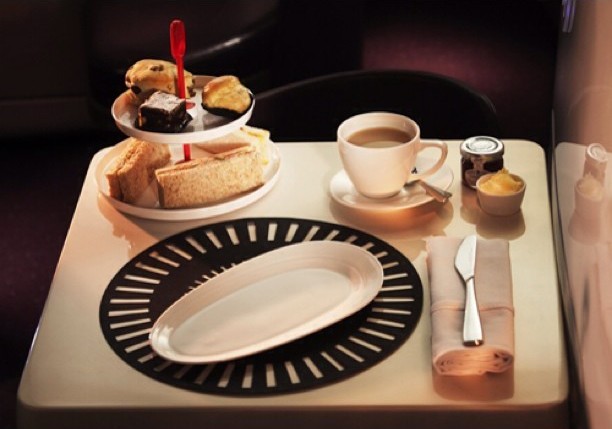 If you need more reasons to love flying Upper Class with Virgin Atlantic, get in touch with your SkyClub expert today to book your Upper-Class experience. We're sure you'll love it just as much as we do!