Any jet setter will probably tell you that flying first class is the only way to go. These opulent cabins are the epitome of luxury travel where you feel as comfortable as though you were at home.
With the demand of first class air travel at an all-time high, airlines are stepping up their games in providing superlative extravagance for loyal patrons, from on board showers, private suites, to personal nannies and in-flight chefs.
Choosing the best one to sample from an array of 500 airlines available in the world today is no easy feat, but here are five which constantly earn the praise of critics and passengers alike.
Etihad Airways
Etihad recently blew luxury air-travel out of the water with the release of 'The Residence', featured on the upper deck of their new Airbus A380.
'The Residence' is a three-room VIP suite which includes a living room, separate double-bedroom and en-suite shower. Passengers will soon be able to fly commercially in what feels like your own private jet with a Savoy Academy trained butler, gourmet chef and concierge at your convenience.
In addition, there is a serviced lounge known as The Lobby, as well as special prayer areas fitted with real-time electronic equipment that shows the exact location of Mecca.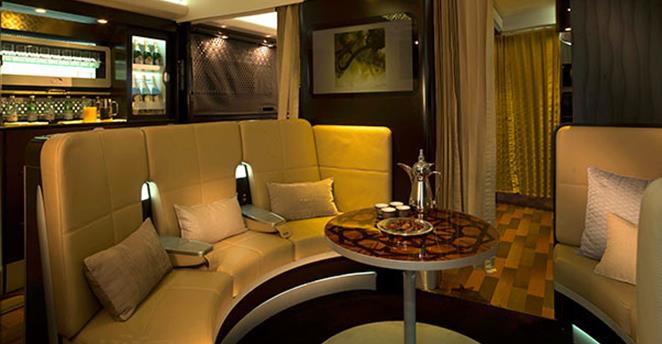 Emirates
Emirates pioneered the in-flight shower which can be found on their Airbus A380 aircrafts. The walnut and marble designed shower spas have all the trimmings of a world-class hotel bathroom.
You can retreat to your own personal suite which features a seat that converts to a fully flat bed with a mattress, measuring 86 inches long and 23 inches wide. The hotel feel is further highlighted by sliding doors and adjustable privacy divider, allowing you to relax in your own private sanctum complete with a personal mini bar, touchscreen TV, adjustable ambient lighting, vanity table, mirror and of course, a wardrobe!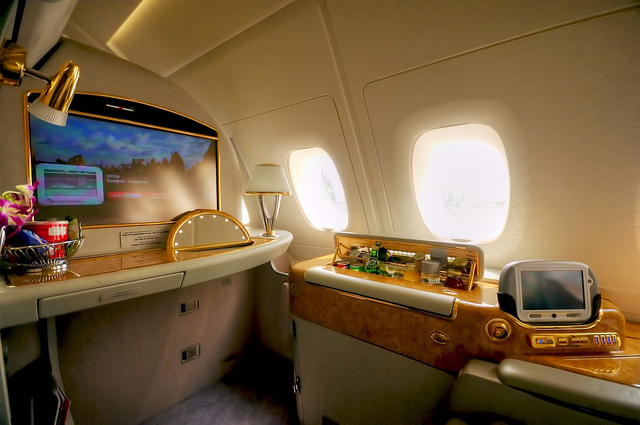 Singapore Airlines
Also boasting private suites in their first class offering, Singapore Airlines is known as one of the best airlines in the world and indeed they never do things by halves.
On board their A380, extravagance is marked by the 12 decadent private suites featuring arm-chair style seats hand-stitched by Italian craftsmen finished in leather and wood. Singapore Airlines were the first to introduce separate stand-alone fully flat beds, measuring 78 inches long, alongside lush sofa seats, whilst sliding doors provide absolute privacy.
On board their Boeing 777s are eight majestic and perfectly upholstered, fine-grained leather seats which stretch out to a very generous 80 inches long and 35 inches wide fully flat bed. Each bed is complemented with luxurious soft furnishings designed exclusively by Givenchy.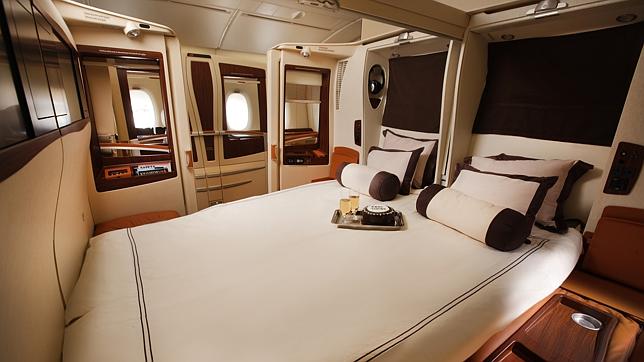 British Airways
These guys really know how to impress, pamper and spoil their passengers in their opulent first class cabin. Advertised as a 'private sanctuary', the demi-cabins certainly do not disappoint.
It features a bed measuring six and a half feet with power outlets and satellite phones as standard to keep you connected at all times. Privacy and insulation are paramount among BA's concern for their passengers, providing turndown service and full linens for the ample-sized bed, making sleep a real treat. And speaking of treats, don't forget to ask for your cocktail before bed.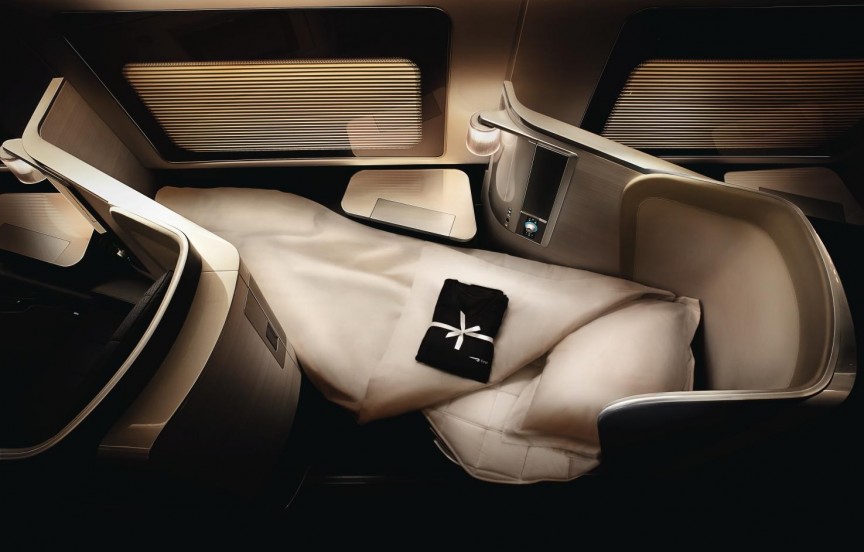 Qatar Airways
Winning the coveted title of world's best airline in 2011, Qatar Airways ensures you are treated with style the moment you step on board their aircraft.
With service that's personable and professional, exquisite 10-course dining cooked by award-winning chefs, you can feast on specialties like caviar and lobster before washing it down with fine wines and champagne.
The ultra-comfortable 22 inch seat has an in-built massager and when sleep beckons enjoy 'room service' with a personal turndown service where your seat will be transformed to a 79 inch fully flat bed with a feather duvet.