Have you ever wondered who actually makes your airplane seat? The plane you're flying in is most likely manufactured by either Boeing or Airbus, but once the aircraft is rolled out of the paint shop, it then has to be fitted with the airline's chosen cabin design. While some airlines go with custom built seats, most choose from a range of existing seat models, which can be customised with their own fabrics, colours and accents. Here we take a look at the best business class seats in the skies and the plane seat manufacturers who make them. 
Zodiac Aerospace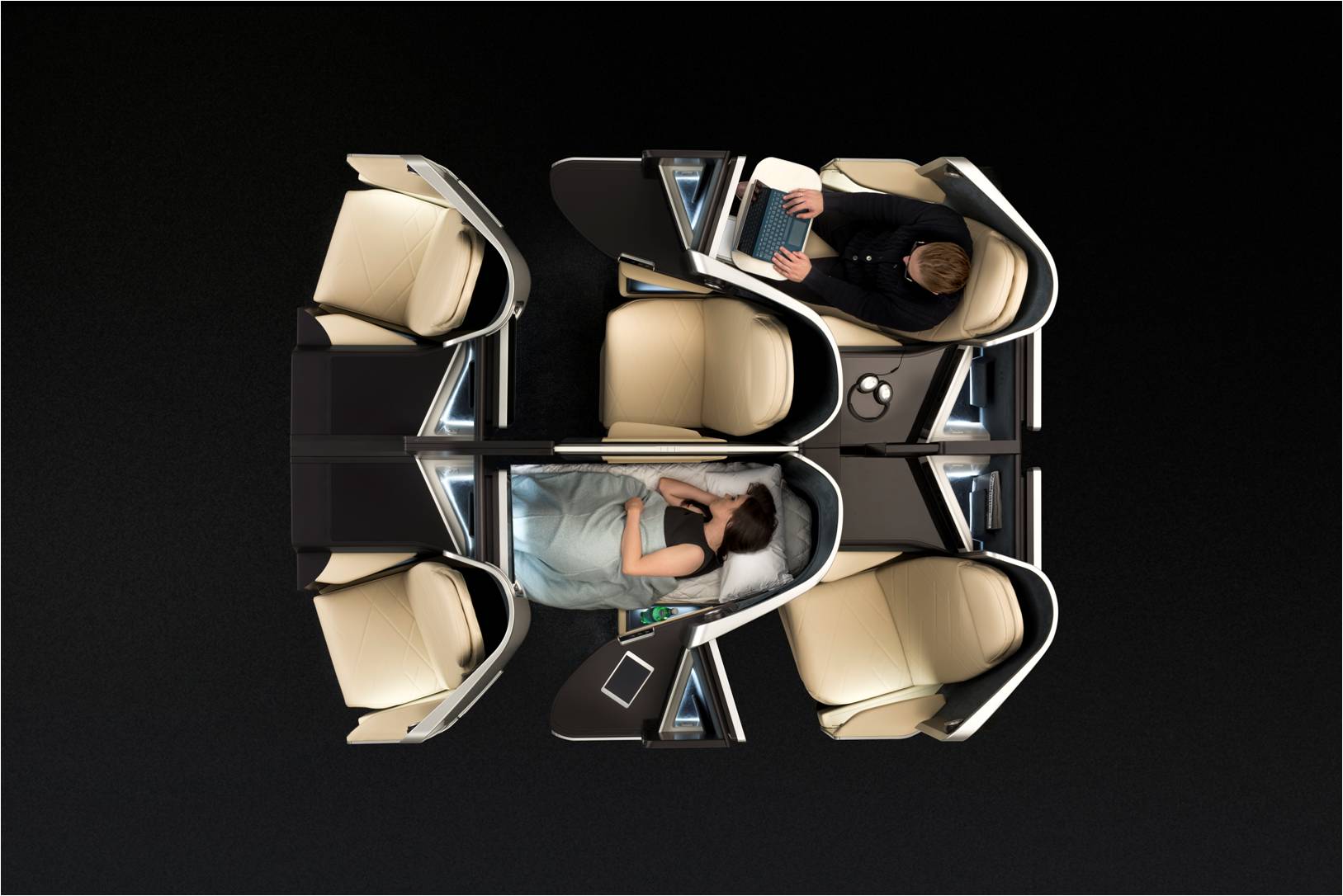 Zodiac Aerospace manufactures an array of Business Class seats, including models such as Cirrus, Fusio, Skylounge and Optima. At the 2017 Aircraft Interiors Expo in Hamburg, Zodiac Seats unveiled its latest product Optima, which is expected to set a new standard in business class travel. Due to a unique cabin configuration that mixes in-line and angled seats, Optima allows airlines to fit 15% more seats in their cabins compared to standard business class seats, while providing passengers with a private environment where they can relax, unwind or talk to their travel companion. With bed lengths up to 83.5" and the option for a centerline double bed, Optima creates a sleeping experience for travelers that would typically only be associated with First Class. Every passenger enjoys direct aisle access, large surface areas, extensive stowage options and heightened privacy thanks to electrically actuated privacy screens.  
Recaro 
Ranked among the top three aircraft manufacturers in the world, RECARO provides leading airlines with innovative Business Class and Economy Class seats. The company is based in Schwäbisch Hall, Germany but also operates plants in Germany, Poland, South Africa, the United States and China.
The company was honoured with the German Design Award 2015 for its RECARO CL6710 Business Class seat, which took to the skies in September 2017 on El Al's Dreamliner flight from London Heathrow to Tel Aviv. For the design of the business class seat, RECARO was inspired by contemporary interior design in hotels, clubs, and lounges. Exclusive materials such as leather and fabric seat covers, clear lines, and contours emphasize the visual comfort and the premium quality of the product. Lightweight but also comfortable, the RECARO CL6710 has a timeless design with a full-flat bed, excellent living space, direct aisle access, and generous stowage space in a high-density configuration.
Thomson Aero Seating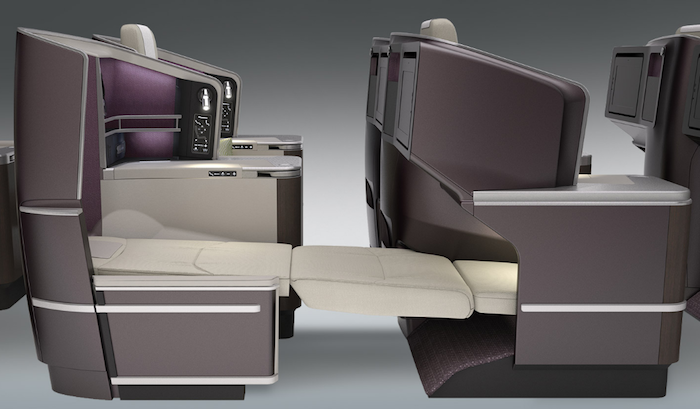 Thomson Aero's production facility is located in Northern Ireland and the company's client list has included leading airlines such as American Airlines, SWISS, Air Canada, Brussels Airlines and Austrian Airlines. The company's Vantage XL seat was revealed at the 2013 Aircraft Interiors Show in Hamburg and was quickly adopted by Qantas for their domestic and international A330 fleets. The forward-facing seat offers a generous 23" – 24" width and direct aisle access, converting into a two metre-long, lie-flat bed. More recently it was announced that Thomson Aero would supply Delta's new A350 fleet with the new Thompson Vantage XL Suite, creating the first business class cabin to feature a sliding door for every customer. 
STELIA Aerospace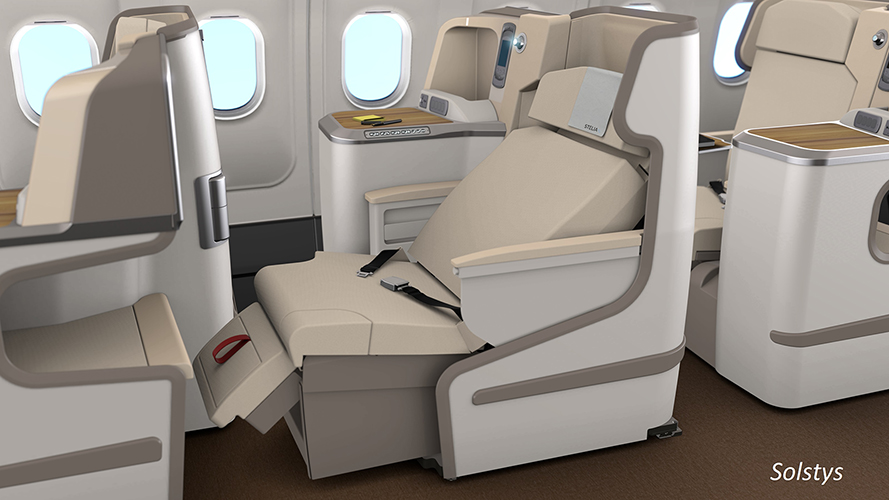 Headquartered in Toulouse France, STELIA Aerospace is wholly owned by the Airbus Group but also manufactures seats for Boeing planes. Premium business class seat models include SOLSTYS, SOLSTYS III and OPAL, while standard business class seat models include EQUINOX 3D, EQUINOX 2D, EQUINOX 2DV and CELESTE.
The company's SOLSTYS business class seat is available on the Thai Airways A350 and Asiana A350, as well as other airlines including Etihad and Air Berlin. The staggered configuration is one of the roomiest in the skies, with seats offering a pitch of 77 inches when in the full lie-flat position. Each seat can be customised with different upholsteries and headrests depending on the airline's desires and features innovative technology such as wireless charging and compatibility for contactless credit card payments. Airlines can alter the comfort of the seat using technology called Octaspring, where multiple springs are placed within the seat and their firmness can be altered during the definition and customization phase. 
Rockwell Collins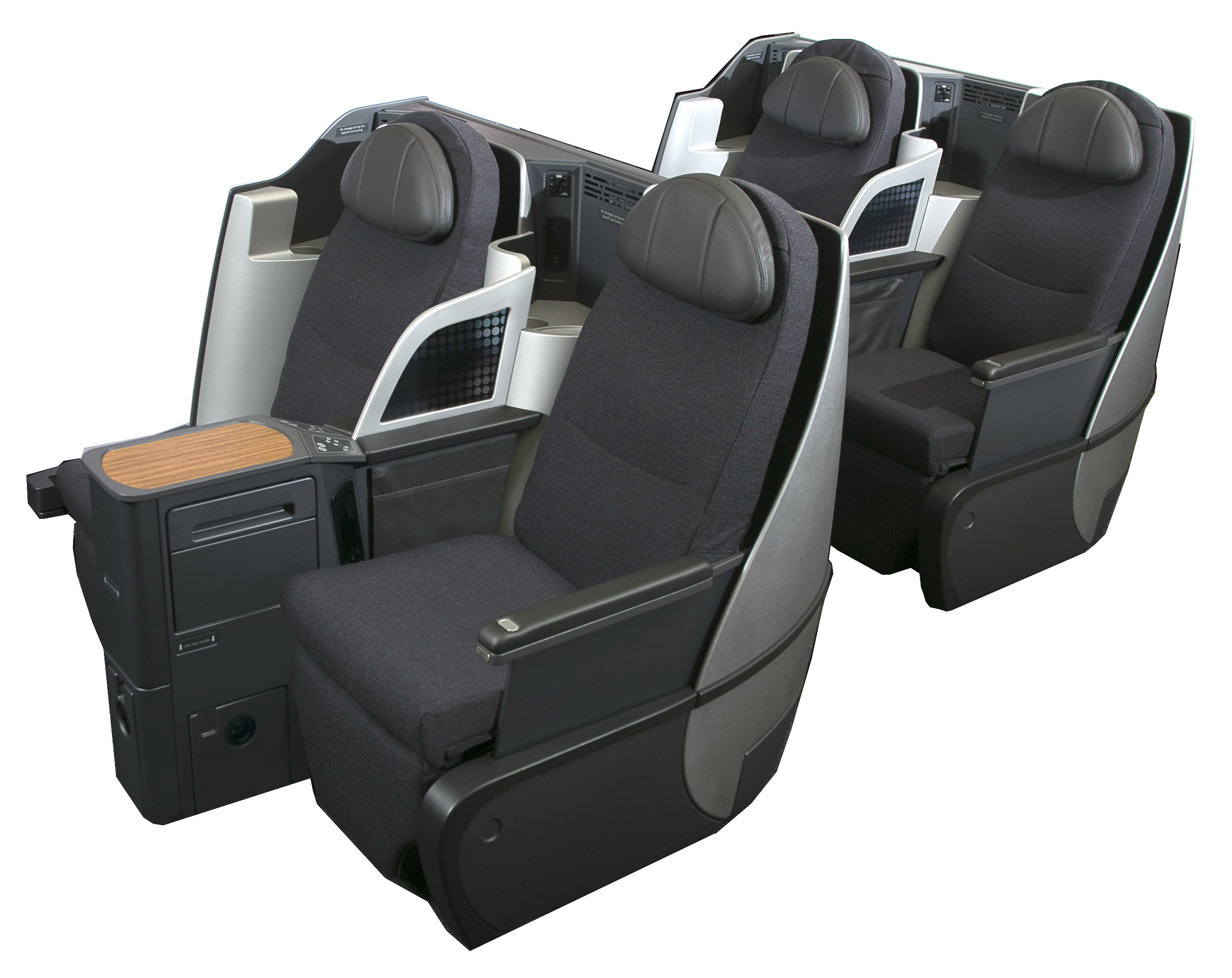 Rockwell Collins acquired B/E Aerospace in 2017, expanding its portfolio with a wide range of cabin interior products for commercial aircraft and business jets. The company's business class seat family includes Diamond, Millennium and MiQ. The Diamond family is certainly the most luxurious, offering multiple configurations—from high-density solutions to luxurious all-aisle access. Super Diamond is a full-flat seat with a highly resolved composite body that saves weight and adds structural strength, resulting in greater stiffness of the table and in overall strength and rigidity of the seat structure.