It's the night before your flight and you're laying out your outfit for the next day. What do you wear? Your best business suit? Something more casual that you're comfy sobbing about in? Sometimes it's difficult to know what the dress code is, or if there is one at all. Some frequent flyers are of the mindset that "I've paid for business class so I can wear whatever I want", while others think that since it's a more exclusive cabin class, guests should make more of an effort. When it comes to actual airline policies though, generally you can wear whatever you like. 
Of course rules vary from airline to airline though. If you're planning to enter the Qantas Club lounge for instance they've adopted a more strict strict dress code, which bans flip flops, bare feet, head-to-toe gym wear, beachwear, sleepwear, Ugg boots and slippers. You'll also be denied entry if you're wearing revealing, unclean or torn clothing, or clothing with offensive images or slogans. 
Other airlines have less stringent rules, so it's worth checking to find more details. Usually though business class is relaxed, so there's no need to don your skyscraper heels or arrive wearing black tie. Just perhaps avoid rocking up bare foot or wearing something that could be offensive to other people. 
Below are some tips for what to wear in business class:
Take advantage of the sleepwear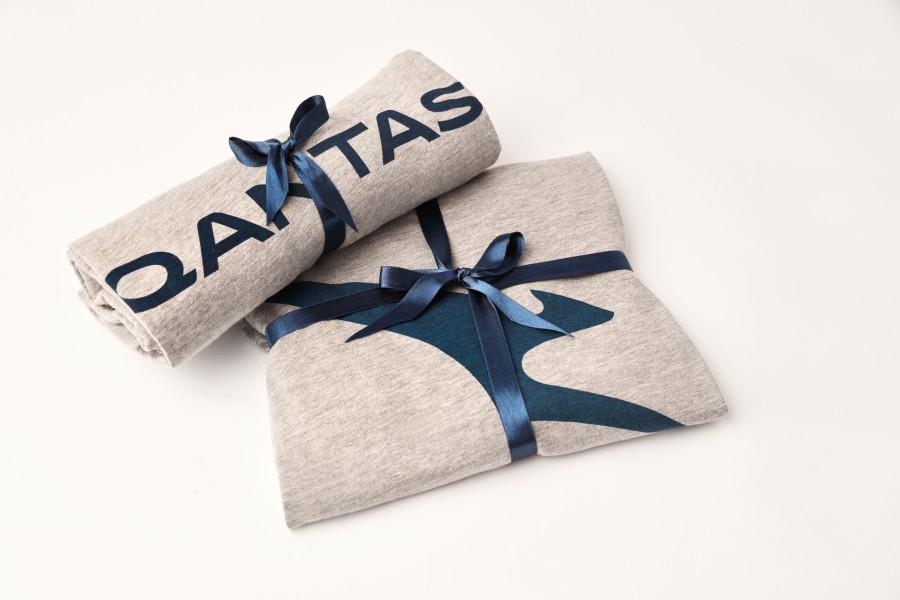 Sleepwear isn't always provided as standard in business class but some airlines do provide pyjamas as part of their service. Qatar Airways provide grey PJs and slippers by The White Company, while Qantas supplies cotton PJs with raglan-style sleeves and kangaroo logo. 
If you want to get a good night's sleep onboard the aircraft then it's worth heading to the bathrooms to change into something a bit more comfortable. There's nothing embarrassing about getting into your PJs on a business class flight and it's certainly better than getting into your lie-flat bed fully clothed. 
Wear a comfortable outfit 
Where possible, avoid tight or restrictive clothing such as jeans. It's going to be a long journey, so better to wear loose, cotton clothing or stretchy fabrics. It's also best to avoid fabrics that crease (such as linen) and instead opt for fabrics that are wrinkle-free.
Many female travellers tend to opt for leggings since they're stretchy and comfortable, paired with a slouchy top or loose-fitting blouse. Ballet flats are always a great footwear choice, since they're comfortable and can be easily slipped on and off at security. 
Says one lady on mumsnet.com – "Smart dark yoga pants, 3/4 length smart jacket, dark cardigan and smart t-shirt with ballet pumps are my flying uniform. Pashmina can be useful as well in case you get a bit cold at any point."
For men, think chinos or light, cotton slacks paired with a smart-looking T-shirt or V-neck sweater. 
When in doubt…think smart casual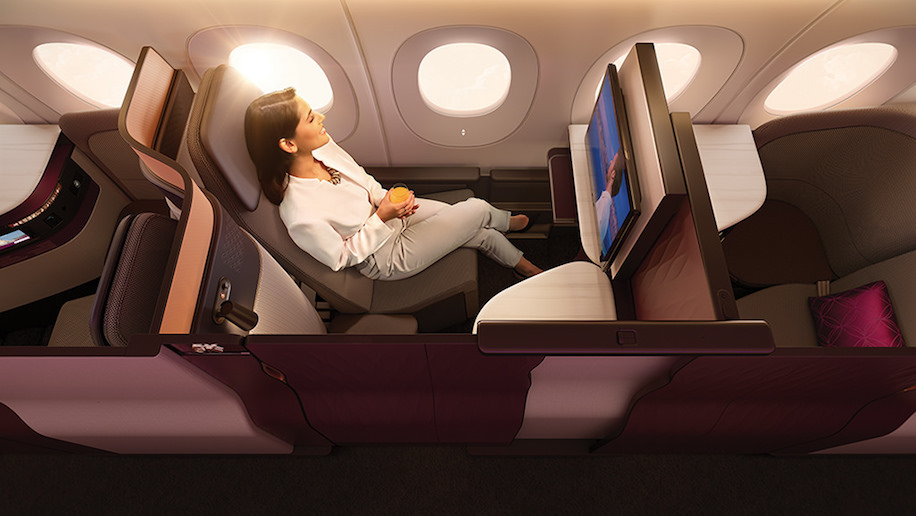 You never know who you'll meet in the business class cabin so you might want to look smart, but there's definitely no need to show up in a suit or formal attire! Just like with events or restaurants, smart casual is always a safe bet. This way you'll look smart if you suddenly find yourself sitting next to a new business contact, but not so smart that you're uncomfortable and look out of place. 
Hang up your outerwear
Sometimes there will be a wardrobe or coat hooks in business class, otherwise lay your jacket neatly in the overhead storage bin so it doesn't get creased. If you need to wear a suit because you're travelling on business, you can always bring it on a hanger and change into it when you get to the arrivals lounge. Some arrivals lounges even have shoe shining services so you'll arrive at your business meeting looking smart and well-groomed. 
Bring something warm
When flying, the cabin can sometimes get a little chilly. Luckily in business class the airlines tend to provide socks, blankets and even comfy duvets but just in case things get cold it's a good idea to bring a pashmina, cardigan and a spare pare of thick socks to keep your feet nice and toasty. 
What do you wear on business class flights? Do you prefer to dress up or do you opt for something more casual? We'd love to hear from you – leave your comment below!