Flying across the Atlantic to the Big Apple? New York is the busiest route of Heathrow, with more than 3 million people travelling to John F Kennedy airport and 1 million travelling to Newark every year. Airlines therefore place great importance on this route, utlising their newest planes and cabin products as well as offering lounges in both London and New York. With an 8 hours flight time you'll probably want to get a good night's sleep on your journey, so Business Class is definitely the way to go if you'd like to arrive feeling well-rested. But which airline offers the best Business Class experience? Let's take a look: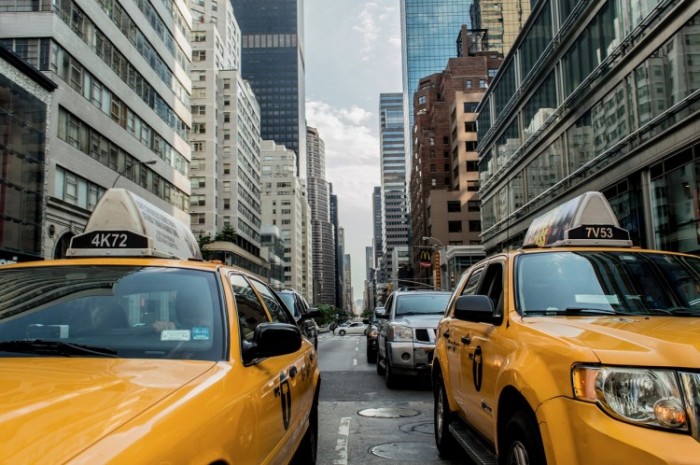 Who Flies to New York?
If you're looking to fly non-stop then you have a range of airlines that fly Business Class from London to New York, including American Airlines, British Airways, Delta, United and Virgin Atlantic.  British Airways also operates an all-Business Class flight from London City to New York, which stops over in Shannon, Ireland. While it's not a direct flight, the benefit is that you get to clear US customs in Ireland, meaning you can skip the queues and whizz through the airport as soon as you land in New York.
British Airways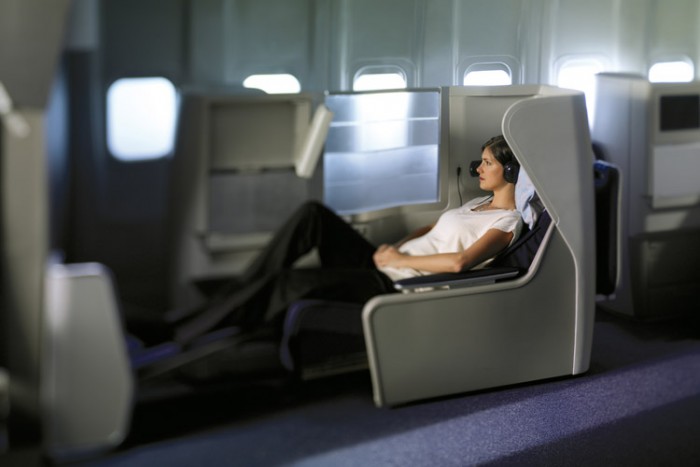 When flying to the Big Apple in British Airways Club World, you'll benefit from deicated check-in, priority boarding and Fast Track security at London Heathrow/New York JFK, as well as having the option to indulge in a complimentary treatment at the Elemis Travel Spa.
Up in the air, your Business Class seat converts into a fully flat bed and features a 10.4-inch entertainment screen, power socket, memory foam headrest, quilted blanket and Elemis amenity kit.
If you're flying overnight we'd recommend taking advantage of BA's Sleeper Service, enjoying a night cap before going straight to sleep. A member of cabin crew will serve you a quick breakfast before you land, allowing just enough time to freshen up for the day ahead.
On the London City-New York JFK route there's just one Business Class cabin fitted with 32 seats across 8 rows. OnAir mobile data connectivity is avilable should you need to answer emails during the flight, and you'll be given your own personal iPad for viewing entertainment. In addition to pre-clearance in Shannon, you'll also benefit from short check-in times: up to 45 minutes before the flight in New York and just 15 minutes in London (20 minutes if you need to check in baggage).
Virgin Atlantic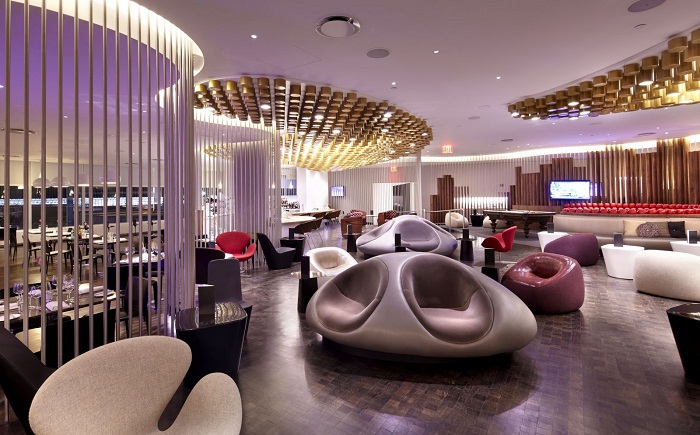 Flying Upper Class on Virgin Atlantic grants you access to the Upper Class Wing at London Heathrow Terminal 3 up to 50 minutes before your flight. Best of all, the airline also offers a complimentary chauffeur drive service and has streamlined the airport transit experience for Business Class customers. As long as you pre-arrange before hand, the team will greet you, swiftly handle your baggage and give you your printed boarding pass. You'll then pass through our very own Private Security Channel, enabling you to get from your car to the Clubhouse within ten minutes.
Both New York Newark and JFK have Virgin Clubhouses, although the lounge at JFK is the larger one, with a red ball sofa, uptown cocktail bar and a la carte brasserie. JFK also features the very first Clubhouse Spa outside of London, with Bumble and Bumble hair treatments and Dr Hauschka massages.
Onboard the aircraft, your Upper Class Suite has a roomy table, power point and laptop storage space, so you can spread out and get on with some work. The seat converts into a 6′ 6″ fully flat bed so if you'd like to maximise your sleep time during the journey, just pop on your complimentary sleep suit and ask a member of staff to wake you before landing.
American Airlines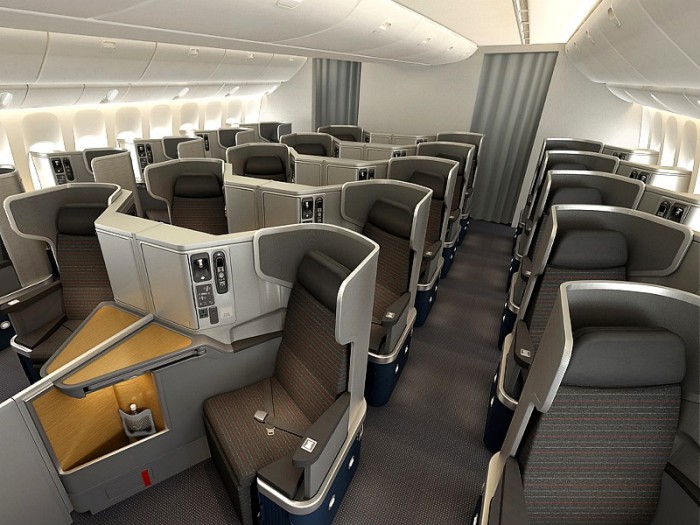 American Airlines utilises its Boeing 777-300 on its London-JFK route, which features 52 lie-flat seats in a reverse herringbone pattern. In addition to a personal pillow, duvet and slippers, each fully-adjustable seat comes with two personal storage compartments, a 15.4-inch entertainment screen and Bose noise cancelling headpones. Meanwhile the amenity kit contains skincare products from 4 different luxury brands, including 3LAB, Clark's Botanicals, Cole Haan and C.O.Bigelow. Wi-Fi is available throughout the cabin, although you'll have to purchase a pass, which costs $12 for 2 hours, $17 for 4 hours or $19 for the length of flight. Meals are served on modern china and you can reserve your main meal from 30 days up to 24 hours before you depart.
At Heathrow Terminal 3 you have access to the Admirals Lounge, which features complimentary Wi-Fi, a children's room, a small business centre and showers. At JFK, the Admirals Lounge is located at Terminal 8, after security. Each lounge has a self-service bar, as well as a selection of hot and cold snacks.
Delta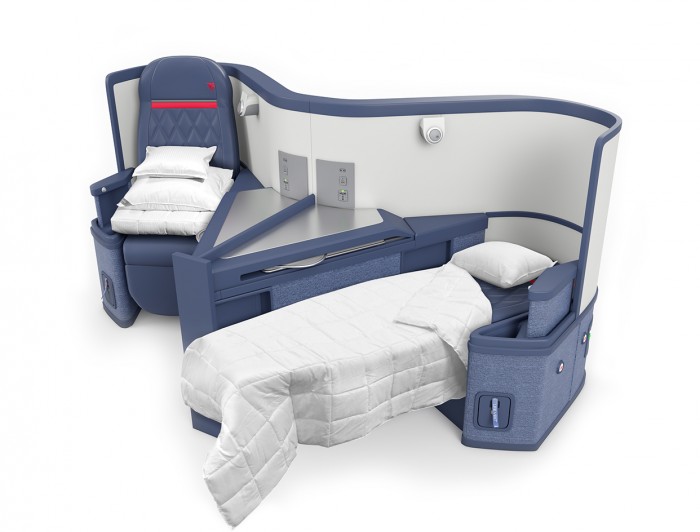 If you fly London to New York with Delta you'll get to experience their "Delta One" Business Class product, with flat-bed seats, power outlets, "Westin Heavenly" bedding and TUMI amenity kits packed with Kiehl's products. Every Transatlantic flight features onboard WiFi, which is a real bonus.
Delta shares a home with partner Virgin Atlantic in Terminal 3 at London-Heathrow (LHR) so as Business Class passenger you'll  enjoy access to the Virgin Atlantic Clubhouse on departure and the Virgin Atlantic Revivals Lounge on arrival. You'll also benefit from Sky Priority check-in, security, boarding, and baggage delivery.
United Airlines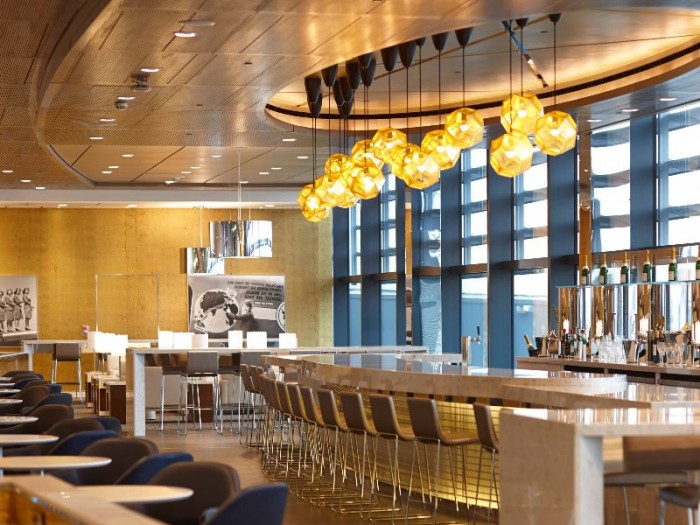 While United may not be the most obvious Business Class choice to New York, the airline offers a good schedule from Heathrow to Newark, with a lot of connecting opportunities. Flights also operate out of Terminal 2, which is Heathrow's plushest terminal. Here you'll have access to the United Club lounge, which boasts the longest bar at Heathrow and a full drinks menu including champagne and cocktails. Currently the airline utilises a refurbished Boeing 767 on the route, featuring lie-flat BusinessFirst seats with 15-inch entertainment screens and personal power supply. The complimentary amenity kit contains ear plugs, socks, breath mints, a dental kit and an eye mask, along with skincare products from Cowshed, the premium spa and lifestyle brand of Soho House & Co.
Soon, however, United plans to introduce a new premium offering called "United Polaris", which will be rolled out from December 2016. The new product features suite-like pods with 6′ 6″ inch lie-flat beds, 16-inch entertainment screens, multiple storage areas and Saks Fifth Avenue bedding. There will also be nine new Polaris Business Class lounges, including one at New York Newark Airport.
So who's operates the best Business Class London to New York?
Each airline flying from London to New York offers different Business Class perks, so it depends on your individual preferences. If airport experience is a priority then Virgin Atlantic really stands out with its complimentary chauffeur drive service and Upper Class wing, although British Airways is also a front runner offering complimentary spa treatments in the Elemis Travel Spa.
All of the airlines offer lie-flat seats but when it comes to onboard experience, American Airlines offers a great product, with Wi-Fi and larger 15.4″ entertainment screens. Or, if you don't like waiting in line at Customs and Immigration when you land in New York, then perhaps the British Airways all-Business class service from London City is the best choice for you, since you'll be able to clear customs in Shannon before you go.
Have questions about Business Class flights to New York? Our experts will be happy to answer them. Just call 0207 255 1234 and your call will be answered straight away.