The best deal on cheap business class flights to Barbados we found for a client this month cost £1,691 for a return ticket. Find the best deal on flights today by completing the form on the left of this page. We'll get back to you faster than you can say "She sells sea shells on the sea shore!"
Average flight time, business class to Barbados from London: 8 hours 50 minutes
Airlines with direct business class flights to Barbados from London: British Airways, Virgin Atlantic
Airports in Barbados: Sir Grantley Adams International Airport (BGI)
Distance from London to Barbados: 4202 miles
Airlines with Business Class Flights to Barbados from London
Fly from London Gatwick on a spacious Boeing B777-200 with British Airways. As a business class traveler, you will have access to full Club World benefits including private lounges, complimentary spa treatments, dedicated check-in desks, and a scrumptious 3-course meal. Seats recline into a 6ft flatbed and you'll have ample space for electronics during your trip.
Direct flights take only 8 hours and 50 minutes and leave from London Gatwick at 11:20 in the morning. You'll land in Barbados just in time for supper and an after-flight drink at 20:10.
Virgin Atlantic also offer daily flights between London and Barbados with their latest 'Upper Class' Business Class product, Featuring a very comfortable seat which folds into a fully flat bed. inflight service is magnificent, with an on board bar area dedicated to business class travellers and with restaurant quality meals served at your seat.
The airport of Barbados is called Sir Grantley Adams International Airport and it is situated near the capital city of Bridgetown.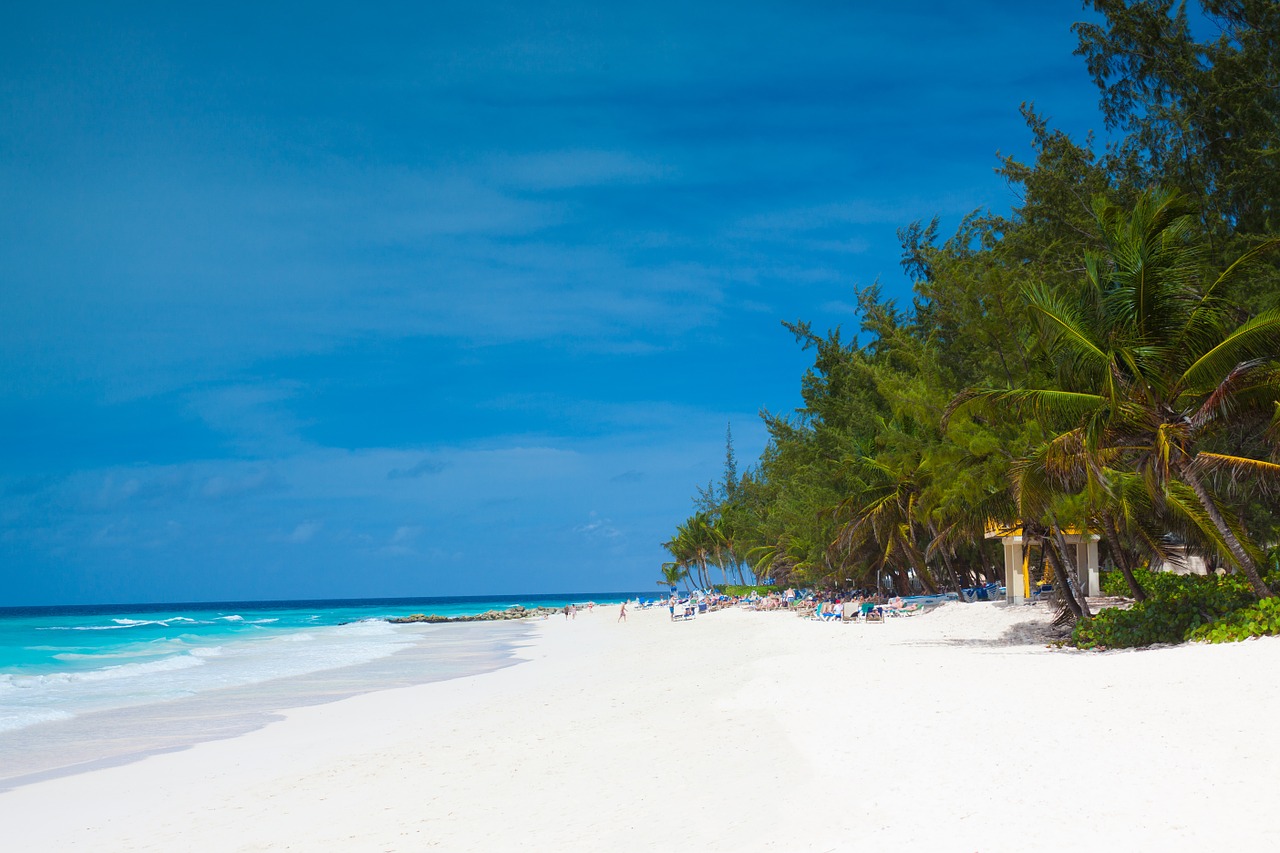 Getting to and from Barbados airport
Once your business class flights to Barbados land you can easily identify taxis in by the distinctive "Z" that is displayed on their number plates. A trip into Bridgetown from the airport will cost around £15 and take 30 minutes. Although taxis are available at the airport 24/7, you can easily call a cab using an app like Uber or Beep Cab.
If you'd like to make the most of your airport transfer, take the public bus (departs every 10 minutes). The Rocklyn is a brightly colored open-sided bus modelled after the buses in Barbados during the 60s and early 70s.
Where to stay in Barbados
Why not compliment your business class flights to Barbados with a stay in one of the city's top hotels, Sandy Lane Resort.  It is situated on a idyllic beach of powdery sand and baby blue waters. With a large golf course, Hobicat sailboats, and more restaurants than you could hope for, the resort offers genuine Barbadian luxury. Most suites have an incredible ocean view and look directly onto the beach, guaranteeing a daily dose of sunlight.
Socialites and lovers of the finer things in life indulge in a stay at one of Colony Club's excellent hotels. The House is one of their more romantic getaways with an adults-only policy and an elegant ultra-luxury experience. Make use of the complimentary unpacking service and indulge daily with a visit to the on-site award winning Italian restaurant, Daphnes.
Things to do in Barbados
Barbados is the original Caribbean paradise dream. On a coral island of fine white sands and blessed by steady tradewinds, you'll find yourself at the ocean's edge every single day.
Why is the Rum Always Gone? – Gain a Jack Sparrow swagger with a tour and tasting at the Mount Gay Rum Centre.
Tropical Fauna – Relax on a nature trip to the lush Flower Forest Botanical Gardens
Duty-Free Darling – Go duty-free shopping in Broad Street and save around 50% on luxury goods. For traditional crafts, head out to Pelican Villiage on the outskirts of Bridgetown.
Barbados Bucket List Experiences
In a recent SkyClub survey, we asked over 1,000 of our clients "what's number one on your bucket list?"
35% of our customers ranked a specific experience as the number one item on their bucket list. So, if you are feeling a little daring, why not combine your business class flights to Barbados with a once in a lifetime experience?
SkyClub Recommendations:
Sea and Sailing – Barbados Catamaran Cruises and Sailing Charters – https://barbados.org/sailtour.htm#.W-Kzi5MzbIU
Scuba – Go Scuba diving among the coral reefs of Barbados and swim among seahorses, frogfish, and massive sand eels.
Summit– Hike through cane fields and tropical forests where you can appreciate the lush landscape of Barbados. Your walk will take you among coastal communities where you can interact with locals
Business Class Flights To Barbados, Practical Information
British citizens do not need a visa to enter Barbados. On entry, you will be granted a specific length of stay that is indicative of your onward flight bookings or proof of funds. If you would like to stay longer, contact the Barbados Immigration Department to arrange an extension of stay.
The weather is always fine, with mild temperatures and breezy tradewinds. Summer in August and the surrounding months are rainy with the occasional storm (June through November). For beach and snorkeling weather, the best time to visit is February, when Atlantic trade winds banish the rain and bring sunny skies.
To get the best deals on cheap Business Class flights to Barbados, simply complete the form on this page or call 0044 207 255 1234 to speak with one of SkyClub's fast and friendly experts.
We will find you special, discounted fares that are not available online. So, by the time you take your business class flights to Barbados, you'll feel happy knowing that you've paid less than the people seated nearest to you! Have a great trip and – if you want to save money – please book with SkyClub.
Further Reading: