Business class flights to Hong Kong
The best business class flights to Hong Kong from London we found this month were for an excellent £1,897 return. To get today's best price simply complete the form on this page and we'll get back to you quicker than you can say "Victoria Peak".
Average flight time from London to Hong Kong: 11 hours 35 minutes
Airlines flying direct from London to Hong Kong: Cathay Pacific, British Airways, Virgin Atlantic.
Airports in Hong Kong: Hong Kong International
Distance from London to Hong Kong: 5,969 miles
British Airways, Virgin Atlantic and Cathay Pacific offer non-stop business class flights to Hong Kong from London Heathrow.
If you opt for BA the you'll be flying to Hong Kong on an Airbus A380 fitted with the airline's Club World product. Seats recline into fully flat beds measuring 6-feet long and are equipped with in-seat power as well as 10.4 inch entertainment screens. The airline has partnered with The White Company to provide luxury bedding and stylish amenity kits as part of the service. Flying Business Class with BA also enables you to enjoy a complimentary spa treatment prior to departure, as well as perks such as dedicated check-in, fast-track security and lounge access.
Virgin Atlantic operates a Boeing 787 Dreamliner on the route to Hong Kong, fitted with Upper Class Suites with seats that can be converted into fully flat beds. A highlight of flying with Virgin Atlantic is that you'll receive a complimentary chauffeur driven car to whisk you to and from the airport in style, plus you'll be able to skip the queues by heading through a Private Security Channel.
Flying with Cathay Pacific means you'll have access to the airline's flagship lounges in Hong Kong as well as the airline's First and Business Class lounge at Heathrow. Onboard the aircraft you'll be given an amenity kit containing Jurlique skincare products, as well as soft pillows and a duvet so you can get a good night's sleep. Seats are equipped with everything you need, including power outlets, privacy dividers and adjustable lighting so you can have your very own private office in the sky.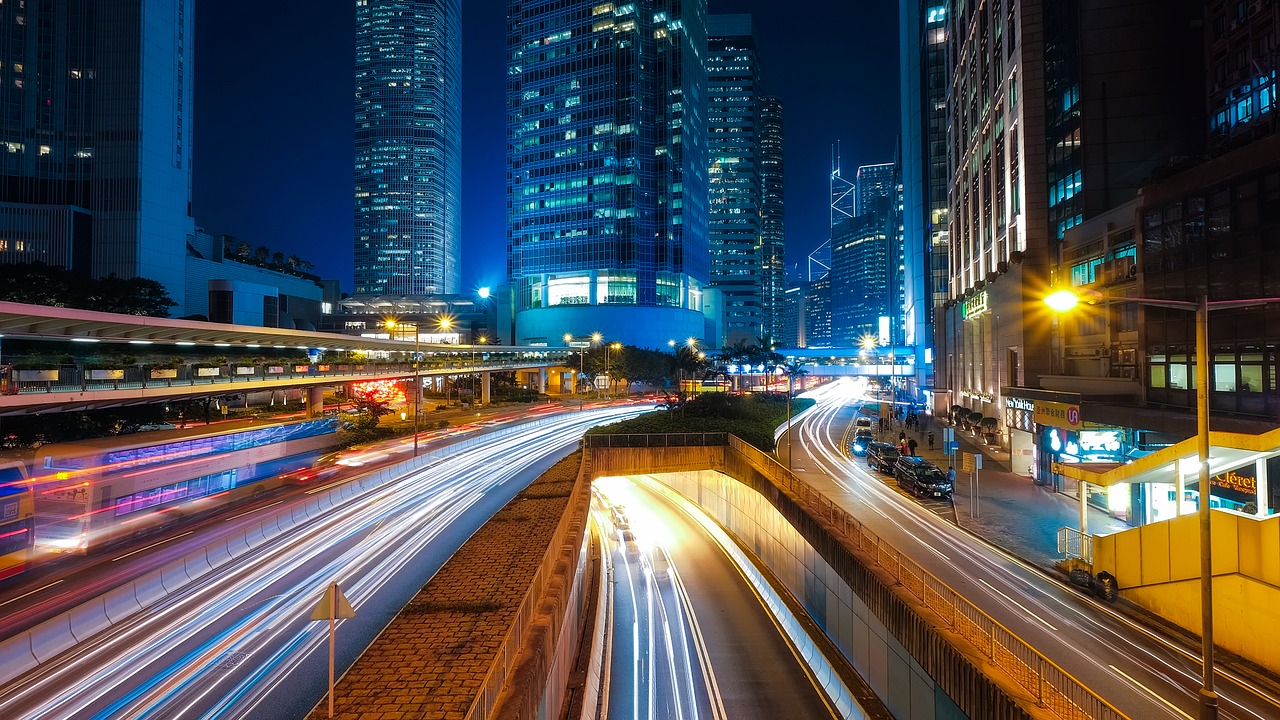 Getting to and from the airport
Hong Kong International Airport has excellent public transport links, offering a quick and easy way to get into the city. The Airport Express takes passengers to Central in just 24 minutes, with trains departing at about 10-minute intervals from 05:54 to 23:28 and approximately 12-minute intervals from 23:28 to 00:48 daily.
If you're boarding the Airport Express train to the airport at Hong Kong and Kowloon stations then you can use the free check-in service to check in for your flight between 90 minutes and one full day ahead of your scheduled flight departure time.
If you prefer to be taken door to door, taxis are available at the Taxi Station, which can be reached by the left-hand ramp outside the Arrivals Hall. Taxis in Hong Kong are colour-coded according to their operating areas. Urban taxis (Red) serve all destinations throughout Hong Kong including the airport except Tung Chung Road and roads in south Lantau. New Territories (N.T.) taxis (Green) serve only the New Territories and specific roads in Lantau. Lantau taxis (Blue) serve all destinations in Lantau and the airport.
Expect an urban taxi to Hong Kong Island to cost about $370HK which is roughly £33.
Where to stay in Hong Kong
In Hong Kong you'll find all of the top hotel chains, including Four Seasons, Grand Hyatt and InerContinental.
Many passengers taking business class flights to Hong Kong will have their eyes focused on the eagerly anticipated Rosewood Hong Kong which is set to open in September 2018. The Rosewood will become one of the city's most luxurious hotels. Located in the new Victoria Dockside arts and culture district on the harbour front, the hotel will offer 413 guestrooms, eight dining options, a fitness center, swimming pool and a new holistic wellness concept.
Always an excellent option, Mandarin Oriental Hong Kong is the first flagship hotel of this luxury hotel group. Rooms and suites are tastefully decorates with views of the city, plus you'll have a wealth of amenities available to you, including a twin-lane swimming pool, a fully-equipped fitness centre and a relaxing spa.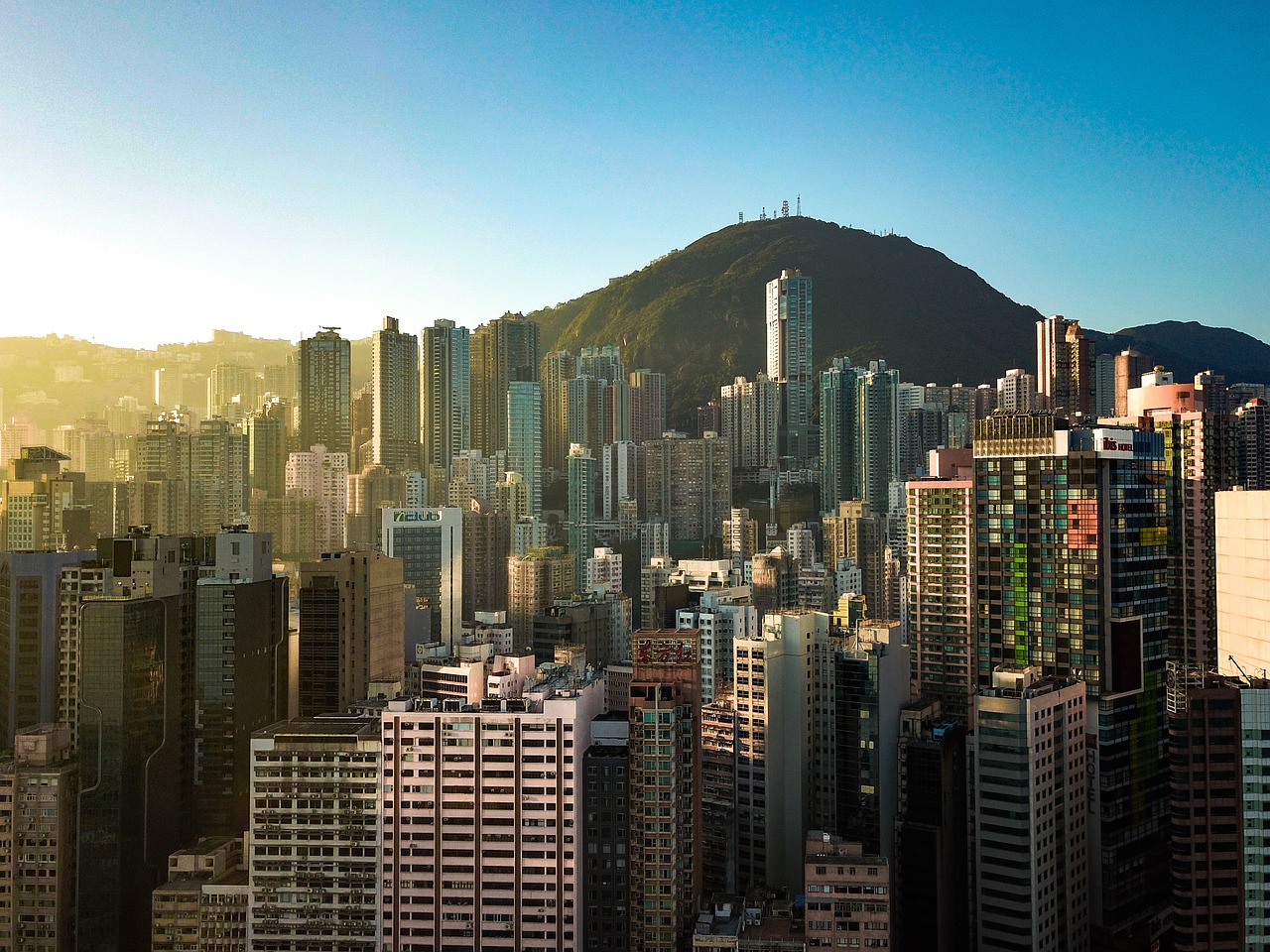 Things to do in Hong Kong
Designated a Special Administrative Region of China, Hong Kong is an autonomous territory and a former British colony. The city is unique, with steep roads that may remind you a little bit of San Francisco. If you're a foodie you'll love it here, since Hong Kong has everything from tiny hole-in-the-wall dim sum restaurants to extravagant fine dining restaurants and glamorous rooftop bars. Shopping is of course a highlight here, with many shopping malls to choose from. Here are some of the top things we recommend you do when in Hong Kong:
Central-Mid-Levels – Hong Kong has a hilly landscape, so throughout the city there are escalators to help people get up and down. Central-Mid-Levels is the longest outdoor covered escalator in the world, spanning a distance of 800 metres to connect the western and eastern districts of Hong Kong Island.
Aqua Luna Ride – The views from Victoria Harbour at night are breathtaking, and they're even more beautiful when enjoying them from a Chinese junk boat with a glass of wine in hand. The Aqua Luna ride takes you on a journey across the water, allowing you to see the twinkling skyscrapers that light up both the Kowloon and Hong Kong sides.
The Peak – The Peak is the highest point on Hong Kong Island and the most exclusive neighbourhood in the city. Take the tram to the top of the mountain for spectacular views of the city skyscrapers and Victoria Harbour.
Practical Information
Although Hong Kong is a Special Administrative Region of China, British Citizens can visit Hong Kong for up to 6 months without a visa and your passport should be valid for at least one month after the date of your departure from Hong Kong.
Hong Kong has a humid sub-tropical climate, with hot, wet summers and mild, dry winters.  The best times to visit are late autumn, winter or early spring, when the climate is less humid and hot. The summer months from June to September are the hottest months of the year, with average temperatures of around 29C. Winter is a great time for sightseeing, with temperatures averaging around 16 degrees Celsius in January.
The best cheap business class flights to Hong Kong can only be found offline with a SkyClub agent. So please complete the online form or call us on +442072551234 and we will find you the best business class deal in town. Thanks for taking the time to read this article, we hope it has helped you.