The best cheap business class flights to Pittsburgh we found for a client this month cost £1,576 for a return ticket. Find the best deal on flights today by completing the form on the left of this page. Then, we'll get back to you faster than you can say "Andy Warhol Museum!"
Average flight time, business class to Pittsburgh from London: 8 hours and 44 minutes.
Airlines with business class flights to Pittsburgh from London: Delta, Virgin Atlantic, Air Canada, British Airways, American Airlines, United.
Airports in Pittsburgh: Pittsburgh International Airport, Allegheny County Airport.
Distance from London to Pittsburgh: 3,629 miles.
Airlines with Business Class Flights to Pittsburgh from London
While there are no direct flights between London and Pittsburgh, British Airways offers several flights per day with only one connection. The connections for business class flights to Pittsburgh are commonly made at JFK in New York City, but occasionally occur at Chicago O'Hare or PHL in Philadelphia.  The international leg of the flight is most often flown using a Boeing 747 jet, Boeing 777 jet, or Boeing 787 jet. British Airways' Boeing 747 is the fastest commercial jetliner in the world. Not only will this model reduce your flight time, but the business class section offers spacious seats that convert into 6 foot fully flat beds and recently upgraded bedding from The White Company, a luxury lifestyle brand. British Airways' food and beverage service for business class passengers includes three-course meals, a selection of snacks from their Club Kitchen, available throughout the entire flight, and a range of spirits, wines, and soft drinks. While both the Boeing 777 jet and Boeing 787 jet offer these same services, the Boeing 787 is also renowned for being the most fuel-efficient Boeing aircraft. Before your flight, you'll have access to British Airways' exclusive lounge and spa.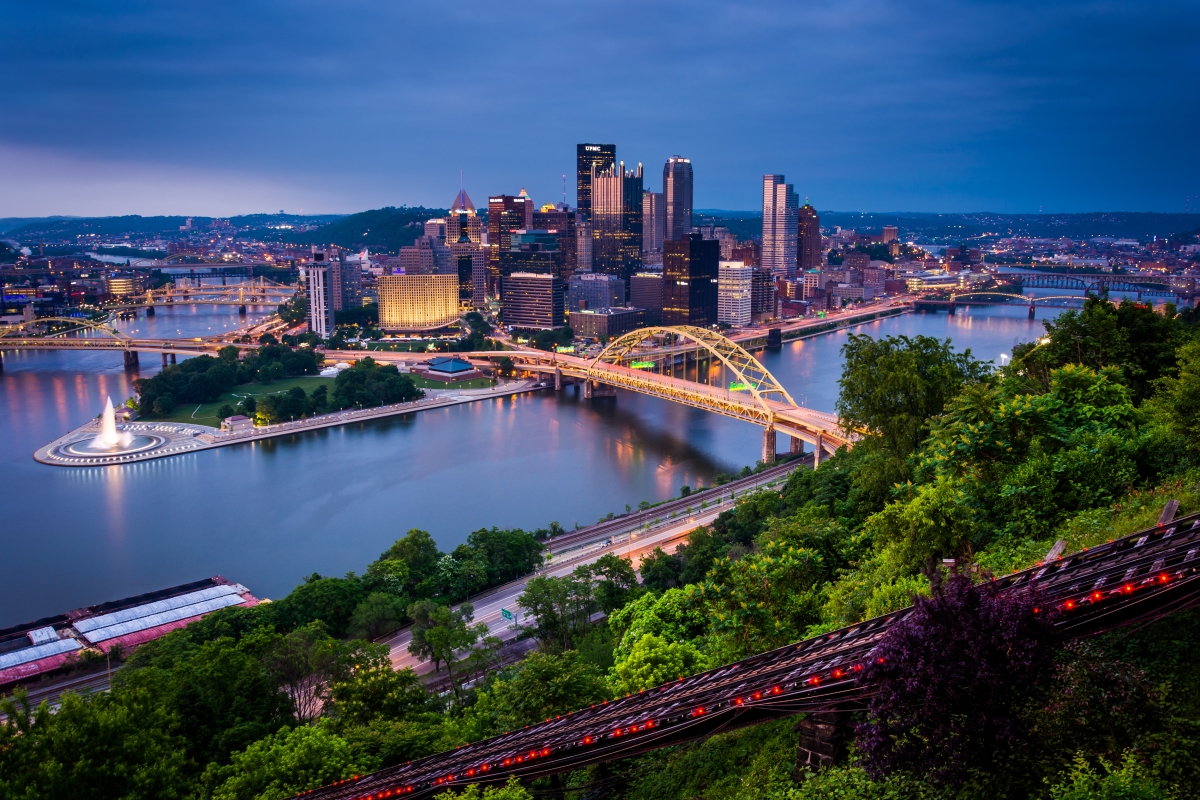 Getting to and from Pittsburgh airport
Once your business class flights to Pittsburgh lands, there are several transportation options to commute between Pittsburgh International Airport and the city. To travel by bus, Port Authority Transit 28X Airport Flyer runs between the airport, Downtown Pittsburgh, and Oakland every 30 minutes. The bus departs from outside of Door 6 on the baggage claim level and the fare is $2.75 one way.
To travel by shuttle, the SuperShuttle runs between the airport and Downtown for around $27 one way. Reservations can be made in advance through the SuperShuttle website, or booked at the SuperShuttle customer service counter outside Door 4 on the baggage claim level.
For taxi service, the taxi stands can be found on the lower level, outside the "commercial doors". One way fare ranges between $30 and $40 and takes around 25 minutes.
Where to stay in Pittsburgh
Compliment your business class flights to Pittsburgh with a stay at one of the city's top hotels.
Since opening in 2010, Fairmont Pittsburgh has been regarded as one of the city's top luxury hotels. Situated in the center of Pittsburgh's business and entertainment district, the 5-star accommodation puts you within minutes of the city's top attractions and award-winning dining. Fairmont Pittsburgh's sleek and modern interior reflects the city's industrial past, including the use of glass and steal features as well as local artwork. During your stay, enjoy a signature cocktail while listening to live jazz at Andys, the hotel's chic bar and lounge. With design inspiration from Andy Warhol and Andrew Carnegie, Andys provides a sophisticated backdrop for both corporate events and leisurely gatherings.
Both a historic landmark and luxury destination, Omni William Penn Hotel combines old world charm with modern services. Since opening in 1916, the hotel has been at the heart of the city's social scene, hosting movie stars, politicians, and important leaders. Its sumptuous decor includes cherry wood furnishings, crystal chandeliers, and plush lounge furniture. Tucked beneath the hotel's lobby, you'll find a Prohibition inspired Speakeasy Lounge. Awarded one of the "12 Most Essential Bars in Pittsburgh" by Thrillist, its classic elegance is a popular stomping ground for the city's most elite. Also not to be missed is the Omni William Penn Hotel's Palm Court, an elegant space ideal for afternoon tea, light snacks, and live jazz.
Things to do in Pittsburgh
Pittsburgh is known as the city of stone and steal. Throughout the nation's history, the city was an industrial hub for coal mining and steel production. However, the city has learned to capitalize on these industries in order to transform into a recreational hub as well. After landing from business class flights to Pittsburgh, you'll be greeted by brick row houses, wide bridges (more than 445 to be exact), and towering skyscrapers. In recent years, many old warehouses have converted into breweries, cafes, and bars. More so, Pittsburgh's world-renowned hospitals and universities draw in an affluent and young crowd, adding to the city's burgeoning cultural scene. From football games to Philly Cheese Steaks, the city is home to a wide range of attractions. Consider one of the following after business class flights to Pittsburgh.
Duquesne Incline
For the best views of Pittsburgh, take a ride in a century-old cable car on one of the USA's few remaining inclines. Originally constructed in 1877, the Duquesne Incline has since been restored to its original glory, showcasing the same wooden cable cars that were used over 100 years ago. A trip to Duquesne Incline includes access to the interior of the incline where you can watch the machinery at work. At the top of the hill, explore a museum centered around Pittsburgh's history,  or peruse a gift shop with Pittsburgh souvenirs, maps, and photos. The Duquesne Incline is a part of the city's transportation system, meaning visitors pay with the same cash fare system as the city's busses and trolleys.
Andy Warhol Museum 
Andy Warhol was an artist, director, and producer, born and raised in Pittsburgh. The Andy Warhol Museum tells his story through the largest collection of Warhol art in the world. Spread across seven floors and a basement, the Andy Warhol Museum includes a selection of interactive, hands-on exhibits. Try your hand at one of Warhol's signature art techniques or produce your own short film, inspired by Warhol's 1960s Screen Tests. The museum also frequently hosts community events, including workshops, discussions, and live performances.
Mattress Factory 
A hub for the city's avant-garde, this contemporary art museum and experimental lab puts on an eclectic mix of exhibitions, from pitch-black sensory deprivation rooms to surreal caricature galleries. Mattress Factory was founded as a place for artists to create site-specific installations. Overtime, it expanded to four residential buildings and has hosted more than 750 artists. In the process, the museum has been at the forefront of Pittsburgh's North Side community revitalization, rehabilitating nine abandoned properties and stimulating economic growth. With the mission of supporting and sharing alternative art forms, Mattress Factory has become notorious for pushing boundaries.
Pittsburgh Bucket List Experiences
In a recent SkyClub survey, we asked over 1,000 of our clients "what's number one on your bucket list?"
Your answer? Something that's truly adventurous and daring. Here's some once in a lifetime bucket list experiences in Pittsburgh.
Spectacular – A visit to Grandview Park grants you the best views of the city skyline.
Sea and Sailing – Take a stand-up paddle boarding class with Stand Up Pittsburgh.
Sky – Jump from an airplane at 13,500 feet with Skydive Pennsylvania.
Space – Travel to the far reaches of the galaxy at the Carnegie Science Center's Buhl Planetarium.
Summit– Make a trip to Point State Park for a beautiful stroll along the Monongahela and Allegheny rivers.
Business Class Flights To Pittsburgh, Practical Information
When booking business class flights to Pittsburgh, ensure you have the correct visa to enter the country. British citizens need to obtain an Electronic System for Travel Authorization (ESTA) through the Visa Waiver Program. The visa allows for 90 days of travel. It is recommended that travelers apply for an ESTA at least 72 hours before their flight's departure.
Pittsburgh's climate is a part of the humid subtropical climate zone, meaning winters are chilly, with occasional snowfall, while summers are hot and humid. The average temperature in January is 36 degrees Fahrenheit, with an average seasonal snowfall of 20 inches. The average temperature in July is 80 degrees Fahrenheit, with frequent thunderstorms. The best time to visit Baltimore is between April and June, when the temperatures are mild and the city's Spring festival schedule kicks off.
To get the best cheap Business Class flights to Pittsburgh, simply complete the form on this page or call 0044 207 255 1234 to speak with one of SkyClub's fast and friendly experts.
We will find you special, discounted fares that are not available online. So, by the time you take your business class flights to Pittsburgh, you'll feel happy knowing that you've paid less than the people seated nearest to you! Have a great trip and – if you want to save money – please book with SkyClub.
Further Reading: