The best cheap business class flights to Portland from London we found for a client in the past month were for an amazing £1,449 return. To get today's best price simply complete the form on this page and we'll get back to you quicker than you can say
Average flight time from London to Portland: 11 hours 55 minutes
Airlines with Business Class Flights to Portland from London: No direct, one-stop connection available
Airports in Portland: Portland International Airport
Distance from London to Portland: 4,911 miles
Business Class flights to Portland
There are no business class flights direct from London to Portland. You can, however, book Business Class flights with one-stop connections on a variety of airlines including United, KLM, Delta, American Airlines, Air Canada and British Airways. Delta and KLM offer codeshare flights with a connection in Amsterdam, Air Canada flies via Vancouver and the major US airlines stop in places such as Dallas, Seattle, Chicago or Minneapolis. Speak to a SkyClub representative who will be able to find you the fastest option with the most affordable fare.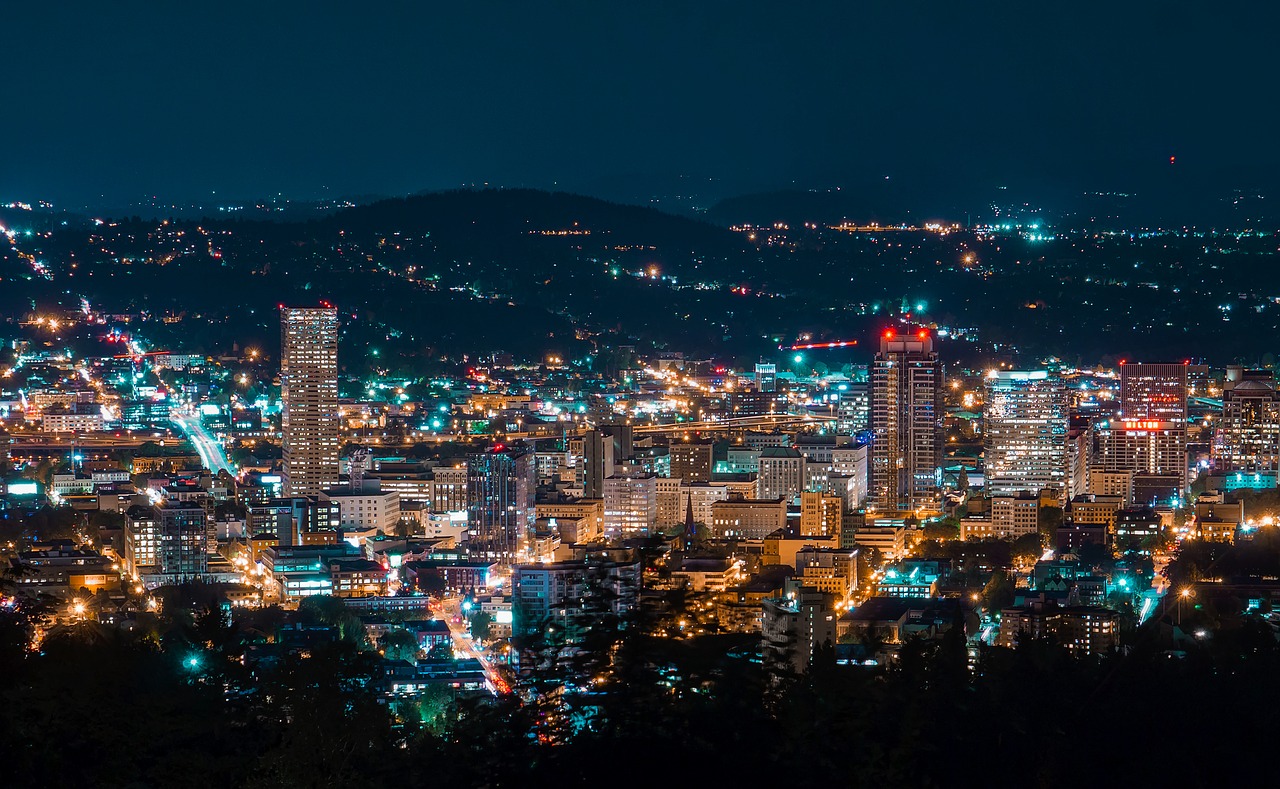 Getting to and from the airport
Portland International Airport is located 9 miles northeast of downtown Portland and is conveniently connected to the city centre via MAX light rail train. The trip takes around 38 minutes and an adult ticket costs $2.50, making it the cheapest and most convenient way to get to downtown Portland. Services run between 4:45 a.m and 11:50 p.m – outside of these hours you'll probably want to take a shuttle or a taxi.
A taxi will set you back around $35 before gratuity. The trip takes around 20-40 minutes depending on traffic and you can easily find them waiting outside baggage claim. Shuttles are also available with Blue Star Downtown Airport Express – a one-way fare costs around $14 while a round-trip ticket costs $24. Uber and Lyft are also available – just order when you reach baggage claim and follow the instructions on your phone.
Where to stay in Portland
Why not compliment your business class flights to Portland with a stay in The Heathman – an iconic luxury hotel housed in a 1927 landmark building. The hotel's library boasts more than 2,700 volumes signed by the authors, while its world-class art collection celebrates the work of contemporary artists. In your room you have a choice of not one but three mattress options, and the hotel staff will add signature Lotus luxurious bedding and evening turn-down service.
Another sound choice is Hotel deLuxe, which has been listed as Travelling + Leisure's #1 hotel in Portland.  Designed to emulate the style of Hollywood's Golden Age, Hotel deLuxe's interior combines an art deco aesthetic with modern art and luxurious rooms and suites. Each room and corridor of the building features photographs from the hotel's collection, featuring expertly curated film stills and behind-the-scenes shots from 30s, 40s, and 50s films.
Things to do in Portland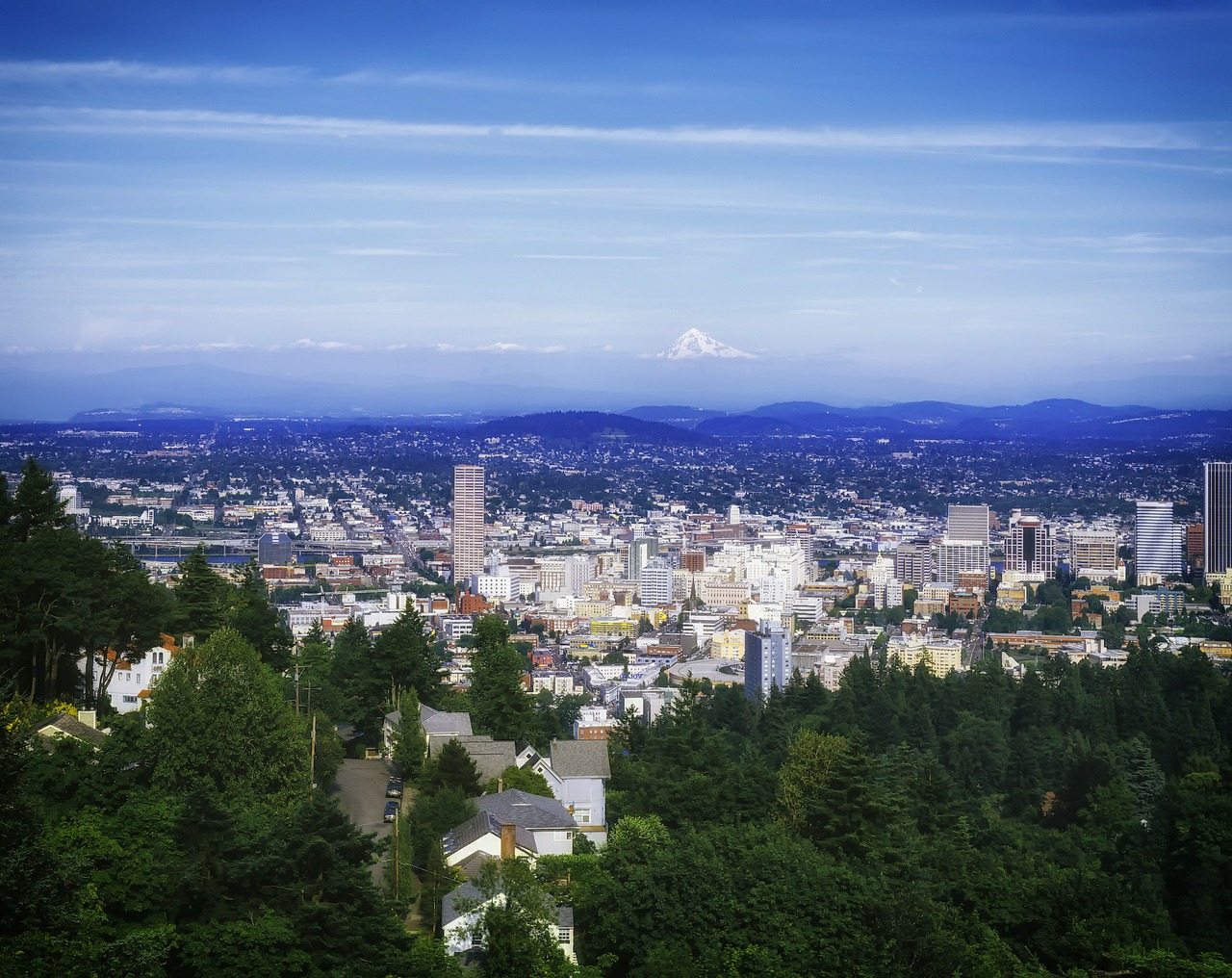 Portland is an incredibly quirky city with funky neighbourhoods, a thriving food and drink scene and plenty of weirdness, hence the local slogan "Keep Portland Weird"  that appears on bumper stickers, signs, and public buildings throughout Oregon. You could easily spend your entire trip just eating your way around the city, since there are plenty of food trucks and cheap, local eats. Micobreweries are everywhere too (there are over 70 of them!), so you'll never be short of somewhere to try a pint of craft beer or a tasting flight. Here are some of the city's best things to do:
Powell's Books – Powell's is the world's largest independent book store selling new, used, rare, and out-of-print books. Even if you're not a bookworm the store is nice to browse and there's a coffee shop inside too.
Voodoo Donuts – Arguably the most famous thing to do in Portland, Voodoo Donuts is a local institution selling donuts in all shapes, colours and flavours. Popular versions include the Maple Bacon Bar, the Voodoo Doll and the Portland Cream.
Little Big Burger – The burgers may be smaller than your normal burger but that what they lack in size, they make up for in flavour. Little Big Burger serves incredibly tasty burgers with a choice of cheddar, swiss, chèvre, bleu or pepper jack cheese. Don't forget to place an order of the truffle fries, which are cooked with white truffle oil and sea salt.
Oregon Zoo –  Covering 64 acres in the West Hills of Portland, Oregon Zoo is home to all sorts of wildlife from around the world. Each year the zoo hosts Zoo Brew– an annual Microbrew Festival where you can try beers and ciders from lots of different regional breweries.
Rose Test Garden – Portland is known as "The City of Roses" and the International Rose Test Garden in Washington Park is home to over 7,000 rose bushes. It's incredibly beautiful when the flowers are in bloom and makes for a peaceful escape from the city.
Last Thursdays – On the last Thursday of every month a huge street fair takes place around Alberta Street, filled with entertainers, fire dancers, artists and food carts. The event is incredibly popular for buying local art, since galleries hold their monthly openings and restaurants hang up new works of art for sale.
Business Class Flights to Philadelphia, Practical Information
Summer in Portland lasts from June to September, with an average daily high temperature above 76 degrees Fahrenheit. This is definitely the best time to visit Portland and explore the wider Oregon region, including places such as Multnomah Falls. Winter lasts from November to February, when temperatures drop as low as 36 degrees Fahrenheit. For about nine months of the year Portland experiences rainfall, so best to bring your umbrella!
British Citizens can enter the US under the Visa Waiver Program as long as they have a valid ESTA. You'll need to apply for one of these online no later than 72 hours in advance and pay the fee of $14. The ESTA lasts two years and is valid for tourism and business purposes for periods of up to 90 days.
We will find you special, discounted fares that are not available online. So, by the time you take your business class flights to Portland, you'll feel happy knowing that you've paid less than the person seated nearest to you! Have a great trip and – if you want to save money – please book with SkyClub.