The best cheap business class flights to Salt Lake City from London we found for a client in the past month were for an amazing £2,879. To get today's best price simply complete the form on this page and we'll get back to you quicker than you can say "snow-capped peak".
Average flight time from London to Salt Lake City: 12 hours 37 minutes
Airlines flying direct from London to Salt Lake City: Delta
Airports in Salt Lake City: Salt Lake City International Airport
Distance from London to Salt Lake City: 4,867 miles
Airlines with Business Class Flights to Salt Lake City from London
Delta offers a direct seasonal service from London Heathrow to Salt Lake City during the summertime. The airline utilises a Boeing 767 on the route and codeshares with Virgin Atlantic. Other US airlines such as United and American Airlines offer business class flights to Salt Lake City with a one-stop connection via other US hubs such as Chicago, Dallas or New York.
Delta's "Delta One" Business Class cabin features 180 degree lie-flat seats with direct aisle access, Westin Heavenly bedding and a TUMI amenity kit containing Kiehl's Since 1851 Deluxe skincare products. Each suites has a full-height door for extra privacy, along with an in-suite power outlet and 18-inch HD entertainment screen. As a Business Class passenger you enjoy airport club access, Sky Priority check-in, security, baggage handling and premium boarding. Inflight meals are curated by celebrity chefs and are served on Alessi-designed tableware.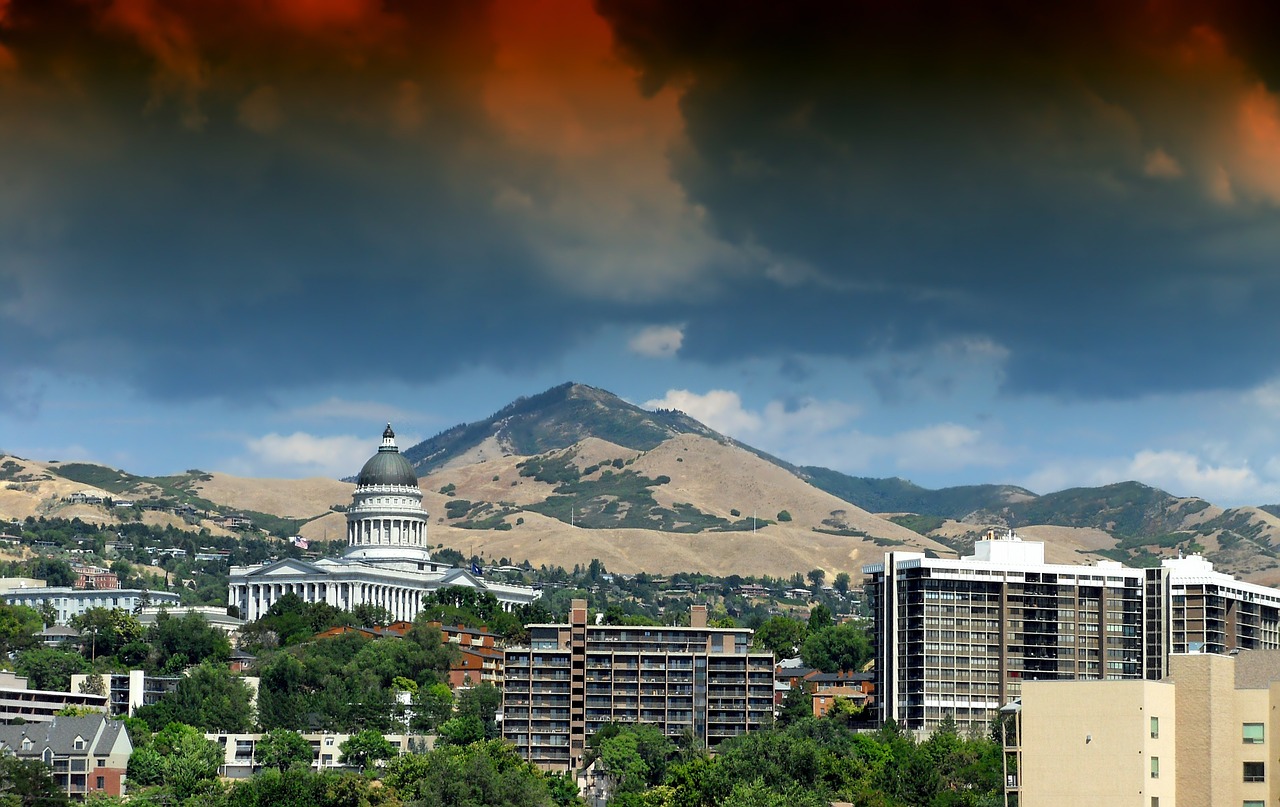 Getting to and from the airport
Salt Lake City International Airport offers numerous ground transportation options including taxis, hotel shuttles, limousines and buses. If you wish to hail a taxi, you can do so outside baggage claim. The city is divided into two geographical areas; the maximum fare from the airport to Zone 1 (within 500 East) is $25, while the maximum fare to Zone 2 (outside of 500 East) is $30.   Uber and Lyft are also available at Salt Lake City International and are often cheaper than ordinary taxis, particularly if you choose to pool with other travellers.
Rental cars are available for hire on the ground floor of the parking garage, directly across from the terminal buildings. Here you'll find all the major brands, including Hertz, Avis and Budget.
Utah Transit Authority provides a TRAX/light rail Green Line service, which leaves the airport every 15 minutes on weekdays and every 20 minutes on weekends. The TRAX stop is located at the south end of Terminal One.
Where to stay in Salt Lake City
Why not compliment your business class flights to Salt Lake City with a stay in The Grand America Hotel. It is an elegant 5-star hotel which features 775 guest rooms, 75000 square feet of meeting and event space, and a spa called The Grand Spa. The hotel boasts an indoor pool where you can swim year-round, plus there's also an outdoor pool and whirlpool where you can bask in Utah's summer sunshine. Rooms are very tastefully decorated, featuring floor-to-ceiling windows, cozy seating, complimentary Wi-Fi, leather-top desks, and spa-style bathrooms.
Kimpton Hotel Monaco boasts 225 hotel rooms and suites, decorated in a chic yet eccentric style. Diverse patterns, bold colors and quirky design details (like horsehead lamps) give the hotel a jazzy and sophisticated feel. The hotel's restaurant, Bambara, is popular with both locals and guests, serving New American fare in a historic bank lobby with grand arched windows.
Things to do in Salt Lake City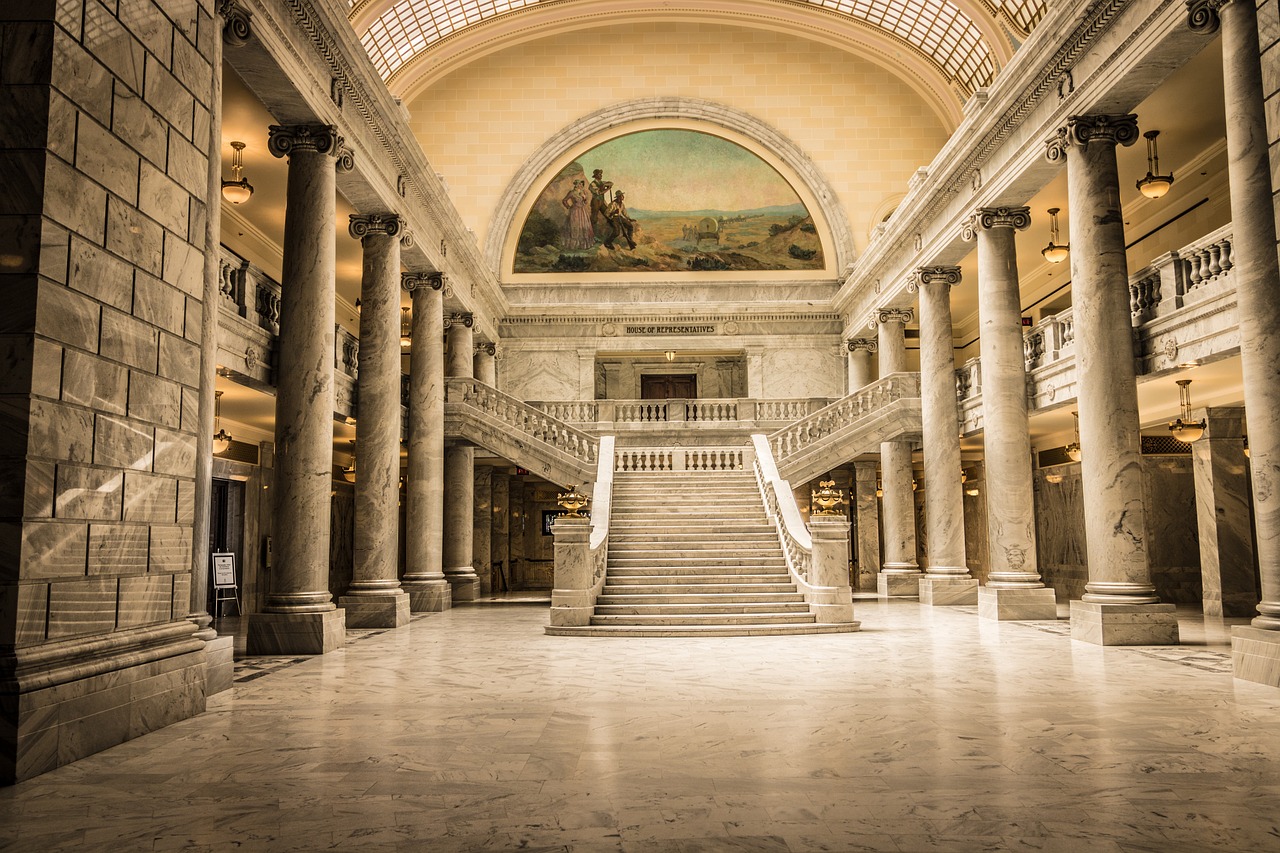 Salt Lake City gets its name because it is surrounded by the Great Salt Lake, which is the largest salt water lake in the Western Hemisphere. Thousands of visitors flock to Salt Lake City each year, with many choosing to take advantage of the winter ski season in the nearby mountains. Here are some of the top things to do in Salt Lake City:
Temple Square –  If you're feeling cultural, head to Temple Square – the headquarters for members of the Mormon or Church of Jesus Christ of Latter Day Saints and home to one of the oldest temples in church history. There are free tours of Temple Square that depart daily so you can learn more about its history.
Get outdoors – Salt Lake City offers plenty of opportunities to explore the great outdoors. In summer the area is popular for hiking, while winter is excellent for skiing and snowboarding. If you can, take a hike to The Living Room, where you can enjoy the best views of Salt Lake City. The trail lies just 10 minutes drive from downtown and is a relatively easy hike taking just 2.2 miles round trip. When you reach the top, catch your breath on the rock furniture and take in those spectacular views.
Breweries – The city has a thriving brewery scene, meaning you're never far away from an ice cold craft beer. Popular breweries to visit include Epic Brewing Company, Red Rock Brewery, Uinta Brewing Company and Squatters Pub.
Business Class Flights to Salt Lake City, Practical Information
Salt Lake City has four distinct seasons. Winters are cold and snowy and great for skiing, while the summers are hot and subhumid, with temperatures reaching 35-37 degrees Celsius in July. In March-May there's a wet transition period, so if you're travelling in these months you may want to bring a raincoat.
As with other US destinations, UK citizens can travel under the Visa Waiver Program for tourism or business purposes by applying for an ESTA online. The ESTA is valid for two years for multiple entries.
We will find you special, discounted fares that are not available online. So, by the time you take your business class flights to Philadelphia, you'll feel happy knowing that you've paid less than the person seated nearest to you! Have a great trip and – if you want to save money – please book with SkyClub.
Further Reading: