Germany-based Lufthansa is the largest airline in Europe, based on fleet and size, and its business class service attracts thousands of travellers every year.
Here's everything you wanted to know about the service and what you can expect when you travel with this flight operator.
Check-In
The business class experience starts as soon as you check-in for your flight. Lufthansa staff will provide you with the highest levels of customer service right from the very beginning of your trip. Whether you are flying short-haul or long-haul, you will have access to a special priority check-in desk exclusively for business customers. This can speed up the check-in process, providing you with the peace of mind you need. You can also bring on two pieces of carry-on baggage and two suitcases weighing up to 32 kilos as free baggage.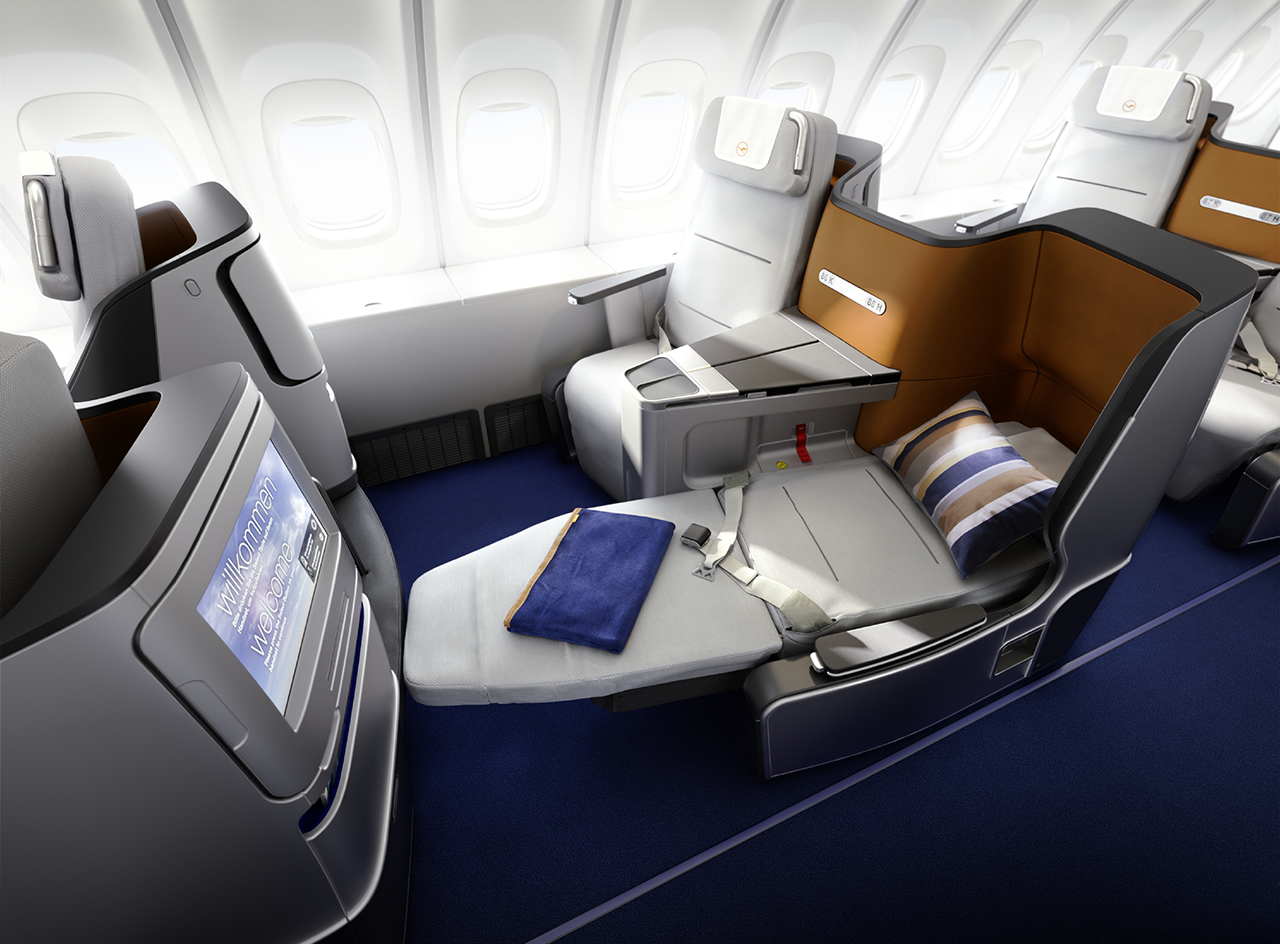 Lounges
You continue your business class experience in one of Lufthansa's lounges, which offer free WiFi and a well-stocked bar. Some lounges even have spas, allowing you to have a relaxing treatment before you travel. You can bring your pet with you in a Lufthansa lounge, too. These lounges are available at major international airports around the world.
Seats
Once you've checked in and arrived on board, Lufthansa Business Class makes your journey stress-free. You get a wide range of services on both short-haul and long-haul flights. The latter offers a two-metre-long flatbed, providing you with a place to relax when you're up in the air. Other benefits include an open-plan cabin design, which lets you walk around the aircraft and stretch your legs. Lufthansa uses subtle, natural colours which optimise the space on board and provide you with a relaxing experience. On business class, you always get more space because the middle seat is kept empty.
In-Flight Dining Options
Lufthansa's business class service is renowned for its dining options. Whether you are flying to Europe, Asia or the Americas, you'll get a wide range of food and drink to choose from — all of which has been selected by top chefs. Service is of top priority to the Lufthansa cabin crew, and you get the same standards as you would in a top London or Berlin restaurant. Expect your good to be served with top-quality china tableware. Cabin crew will bring your food to your seat, and the extensive menu is always changing.
There's not just one business class menu but various dining options depending on where you are travelling. On selected long-haul routes, for example, you can sample food from the country you are visiting. Fine wines, seafood, lean meats, fresh vegetables — you can expect all of these foods and drinks when you travel business class with Lufthansa. The menu also changes depending on the time of the year. In May and June 2017, for example, the flight operator served business customers a selection of fresh spring foods, including antipasti and fresh asparagus.
The company even has its own wine program, with delicious reds and wines that you can enjoy when you are thousands of feet up in the air. You can find out more about how to enrol in this club on the Lufthansa website.
In-Flight Entertainment
Lufthansa has a wide range of in-flight entertainment on both short-haul and long-haul flights. First up, you get your own individual TV screen — something you won't always find on a flight. This is your personal entertainment centre — your one-stop shop for sporting events and big blockbuster movies. The TV screens are large and measure 15 inches.
Lufthansa has one of the biggest entertainment catalogues that you will find when flying. This includes more than 100 movies in up to eight languages, more than 200 TV shows, a selection of family movies and TV shows for kids, box sets, music playlists, audiobooks, and CDs. You can sit back, relax and enjoy your favourite music, or tune into an audio book. There are 60 in total, available in both German and English.
Book Lufthansa Business Class
Lufthansa is one of the world's biggest airlines; the company operates flights to various destinations in Europe and beyond. If you want to travel business class, the flight operator provides you with a whole host of services and facilities, including spacious lounges, top dining, and excellent customer service.