Air France has finally revealed the rest of its brand new Business Lounge located in Hall L of Terminal 2E at Paris-Charles de Gaulle Airport. The airline opened the first part of the lounge last January and has already welcomed more than 200,000 guests.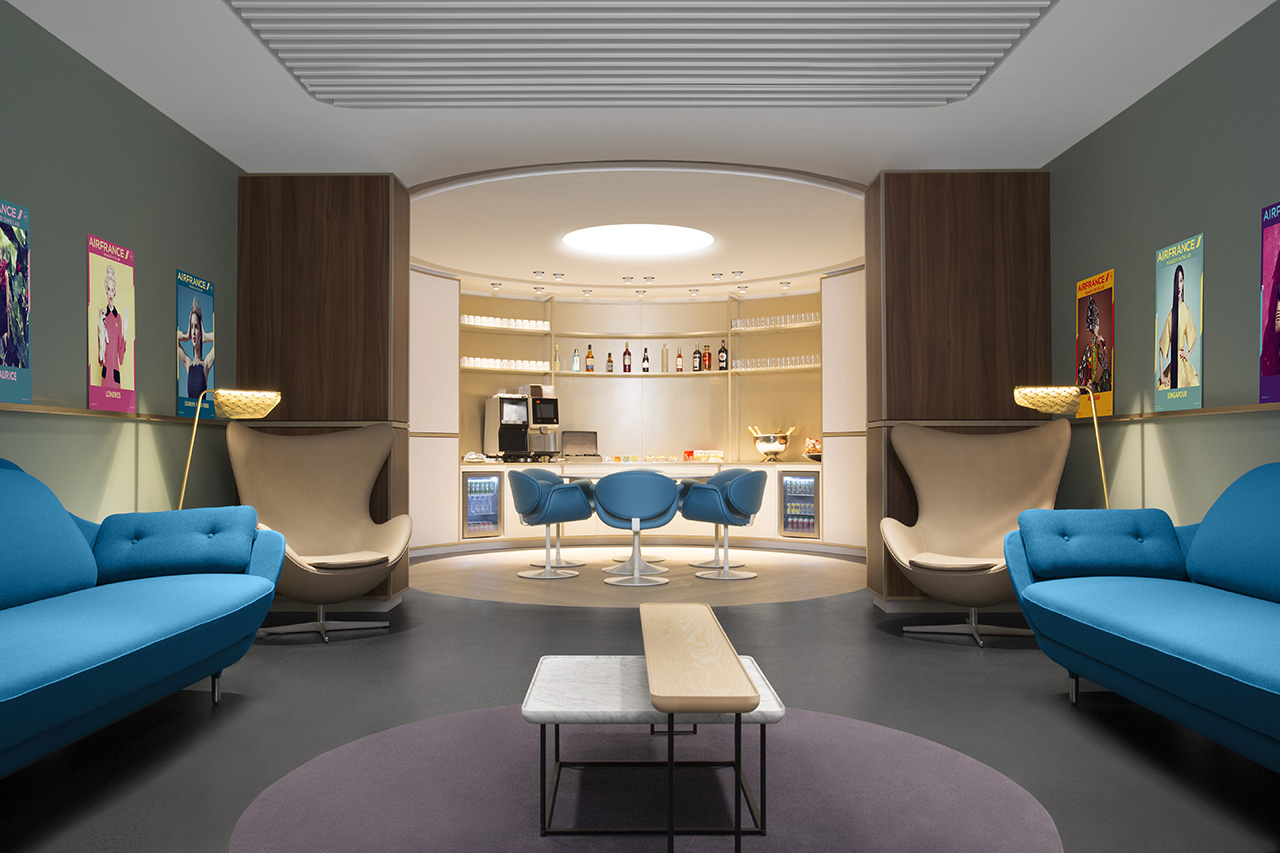 Covering a space of 3,200 square metres – with the capacity to hold up to 540 guests – the lounge offers a chic cocktail menu created by the Hotel Lancaster in Paris and the largest wellness area of all Air France lounges.
When guests arrive in the lounge they can easily find their way around thanks to an interactive plan at the entrance, which displays all the services available, depending on how much time they have. Within the lounge they'll find a range of new features, which we'll look at in more detail below:
Introducing "Le Balcon"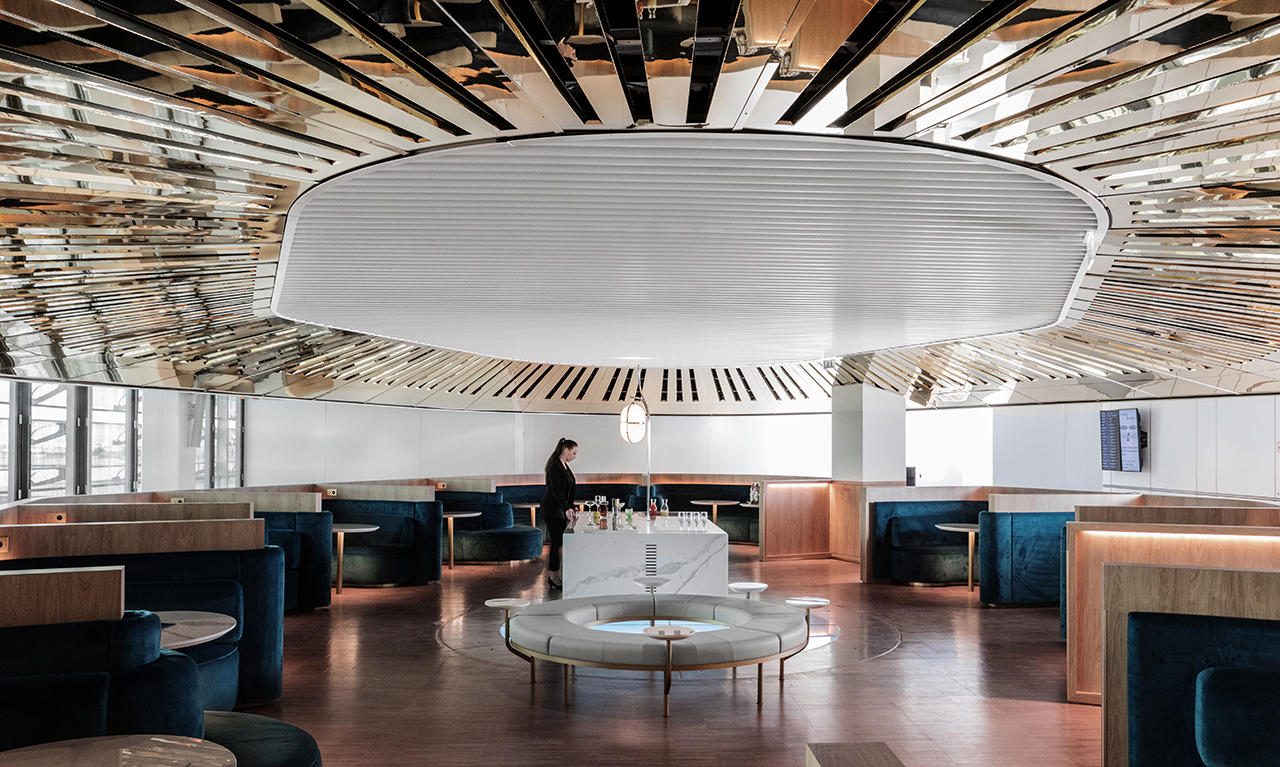 A highlight of the lounge is "Le Balcon" – a new bar area where "time seems to stand still in a 160 sq. m. space suspended between heaven and earth". Designed by French designer Mathieu Lehanneur, the space features a central bar surrounded by theatrical box seats upholstered in blue velvet and embroidered with their respective numbers. Each seat features a large sofa, a pedestal table and connectivity services so passengers can relax and enjoy the lounge while charging up their devices.
At the centre of "Le Balcon", an LED screen has been integrated into the parquet floor depicting an image of the sky. From dawn to dusk, the screen imitates the variations of the day in real time. Following a curved structure set under a golden mirrored ceiling, the space features a mix of wood, marble, mirrorwork and light creating a chic and immersive feel.
New cocktails created by the Hotel Lancaster in Paris
Every evening from 19:00 to 21:00, Air France will be offering a selection of cocktails specially designed by the head bartender of the Hotel Lancaster in Paris.
These include exclusive creations such as "Un air de Paris", which contains a blend of champagne and Cointreau enhanced by a few drops of lemon, and a "Destination" cocktail of the month, which will be inspired by the flavours of a city on the Air France network.
For non-drinkers out there, Air France will also offer a monthly-changing non-alcoholic mocktail, created around an iconic ingredient from the French regions.
A new "Gourmet Table" dining area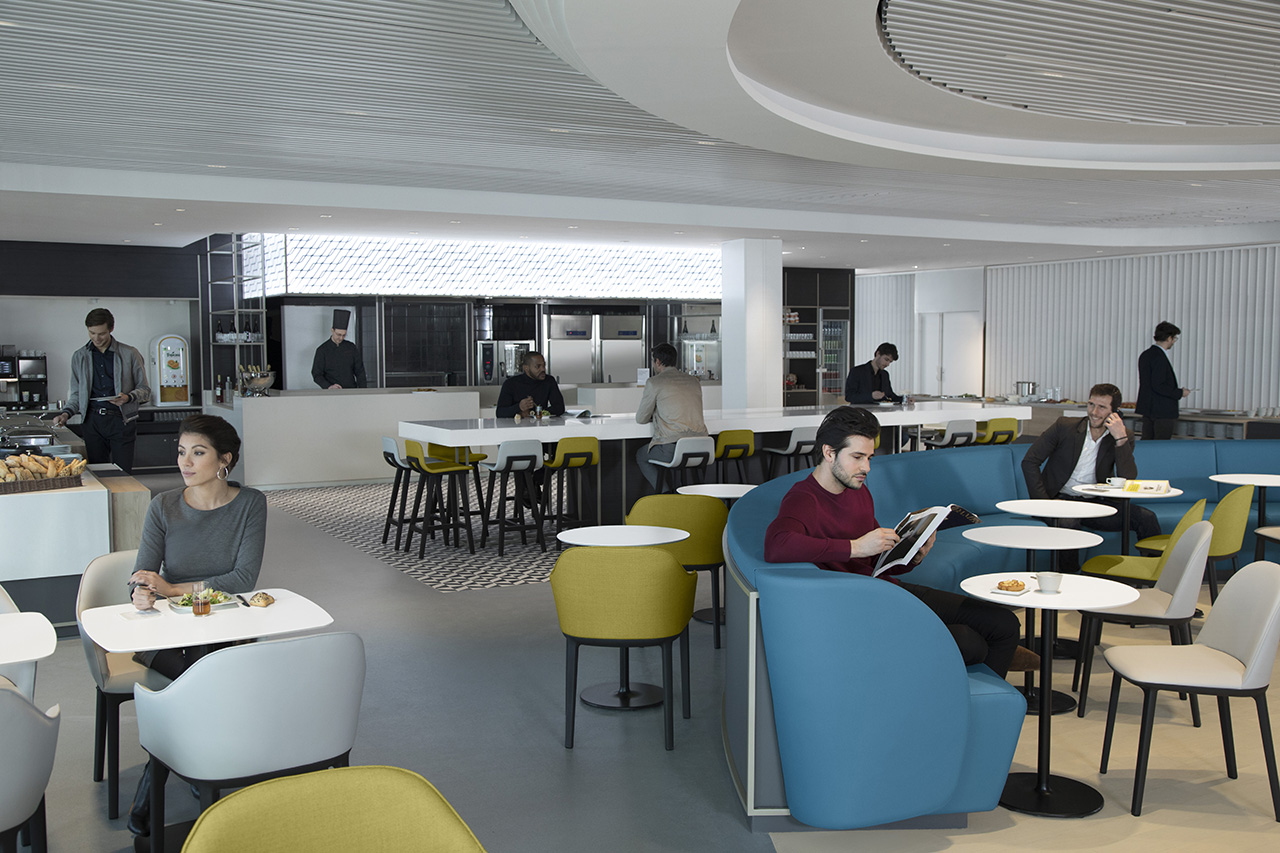 Another new feature of the lounge is a unique "Gourmet Table" dining area, which has been designed in the spirit of a modern Parisian brasserie. Here guests will find an open kitchen where a chef prepares tasty hot dishes right in front of them, as well as a self-service counter with hot and cold dishes, including simmered casseroles, salads and pastries. Meals can be paired with a selection of wines and champagnes designed by Paolo Basso, world's best sommelier in 2013.
The largest wellness area of all the Air France lounges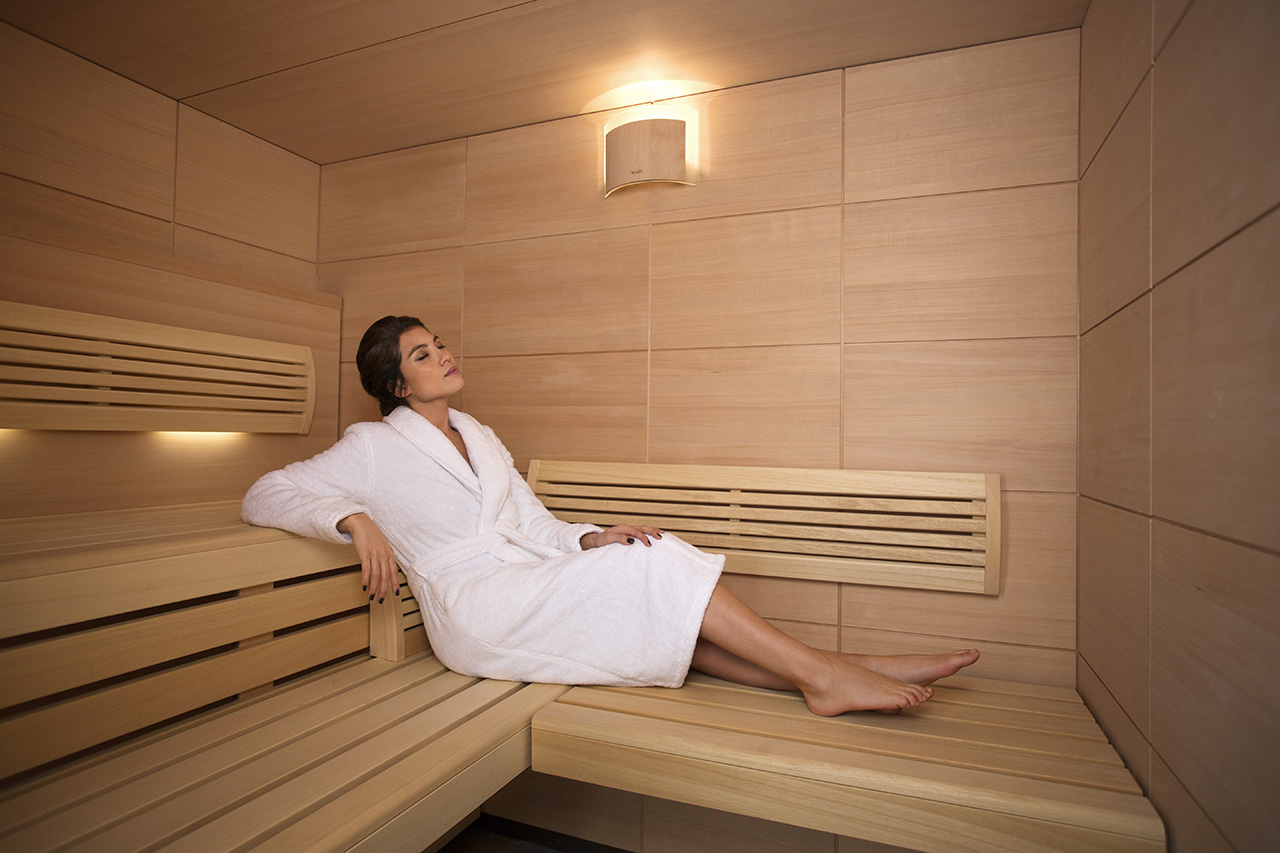 Covering more than 550 sq. m, the new wellness area offers an "Instant Relaxation" area with sun loungers and mini-suites for optimal rest, as well as a detox bar featuring Evian flavoured waters and the latest organic detox products from the Palais des Thés. Guests can also enjoy facial treatments in the Clarins spa, relax in one of two private saunas or freshen up in the lounge's large luxury showers.
At the heart of the wellness area is a three-dimensional digital sculpture, which changes shape intensity and colour throughout the day.
A Kids area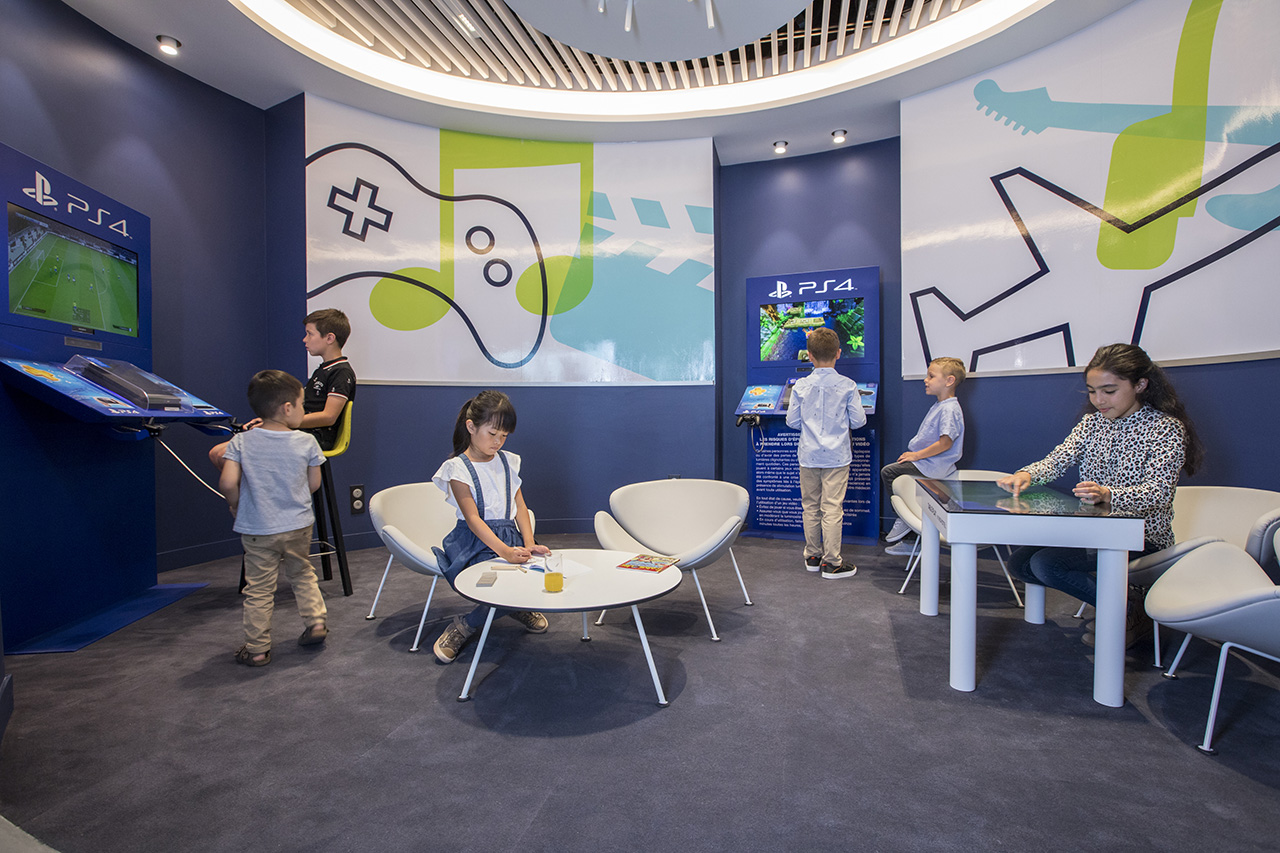 Families travelling with children from 4 to 12 years old can send them to the kids area, which boasts two Sony PS4s with exclusive new games, as well as a TablePlay by Novotel touch table. Both cosy and fun, the area combines refined decoration and splashes of fantasy, making it suitable for both rest and entertainment.
Other facilities include two large co-working tables with individual power sockets; two press kiosks offering French and international newspapers and magazines; an "At Your Service" area for assistance from Air France staff; a quiet room called "Le Petit Salon" and "Le Club", which is a privatised space where passengers can spend time alone or meet other passengers.
Interested in experiencing the new lounge? Book a Business Class ticket with Air France and you'll have access to the lounge at CDG before your flight. For the very best fares, contact SkyClub on 0207 255 1234.