Dubai-based carrier Emirates has won top honours for its Business Class Amenity Kits and childrens giveaway at the TravelPlus Amenity Bag Awards held in Hamburg. Emirates was deemed best in three categories: Business Class-Female (Middle East); Business Class-Male (Middle East) and Children's Goody Bag or Give Away (Under 6 years). The carrier's female and male First Class kits were also shortlisted at this year's awards.
The judging panel looked at how the amenity kits were designed with the traveller in mind and rated them against a number of criteria including trend, pleasure, luxury, usability and style. The Emirates amenity kits contain useful travel essentials from well-known brands including exclusive Bvlgari products.
Robin Padgett, Emirates' Senior Vice President Catering said that the airline has received lots of very positive feedback about the quality of their amenity kits and that most of Emirates' passengers take their kits home from the aircraft.
Last year Emirates gave away 2.4 million amenity kits to its premium customers and distributed nearly 3.5 million monster toys to its young customers since their launch in 2012.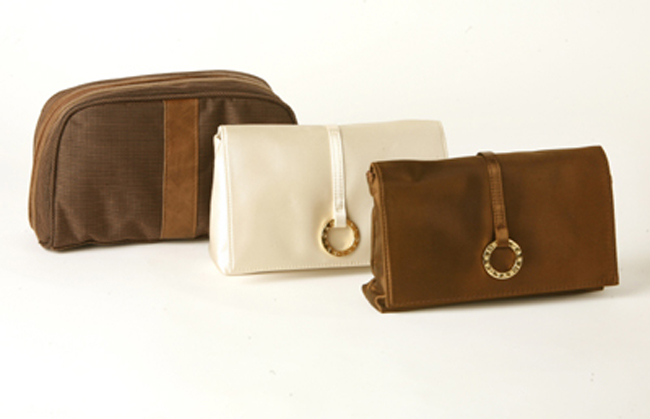 In other news All Nippon Airways (ANA) has unveiled uniforms for its flight attendants, ground and lounge staff in an attempt to rejuvenate and energise the brand's image. The uniforms have been created by leading New York fashion designer Prabal Gurung, whose designs have been worn by the First Lady Michelle Obama, the Duchess of Cambridge and Lady Gaga.
Featuring light grey jackets and charcoal skirts and pants enriched with eye-catching accents of ANA's trademark blue, the new uniforms will be worn by more than 13,000 of the airline's employees starting this winter.
To differentiate each of the uniforms, Gurung created brightly colored scarves and aprons that feature modern Japanese flower patterns- a nod to the airline's Japanese heritage. Gurung said he was aiming for a balance of elegance and timelessness with a modern, fresh appeal.
Meanwhile Japan Airlines (JAL) says it will launch its new SKY NEXT domestic experience on the Haneda-Fukuoka route from 28 May. A total of 77 aircraft are due to receive a revamp with this new interior, which features all-leather seats and LED lighting. Passengers will also be able to access complimentary in-flight entertainment over in-flight W-Fi using their own laptop, tablet or phone.
JAL's SKY NEXT Business Class, named 'Class J', features luxury real leather seats that are 18cm wider than Economy Class and provide 97cm of legroom. Additional details include a jacket hook, centre console, legrest, large table and bright red headrest covers.
The JAL First Class seat is upholstered with cream-coloured leather and is equipped with a centre divider for extra privacy, as well as extra storage space and reading lights.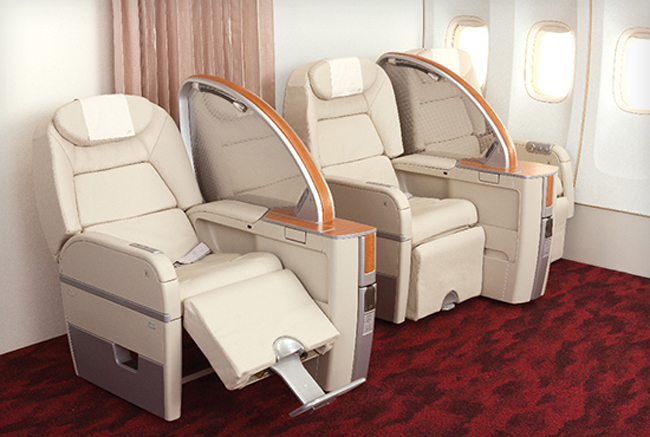 US carrier United Airlines has launched a daily nonstop service between its Houston hub and Munich, providing convenient onward connections to 71 other destinations in Europe, India and the Middle East. The route will be operated with a Boeing 767-400 aircraft fitted with 242 seats- 39 in United BusinessFirst and 203 in Economy, including 70 Economy Plus extra-legroom seats.
Flight 104 departs Bush Intercontinental daily at 16:10, touching down in Munich at 09:50 the next day. The return flight 105 leaves Munich at 09:30, landing in Houston at 14:20 the same day.
Lastly, Royal Brunei Airlines is celebrating the Australian Royal Tour with an exclusive British menu. The airline is offering a 'Royal' inflight menu until 30 April to celebrate the Duke & Duchess of Cambridge's family visit to Australia. Passengers travelling on Royal Brunei's daily Dreamliner service from London Heathrow to Melbourne via Dubai & Brunei will be treated to a more comfortable, quieter cabin and a lavish 'Royal' menu featuring British dishes fit for royalty.
In Business Class passengers can dine on Quail Mulligatawny or slow braised shin of British beef and smoked oyster pie, followed by a dessert of toasted parking with pear and vintage cheddar. Economy Class passengers will receive traditional Lancashire hotpot, followed by Braeburn apple crumble and custard.