This week Qatar Airways announced it will operate the A380 on the London Heathrow route from June, while Etihad is increasing its services to Beirut and Amman. Across the Atlantic a new United Airlines concourse has been unveiled at Boston Logan airport and Virgin America is launching new 'business-friendly' flights from Dallas Love Field.
Qatar Airways is due to welcome the first three of 13 A380s this summer and says the superjumbo will be put into operation on the Doha-London Heathrow route from the 17 June. The airline's new hub- Hamad International Airport- has been specially designed to accommodate the world's largest passenger aircraft, with six contact gates and the world's largest maintenance hangar.
The airline's A380 features a three class configuration of First, Business and Economy Class spread over two decks. Revealed at the world's leading travel show- ITB Berlin- the new First Class A380 seat offers a 90-inch seat pitch and transforms into a fully flat bed. First Class passengers can also watch a wide range of entertainment options on individual 26-inch television screens.
Qatar's Chief Executive Officer, Mr. Akbar Al Baker, said these new aircraft will set a new level of comfort for passengers, as well as providing a smooth and pleasant passenger experience.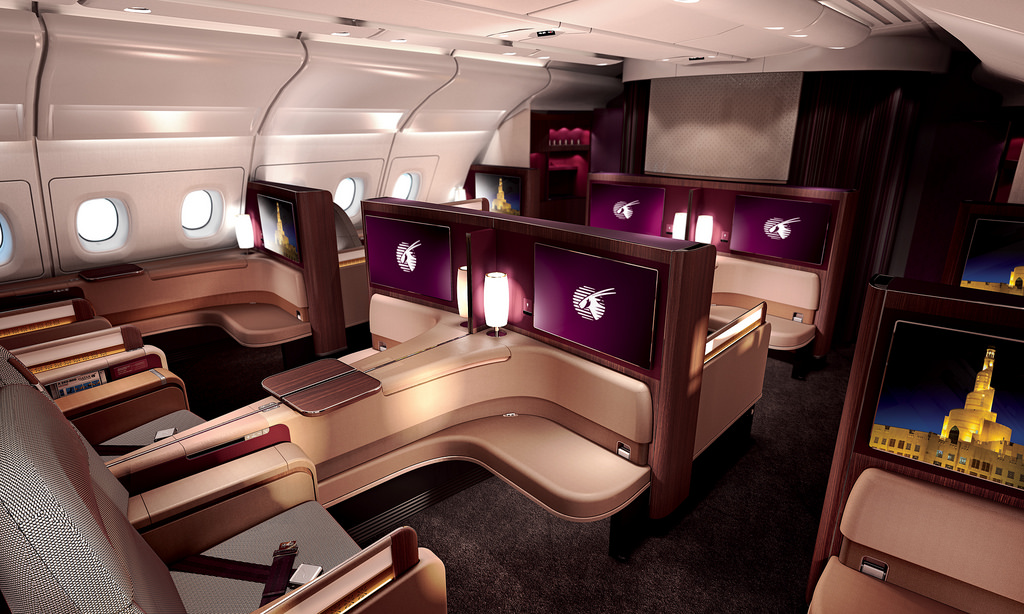 Elsewhere Etihad Airways is boosting the number of flights to Beirut and Amman from 18 flights per week to triple daily schedules from 02 July. The new flights will add over 800 seats per week and will be operated by an A320 with 16 Business Class seats and 120 Economy seats. Passengers travelling from either of these two destinations will now have more choices for onward connections via Etihad's Abu Dhabi hub. Etihad's President and Chief Executive Officer, James Hogan, said the Middle East network is performing strongly and therefore the airline has huge confidence in this regional market.
In the U.S. United Airlines and Massport unveiled a new 10-gate concourse at Boston Logan International Airport's Terminal B. Scheduled to open on 30 April, the 97,000-square-foot concourse offers a more modern, streamlined airport experience, with state-of-the-art facilities and greater consistency for customers. It features a new ticketing lobby, comfortable seating with in-seat power, and the latest in self-service technologies, including self-tagging baggage kiosks, automated self-boarding gates and a new customer service center that allows passengers to resolve their travel issues more easily.
United and Massport invested over $170 million in the concourse, which brings United into one terminal, instead of two, and connects both sides of Terminal B. First and Business Class passengers will also be able to sit back and relax in the spacious new United Club Lounge, which is the fourth lounge to feature United's new design concept. Located above the Terminal B concourse, the 8,000 square-foot lounge offers incredible views of the airfield and Boston Harbour. It has an aviation theme with contemporary furnishings, complimentary Wi-Fi, plenty of power outlets and a variety of drinks and snacks.
Finally, Virgin America has announced it will launch 'business friendly' flights from Dallas Love Field to New York LaGuardia, Ronald Reagan Washington Airport, Los Angeles International Airport and San Francisco International Airport. The new flights take off in October 2014, offering travellers award-winning service and nonstop, conveniently-timed flights. Virgin says it will be the only carrier at the updated Love Field airport to offer a consistent, upscale product on every flight, with three classes of service including First Class and Main Cabin Select Premium Economy. Passengers can take advantage of "office in the sky" amenities, which include Wi-Fi, in-seat power outlets and touch-screen seat back entertainment systems. 
The San Francisco, Los Angeles and Washington services begin on 13 October, while the New York service commences on 28 October. In 2015 the carrier plans to add an additional flight from Dallas Love Field to San Francisco, Los Angeles and Washington, as well as adding two new daily nonstop flights to Chicago O'Hare.
The airline's President and CEO David Cush said Dallas is a global centre of industry and deserves more business-friendly flight options from the airport most convenient to downtown. He also added that the new services will offer travellers a different kind of flight option that allows them to stay connected, comfortable and productive on long-haul flights to major business destinations.
Tailored to the modern business traveller, the airline's new, quieter aircraft provide mood-lit cabins and custom-designed leather seating, as well as seat-back touch-screen TVs with more than 20 films, live TV, Google Maps, video games, a 6,000 song library and an on-demand menu, which allows passengers to order drinks and snacks from their seat. Passengers flying First Class with Virgin America will experience plush white leather seating with 55 inches of pitch, 165 degrees of recline and lumbar massagers. For passengers flying in Premium Economy, the carrier's Main Cabin Select service offers 38-inches of pitch, free food and cocktails, an all-access pass to media content, dedicated overhead bins and priority check-in/boarding.