Etihad Airways has partnered with luxury Italian fragrance brand Acqua di Parma for its new range of amenity kits, which are available on long-haul First and Business Class flights, as well as The Residence on its Airbus A380s. Toiletries from the luxury brand will also feature in the airline's flagship First Class Lounge & Spa in Abu Dhabi.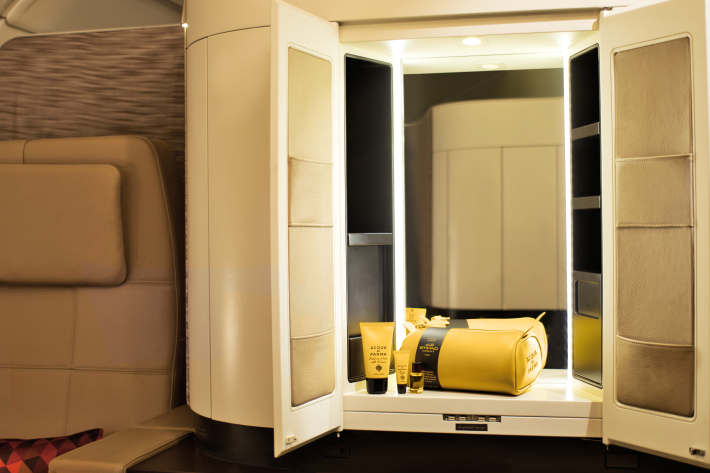 Etihad Airways' association with Acqua di Parma began in 2014, when the airline started offering the brand's luxury toiletries in The Residence. Since then, the perfumer has worked closely with Etihad to tailor its unique products to each stage of the guest experience, using its signature perfume Colonia, which has been in existence for 102 years.
Acqua di Parma's First Class cylinder bags are unisex and come in the brand's signature yellow colour. Inside each bag passengers will find a miniature bottle of Colonia, a 40ml body lotion and a lip balm, as well as Colonia hand wash and hand cream. The First Class bathrooms onboard the aircraft are also stocked with Colonia bathroom amenity kits containing shower gel, body lotion, hair shampoo, and hair conditioner.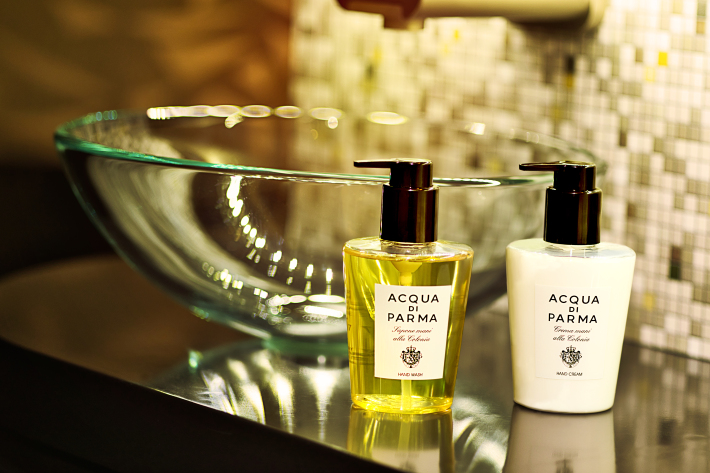 The Business Class bags are also unisex but come in two colours; yellow and black. The wallet-style bags can can be buttoned to create a stylish and useful valet tray, and contain a Colonia sampler and hand cream, which are also dispensed in the Business Class washrooms.
Meanwhile in The Residence, which is available on A380 aircraft flying from Abu Dhabi to London, Paris, New York and Sydney, guests have their own private shower room, stocked with a bespoke range of fragrances and toiletries, including a Colonia amenity kit. Colonia Pura is provided for men and Magnolia Nobile for women.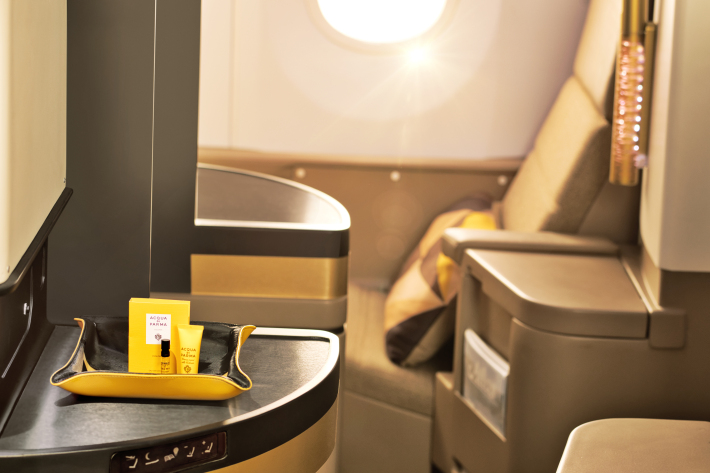 The new collection was revealed at a special event at the St. Regis Hotel's legendary Abu Dhabi Suite, which was decorated in a style inspired by Acqua di Parma, and featured a unique perfume room where guests were given a personal fragrance experience.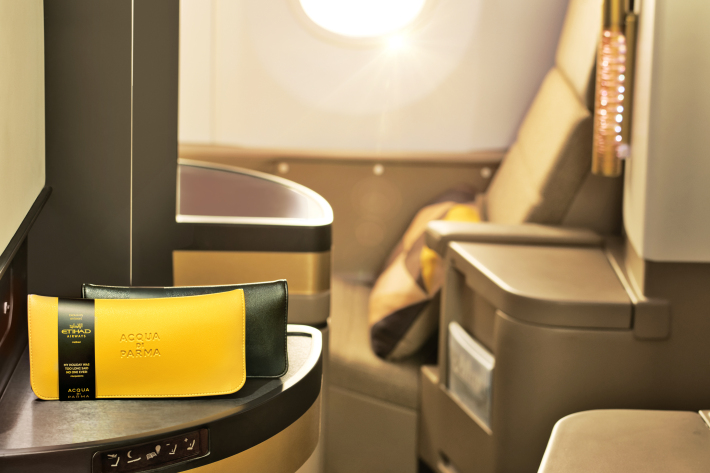 Linda Celestino, Etihad Airways Vice President Guest Experience and Delivery, said at the event: "Just as Etihad is not just simply an airline, Acqua di Parma is more than just a fragrance. Both are respected and loved luxury brands. This partnership showcases refined Italian style and Arabian hospitality and we know it will prove very popular with our guests. The range of products chosen will enhance their comfort onboard and will also define their journey through this new sensory experience."