flydubai announced it has committed to a $27 billion order for 225 Boeing 737 MAX aircraft to support the growth of its fleet. This is the third order flydubai has placed from Boeing since its launch in 2008, and by the end of 2017 the airline will have a fleet of 61 Next-Generation Boeing 737-800 aircraft and Boeing 737 MAX 8 aircraft. In addition, there are 70 aircraft due for delivery by 2023.
The aircraft will feature interiors by JPA Design, including a new business class cabin with ten flat bed seats spread across three rows. The front and back rows are in a 2-2 configuration but the middle row has just two "throne" seats in a 1-1 configuration. These are certain to be the most popular for solo travellers, who will be able to have their own seat with extra space and no other passenger next to them. 
Previously flydubai had opted for reclining seats but the new business class seats will become fully flat beds, helping the airline to align its product offering with codeshare partner Emirates.
The new Boeing 737 MAX 8s will initially be utilised on the furthest points on the carrier's network, including Bangkok, Prague, Yekaterinburg and Zanzibar. The further 737s being delivered over the next few years will be rolled out across the fleet and will become available on most of the routes on the network.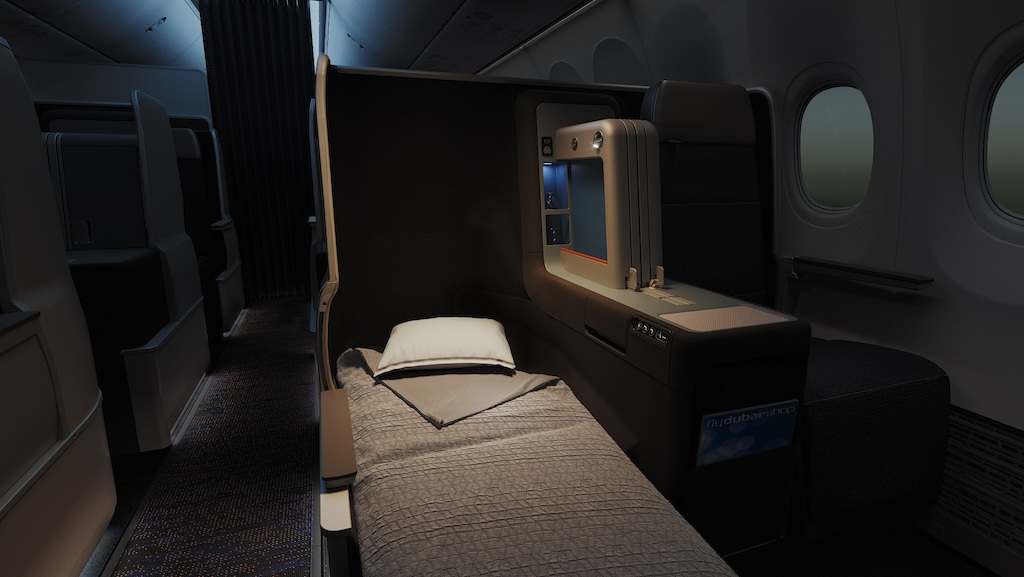 His Highness Sheikh Ahmed bin Saeed Al Maktoum, Chairman, flydubai, said: "Today's aircraft order underlines the success of flydubai's founding vision helping to strengthen trade and tourism links across its network and has contributed to the enhanced connectivity of Dubai's aviation hub.  In under a decade, flydubai has extended its network to 97 destinations in 44 countries and we look forward to the arrival of the new aircraft from 2019 in support of our future ambitions."