Japan Airlines has announced it will be offering flights between Tokyo-Narita and Dallas/Fort Worth again from November 30; the airline's eighth destination in North America. Fellow oneworld alliance member American Airlines will codeshare on the route.
Services will be operated with a next-generation Boeing Dreamliner 787-8, fitted with JAL's latest cabin seats in a three-class configuration. This includes the award-winning fully flat "JAL SKY SUITE" in Business Class and a dedicated Premium Economy cabin with the new "JAL SKY PREMIUM" seat. In Economy Class, "JAL SKY WIDER II" seats are available in a 2-4-2 configuration.
"We are pleased to announce the return of Dallas/Fort Worth to our international network, which becomes our eighth gateway in North America and our fourth U.S. service launch in just over three years," said Yoshiharu Ueki, President of Japan Airlines.
"By making full use of the efficiencies of the Dreamliner as well as capitalizing on our even stronger relationship with American Airlines, we are confident this resumed service will provide even more valuable links for commercial and cultural exchanges for our customers in both regions and beyond."
Airline partner American Airlines is making significant efforts to expand in Asia and the new service will add more options for customers wishing to travel between the two continents.
Flight JL012/AA8478 will depart Tokyo Narita at 10.55am, touching down in Dallas/Fort Worth at 07:20am. The return flight JL011/AA8481 will depart Dallas/Fort Worth at 11.45, landing in Tokyo at 16:25 the following day. Initially the flights will operate four days per week on Mondays, Wednesdays, Fridays and Sundays, although the airline is considering a daily service from spring 2016.
The Business Class cabin onboard the 787 features 38 JAL Sky Suites, which were named "Best Business Class Airline Seat" at SKYTRAXs 2013 World Airline Awards. Previously only reserved for First Class, the suites offer direct aisle access and passengers have their own private space. The seat converts into a fully flat bed with a comfortable, highly resilient airweave mattress and pillow, so guests feel like they have their own personal bedroom. The 23-inch personal TV monitor is one of the largest in its class and the inflight entertainment system is operated by a Liquid-crystal touch-panel controller. To ensure passengers can enjoy their movies and music undisturbed, they are supplied with SONY background noise-canceling headphones.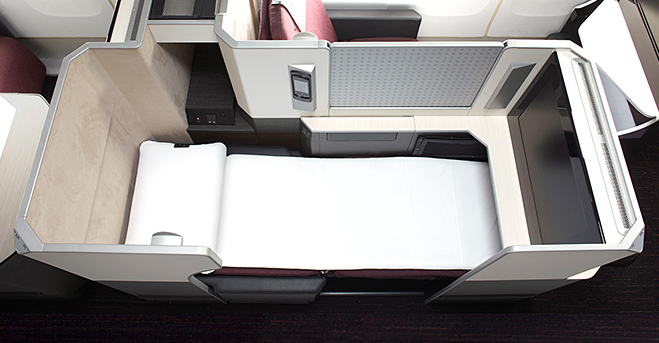 Seats are arranged in a 2-2-2 configuration with a privacy partition, which can be raised or lowered depending on whether the passenger is travelling with a companion.  There is also ample storage beneath the ottoman for belongings. The menus are prepared by top chefs and feature a range of western and Japanese cuisine, including rice be served from a specially heated cart which recreates the taste of Japanese rice freshly removed from the steamer. Passengers can order anything they like from the menu, at any time during the flight. In addition to wines, there is also a sake selection, featuring popular seasonal saké brands "Mikotsuru" and "Toyo-Bijin", together with the barley shochu "Gokuu" and potato shochu "Jinkuu".
The return of JAL service brings more travel choices with 18 weekly roundtrips between DFW and NRT offered by both American Airlines and Japan Airlines. Through American's extensive network from DFW, customers traveling from Tokyo can connect to more than 200 cities throughout North, Central and South America.
Customers transiting through DFW will also benefit with International to International Baggage Transfer, (subject to government approval), which allows them to check their baggage through to their final destination from selected countries outside the U.S. This means passengers wouldn't need to reclaim their baggage at DFW.