Emirates unveiled its incredibly luxurious new 777 First and Business Class products at the Dubai Airshow this weekend. The airline has introduced game-changing new fully enclosed private First Class suites inspired by the Mercedes-Benz S-Class, as well as a completely refreshed look across all cabins. 
The multi-million dollar upgrade includes revamped inflight entertainment systems, new seat designs and an overhaul of every aspect of the aircraft, including the walkways, galleys and bathrooms. 
First Class Cabin
A real highlight is the fully-enclosed First Class private suites, which are laid out in a 1-1-1 configuration, offering up to 40 square feet of personal space for each customer, with plenty of room to stand up and get changed, even when the bed is made.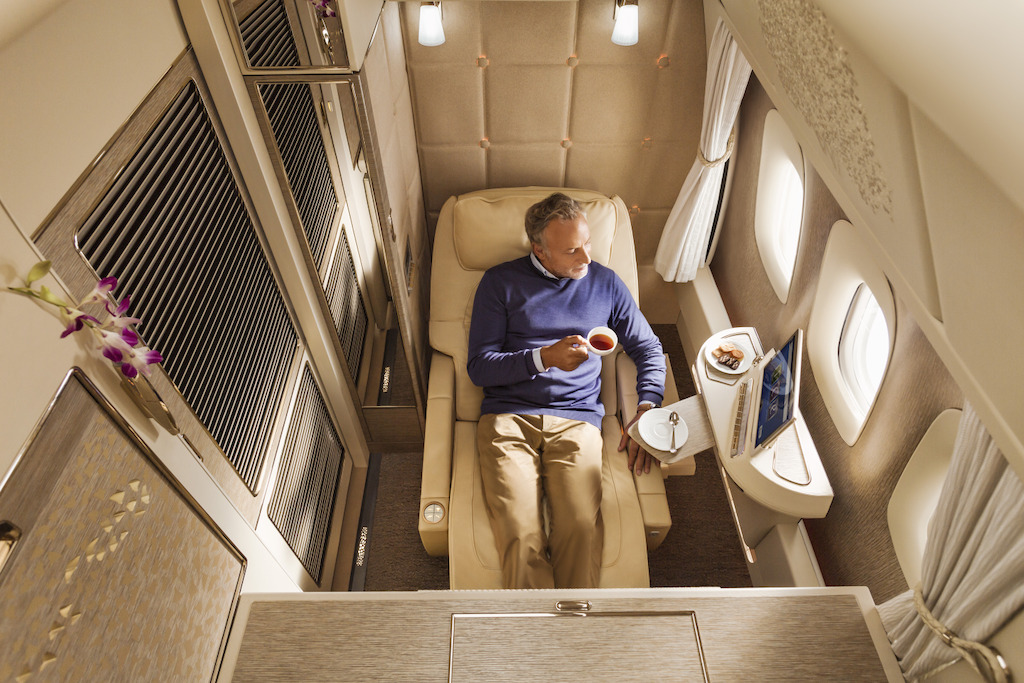 The First Class suites give a nod to the Mercedes Benz S-Class, featuring soft, cream leather seats, hi-tech control panels and mood lighting. On the ground, Emirates has also partnered with the luxury car manufacturer to provide a fleet of the S-Class cars as part of its complimentary Chauffeur-drive service. 
The cabin interior now has a whole new feel, with a modern airy vibe and a new colour palette, of soft greys, cream and champagne. Each suite has a fully sliding door so the occupant has their own private bedroom in the sky, and there's ample storage space including a cleverly designed overhead compartment, and a full length cupboard for hanging clothes. 
The soft leather seat reclines into a fully flat bed and can be placed in a "zero-gravity" position inspired by NASA technology, giving a feeling of relaxation and weightlessness.
Emirates has also created the first ever "virtual windows" for seats located in the middle aisle. What this means is, if you're not fortunate enough to have bagged a window seat, you'll have virtual windows that project the view from outside the aircraft using real time camera technology. If you are one of the lucky ones sitting by the real windows of the plane, you'll be provided with a pair of binoculars so you can zoom in on what's outside your window. 
Other exciting innovations include the introduction of room service video calling with cabin crew, along with a service hatch so guests can accept their food and drinks while remaining undisturbed. The entertainment screen is enormous, measuring 32-inches, and the experience is now enhanced with brand new Bowers & Wilkins Active Noise Cancelling E1 headphones created exclusively for Emirates.
There's more: in addition to receiving a Bulgari amenity kit, First Class passengers will receive Hydra Active moisturising pyjamas and an "inspiration kit" containing luxury Byredo skincare products. As with all Emirates flights, customers can dine on demand, enjoying gourmet cuisine created by famous chefs. 
On the airline's new First Class product, Sir Tim said: 
"This is the first time an Emirates product has been so influenced by another luxury brand, but it is a natural fit as both Emirates and Mercedes-Benz have the same unwavering commitment to fine detail, uncompromising quality, and a drive to push the boundaries."
Business Class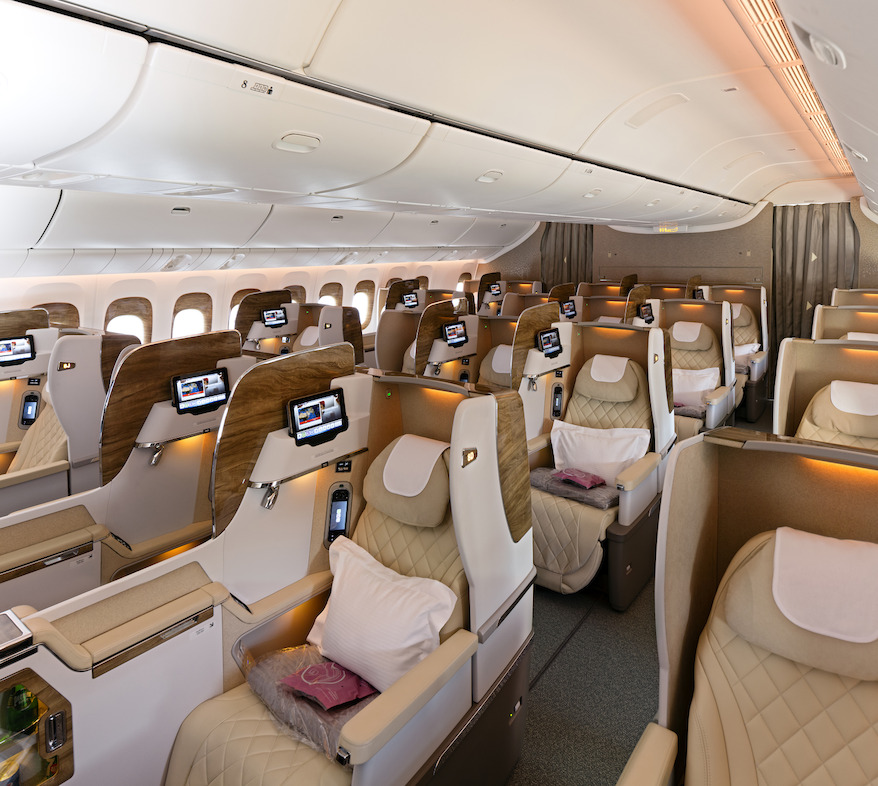 It's not just First Class that's been given an upgrade. Business Class features new seats which have been designed to resemble the seats of a sports car, with a diamond stitch pattern on the full leather cover, ergonomically designed headrest, and a sleek overall look and feel.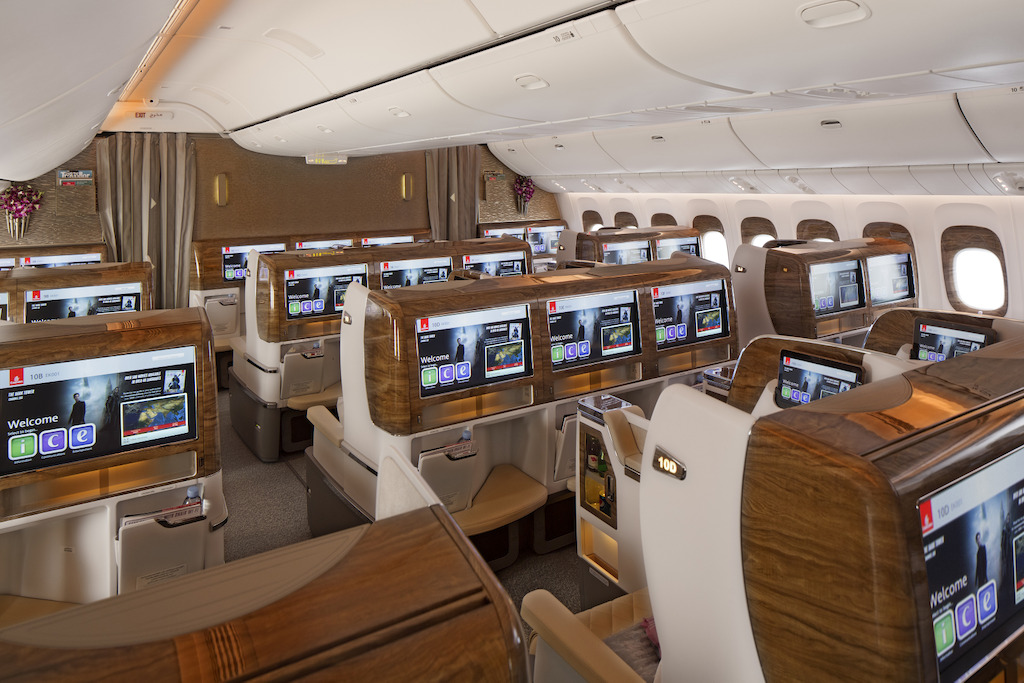 The seat has a pitch of 72 inches and moves into a fully-flat sleeping position. It also has touchscreen controls for the seat and inflight entertainment system, several personal lighting options, privacy panels between seats, a shoe stowage area, footrest, and a personal mini-bar. 
An artistic motif representing the Ghaf (prosopis cineraria) tree, is used as a design highlight throughout the aircraft. An indigenous evergreen plant, the Ghaf is a considered the national tree of the United Arab Emirates, and has deep cultural and ecological significance. All cabin classes will be equipped with a new generation of Emirates' award-winning ice inflight entertainment system offering improved and superior image quality. Each in-seat screen will feature ultra-wide viewing angles, a capacitive touch screen, LED backlight and full HD display. 
If you wish to experience the new Emirates First Class Suites, they will debut on December 1st on flights from Dubai to Geneva and Brussels. Just call 0207 255 1234 and speak to a SkyClub representative to book your seat.