Qatar Airways has finally revealed its much awaited new Business Class product at ITB Berlin – the world's largest travel trade show. 
Ushering in a never-before-seen standard in Business Class travel, the new private suites, named 'QSuite', feature the industry's first-ever double bed available in Business Class. They are also highly customisable, giving passengers travelling together the ability to stow away their privacy dividers and create one large private room.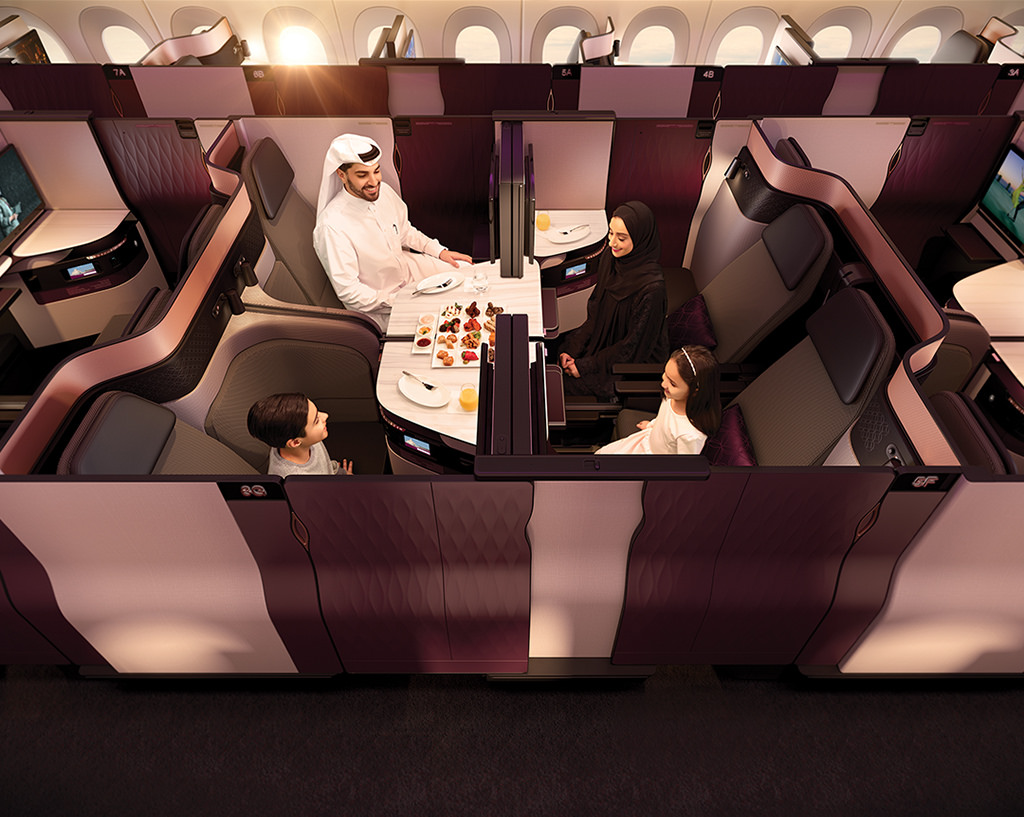 Qatar Airways is also now offering the world's first 'party of four' configuration, with adjustable panels and movable TV monitors on the centre four seats. Colleagues, friends or families travelling together can
transform their space into a private suite, allowing them to work, dine and socialise together.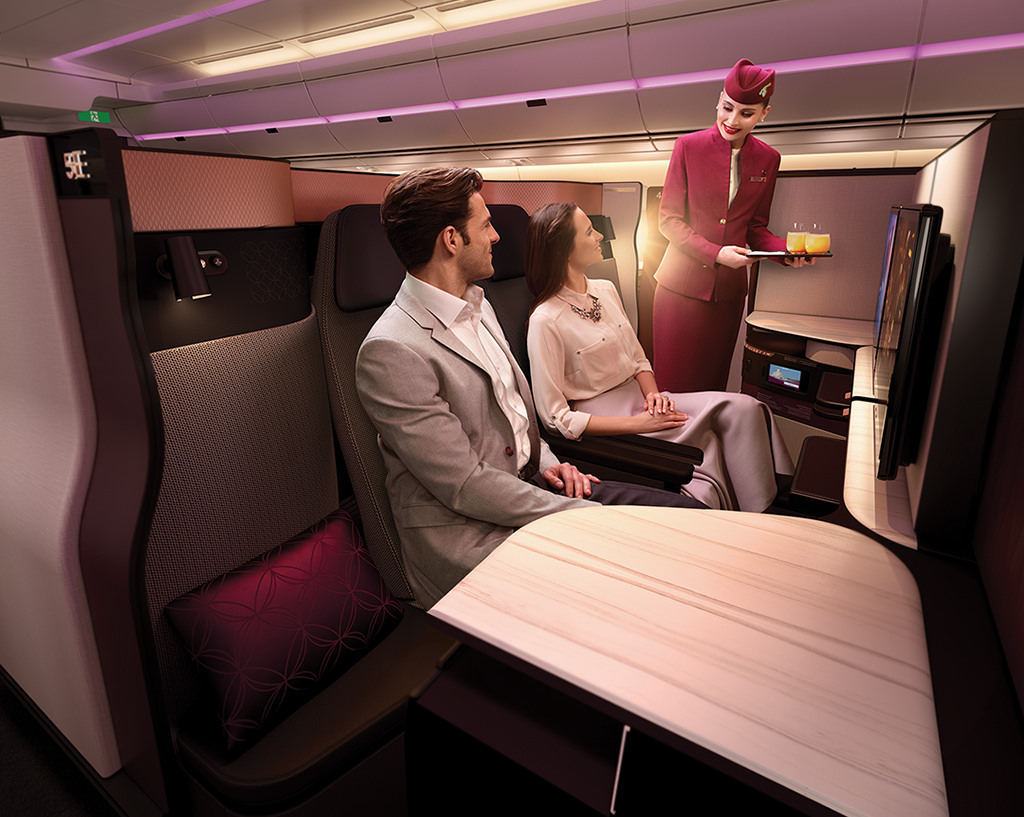 The patented seat design has been two years in the making, leaving many industry experts guessing about what features it would include. 
Qatar Airways Group Chief Executive, His Excellency Mr. Akbar Al Baker, said: "Today I am proud to unveil the future of Premium travel with our new QSuite Business Class. Our unique and patented design is a world first in many ways and challenges industry norms by offering passengers more privacy, more choice and more personalisation. With these innovations, Qatar Airways has revolutionised the way we serve our Business Class travellers, enabling our passengers to enjoy a First Class experience in Business Class. This is truly Business Class as never seen before and is entirely in keeping with our Premium product and service philosophy. On Qatar Airways, you choose when you dine, and the menu options are varied, with something for everyone. You choose when you rest, and when you want entertainment; we offer more choices than any other airline. It only makes sense to give you the choice to make your own cabin-within-a-cabin, creating double QSuites or quadrants."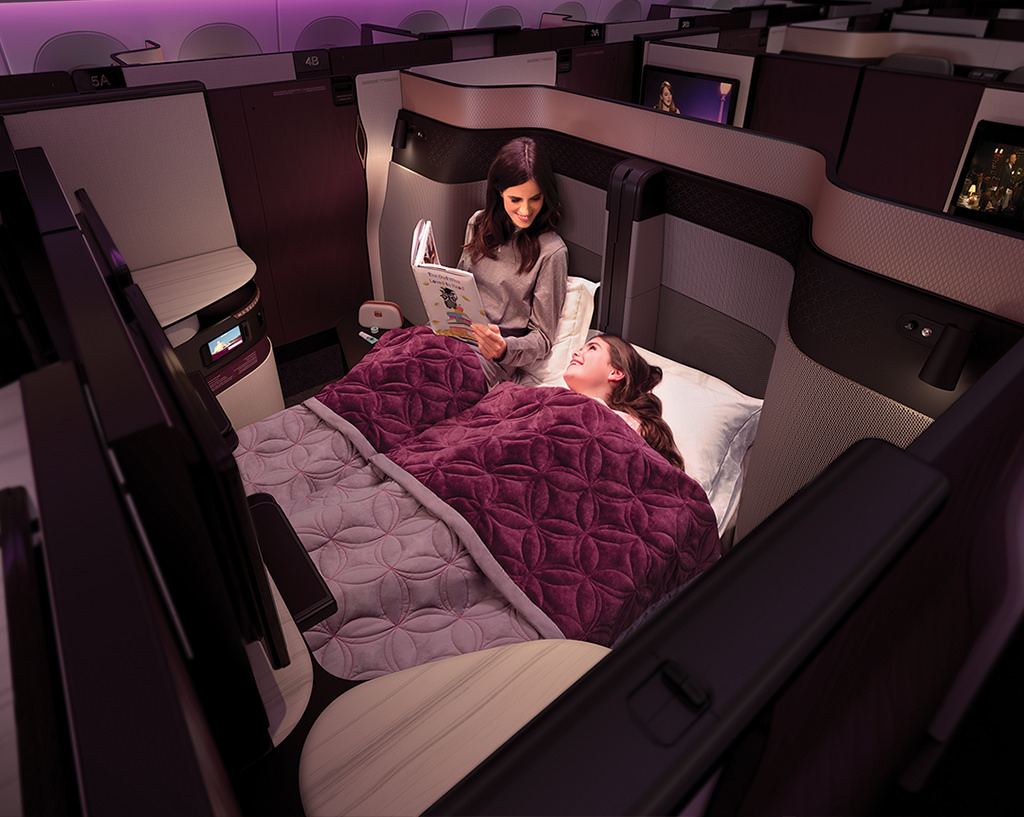 Each seat is crafted with hand-stitched Italian leather and satin rose gold finishing, providing a luxurious feel to the Business Class experience.  
In addition, Qatar Airways is also launching a new food and beverage concept that will allow travellers to  turn dining at 35,000 feet into a social experience. 
The airline is already known for its 'dine on demand' meal service but will now introduce a selection of  'sharing dishes' available throughout the flight. A wake-up Express Breakfast will also be available for those who choose to sleep a little longer by making the most of the 'Do Not Disturb' option available on the door of their private QSuite. There will also be a whole host of service enhancements, including elegant new chinaware and cutlery, sumptuous soft furnishings and luxurious bed linens.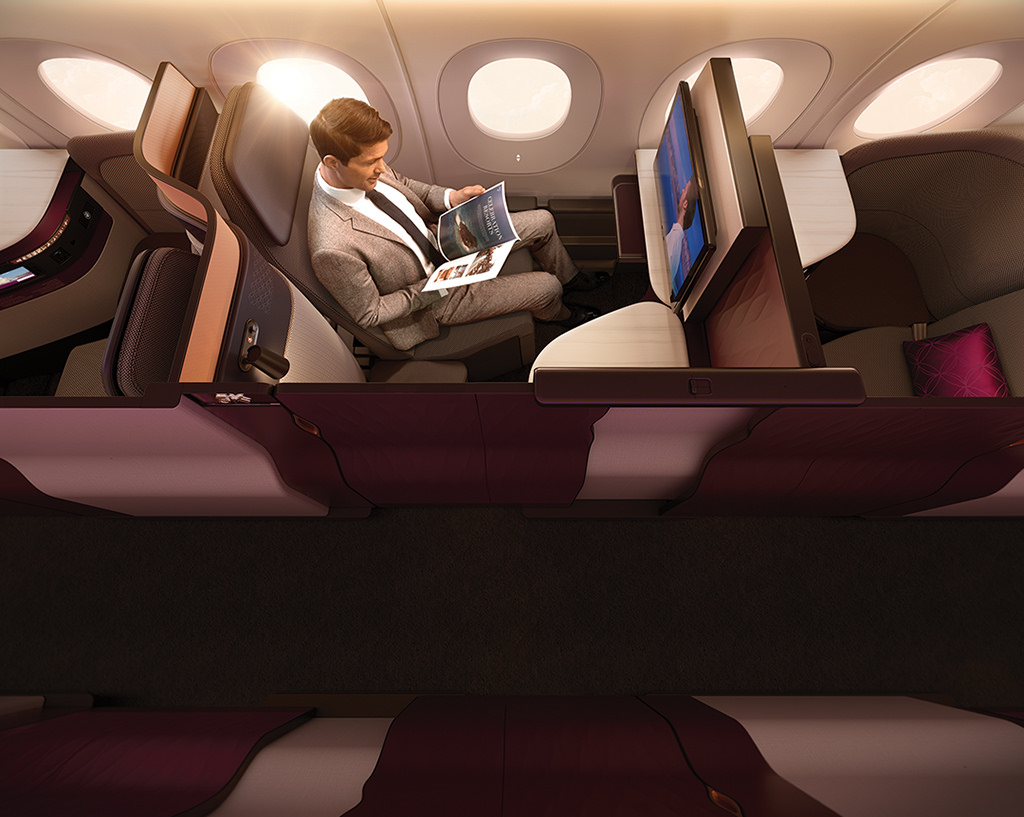 Recently Qatar Airways announced it would introduce exclusive
cotton sleeper suits designed by the White Company
 as well as amenity kits created by luxury luggage brand BRIC's. The airline also launched a next-generation user interface of its Oryx One entertainment system, make it even easier to surf content and choose from up to 3,000 entertainment options. 
The new QSuite concept will be retrofitted on to the existing Qatar Airways fleet starting from June 2017, at an estimated rate of one aircraft a month. The airline also announced it would begin offering best-in-class inflight connectivity starting this summer.