Singapore Airlines announced its eagerly awaited new cabin products today at a global launch event in Singapore and they're more exciting than we could have ever imagined. The airline's A380 fleet will feature large bedrooms in First Class big enough for two people as well as pods in Business Class that can be joined together to create a double bed. This is the carrier's largest cabin overhaul in the last decade and will set a new standard for First and Business Class travel, competing with the likes of Etihad for the most luxurious airline in the skies.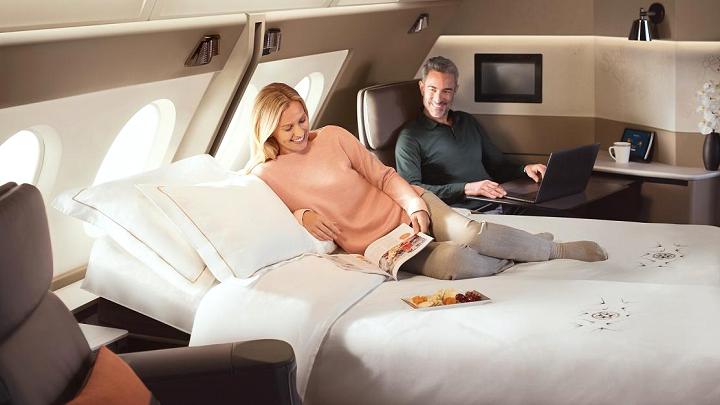 The new aircraft configuration will carry up to 471 customers in four classes of travel, with six Singapore Airlines Suites, 78 Business Class seats, 44 Premium Economy Class seats and 343 Economy Class seats. 
Singapore Airlines will begin to introduce the new products next month on the first of five new A380s on order with Airbus. The aircraft will enter service on the Singapore to Sydney route. Retrofit work will then start in late 2018 on the airline's 14 existing A380s, with all targeted for completion in 2020.
First Class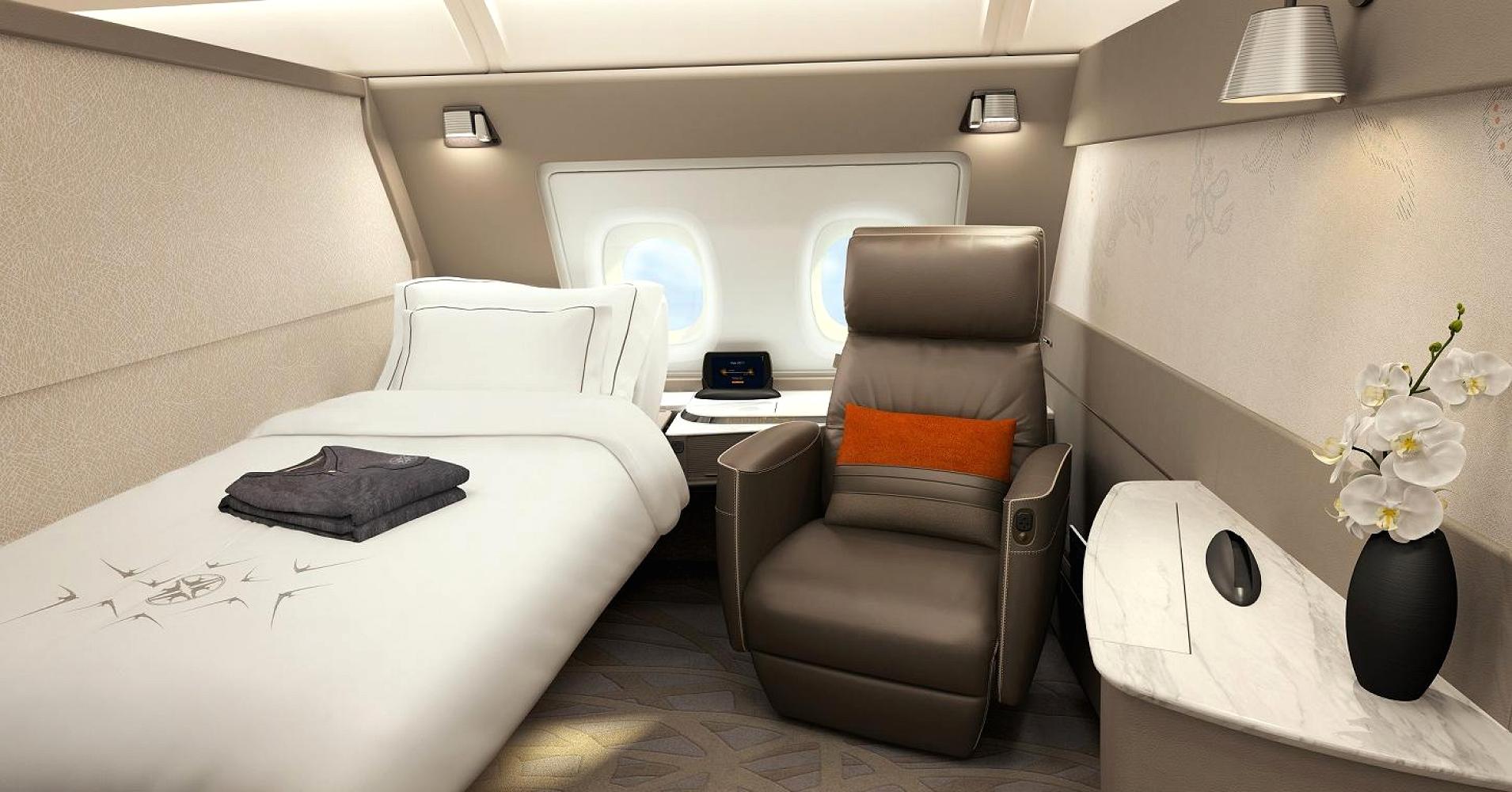 The First Class cabin is situated on the upper deck of the aircraft and features just 6 suites, down from 12. First Class will feature beds that measure 76 inches by 27 inches, dressed with two pillows and a cotton duvet. The beds in the first two suites of each aisle can be joined so two members can sleep side by side in a full bed. Guests will also receive slippers, eyeshades and socks.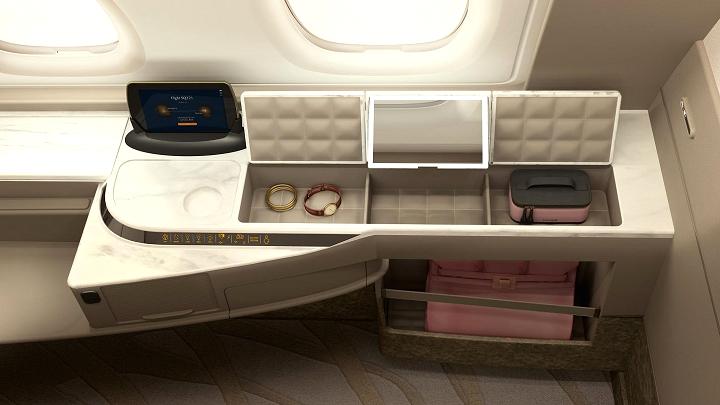 Another highlight of First Class is the new storage space, which boasts a mirror and padded spaces for things like jewellery, watches and toiletries. 
Each suite has a leather chair that swivels between 135 degrees and 270 degrees through an electronic control, as well as an enormous 32-inch HD monitor for in-flight entertainment.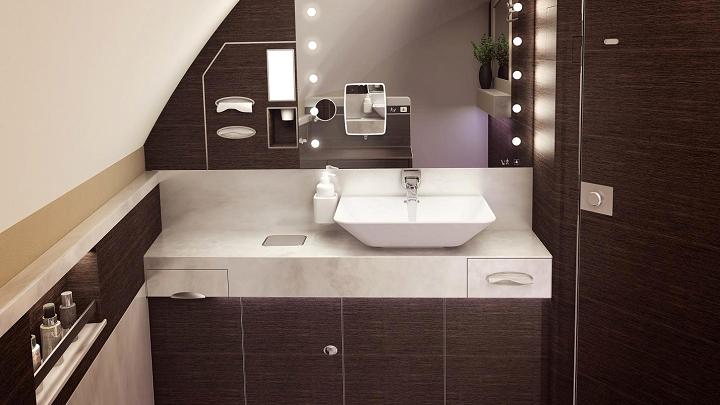 First class will also feature two spacious bathrooms for just six people, so you can be sure there won't be a queue for the bathroom. 
Business Class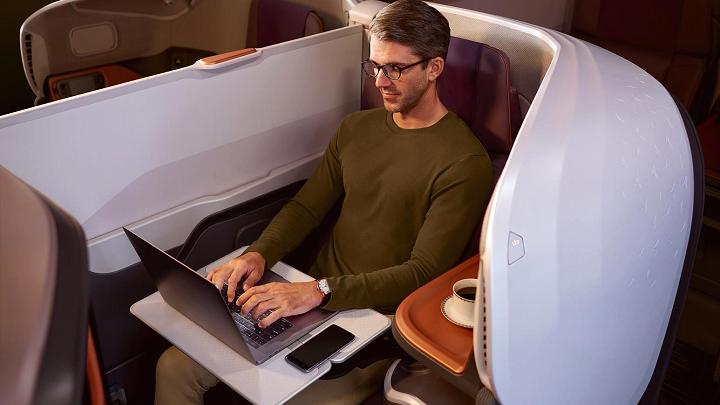 Business Class customers won't be disappointed either. The new Business Class cabin features cocoon-like pods arranged in a 1-2-1 layout on the upper deck, with in-seat power and 18-inch entertainment screens. The seat offers 50 inches of legroom and is 25 inches wide, converting into a fully flat bed. The airline chose a shell made out of carbon fibre, which allows for a design that offers more under-seat stowage space, accommodating a full-size cabin bag. 
For the first time Singapore Airlines will also offer the chance for companions sitting together to convert their seats into a double bed. This is a feature that was also recently introduced on Qatar Airways. 
Senior Vice President Product & Services, Mr Marvin Tan, said:
"Singapore Airlines set new industry benchmarks for premium full-service travel when we introduced our first A380s in October 2007. A decade later we continue to receive highly positive feedback about the travel experience on the aircraft."
"The introduction of our all-new cabin products is intended to ensure we retain our product leadership position. The significant investment in the new product and service offerings demonstrates that we are always listening to our customers, and ensuring that we continue to deliver the world's best travel experience."
Singapore Airlines' A380s currently serve Auckland, Beijing, Frankfurt, Hong Kong, London, Melbourne, Mumbai, New Delhi, New York, Paris, Shanghai, Sydney, and Zurich.