Thai Airways will be switching one of the planes it utilises on the London-Bangkok route to an Airbus A350. This latest aircraft from Airbus is the most technologically advanced passenger aircraft in the world, producing 20% less cabin noise than other similar aircraft types.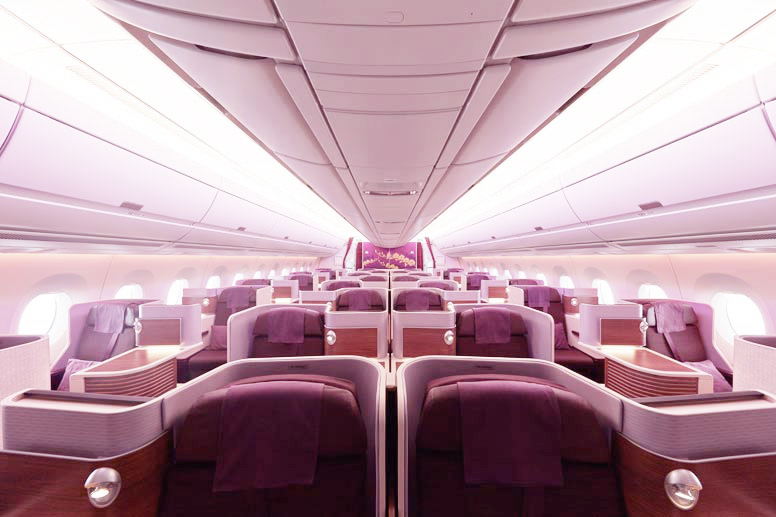 From 18th September, the A350 will replace a Boeing 777 on one of the airline's twice daily flights between London and Bangkok. An A380 superjumbo will continue to serve the other daily flight. 
Thai Airways' A350, which is decorated in a contemporary purple 'orchid' theme, features a total of 321 seats, including 32 in Royal Silk Business Class. The Business Class cabin has been designed to provide plenty of space, features 41-46 inches of space between each row for maximum comfort. Each seat reclines 180 degrees and is fully equipped with a 16 inch touch screen that can connect to Wi-Fi, communication devices, and electrical plugs.
Onboard the A350, panoramic windows allow plenty of natural light into the cabin, while an advanced air management system ensures the air is filtered every 2 to 3 minutes. The aircraft also features computer controlled LED ambient lighting, large overhead luggage compartments and Wi-Fi throughout the cabins.
Ms. Nonthakorn Trakulpa, General Manager, Thai UK and Ireland said:
"The advanced air management system, precise temperature settings, lower air pressure and superior sound proofing that feature on this aircraft mean passengers will be kept as comfortable as possible during their flight.
"The spacious cabin, breathtaking panoramic windows and computer-controlled LED ambient lighting also show that Thai remains totally committed to its reputation for providing premiere customer service in the skies."
By October 1st Thai Airways will have a total of seven A350s in its fleet operating on routes including London, Rome, Milan, Frankfurt, Brussels and Singapore.