Finnair is one of a handful of airlines operating the new Airbus A350 XWB. This exciting new aircraft offers larger windows, newly designed overhead storage bins, LED mood lighting and less curved sidewalls, providing more space and light than ever before. In addition to aesthetic improvements, it's also quieter compared to the previous generation aircraft and offers a 20% improvement in fuel efficiency.
While several airlines have placed firm orders for the A350, you can currently only experience it on 5 operators: Qatar Airways, Singapore Airlines, TAM Airlines, Vietnam Airlines and of course, Finnair.
So what sets its Business Class apart from the rest? Here we take a look at why you should fly the A350 with Finnair:
A Taste of Finnish Cuisine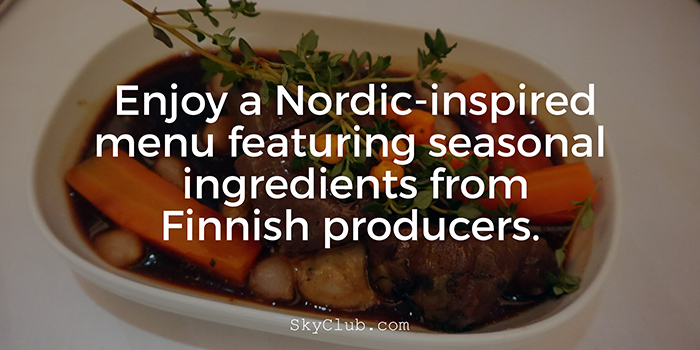 One of the unique aspects of Finnair's Business Class is its Nordic-inspired cuisine. Instead of your typical glass of champagne prior to the flight, you can also order a Blue Skies cocktail, which is made from Lapponia Blueberry Liqueur and Nicolas Feuillatte Brut Grande Reserve. You'll also be able to try a signature menu featuring Nordic dishes such as Vorschmak' (ground beef) with sour cream and slow cooked reindeer entrecote in a dark sea buckthorn sauce.
Free Onboard Wi-Fi
For those of you who need to send emails or catch up on work during the flight, Finnair offers free Wi-Fi, which is something you don't always get on a flight, even in Business Class.  All you have to do is enter the access code displayed on the home screen of your in-flight entertainment system and then you should be online straight away, without having to get out your credit card. This is ideal for business passengers, or for anyone wishing to use a personal device such as a mobile, tablet or computer.
A Stress-Free Stopover in Helsinki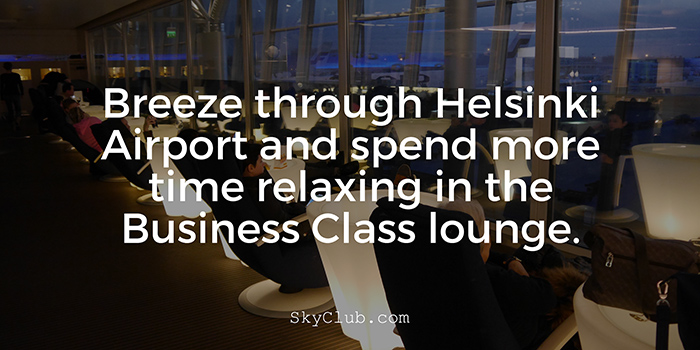 A major selling point of flying with Finnair is that the airline offers a quick and easy transit in Helsinki. The airport is small and compact, with all the gates located in one terminal, so you won't have to trek from gate to gate. Once you've arrived in Helsinki, you can head straight to the Business Class lounge, which features comfy lounge chairs that face the runway, allowing you to sit back and watch the planes take off while you sip on a glass of fine wine or beer.
Finnair also offers the shortest and fastest route between Europe and Asia, so if you're planning to travel to destinations like Bangkok, Beijing or Hong Kong for business, you can cut some time off your journey.
New Business Class Seats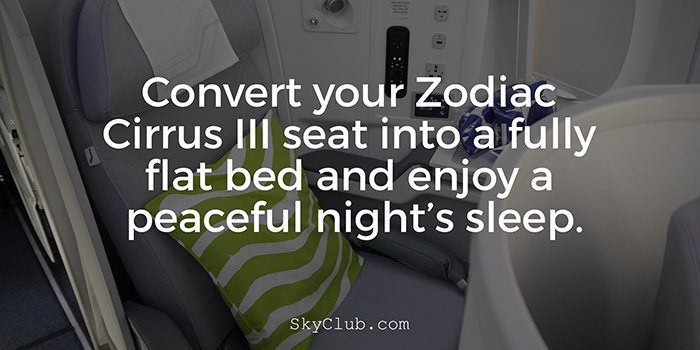 Finnair's Business Class cabin design has a stylish, Nordic feel to it, with simple, light blue/grey upholstery and lime green cushions to add a splash of colour. Seats are arranged in a 1-2-1 herringbone layout, with the middle seats angled inwards towards each other and the outer seats angled outwards towards the windows. This means the middle seats are ideal if you're travelling with a companion, while the single seats are great if you're flying solo.
The seat itself is comfortable for both sleeping and working, equipped with a small storage compartment, an adjustable armrest, coat hook, reading light, USB port, plug socket, literature pocket and water bottle holder. When you're ready to catch 40 winks you can convert it into a fully flat bed and curl up under your comfy duvet.
Dedicated Ladies Room & Marimekko Amenity Kits
Finnair's A350 offers a bathroom that caters for ladies, stocked with special lotions, perfumes and beauty products for female passengers to use. It's worth noting though that this bathroom isn't just for female use, as men are allowed to use this toilet too.
All Business Class passengers are presented with amenity kits designed by Finnish designer Marimekko, containing Clarins skincare products, an eye mask, toothbrush and earplugs. When you board the aircraft a member of cabin crew will put your shoes in a dust bag and pop them in the overhead locker, so you can slip into your complimentary slippers and feel more at home.
If you're feeling inspired, you can learn more about Finnair's Business Class by reading our review of the A350 service from Helsinki to Beijing. Ready to book your flights and try some of Finnair's classic Nordic cuisine? Contact SkyClub on 0207 255 1234 and one of our friendly experts will arrange your Business Class flights at the best possible prices.