Finnair is the first European carrier, and the third worldwide, to fly the new Airbus A350 XWB, which is quieter compared to the previous generation aircraft and offers a 20% improvement in fuel efficiency. With larger windows, newly designed overhead storage bins, LED mood lighting and less curved sidewalls, the A350 offers more space and light than ever before.
On 6th January Finnair operated its inaugural A350 flight from Helsinki to Beijing and we went along to experience the Business Class offering. Let's take a look at what's onboard…
The Business Class Cabin
The A350 Business Class cabin features 46 seats in a 1-2-1 layout, meaning all seats have direct aisle access. The first eight rows are situated at the front of the aircraft in their own cabin, while rows 9 to 12 are situated behind the galley, and are separated from the Economy cabin with a curtain.
If you're seated in rows 1-8 you'll turn left as you enter the plane, whereas if you're seated in 9-12 you'll turn right. We would advise choosing rows 1-8 if possible, so you don't get disturbed by the footfall from Economy passengers as they make their way to their seats.
The interior is very Nordic in design, with simple, light blue/grey upholstery and lime green cushions to brighten things up a little. Seats are arranged in a herringbone layout, so the middle seats are angled inwards towards each other and the outer seats are angled outwards towards the windows.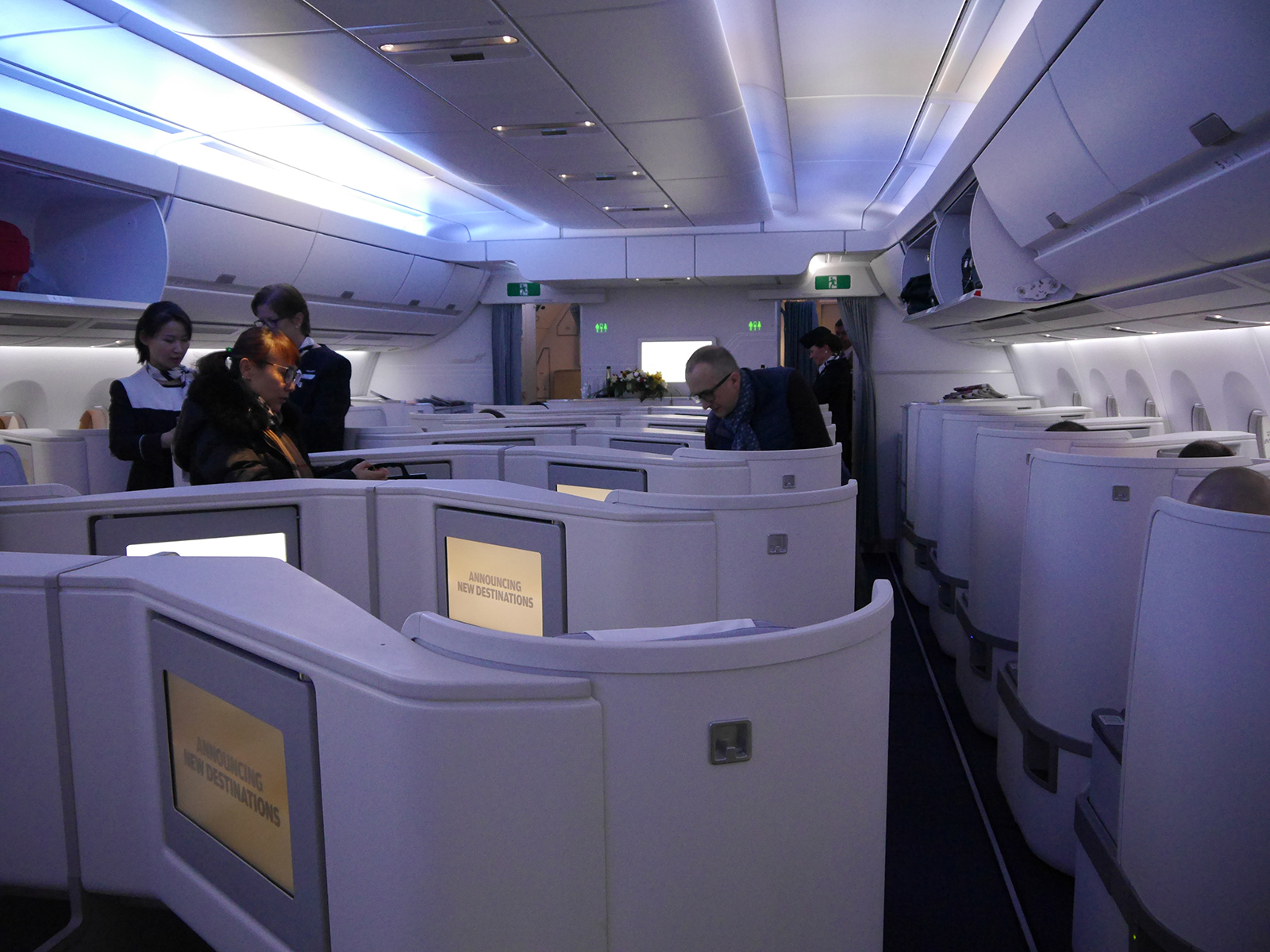 The Business Class Seat
The seat is a Zodiac Cirrus III seat that can be converted into a fully flat bed with bedding designed by Finnish designer Marimekko. Each seat has a small storage compartment, an adjustable armrest, coat hook, reading light, USB port, plug socket, literature pocket and water bottle holder. The fold out tray table is on the smaller side, but it is designed in such a way that you can easily get up to go to the bathroom during meal service.
The seat is comfortable for both sleeping and working, although it could be improved with more storage space, as the storage compartment can only really hold small personal items like phones, cameras and glasses. Other belongings like bags and laptops need to go in the overhead bins, which are very generous in size on the A350.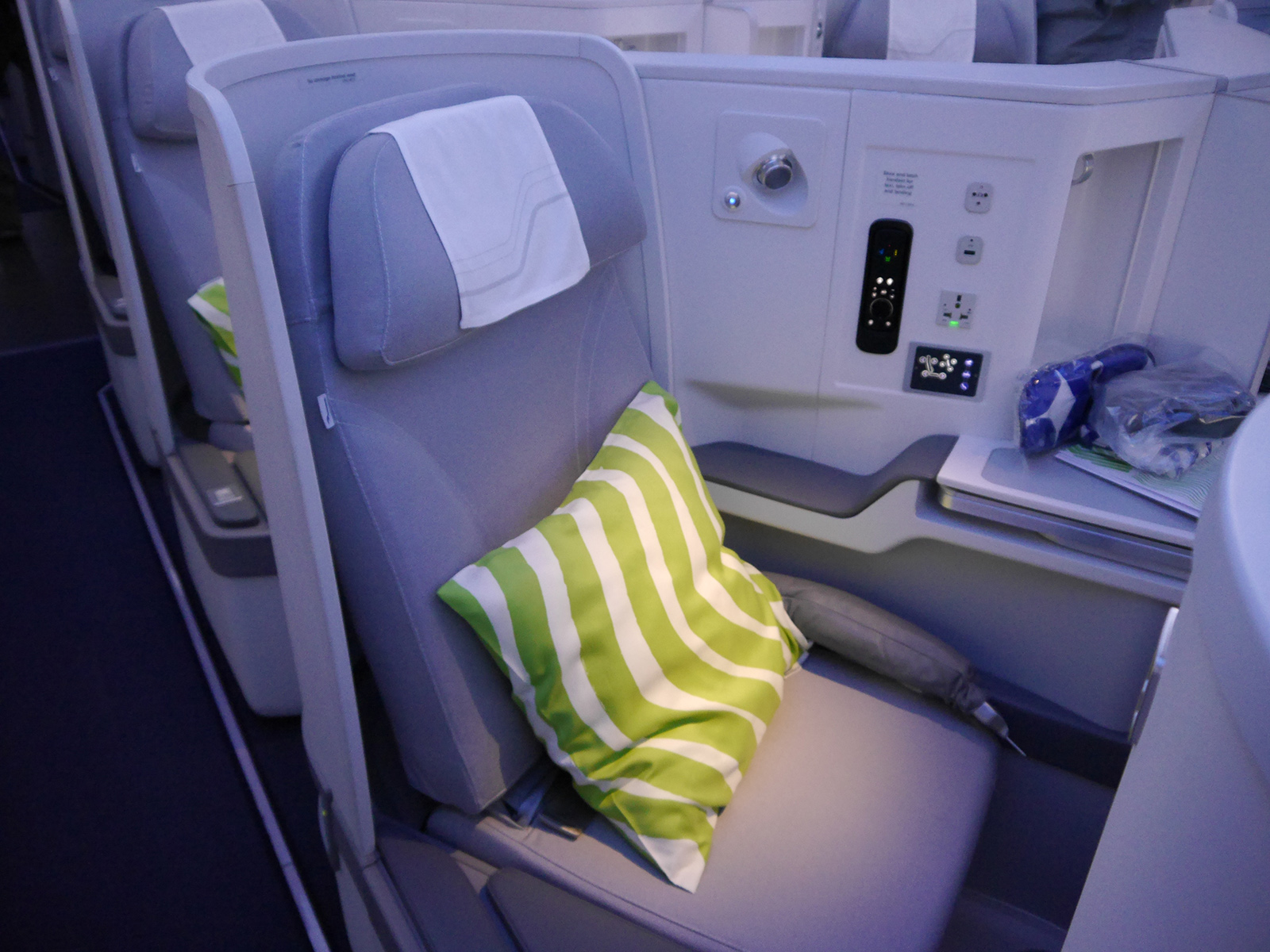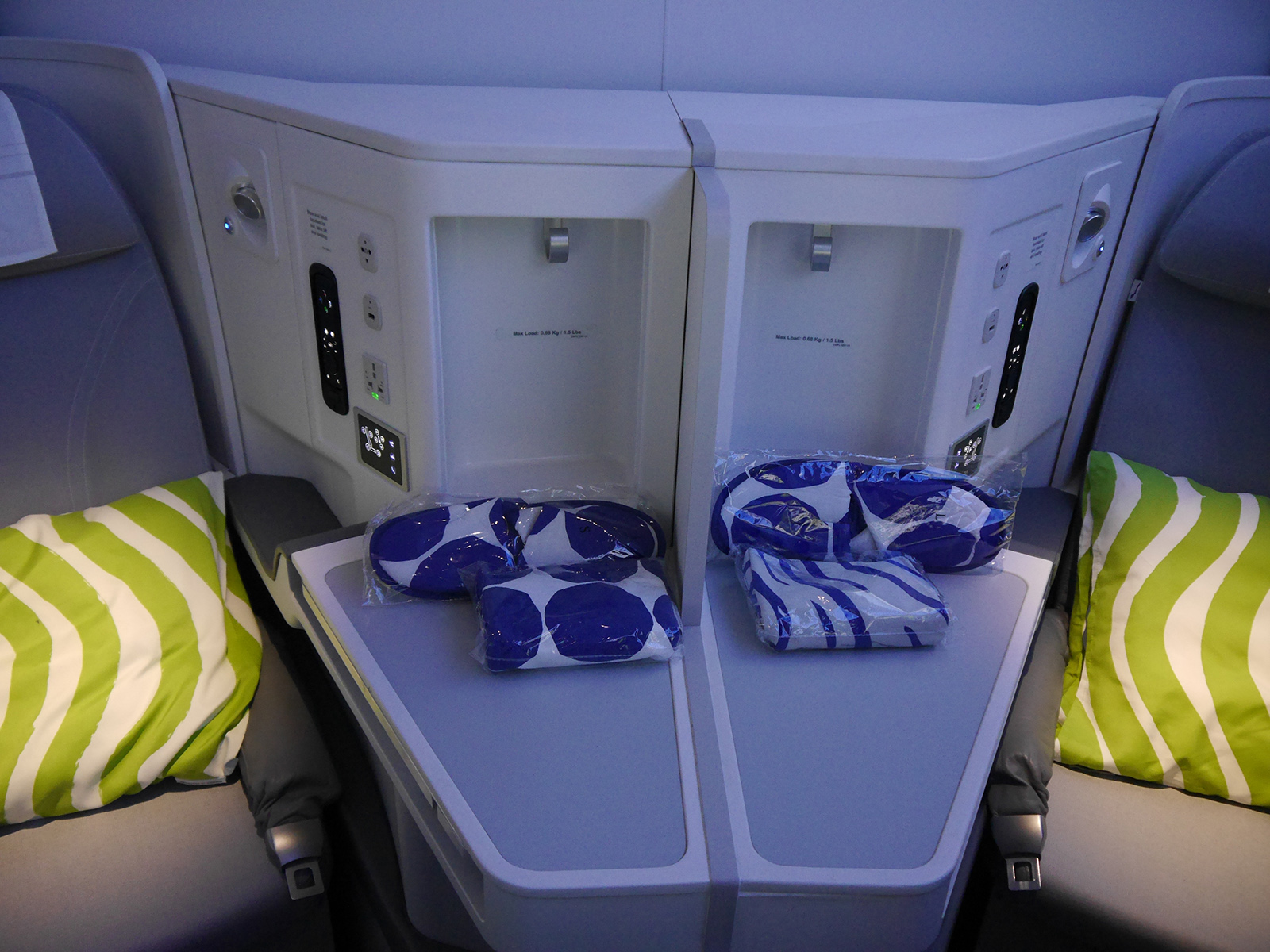 The Meals
For the pre-flight drink, Finnair has created a Nordic-inspired blue skies cocktail, made from Lapponia Blueberry Liqueur and Nicolas Feuillatte Brut Grande Reserve. The cocktail is served in an Ultima Thule glass – a Finnish classic that was created for Finnair's first flight to New York in 1969.
Kari Aihinen – executive chef at Helsinki's prestigious Savoy restaurant – has designed a signature menu for the A350, using seasonal ingredients in all his dishes. The menu onboard the inaugural flight featured Nordic-inspired cuisine, with an amuse bouche of cold smoked Baltic herring and vendace roe, and a starter of 'Vorschmak' (ground beef) with sour cream, pickled beetroot and cucumber. This was followed by a main of slow cooked reindeer entrecote with Jerusalem artichoke puree and dark sea buckthorn sauce. To round off the meal; a cheese plate from Finnish small producers, followed by an apple cake 'ala Marski' with cinnamon mousse and warm caramel sauce.  
Since this was a night flight we were served breakfast 90 minutes before landing, although you can opt for a 'light breakfast' should you wish to squeeze in a few more winks. You can fill in the breakfast card before sleep, or let a member of cabin crew know if you'd rather not be disturbed. Options on this flight included an American breakfast with omelette and smoked salmon or an Asian breakfast with seafood noodles and bok choi.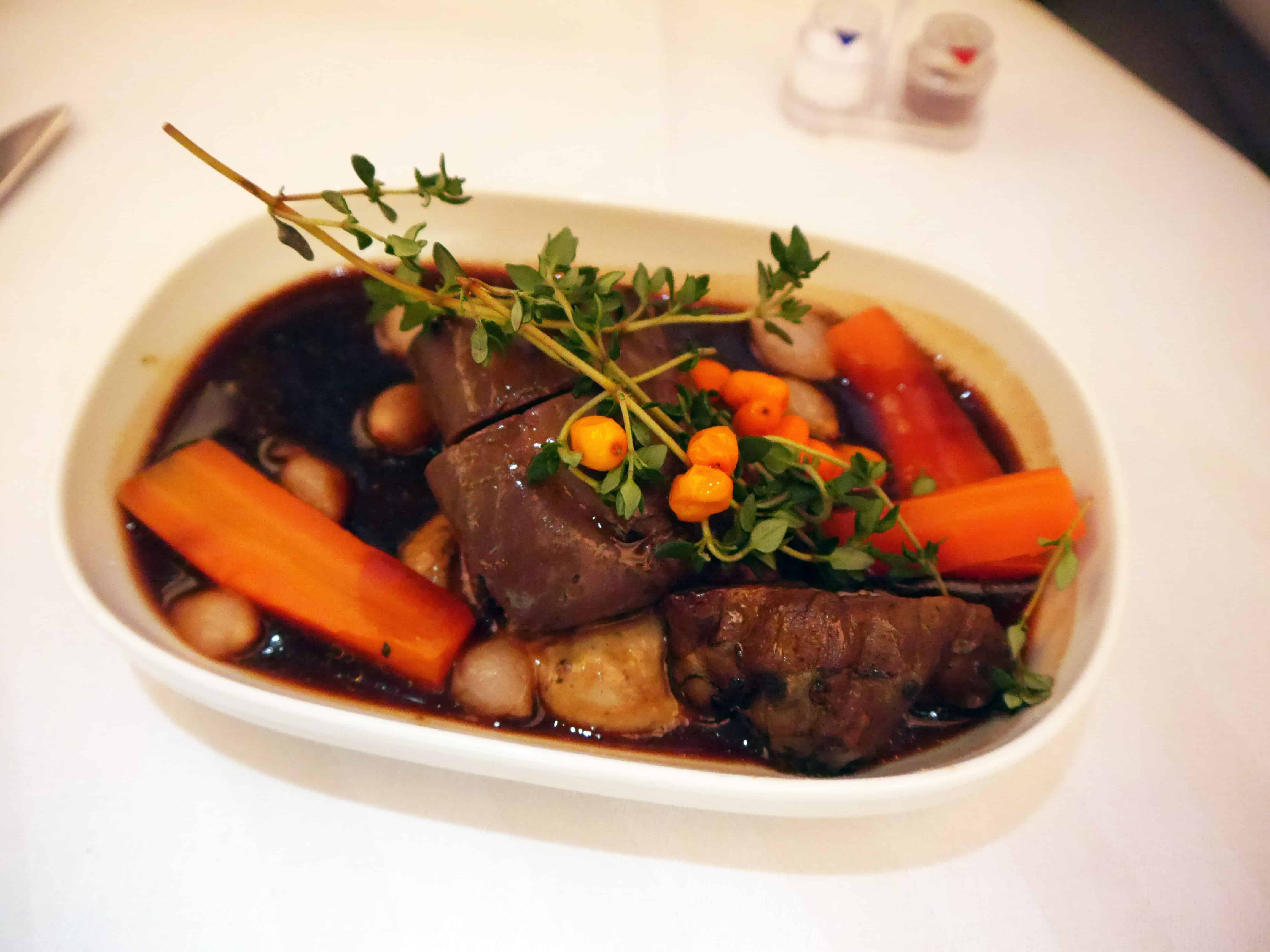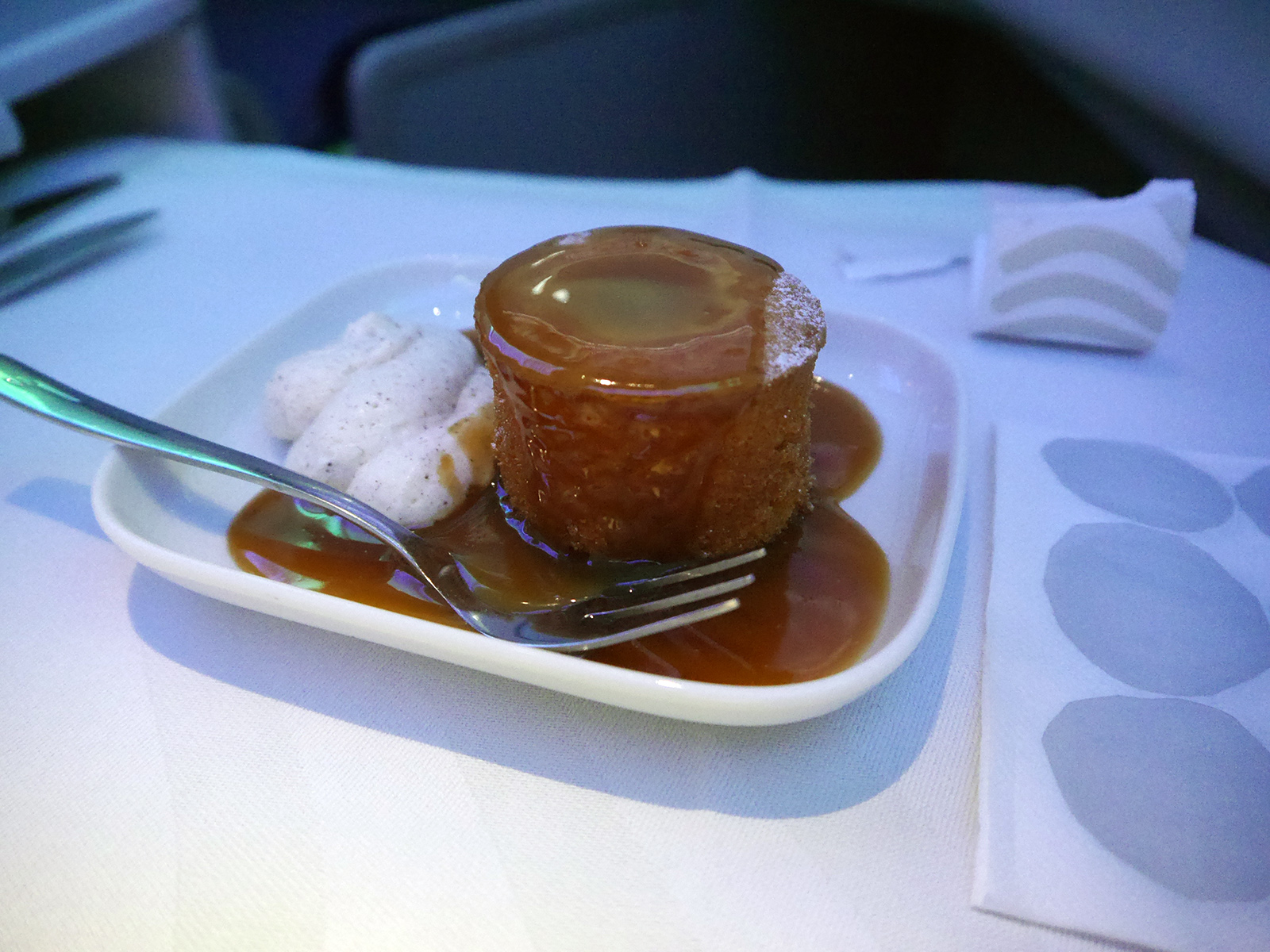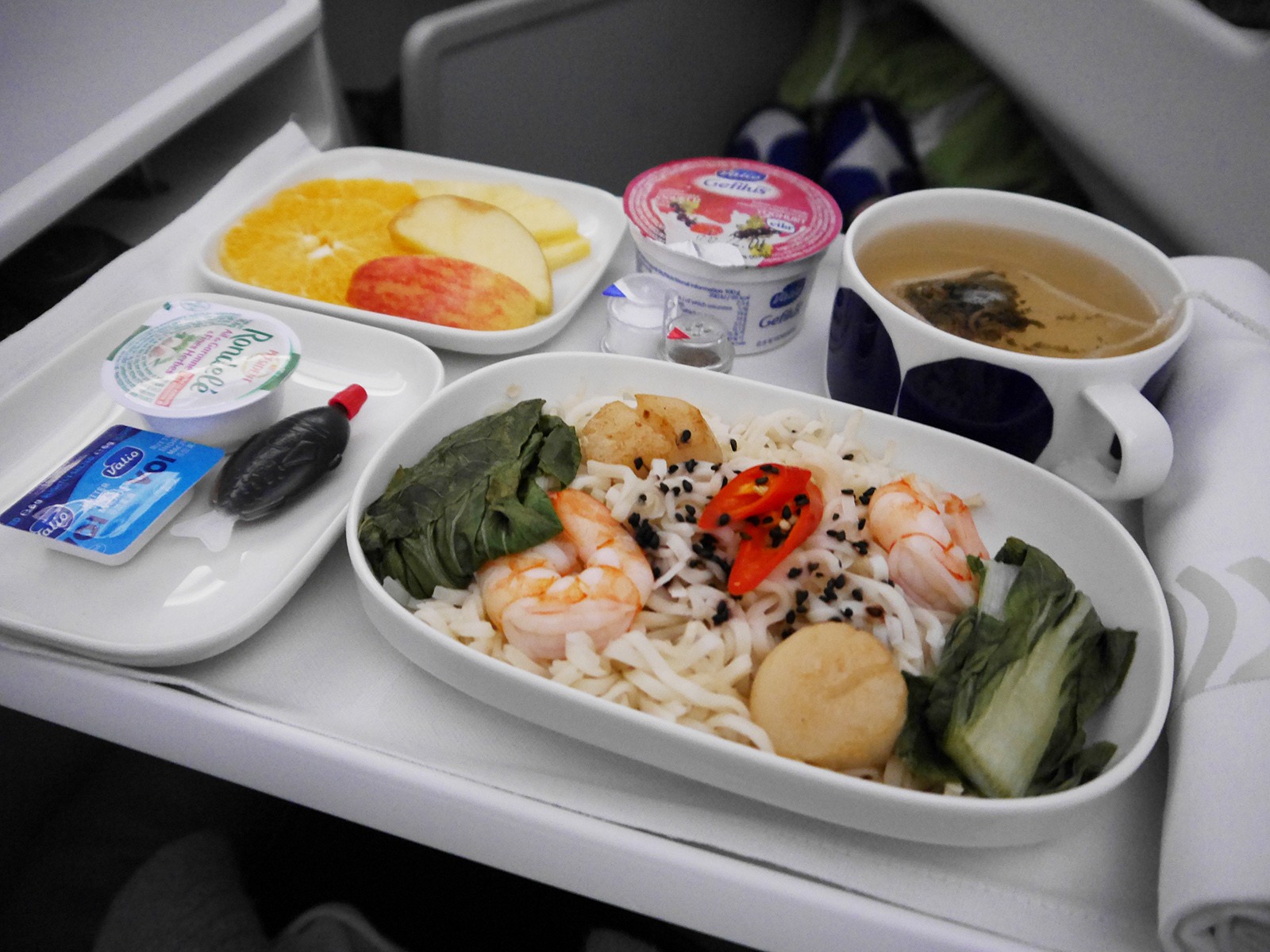 Inflight Entertainment
The in-flight entertainment system onboard the Finnair A350 includes a 16" touch screen and Bose noise cancelling headphones. Some touchscreens can be a little temperamental, but this screen was responsive and easy to use, with a wide selection of new movie titles. Since the middle seats are angled towards each other you can see your companion's screen when it's stowed away, but if they press the button so it flips out, you can't see anything at all. A big selling point of Finnair is the free onboard WiFi in Business Class – something that not all airlines offer. All you have to do is enter the access code displayed on the home screen of your entertainment system, and then you should be online.
Amenities
Waiting at the seat were slippers and an amenity kit designed by Finnish designer Marimekko, containing Clarins skincare products, an eye mask, toothbrush and earplugs.
Located on the right-hand side of the aircraft between the two Business Class cabins there's a toilet that is specifically designed with female passengers in mind, containing cosmetics, skincare products and fragrances. Despite it being aimed at female passengers, it is however available to both sexes.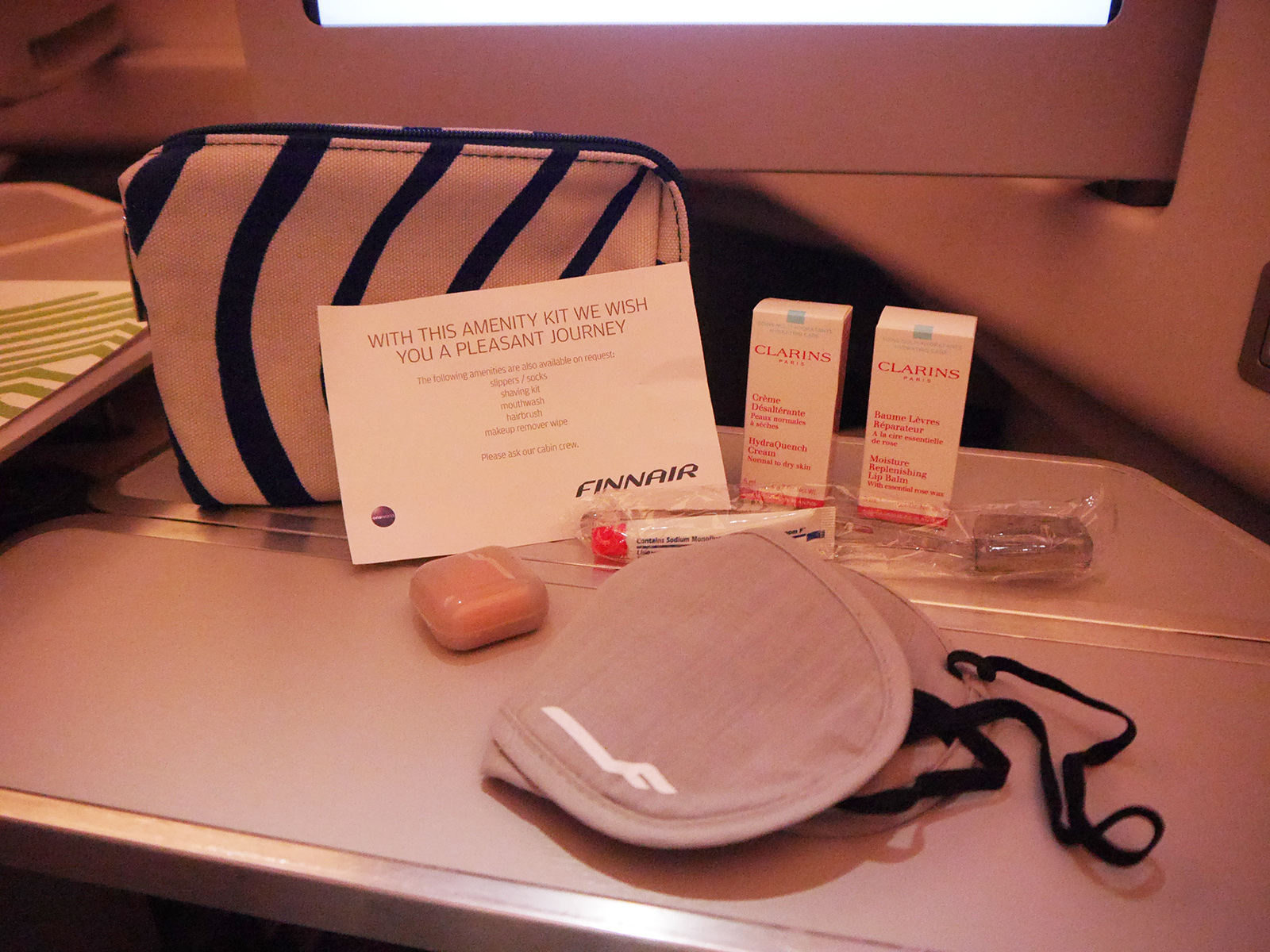 Verdict
Finnair will appeal to Business travellers flying to Asia, as the airline flies the shorter and faster route between Europe and Asia. Helsinki Airport is quiet and compact with all gates located in one terminal, making transiting a fairly painless experience. The free WiFi coupled with Nordic hospitality and design make the Business Class experience an enjoyable one.
If you would like to enquire about Finnair's business class, contact one of our SkyClub.com experts today.