In the world of first class commercial air travel, everything counts for something. Or perhaps more accurately something, no matter how minor that 'thing' is, counts for everything. When the cost of a seat at the pointy end of the aircraft is taken into consideration, it's only right that it should.
Nothing is overlooked in the premium classes; from the complimentary limo service that some airlines provide, to the lounges, the food, flight crew, the cabin, the seat, inflight entertainment – even the inflight safety-video is under constant scrutiny and critique. The entire process needs to be a complete and fulfilling experience with each component playing its part, and the amenity kits are no exception.
The offerings in some airline 'goodie' bags are so luxurious that it could be the difference between booking one airline company over another. Now with separate male and female bags, designer labels, and high-end cosmetics – the humble amenity kit historically used as a simple refresher on long-haul flights now stocks everything you could possibly need in your personal toilette, and even some that you don't.  So here's a heads up on what you can expect on some of the leaders in the industry to help you with your next reservation.
Cathay Pacific
Cathay Pacific, though a Hong Kong carrier, seems to have a love-affair with Italy, evident in the amenity kits provided in first class.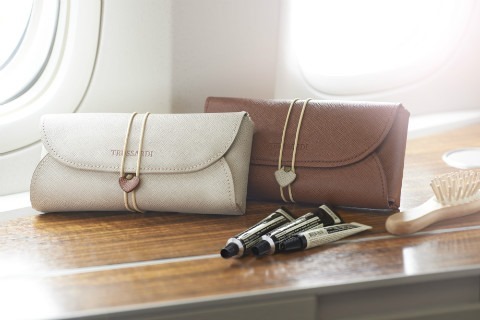 The women's amenity bag is designed by renowned Italian fashion house, Trussardi. The pouches, which double as an elegant clutch, come in cream or dark beige depending on point of departure, and are loaded with skincare products from Australian up-market brand, Aesop. Aesop products use top quality ingredients mainly from natural plant extracts with high anti-oxidant properties. These include a Mandarin facial hydrating cream, Rosehip Seed lip moisturiser, Bitter Orange Astringent toner, and Resurrection Aromatique hand balm. The usual offerings of dental care items and earplugs are also supplied, as well as cotton pads and a wooden hairbrush.
The men are also well cared for with products from Italian luxury brand, Acca Kappa all contained in a stylish black pouch from Ermenegildo Zegna, also an Italian brand. The Acca Kappa skincare items feature sandalwood products and Mint lip balm, a shoehorn, and a wooden hair comb.
British Airways
Though the glory days of the Concorde are well behind them, when passengers received beautiful gifts just for flying, British Airways still inspire a loyal following for its high-tone, cool-Britannia kits dominated by British brands.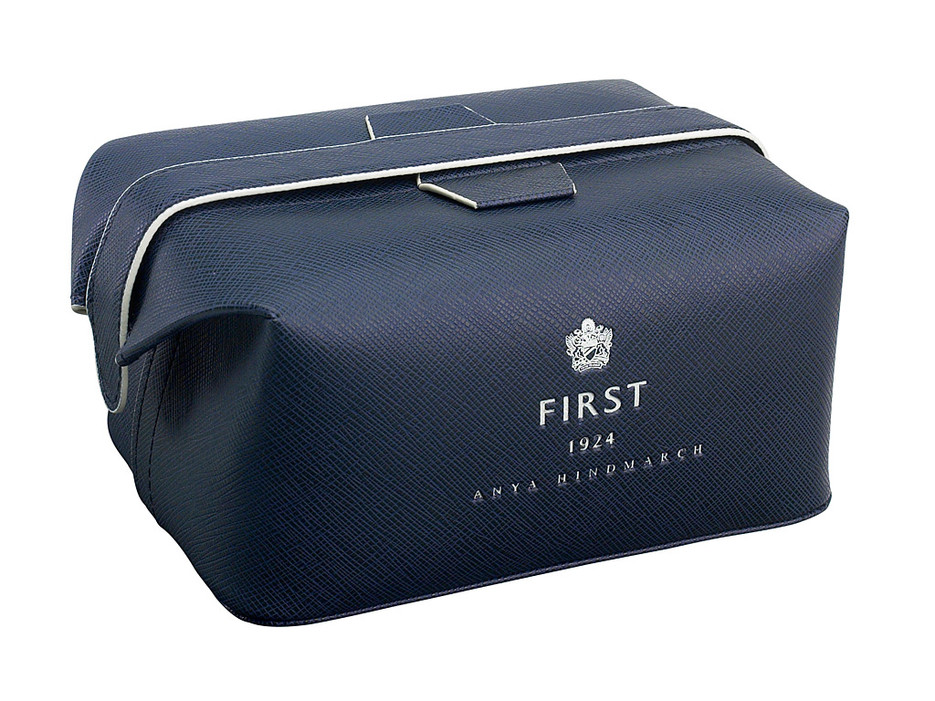 Nowadays, the centrepiece is a sleek blue Dopp kit they call the Gladstone style bag by Sloane Street retailer, Anya Hindmarch. Marked with BA's traditional coat of arms 'To fly, To serve', it is trimmed in cream and filled with products by all-natural skin-care maker, Ren which features a cooling collection of creams including the coveted 'cucumber and roses' formula. The dental hygiene set deserves a special mention as it is supplied by family-run company, D.R Harris – a company that dates back to Victorian times and who has been supplying members of the British Royal family for over 80 years.
Etihad Airways
Etihad won the 2012 TravelPlus Award for the best male amenity kit in first class, and with offerings (for both sexes) so personal they feel like gifts, it's easy to see why.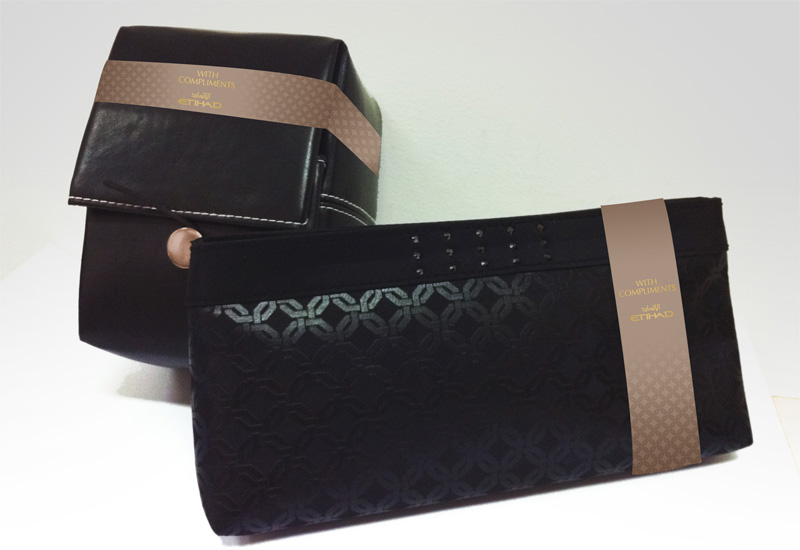 The award-winning gentlemen's kit is presented as a soft leather cuff-link box while ladies get a Swarovski crystal-studded clutch that could easily be reused for a soiree or other bespoke event. Both contain products from one of the most expensive skincare lines in the market, La Prairie – made in Switzerland and renowned for its anti-ageing lines. Other items included are the familiar toothbrush, toothpaste, earplugs, socks and eyeshades with a Schick Xtreme 3 razor and shaving cream for the men.