Planning a holiday with your partner or spouse? While solo travellers usually prefer as much privacy as possible, we'll assume that you're looking for seats that are a bit closer together so you can chat and gaze lovingly into each other's eyes. (Unless you've had an argument of course, then maybe it's best to be sitting as far away from each other as possible!) Not all airline seats are the same though, so here we've put together a list of the best Business Class seats for couples:
Qatar Airways Qsuite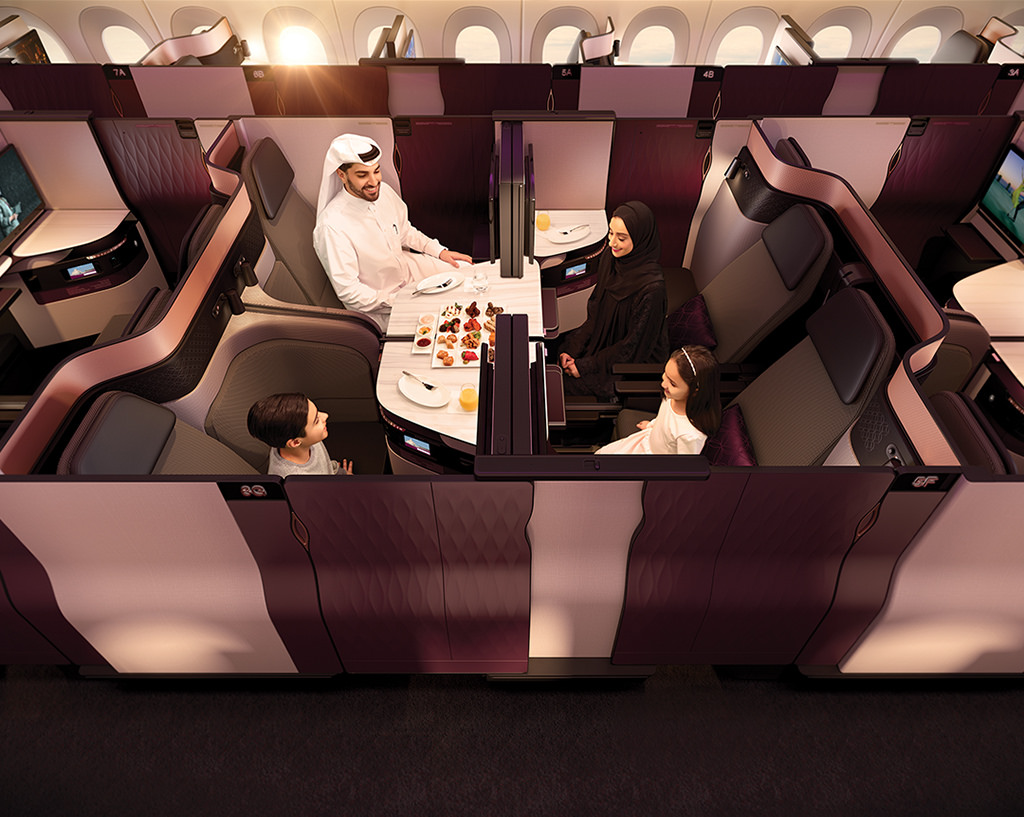 Without a doubt the best option for couples is the Qatar Airways Qsuite, which features the industry's first-ever double bed available in Business Class. The privacy divider between the central QSuites is retractable and the two lie-flat beds can be joined together to create one big double bed, so you can spoon your partner to your heart's content. If you're travelling with kids or perhaps with friends, the Qsuites cabin features a "quad" option with adjustable panels and movable TV monitors on the centre four seats. The suites can convert into a shared space big enough for a party of four, allowing you to work, dine and socialise together. 
Singapore Airlines
If you've ever flown in Singapore Airlines Business Class before you'll know that their seats are HUGE and big enough to fit two people side by side. The airline offers numerous different seat types but the older A380 and Boeing 777-300ER seats measure up to 34 inches wide, meaning you can invite your travel companion to sit next to you during the journey. The airline's newest A380 product features centre seats that come with a personal divider spanning the entire length of the seat. Raise it all the way if you want to enjoy some time alone, or lower it completely to create a big double bed big enough for you and your partner. 
Lufthansa
Lufthansa's seats are angled towards each other and while they do have a wide armrest, there is no privacy divider. Great for couples, not so great for solo travellers. Seats are arranged in a 2-2-2 layout so anywhere in the cabin will be great for couples. The armrest in between might make it difficult to get really cosy but at least you can talk to each other easily. Each seat converts into a 2-metre-long lie-flat bed and features a 15.4 inch entertainment screen for watching movies and TV. 
Asiana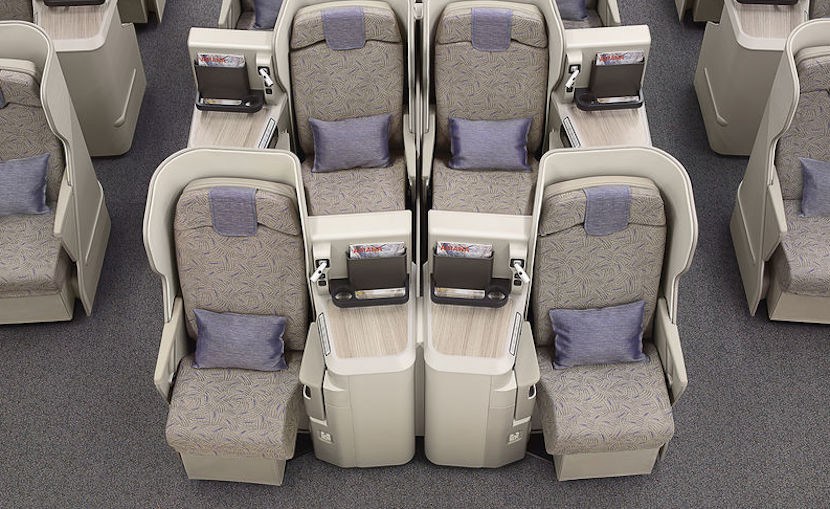 On Asiana Airlines the Business Class seats are laid out in a 1-2-1 configuration but the centre seats have an alternating pattern where they are either separated by a centre console, or sitting right up next to each other with no armrest or console in between. These rows are great for couples so you can hold hands or snuggle up to each other throughout the flight. Aww. Find these seats on Asiana's A380s and some 777-200ERs. 
American Airlines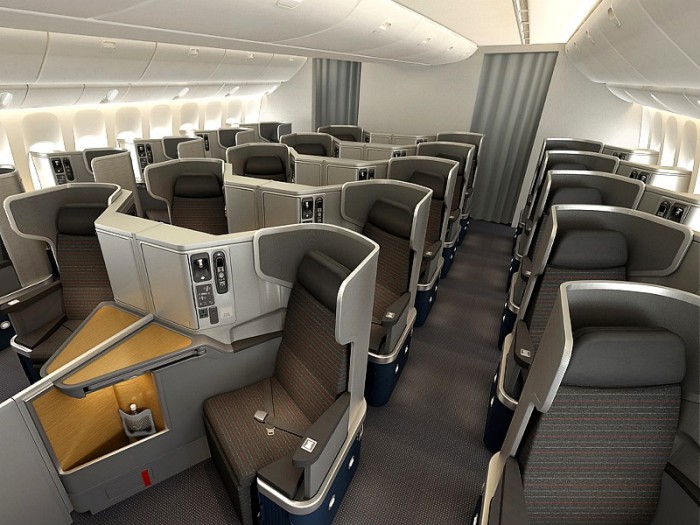 American Airlines' 777-300ER Business Class seats are arranged in a 1-2-1 reverse herringbone layout with middle seats angled towards each other. They still offer quite a lot of privacy, which is great if you want some "me" time and you don't feel the need to be in each other's pockets. You may have to lean forward quite a bit to hold a conversation though, but on the whole they are great if you wish to sit together. 
Etihad Business Class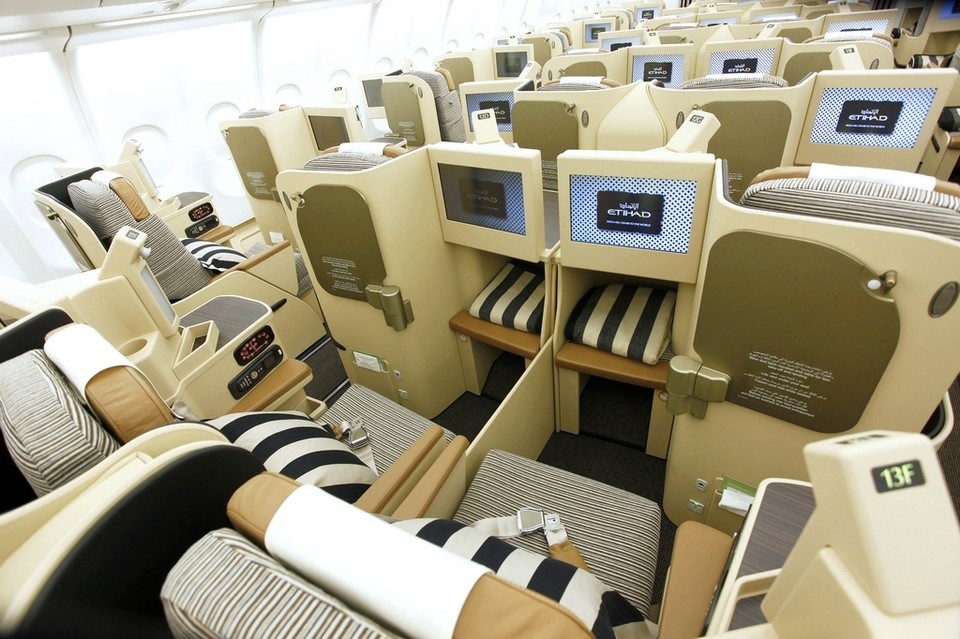 Etihad's older Business Class seats (not the Business Studios) are arranged in a staggered 1-2-1 layout, which means the middle seats in the odd rows are right next to each other with a central divider that can be raised or lowered. Each seat converts into a fully-flat bed and comes with full-size comforters and pillows, adjustable headrest, back support and cushion firmness.
Alitalia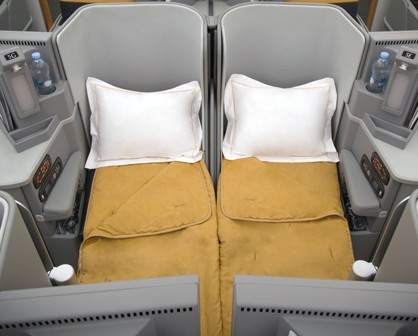 The list wouldn't complete without a mention for Alitalia's Poltrona Frau leather "honeymoon seats" (seats G–E), which are next to each other with the option of raising a partition if you want some privacy. With the privacy divided down and the seats lying fully flat, it almost feels as if you're lying in a double bed. Business Class passengers are also provided with an exclusively designed amenity kit designed by Bulgari, which you can reuse as a case for your tablet after the flight.
The best seats for couples 
When travelling in Business Class most airlines arrange their cabins in a 1-2-1 layout, so as a general rule most solo travellers choose the window seats and couples choose the two centre seats. However that's not always the case, as some partners or friends like to have window seats, with one person sitting behind the other. A lot will depend on your personal preferences and whether you want to be able to talk to each other. 
When online check-in opens it's always best to choose your seats as early as possible so you can secure two seats together and don't forget to look at websites like SeatGuru so you can have a better idea of which seats are the best in the Business Class cabin. 
Ready to book that romantic getaway? At SkyClub we offer the best possible prices on Business Class fares, saving you money on tickets for you and your loved ones. Call 0207 255 1234 and we'll be able to get you fantastic rates on Business Class flights.