Most people who fly business class for the first time say they will never be able to go back to flying economy. It's true – the pre-flight glass of champagne, the flat bed seats and the fine dining are a huge step up from economy. If you're flying on a long-haul route business class can make the world of difference – instead of feeling tired, grumpy and cramped, you have room to move around or fall asleep as if you were in bed at home.
However, since flying in business class is generally more expensive than flying in economy, it can seem out of reach for many travellers. If you've always thought that it's out of your budget, there are some ways you can get heavily discounted tickets.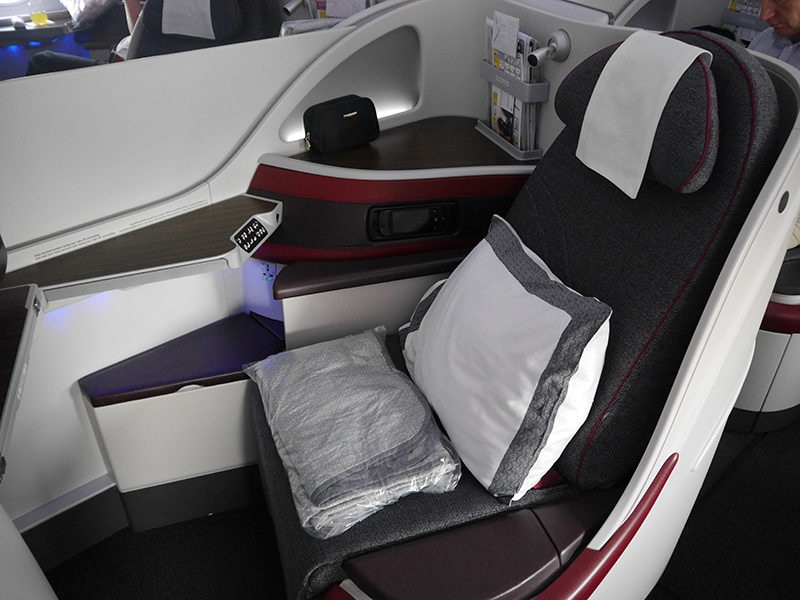 Get an unpublished fare
We are a London-based travel agency specialising specifically in cheap business class flights and first class flights. SkyClub is a British Airways preferred partner and we have special agreements with many of the major airlines that allow us to provide heavily discounted business class tickets direct to you. We cannot advertise these prices online and the airlines will only let us supply these privately, so we'll either give you a call or be in touch over email once you've made your inquiry.
You might be used to looking at flight comparison sites such as Skyscanner to find the cheapest deal, but with business class flights things operate a little differently. The cheapest business class flights aren't advertised online, so it's always worth giving us a call to check what we have.
When you become a SkyClub preferred customer, you'll also be notified of any upcoming flight sales or special deals we have. Sometimes these are just so good you won't want to pass them up. Our aim is to find you the best possible fare for your trip, saving you hundreds of pounds on your business class flights. We're ATOL protected and a member of ABTA, so you can rest assured your booking is safe with us.
Collect air miles
If you're a frequent flyer we'd recommend signing up to an air miles scheme with the airline of your choice – this way you can collect air miles every time you fly. You can also collect air miles by flying with the airline's partners – just enter your frequent flyer miles number when you book or when you check-in at the airport.
Don't fly enough? Don't worry, as credit cards are the #1 way to build air miles fast. If you sign up for an air miles credit card you can earn frequent flyer miles every time you spend. You'll get points when you do your weekly shop at the supermarket, when you go contactless on the London Underground or when you pay for that new clothing purchase on the high street.  Whenever you have to buy something, put all your spending onto the credit card and then pay it off every month so you don't get caught out with paying interest.
Many people in the UK sign up for Avios and collect air miles with the British Airways American Express credit card. You get a sign up bonus of a few thousand air miles when you join (currently 5,000, although this changes), and you'll also get more when you refer your friends to sign up for the card. You'll earn 1 Avios point for every £1 you spend, so these points can add up quickly.
Want to earn air miles fast? There are numerous ways you can boost your Avios points. If you visit the British Airways Avios shopping portal you can earn extra points for buying products from certain online retailers. Companies such as Apple, John Lewis and Debenhams are on there, so it's always worth having a check before you make your next online purchase.
Another way to boost Avios points is by filling up for fuel with Shell or shopping with a Tesco Clubcard. You can convert your Tesco Clubcard vouchers into Avios points to gain extra air miles for your next trip. To learn how to use travel hacking to collect as many air miles as possible, read an air miles blog or two to learn the tricks.
The point of doing all this is that you will hopefully earn enough air miles to redeem for business class flights. If you have enough points the cost of the flight is free, you'll just have to pay the taxes. Sometimes you can also purchase an economy class ticket and then use your air miles to buy a business class upgrade.
Book during sale periods
All major airlines run sales throughout the year. British Airways run some great sales at various points throughout the year (the major ones are around November time and Christmas) so look out for these as you can score some cracking deals on business class tickets.
You can also shop for tickets around major sale events such as Black Friday and Boxing Day. As stated previously, the benefit of being a SkyClub customer is that you'll be notified of any flight sales in our newsletter ahead of time, meaning you won't miss out. You can also follow us on Twitter and Facebook as we sometimes post sales on social media.
Be flexible with dates and times
Business class flight prices can vary by month and day of the week. Fly during busy periods and flight prices can be much higher. If you can be flexible with the day and time that you fly then you're more likely to be able to find a cheap fare.
Flying into alternative airports
Another way to keep the cost of your business class flights down is by flying into an alternative airport. For example, you may want to fly to Los Angeles, but it could be cheaper to fly into San Francisco as your entry point. From there you could take another flight down to LA or travel there overland by car.
You can also save on the cost of your business class ticket by using "geo arbitrage" – meaning you fly out of a different departure airport. Business and first class fares can sometimes vary significantly depending on what country the flight originates in. So for example, instead of flying business class from London, you may want to fly out of Amsterdam or Milan.
Plan in advance
While you can occasionally get some really good last minute flight deals, it's always advisable to plan ahead. Get in touch with us as far in advance as possible as ticket prices tend to go up due to increased demand. It's better to look for your business class flights 1 to 2 months ahead of time than leaving it till the very last second. Whatever cabin class you plan to travel in, this rule usually applies.
If you hear of a killer flight deal, it's always best to book straight away to avoid being disappointed. You wouldn't want to miss out! Looking for cheap flights right now? Give us a call on 0207 255 1234 telling us where you'd like to go and we can prepare a private quote for you. We pride ourselves on being able to offer you the cheapest business class flight deals around.