Did you know that Heathrow airport has a whopping 42 lounges spread across its four terminal buildings? That's the largest number of lounges at any airport in the world so there are many to experience if you decide to fly Business Class out of Heathrow. Just remember to arrive at the airport with plenty of time before your flight so you can take advantage of perks such as shower suites, waiter service, a la carte dining and complimentary pre-flight cocktails.
Here we've put together a list of the best lounges at Heathrow Airport:
British Airways Concorde Room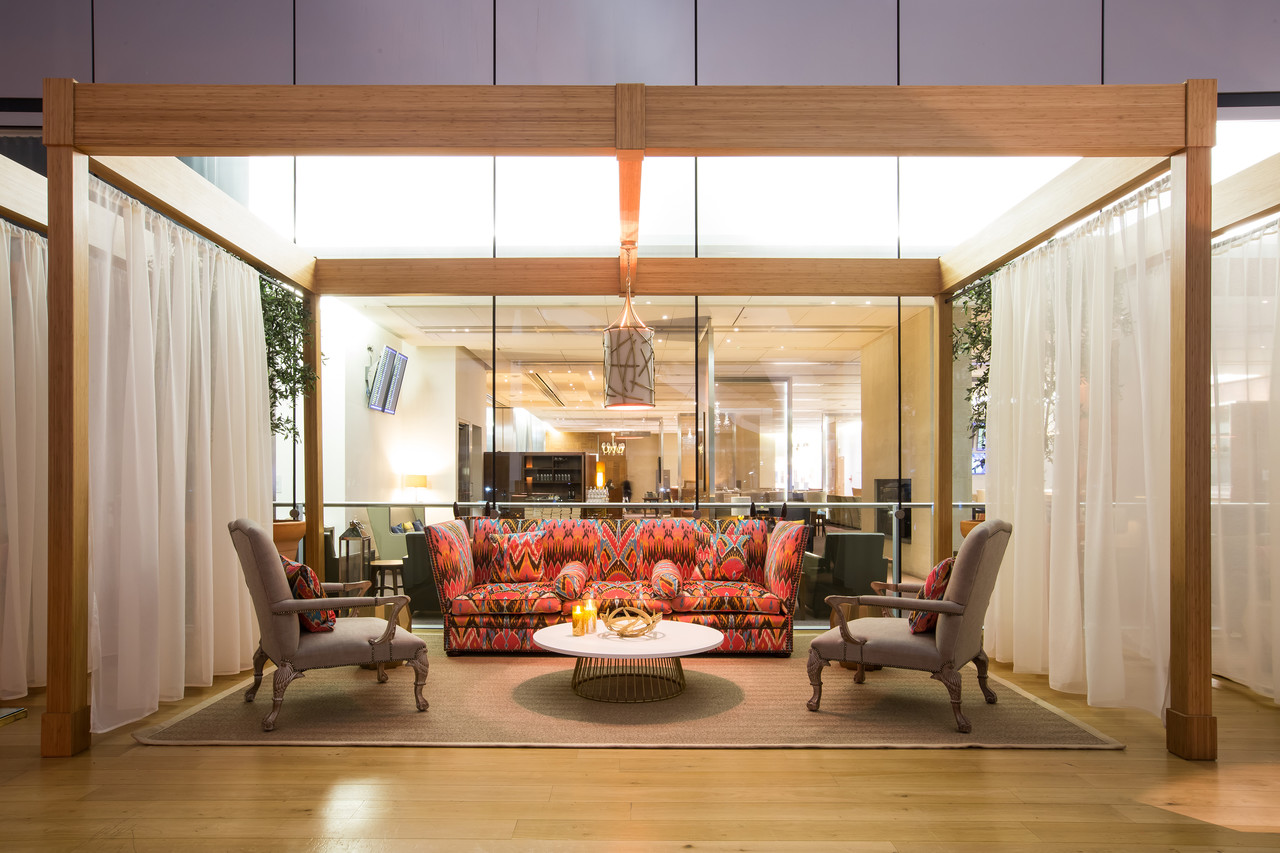 British Airways has numerous lounges at Heathrow but the most exciting of them all is The Concorde Room, which is available to First Class passengers at Heathrow Terminal 5. Recently revamped, the lounge has a "best of British" design, with elegant lighting from Porta Romana, beautifully woven Osborne and Little fabrics and contemporary tables from Boss Design. If you just want to kick back and relax then you'll love the private cabanas, which feature a comfortable day bed and en suite for ultimate privacy. Alternatively you can sit down in a private dining booth and enjoy full waiter service and a la carte menu from Executive Head Chefs Frank Coughlin and Errol Figueroa.
Open to: Passengers flying on a scheduled British Airways flight in First Class; Gold Members of the British Airways Executive Club on a scheduled flight operated by British Airways or one of the airline's oneworld partners; Emerald members of any of the oneworld airline frequent flyer programmes on a scheduled flight operated by British Airways or one of the carrier's oneworld partners.
Virgin Atlantic Clubhouse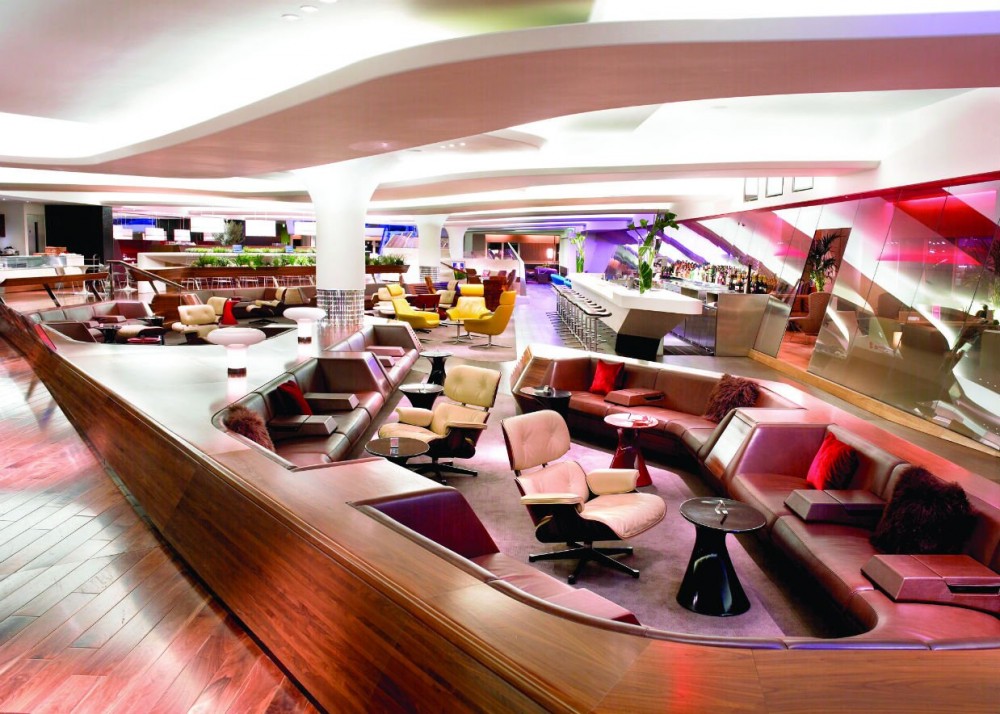 After arriving at Virgin Atlantic's Upper Class Wing at Heathrow you'll breeze through security and arrive at the Virgin Atlantic Clubhouse – a funky 2,500 square-metre space with a lively bar area and 14 metre-long cocktail bar. The lounge also features a variety of cool spaces, such as "The Den", which is equipped with video games and consoles, and "The Viewing Deck", which allows you to take in views of the runway and the setting sun. A highlight is definitely the Clubhouse Spa, where you can enjoy a range of treatments from haircuts to manicures. Virgin Atlantic is always introducing cool popups too, such as this igloo, which appeared over the winter months.
Open to: Virgin Atlantic Upper Class passengers, Flying Club Gold members, Delta One passengers and Delta elite. The lounge is open 07:00-22:30.
Qatar Airways Premium Lounge, Terminal 4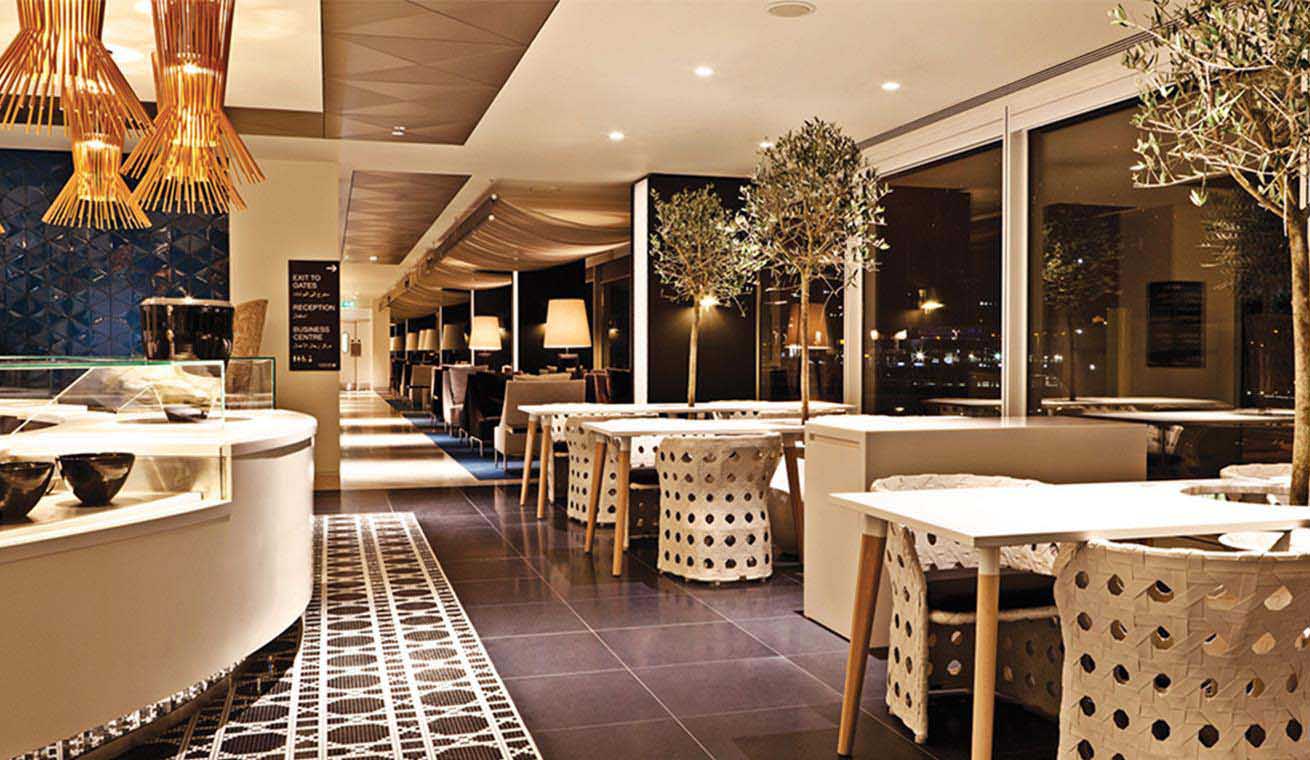 Qatar Airways' First and Business Class lounge may not be the the largest of them all but that doesn't really matter – in fact, it has a much more exclusive, intimate than some of the larger lounges. Babbling Arabian water fountains, real olive trees and stylish seating make you feel like you've walked into a private member's club or perhaps the lobby of a boutique hotel. Covering 750 square metres, the luxurious lounge has spotless shower facilities, a bar, business centre, deli counter and an a la carte restaurant serving Arabian and international fare. Each private shower suite has heated floors and mirrors, luxury hair products and hotel-style towels and linens, so you can freshen up before your flight.
Open to: First and Business Class passengers flying with Qatar Airways, oneworld First and Business Class passengers. Opening hours are built around flight departures, from 05:00-20:30.
Qantas First and Business Class Lounge, T3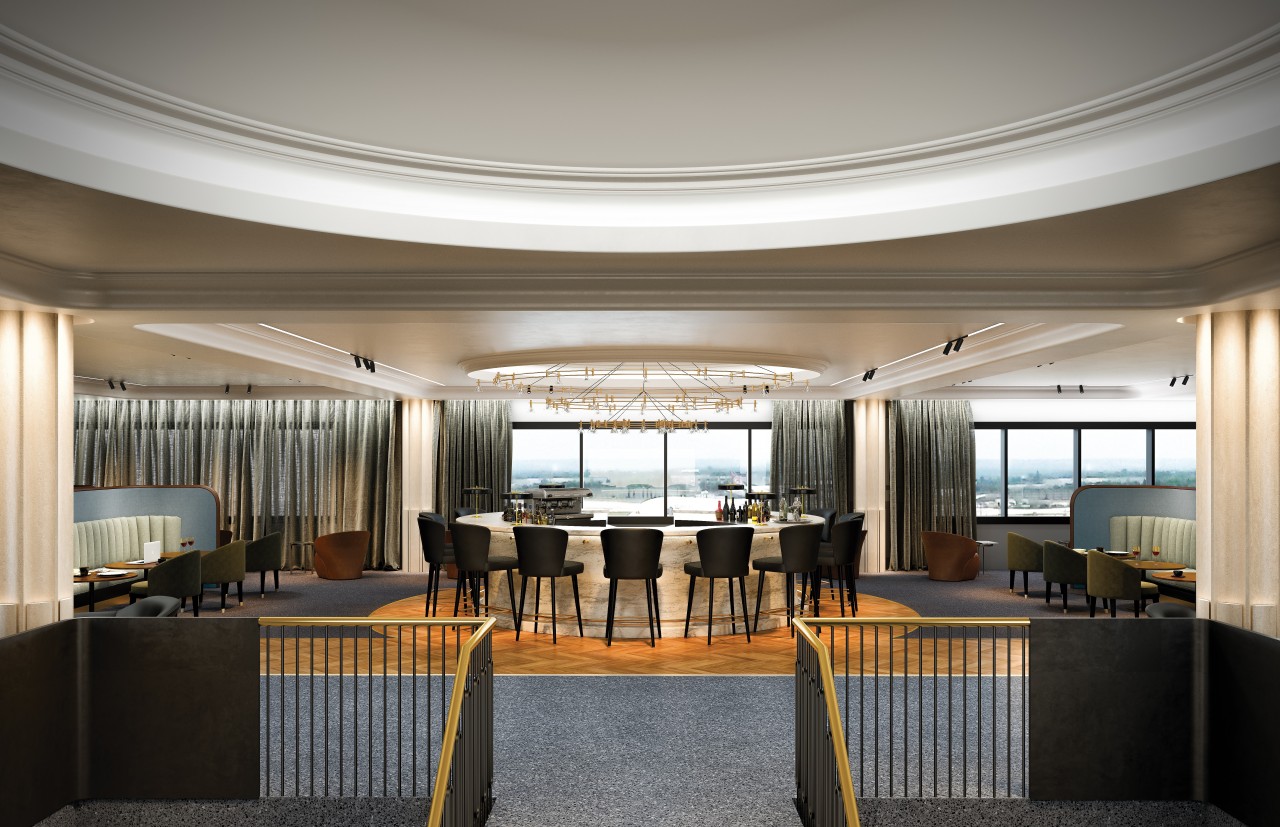 Australian carrier Qantas has opened a new lounge for First and Business Class passengers travelling from Heathrow Terminal 3, which is located in the Lounge B area next to the Cathay Pacific lounge and American Airlines Admirals Club. If you're flying on the new direct service from London to Perth then this is the lounge you'll be using before your journey.
A unique highlight of this lounge is the gin bar, which offers over 14 varieties of gin, along with a menu featuring gin cocktails such as "The Botanist" and "Sipsmith Sloe". The lounge has an opulent feel and is spread over two floors; head up the marble staircase and you'll discover a circular marble bar with a giant chandelier and specially trained mixologists.
Open to: Qantas First and Business Class customers; Qantas Platinum One, Platinum and Gold Qantas Frequent Flyers and their guests; Emirates Skywards Platinum and Gold customers and Qantas Club members and their guests.
Cathay Pacific Lounge, T3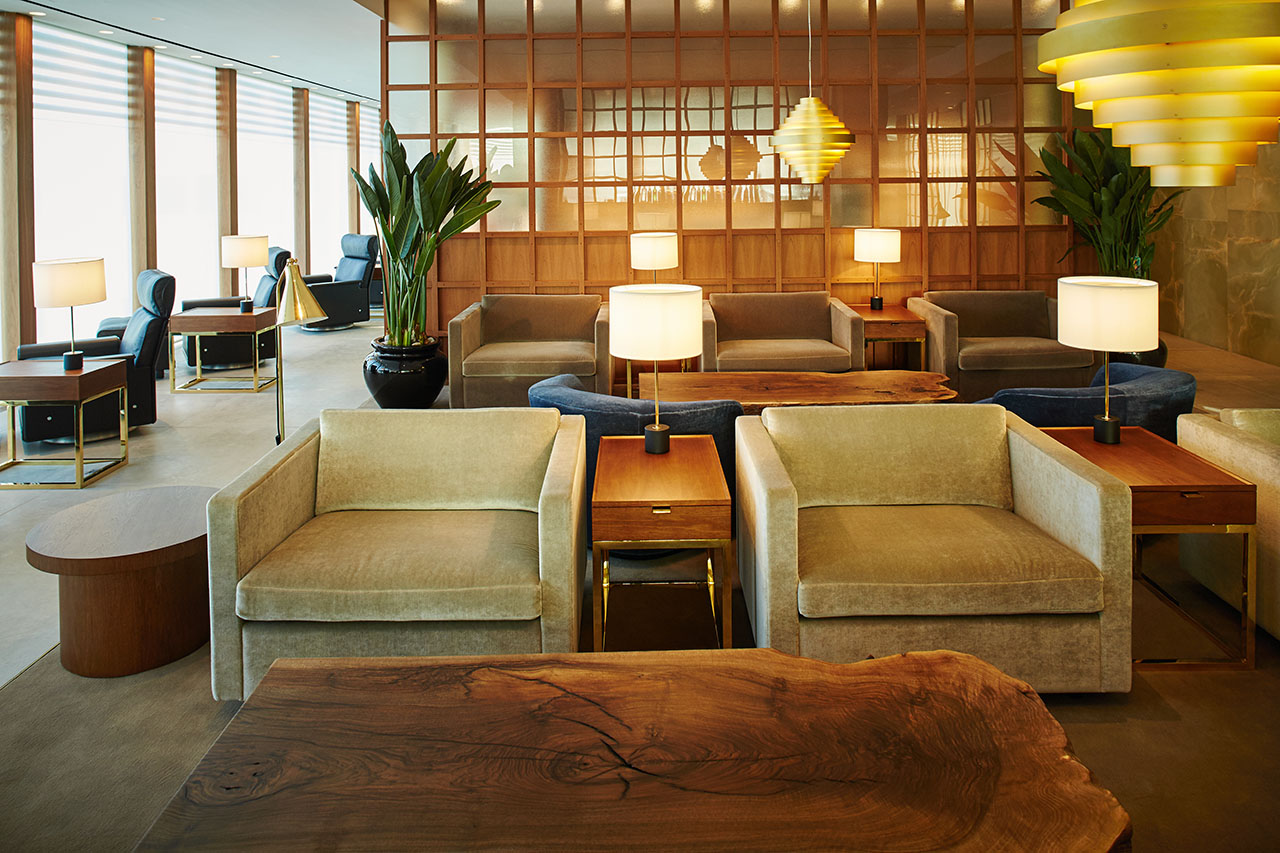 Cathay Pacific finished renovating its Terminal 3 lounge in 2016 to encapsulate the brand's philosophy of "Life Well Travelled". The 1,200 square metre lounge features separate First and Business Class areas and contemporary aesthetics that can be found at the airline's flagship lounges in Hong Kong. An abundance of plant life and artwork by noted Chinese artist Han Feng makes the lounge feel very relaxing and zen.
When it comes to food, First Class passengers have the option of "The Dining Room", which offers table service with  freshly prepared dishes made-to-order by the chef, or "The Pantry", where they can grab snacks and food items from a self service buffet. Meanwhile the Business class area features Cathay Pacific's signature "Noodle Bar", and "The Food Hall", a vibrant space offering a wide range of Western and international dishes, including traditional British fare.
You can sit back and relax in one of the bespoke Solo Chairs, take a shower in one of eight shower suites or set up your laptop in "The Bureau" – a quiet work space away from the hustle and bustle of the lounge.
Open to: Cathay Pacific First and Business Class passengers, Silver or above Marco Polo Club members, and Sapphire or above oneworld members. Opening hours are from 5:30am from Monday to Saturday and 7:30am on Sunday until 10:30pm.
Plaza Premium Lounge, Terminal 5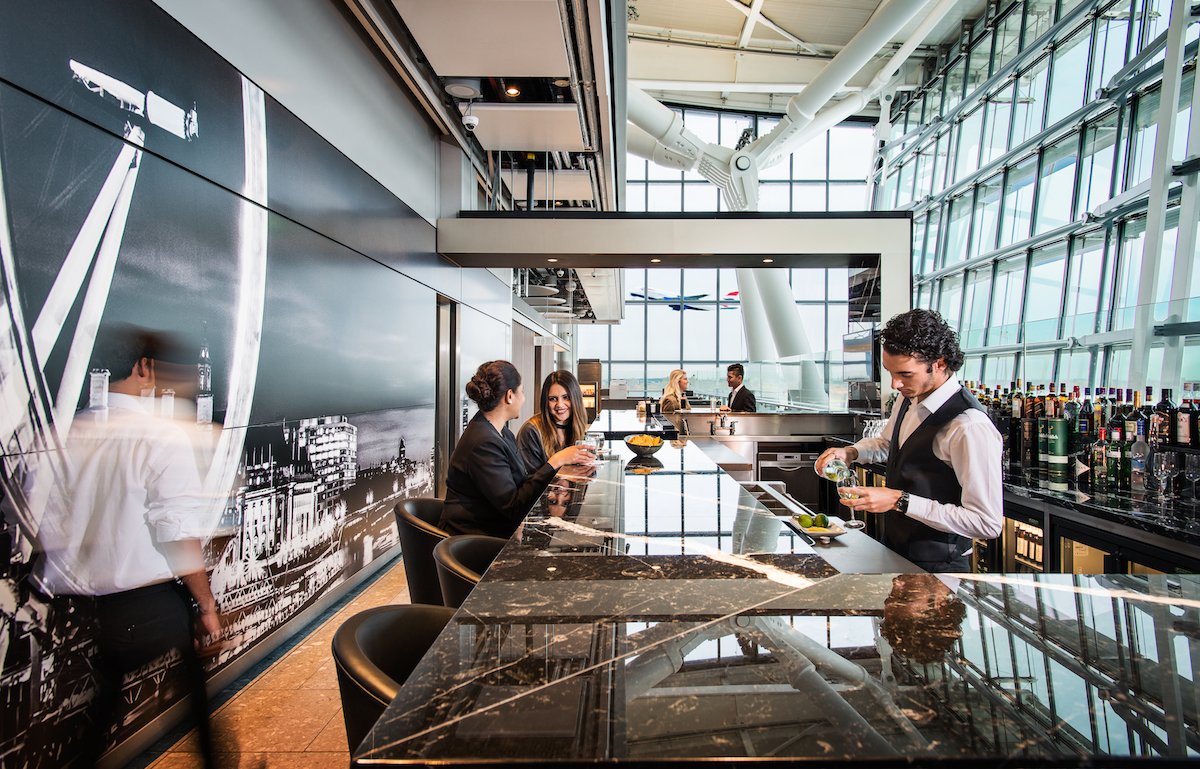 Opened in late 2017, the latest Plaza Premium Lounge at Terminal 5 is a 465 square metre space located close to departure gate A7, which is available to book in advance or for walk ins on the day. This is a paid-for lounge, with prices starting from £40 for two hours of lounge access. You'll have access to shower facilities, a fully tended bar serving alcoholic and non-alcoholic beverages, fresh seasonal hot and cold food from the buffet and high-speed Wi-Fi. There are also plenty of comfortable seats, work stations and charging outlets, plus quality international newspapers and magazines.
This is the sixth Plaza Premium Lounge in London Heathrow Airport, with other lounges located at Terminal 2 (T2)'s Arrivals and Departures; T3 Arrivals; T4 Arrivals and Departures.
Open to: Any paying customers as this is a paid lounge. It is open daily from 0500 to 2200 and travellers can book in advance or walk in on the day.
Emirates Lounge, Terminal 3
Located near gate 7 of Terminal 3, the Emirates lounge has recently been renovated and expanded to 1,025 square metres, with seating for 260 people.  The lounge has fantastic floor to ceiling views of the runway, as well as a restaurant area, computer workstations, shower facilities with Timeless spa products and a prayer room. The food menu includes salads and appetisers, soup, hot buffet options, a variety of cheeses and desserts such as Eton mess from the patisserie.
Open to: Emirates First and Business Class passengers as well as Emirates IO, Emirates Skywards Platinum/Gold members and Qantas Frequent Flyer Platinum One/Platinum/Gold travelling on Emirates.
Singapore Airlines SilverKris Lounge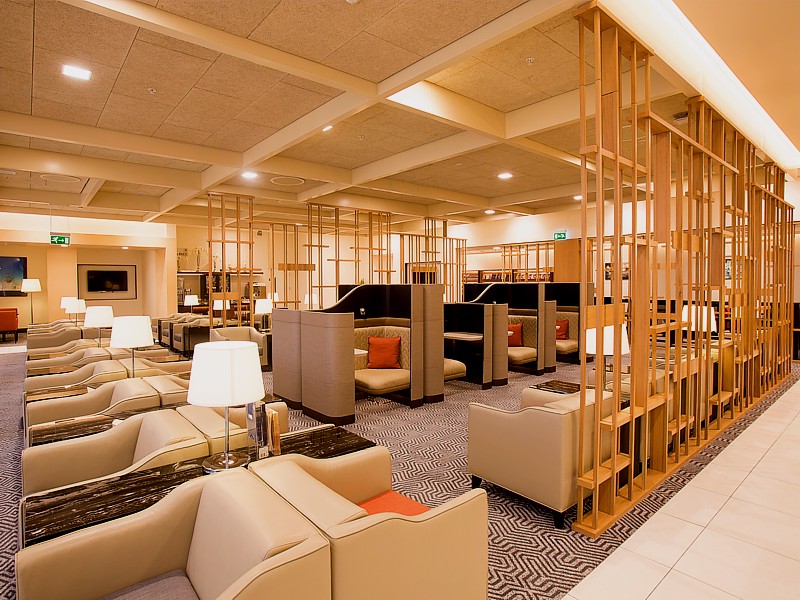 The SilverKris Lounge is located at Terminal 2 close to departure gate B36. As you enter the lounge you'll be welcomed by a signature batik screen – a feature that makes an appearance in Singapore Airlines lounges throughout the world. Designed by  interior design firm ONG&ONG, the lounge has separate areas for First and Business Class customers, with seating for 208 passengers. The First Class area is designed with a "home away from home" feel and has both a self-service buffet area and an à la carte offering, where five different menus operate throughout each day. The Business Class section boasts a bar area, an international self-service buffet and shower facilities.
Open to: Access for premium passengers of Singapore Airlines/Star Alliance plus SIA Krisflyer Elite Gold and Star Alliance Gold members. The lounge is open daily from 0530 to 2200 hours.
Malaysia Airlines Golden Lounge, T4
Situated just before Gate 6 at Heathrow Terminal 4, the Malaysia Airlines Golden Lounge is divided into two separate areas for both First and Business Class customers. If you're flying in First Class then you'll be able to dine from an a la carte menu and order a glass of Laurent Perrier champagne to start off your trip in style. This section of the lounge also features comfy high-backed armchairs, a self service buffet, a single shower room and two computer work stations. Over in the Business Class side of the lounge you have access to shower facilities, a self-service buffet and a bar, plus expansive views of the runway.
Open to: Travellers booked on a oneworld airline in either First or Business Class; oneworld Emerald cardholders and oneworld Sapphire card holders. The lounge is open between 03:00 and 21:30 daily.
United Airlines Club Lounge, T2
United operates out of Terminal 2, offering a United Airlines Club Lounge for Business Class passengers and Global First lounge for First Class passengers opposite Gate B46. The airline also has an arrivals lounge so you can freshen up when returning to Heathrow. The Global First lounge is tastefully decorated, featuring a circular a la carte dining room with and impressive display in the centre of the room. There's also a self service buffet with plenty of hot and cold snacks if you need to just grab something quick before your flight. Throughout this lounge you'll find plenty of seating options, including several daybeds and a TV room with sofas. Instead of installing cubicle-like bathrooms, United has opted for several individual bathrooms, which are very clean and feature Cowshed products. The United Club Lounge for Business Class passengers is incredibly spacious with plenty of seating, a long bar, and a self-service buffet.
Open to: United Club is open Star Alliance Gold passengers, premium passengers, and United Club members. Global First is open to United Polaris first class customers and those travelling in First class on a Star Alliance member airline.
Etihad Airways First & Business Class Lounge
The Etihad lounge is situated right under the SkyTeam lounge at Terminal 4 and features a children's play area, a small business area and a full-service bar. Waiter food service is available and there's also a buffet where you can help yourself to hot and cold food options. The highlight of this lounge is definitely the spa, which is run by Six Senses and offers a range of pampering treatments. Treatments are only complimentary if you're travelling in First Class or The Residence though, so if you're travelling in Business Class you'll have to pay for any treatments you book.
Open to: Etihad First and Business Class passengers, elite Etihad Guest members and Air Astana premium class passengers.
British Airways Galleries Lounges, T5
British Airways has a ton of lounges at Heathrow, with 6 lounges at Terminal 5 alone! Lounges at Terminal 5 are split across the North and South side of the terminal building, so make sure to find out your departure gate and choose the Galleries Club lounge that is closest to your gate. Inside the lounge you'll be treated to fine wines and champagnes as well as a variety of hot and cold snacks before your flight. When flying with BA in Club World you'll also be able to enjoy a complimentary treatment or skincare therapy in the Elemis Travel Spa before your flight.
Open to: Club World or First Class passengers, Gold and Silver BA Executive Club members plus equivalent Oneworld alliance elites.