The next step up from Business Class, First Class comes with added perks such as fancier champagne, complimentary pyjamas, wider seats and floor-to-ceiling doors. While Business Class cabins usually features seats that convert into fully flat beds, some First Class cabins have private suites with standalone beds and floor-to-ceiling doors that offer you complete privacy in the skies.
If you're thinking of flying First Class from the UK, here's a complete guide to all the lounges and products available:
Airport lounges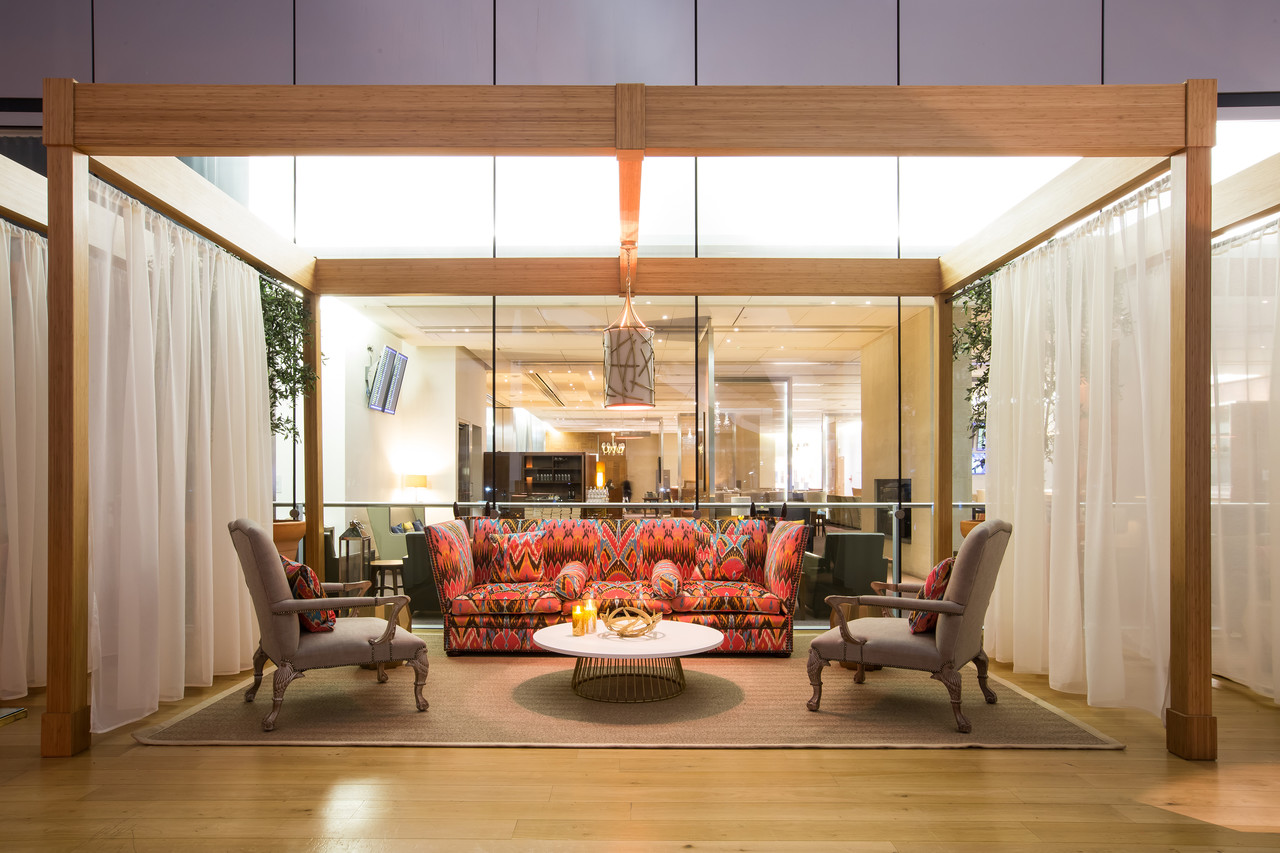 Gatwick
British Airways also has a First and Club lounge at Gatwick South Terminal, which has separate areas for First and Business Class customers. The First lounge has both a buffet and waiter menu, with dishes changing based on the time of day. Seating includes high back chairs in pink fabric and tan leather, along with casual armchairs in a variety of fabrics and colours. There's also a business centre with  work spaces, two computers and printer, along with free WiFi throughout the lounge.
Heathrow
At Heathrow Terminal 5 you'll find the British Airways Concorde Room – an opulent lounge dedicated to First Class customers only. the lounge features chandeliers, luxury seating and private booths with full waiter service and a la carte menu from Executive Head Chefs Frank Coughlin and Errol Figueroa. The Concorde Room has only recently been refreshed with a new interior that has been inspired by the very of British design. BA also offers a Galleries First Lounge with elegant surroundings, waiter service and a complimentary work zone equipped with printers, copiers and fax machines.
Other airlines offer lounges that are used jointly by First and Business Class passengers.
First Class airlines from the UK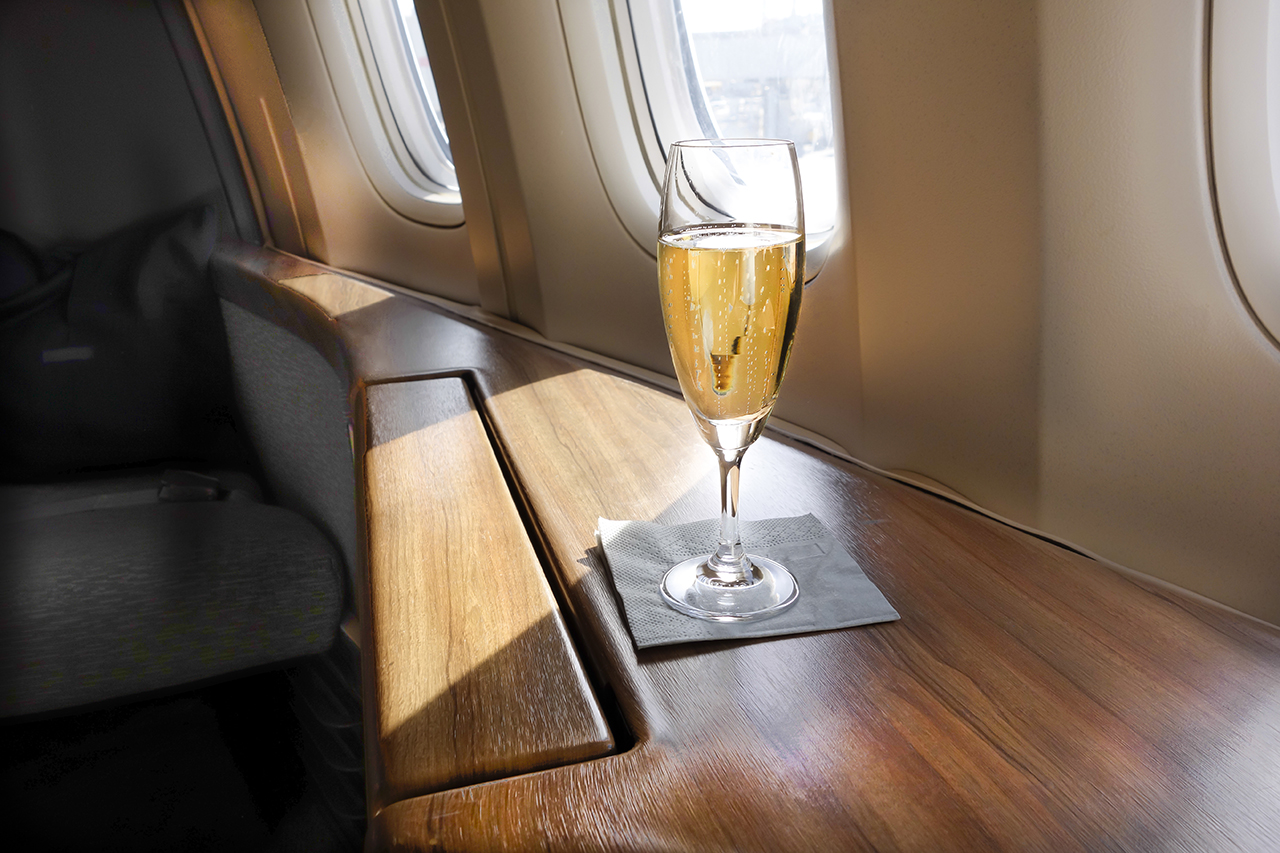 British Airways
BA's First Class cabins usually have 14 seats, although the 787 Dreamliner has eight. As a First Class customer you receive a Liberty London amenity kit filled with Aromatherapy Associates essentials as well as a pair of comfortable pyjamas to sleep in. At Heathrow Airport Terminal 5 the new First Class Wing at Heathrow boasts an enhanced, private check-in area, two exclusive security lanes, and a direct walkway that leads to the Galleries First Lounge and then the exclusive Concorde Room. Onboard the aircraft, First Class suites feature 15-inch entertainment screens and fully flat beds with a luxurious quilted mattress and crisp white cotton duvet. On the 787 the seats feature more storage space and larger entertainment screens that come with a touchscreen handset.
Emirates
Emirates utilises a mixture of Airbus A380s and Boeing 777-300ER aircraft. On the Emirates A380 First Class passengers can shower at 40,000 feet in the Onboard Shower Spas, which are stocked with a selection of Bvlgari toiletries and products from award-winning skincare brand VOYA. The superjumbo also features a revamped Onboard Lounge, which is designed for mingling with other guests while enjoying cocktails and snacks.
Meanwhile the Boeing 777-300ER features a new fully enclosed private suite that has been designed to look like the interior of a Mercedes-Benz S Class. Each suite features soft leather seating, mood lighting, floor-to-ceiling doors and a service hatch so passengers can order meals without being disturbed. Even if you're sitting in the middle suite you'll now have a view, since Emirates has invented "virtual windows" with HD projections of the outside world.
As a First Class passenger you'll receive complimentary Hydra Active Microcapsule pyjamas, designed to keep skin hydrated during the flight, along with an amenity kit containing luxury skincare essentials and Bvlgari perfume.
Singapore Airlines
A world of luxury awaits you onboard Singapore Airlines First Class. The airline is known for offering an exceptional service and luxurious suites that make you feel like you have your own private bedroom in the sky. Older First Class Suites feature 35 inch-wide seats upholstered in the finest grade full-grain leather with mahogany trimmings. Newer First Class suites feature ultra-wide seats with diamond-stitched leather, sculpted headrest and extended, curved partitions. When transformed into a fully flat bed, the seat is dressed with linen, pillows and a duvet to make you feel like you're sleeping in your own bed at home. A highlight is Singapore Airlines' "Book the Cook" service, which allows you to pre-order from a huge selection of main courses up to 24 hours before your flight.
Etihad Airways
With Etihad First Class you don't just get a seat, you get an entire apartment. First Class Apartments on the A380 feature a large leather armchair and separate bed of 6 feet and 10 inches. There's even space to walk around and change your clothes after closing the privacy doors. There's a vanity unit with full-lit mirror so you can do your makeup, plus a full-length wardrobe so you can hang up your business suit. Between First and Business class you'll find an onboard lounge called "The Lobby", which has been inspired by intimate spaces found in boutique hotels.
If you're not flying on the A380 then you'll experience Etihad's First Class suites, which feature seats that convert into 6-foot 8-inch fully flat beds, along with personal wardrobes and refreshments cabinets. Etihad's amenity kit is designed by Christian Lacroix and contains skincare products from from luxury Hungarian brand Omorovicza, developed in a Nobel prize winning laboratory.
Qatar Airways
Qatar Airways has invested most of its money into Business Class but you can still experience First Class on the A380. First Class seats are incredibly spacious, converting into fully lie-flat beds with Frette linen and a duvet. You'll receive a Brics amenity kit packed with goodies, plus a pair of pyjamas designed by luxury British retailer, The White Company. Qatar Airways allows you to dine on demand, so you can choose to eat at any time during the flight.
Qantas
Qantas provides a complimentary chauffeur-drive service to and from the airport for First Class customers, along with access to the Qantas First and Business Class lounge at Heathrow. Your seat reclines into a fully flat bed with luxurious pillows, blankets, a duvet as well as a sheepskin mattress. There's also an ottoman so that you can invite a guest to dine with you or chat during the flight. All meals are designed by Neil Perry and you'll have the choice of either an eight course tasting menu or a la carte selections. Entertainment screens are 17 inches on the A380 but only 10,4 inches on Qantas' B747 aircraft.
Cathay Pacific 
Each Cathay Pacific First Class suite is padded with soft leather and comfortable fabrics, and features a seat that can be easily adjusted with a 4.3″ touchscreen controller. The seat transforms into one of the widest fully flat beds in the sky, with a thick mattress and 500-thread-count cotton duvets, pillows, and cushions. New features being progressively rolled out across the fleet include a Do-Not-Disturb service button, a Wake-Up Call service and larger entertainment screens measuring 18.5 inches.
When it comes to First Class dining, Cathay Pacific often partners with Michelin-starred chefs from renowned hotels and restaurants around the world. The menu features International and Chinese influences and you can dine whenever you like during the flight.
You'll be supplied with a 100% organic cotton sleep suit, eyeshade, and soft slippers, tailored with touches of modern Chinese styling, as well as an amenity kit containing luxurious toiletries from Aesop.
Lufthansa
Lufthansa's First Class is consistently voted one of the best in the skies and it's clear why. If you're flying from the UK then you'll have a stopover in Frankfurt, where you can relax in the airline's swanky First Class Terminal. The terminal is packed with facilities including relax chairs, quiet rooms with day beds, spacious bath and shower rooms, a Cigar Lounge and a bar with more than 130 different varieties of whisky. When it's time to board the plane you'll be whisked across the tarmac in a limousine, giving you the full VIP experience. Onboard the aircraft you'll be able to kick back and relax in a seat that transforms int a two-metre-long bed with a comfortable mattress topper and temperature-regulating duvet.
Thai Airways
On Thai Airways the First Class cabins vary depending on the aircraft you're flying on. On THAI's Airbus A380s and newly remodelled Boeing 747s, you'll enjoy a spacious semi-private suite nearly 8 feet long equipped with a 23-inch entertainment screen. Seat width is a generous 23 inches on the new-model Boeing 747s and 27 inches on the Airbus A380s.
Boeing 747s and Airbus A340s offer luxury pod designs, fitted with 180-degree lie-flat beds measuring 21 inches wide and offering nearly 7 feet of space between each Royal First seat.
THAI treats all First Class passengers to the grandeur of caviar service, accompanied by various garnitures. At Bangkok's Suvarnabhumi Airport airport you can relax and unwind by enjoying a 'Touch of Silk' full body oil massage or full body Royal Thai Massage before your flight.
Air France
When transferring at Paris Charles de Gaulle airport you'll have access to the La Première lounge, where you can enjoy a fine dining experience with meals designed by celebrity chef Alain Ducasse. In the Biologique Recherche center, enjoy personalized spa treatments, including special facials and body treatments. The First Class cabin features soft leather, suede, textile fabrics with a tweed trim, subtle wood and metallic finishes to give a luxurious feel. Each suite has a large seat, an individual cloakroom, storage space, a bedside lamp and an ottoman so you can invite someone to join you. Most aircraft types feature a 24-inch entertainment screen, although some feature 10.4 inch entertainment screens. A French-style dining service enables you to try gourmet cuisine from Michelin starred chefs served on a white tablecloth and table set designed by Jean-Marie Massaud.
All Nippon
ANA's First Class features a square suite with high panel walls and contemporary wood tones. Inside the suite you'll find a 23-inch entertainment screen, two reading lights and storage space for jackets and shoes. You'll be provided with a Samsonite amenity kit containing "The Ginza Cosmetics" skincare products, plus a set of grey, eco-friendly pyjamas with a relaxed and comfortable fit. Your seat converts into a lie-flat bed with bed pad, comforter, pillow and blanket.
Japan Airlines
With JAL you'll receive an amenity kit by Italian brand ETRO, along with relaxing lounge wear and slippers. The JAL First Class Suite is a fully enclosed space with woodgrain interior, large leather seat, ample storage space and a 23-inch entertainment screen. When it's time to sleep you have a choice of soft or hard "airweave" mattress cover which perfectly supports your waist and provides ideal lying posture. Everything is inside the console, including a storage compartment, controller for inflight entertainment, and a laptop power brick. From January 1st 2018, JAL will is serving Louis Roederer "CRYSTAL" Champagne 2009 in First Class on international flights. The airline also serves a choice of Western and Asian meals and original chocolates produced by Jean-Paul Hevin.
Oman Air
Oman Air offers six suites in First Class and an exclusive lounge area that makes you feel like you're flying in a private jet. The First Class Mini Suite features a lie-flat seat with built-in massage system and a massive 87-inch pitch. Each suite also features stowage for hand luggage, dedicated space to hang a coat and a huge 23-inch video monitor. Inflight meals can be selected prior to departure with the airline's "Service by Design" concept, plus you'll receive a complimentary chauffeur-driven car to and from the airport.
Jet Airways 
Jet Airways treats First Class customers to a five-course meal, handpicked wines and a glass of Bollinger La Grande Année champagne. Each private bedroom features a wardrobe and fully flat bed with mood lighting, along with a 23-inch flat screen TV for watching movies.
SWISS
If flying with SWISS you'll transfer at XXX airport where you'll be able to kick back and enjoy a multi-course pre-flight dinner in the First Lounge. The First Class cabin features individual mini suites with comfortable armchairs that can be adjusted for firmness. A veneered oak table and ottoman allow you to dine with a companion opposite and when it's time to sleep your seat becomes a horizontal bed. Other perks include pyjamas by Zimmerli and an inflight amenity kit containing La Prairie products. Unique Swiss touches to the dining menu include Sprüngli chocolates, Swiss Birchermüsli and Balik smoked salmon from Toggenburg.
Ready to fly First Class from the UK? Let our SkyClub experts assist you in finding the very best prices for your journey. We have over 20 years of experience arranging flights for individuals, businesses and corporate customers. Just call 0207 255 1234 for assistance.