When flying Business Class with US carriers, the service and seating can vary considerably according to the route and aircraft type you're flying on, so it's best to do your research before you fly so you know what to expect. With global carriers such as Emirates and Etihad providing Business Class that feels more like First, the Business Class offering on US carriers doesn't seem quite as glamorous, but it still comes with perks to make your journey that bit more comfortable.
International long-haul flights and transcontinental flights between the east and west coasts of America tend to offer seats with significant recline and legroom, along with better service overall. Business Class on ordinary domestic flights tends to be a little less exciting, perhaps offering spacious angled-flat seating but not a lie-flat option. While international and transcontinental tickets usually grant access to airport lounges, flying domestic doesn't necessarily guarantee this privilege.
So let's take a look at what Business Class flights in the USA have to offer.
American Airlines
The American Airlines Business Class seat on international flights has a slimline profile for more legroom and converts into a 6'4" lie flat seat. It also has controls for lumbar support, footrest and the six way leather headrest so you can mould the seat the way you want. Boeing 767 flights to or from Europe are equipped with 10-inch Samsung Galaxy tablet screens, while all Business Class cabins have non-stop entertainment of films, TV, CDs games and audio channels. If you need to conduct business during the flight there's a laptop power port and satellite phone so you can create your own personal office in the sky. You'll also be given a soft comfort duvet, plush pillows, slippers, an elegant amenity kit and Bose QuietComfort 15 Acoustic Noise Cancelling headphones.
On domestic flights your Business Class ticket gives you extra legroom, Bose noise cancelling headphones and individual powerpoints for charging laptops.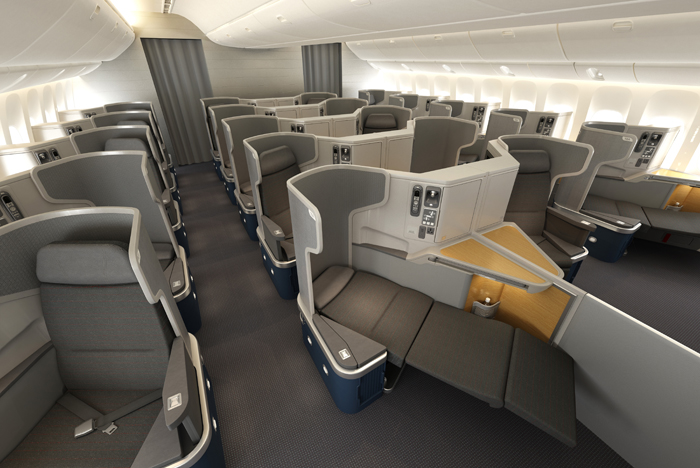 United Airlines
United has two Business Class products for domestic and international flights.
United Business is available on flights to Canada, Latin America, the Caribbean and Guam, along with flights between Hong Kong and Ho Chi Minh City, Singapore and Tokyo. The Business Class cabin features spacious seating with complimentary blankets, although the inflight entertainment varies. You'll receive a pre-departure beverage prior to take-off, meals on flights longer than two hours and complimentary beverages throughout the flight. At the airport your ticket includes 'Premier Access' check-in, baggage handling, boarding and security lines but not access to the airport lounges.
Meanwhile United BusinessFirst is available on most flights to Africa, Asia, Europe, India, the Middle East, South America and the South Pacific, and flights between Tokyo and Bangkok, Seoul, Singapore and Taipei. Onboard amenities include a complimentary amenity kit featuring premium skincare products, a complimentary duvet and pillow, noise cancelling headsets and illuminated seat controls for easy adjustment in a darkened cabin. All 747, 757-200, 767 and 777 aircraft are equipped with 180-degree flat-bed seats, USB ports and 15.4-inch video monitors packed with on-demand entertainment. There's a laptop power source at every seat, and passengers are provided with complimentary newspapers and a complimentary copy of the airline's Hemispheres magazine.
Service-wise you'll receive a pre-departure beverage and a hot towel service, while meals include an appetiser, salad, and choice of main course. For dessert you can choose from a selection, including fresh fruit, cheese, port and after-dinner liqueurs. Complimentary beverage options include cocktails, beer, international wines and freshly brewed coffee.
As a BusinessFirst customer you have access to the United Arrivals Lounge in select locations, as well as access to United Club and Star Alliance member lounges.
Delta
Delta's long-haul BusinessElite product is available on long international flights, as well as transcontinental flights on the coast-to-coast trek between New York JFK and Los Angeles, San Francisco or Seattle. On these Business Class flights you benefit from expedited security, priority boarding and priority baggage service, in addition to the more comfortable onboard amenities. If you're flying internationally, you also have access to the network of SkyTeam lounges with your ticket.
The seating varies according to the aircraft type, from a 150-degree recline right the way through to 180-degree flat bed seats. Every seat is made up with Westin Heavenly in-flight bedding, which includes an oversized plush white comforter and hypoallergenic, down-alternative pillows, plus a lumbar pillow on flights longer than 12 hours.
The flat-bed seats are currently available on select aircraft on select routes, although the airline is working to add more flat beds to its fleet. These seats are fitted with an electrical outlet and USB port, so you can keep your electronics charged during the flight. Not only do these seats offer 180-degree recline, they also allow direct aisle access, more privacy and oversized personal entertainment screens filled with on-demand TV, films and music.
The amenity kits are created by Tumi and feature an abrasion-proof ballistic nylon fabric case packed with goodies from New-York based apothecary MALIN + GOETZ. These include Neroli Hand & Body Lotion, lip moisturiser, earplugs and a Tumi eye mask to help you settle in during the journey.
When it comes to dining, Delta offers gourmet, multi-course menus designed by celebrity chefs, with some local flavours on select flights. Meals are made with fresh, high-quality ingredients and are paired with wines endorsed by Master Sommelier Andrea Robinson. On Transcontinental flights the three-course meals include an antipasto plate, entree and dessert course from Napa Valley-based chef Michael Chiarello. If you wish to sleep during the flight or just catch up on emails, you can request the expedited meal service to receive your full meal right away.
On ordinary domestic flights within the US you get to experience Delta's Skypriority services such as speedy check-in, accelerated security and baggage handling, priority boarding and an exclusive reservation line, but a Business Class ticket doesn't guarantee you access to the airport lounges.
You get roomier seats with pillows and blankets, touchscreen entertainment plus in-flight Wi-Fi available for purchase. Complimentary meals and snacks depend on the duration of the flight.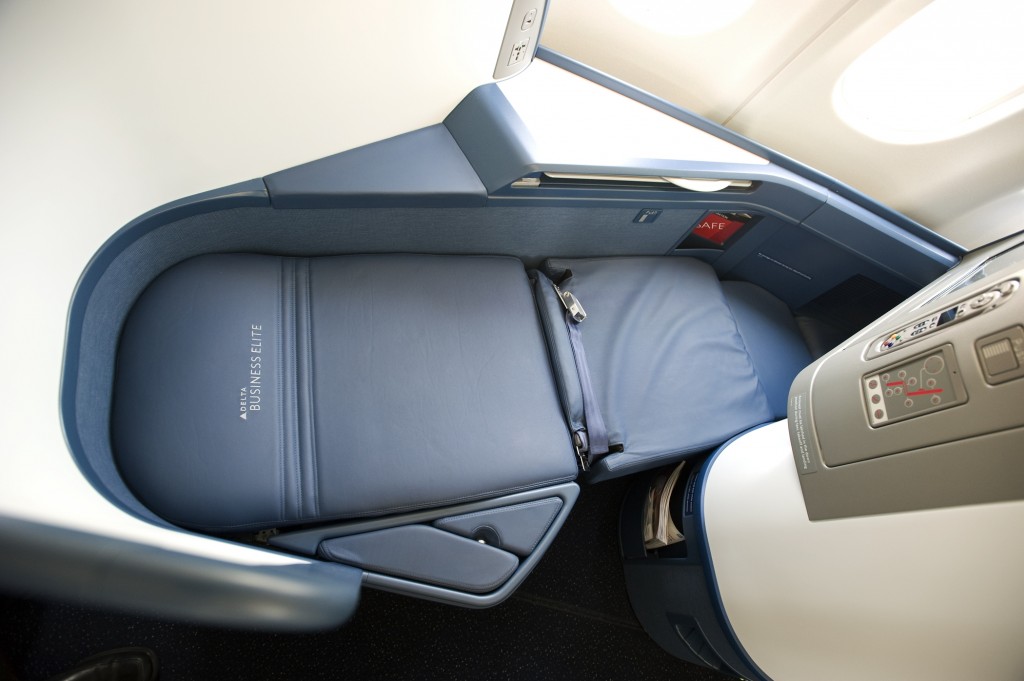 US Airways
The Business Class seating on US Airways largely depends on the aircraft, ranging from a near-lie-flat seat to a fully flat bed. The A330 is fitted with next generation seating, which can be experienced on flights between the US and Paris, London Heathrow, Madrid, Frankfurt, Munich, Manchester, Rome and Tel Aviv. Each seat reclines into a fully flat bed, offers direct aisle access and is angled away from the aisle for extra privacy. There's also in-seat entertainment, a standard 110-volt power outlet and USB port, so you can stay powered up during the flight.
On all Business Class flights with US Airways you can help yourself to fresh fruit and refreshments throughout the journey and the in-flight menu features a fresh take on American favourites. You can watch on-demand entertainment using Bose QuietComfort Noise Cancelling headphones, while the B757 and B767 aircraft come with Samsung Galaxy Tab devices.
The amenity kit comes in a stylish reusable tote with socks, eye shades, ear plugs, a toothbrush and toothpaste. It also comes with luxury products from New York-based company Red Flower, such as ocean-scented moisturising lotions and Italian blood orange lip balm. The company is known for environmentally conscious products made with locally sourced and organic ingredients.
Flying Business Class also comes with a range of perks such as dedicated check-in counters, priority boarding and handling, and day-of-departure access to US Airways clubs. Passengers have access to arrival lounges in Amsterdam, Frankfurt, London Heathrow and Manchester, plus they can also make use of departure lounges in Amsterdam, Athens, Barcelona, Brussels, Dublin, Frankfurt, Glasgow, Lisbon, London Heathrow, Madrid, Manchester, Munich, Oslo, Paris, Rio de Janeiro, Rome, Tel Aviv, Venice and Zurich.