The cheapest business class flights to Singapore from London we found for a client in the past month were for an amazing £3,459 return. To get today's best price simply complete the form on this page and we'll get back to you quicker than you can say Buddha's teeth!
Flight time from London to Singapore: 12 hours 40 minutes
Airlines with Business Class Flights to Singapore from London: Singapore Airlines, British Airways, Norwegian
Airports in Singapore: Singapore Changi
Distance from London to Singapore: 6,749 miles
Business Class flights to Singapore
Several airlines have direct business class flights to Singapore from London, including Singapore Airlines, British Airways and Norwegian. Singapore Airlines is the country's national carrier and is known for its award-winning Business Class service.
Singapore Airlines utilises both A380s and 777s on the route from London Heathrow to Singapore. The new A380s feature a brand new Business Class seat hand stitched with full grain leather by Poltrona Frau. The seat reclines into a fully flat bed and features an 18-inch entertainment screen for watching movies. Centre seats have a privacy divider that spans the full length of the seat, which can be fully retracted so that the two seats can be joined to create a double bed for two people.
The older A380s feature one of the widest seats in the skies at 34 inches, wide enough to fit two people sitting side by side. Singapore Airlines' retrofitted 777-300ERs feature a slightly newer Business Class seat that offers two new seating positions—the Lazy Z, a cradling position that ensures your weight is centered and balanced when you're sitting down, and the Sundeck, a lounging position that extends the base and foot of your seat so you can stretch and rest your legs on the ottoman.
Singapore Airlines is also known for serving some of the best cuisine in the skies; the airline's "Book the Cook" service allows you to pre-order dishes such as lamb chops or Lobster Thermidor  up to 24 hours before your flight.
Alternatively if you choose to fly with British Airways you'll experience the airline's Club World product, which features a fully flat bed with bedding from The White Company, along with a 10.4 inch entertainment screen. Perks of flying with BA include access to the Galleries Lounge at Heathrow along with a complimentary spa treatment in the Elemis Travel Spa.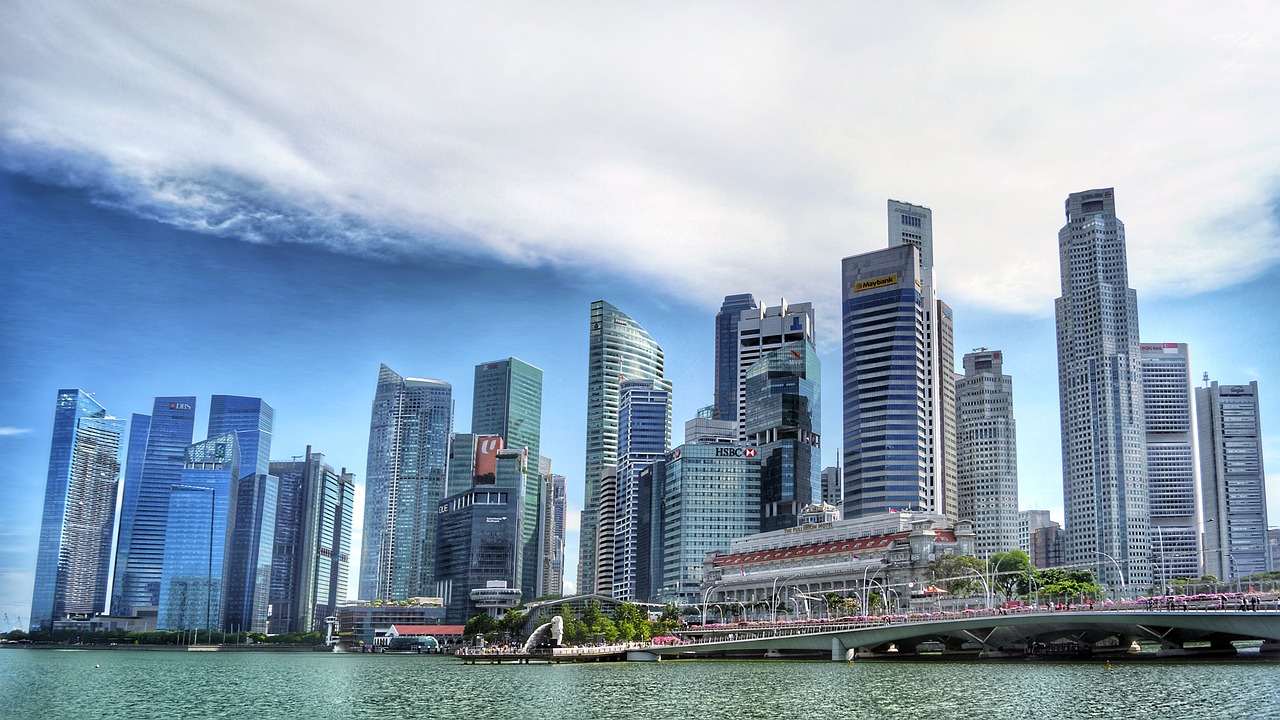 Getting to and from the Airport
When your business class flights to Singapore touch-down at Singapore Changi airport, you will find taxis waiting at arrivals. A ride to the city takes about 30 minutes and costs between $20 and $40. Fares are metered.
The train is also a really convenient and fast way to get downtown. The train station is accessible by foot from Terminal 2 or Terminal 3 – just follow the signs that say "Trains to City". Take the train to Tanah Merah station and then transfer to the westbound train. First train to Tanah Merah Station departs Changi Airport Station at 5.31am on Monday to Saturday and at 5.59am on Sunday and public holidays. Last train to Tanah Merah station that connects to the city departs Changi Airport Station at 11.18pm.
Public bus stops are also available at Terminals 1, 2, 3 and 4. Please prepare the exact fare as no change will be given. Alternatively, a stored-value EZ-Link card for multiple rides can be purchased from any Changi Recommends store or the Changi Airport train station.
Where to stay in Singapore
Match your business class flights to Singapore with a stay in its most famous hotel. Raffles is an elegant Colonial-style building that dates back to 1887. The famous "Singapore Sling" cocktail was invented in the hotel's bar, so even if you're not staying here, it's well worth visiting the hotel just to try one.
Another fantastic hotel is the Shangri La – a gorgeous 5-star hotel set amongst 15 acres of lush greenery near Orchard Road. The hotel is one of the best in the world, boasting numerous restaurants, including Waterfall Ristorante Italiano, which serves Southern Italian cuisine, and Shang Palace, which serves traditional Cantonese cuisine with a modern flair. Rooms are spread across three wings, including Tower Wing, Garden Wing and Valley Wing.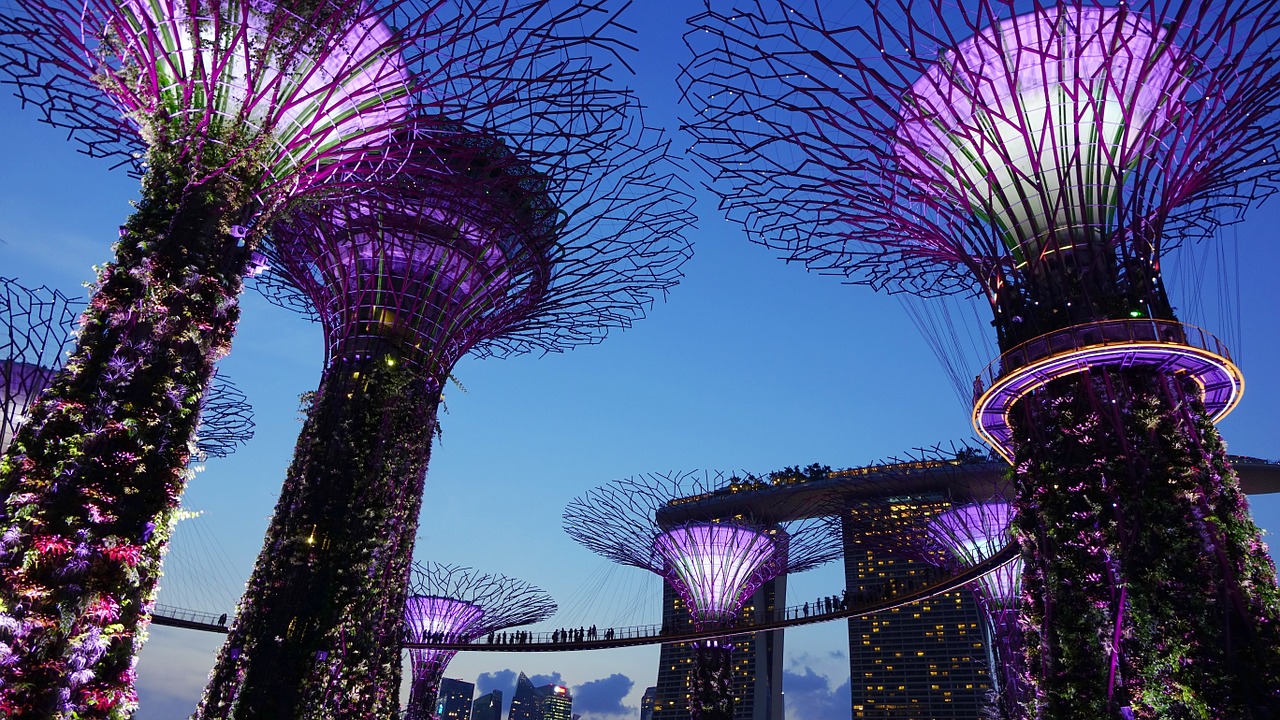 Things to do in Singapore
Singapore has no shortage off attractions, from slick shopping malls to man-made beaches and botanical gardens. Here are some of the top things to do in Singapore:
Gardens by the Bay – Entering Gardens by the Bay is a bit like walking into a scene from Jurassic Park – it's truly impressive, with several gigantic "Supertrees" greeting you as you enter. This nature park spans 101 hectares and is filled with tropical plants from around the world. A highlight is walking through the Cloud Forest, where you can take in the world's tallest indoor waterfall at 35 meters and descend through the surreal mist-filled Cloud Walk and Treetop Walk.
Sentosa – Singapore may not really have proper beaches to speak of, but the country does have its own man-made beaches. If you want to sunbathe and soak up the sun, then Sentosa is an island resort off Singapore's southern coast that features several nice beaches, including Tanjong Beach and Palawan Beach.
Hawker Centres – Hawker centres are basically indoor food courts serving a variety of very cheap and delicious local food. Definitely worth visiting if you want an authentic Singaporean experience and a chance to try dishes such as chilli crab and chicken rice.
Business Class Flights to Singapore, Practical Information
Your passport should be valid for at least 6 months from the date of entry into Singapore. There's no need for a visa if you're a British citizen travelling for business discussions or tourism purposes, as long as your visit is less than 90 days. The weather in Singapore tends to be quite tropical and humid, so pack light, summer clothing such as shorts, T-shirts and dresses.
To get the best cheap Business Class flights to Singapore, simply complete the form on this page or call 0044 207 255 1234 to speak with one of SkyClub's fast and friendly experts.
We will find you special, discounted fares that are not available online. So, by the time you take your business class flights to Singapore, you'll feel happy knowing that you've paid less than the person seated nearest to you! Have a great trip and – if you want to save money – please book with SkyClub.
Further Information:
Visiting friends and family in style – Discounted business class at the last minute