One of the true luxuries of flying First or Business Class is having a complimentary chauffeur driven car to whisk you to the airport. No worrying about carrying hefty baggage through London tube stations or checking your phone wondering if there's an Uber nearby. With a pre-booked chauffeur service you're able to make it to the airport stress-free in a luxury vehicle for that true VIP experience. Of course, not all airlines offer cars to the airport so here we've created a handy guide listing the airlines that do:
Emirates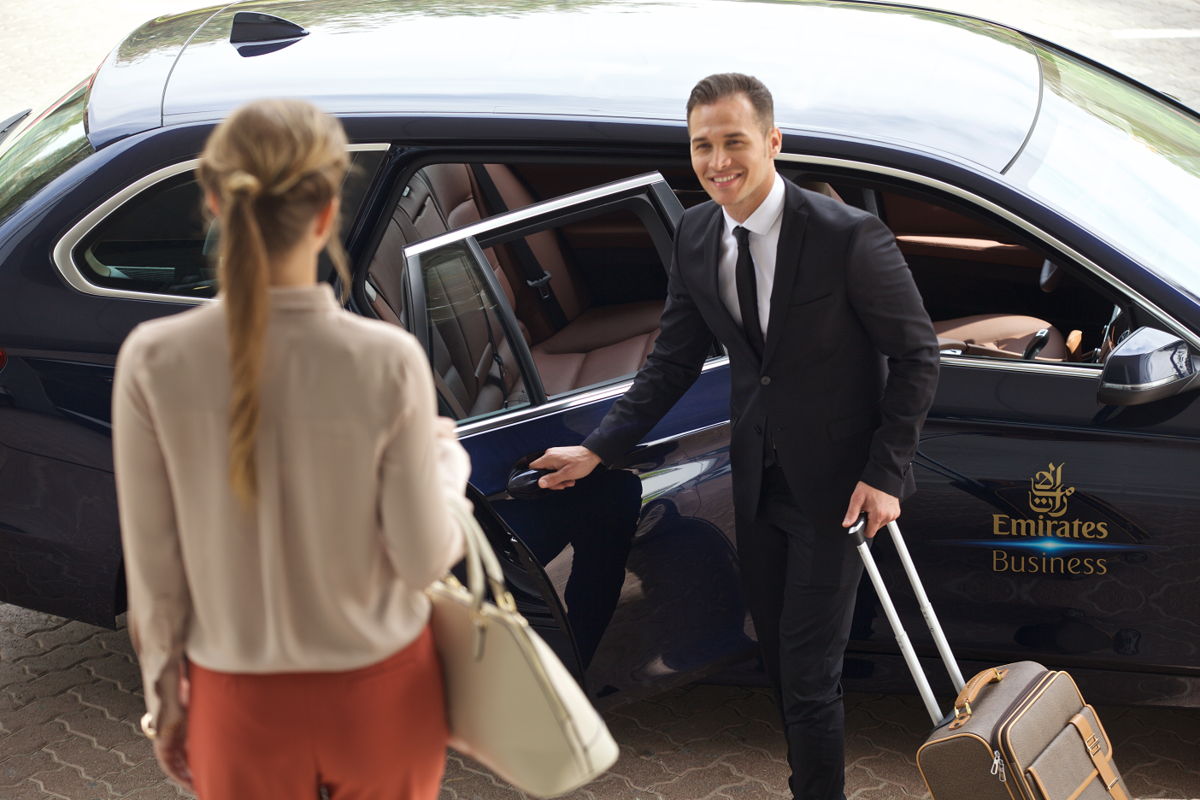 Emirates offers a car service for both First and Business Class customers in over 75 countries and has partnered with BMW for its fleet of luxury cars in the United Arab Emirates. If you're flying Business Class in the UAE you'll be whisked to and from your hotel in a BMW 520i Touring car by a suited and booted driver. The airline's latest 777 cabin products have also been designed to reflect the interior of a Mercedes Benz S-Class car, providing customers with a seamless VIP experience from start to finish.
Qantas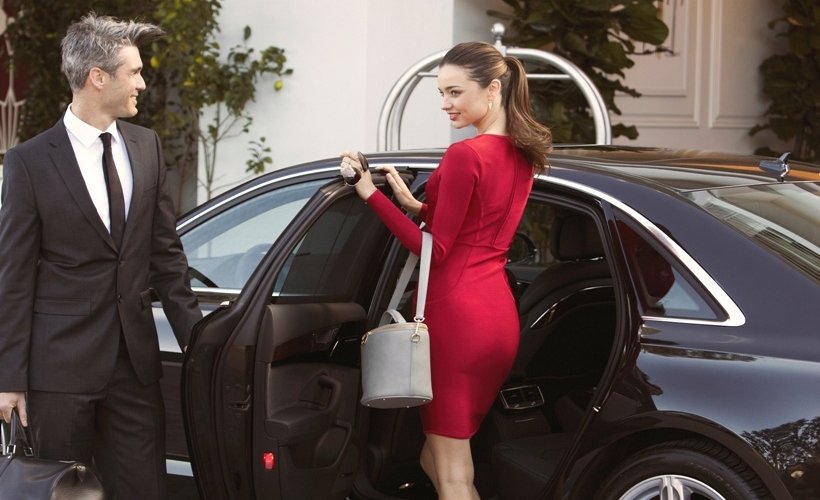 In addition to luxurious lounges, lie-flat beds and seasonal menus by Neil Perry, passengers travelling in International First and Business on flights between Australia, Dubai and London enjoy a complimentary car service to and from the airport. So for example, if you're flying on the new direct route from London to Perth you'll be collected in a luxury chauffeur driven vehicle and driven to the airport to meet your flight. On arrival at your destination, you will be met by another chauffeur service and driven to your hotel, office or home.
The service is available for International First and Business Class passengers on the following flights:
Sydney – Dubai – London
Singapore – London
Melbourne – Dubai – London
Perth – London
London – Dubai – London
Lufthansa/SWISS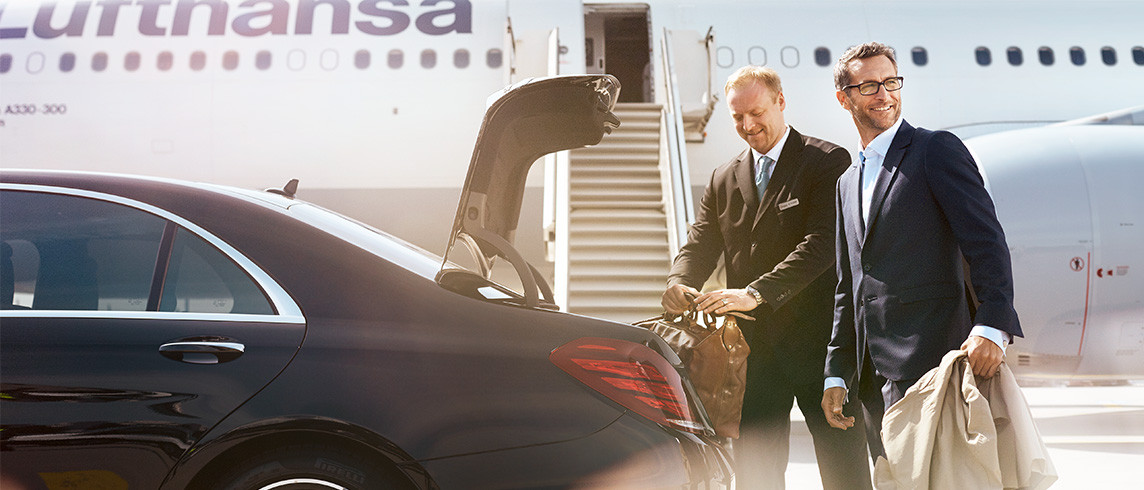 If you're travelling from the UK and Ireland and you've booked an onwards First Class ticket with Lufthansa or SWISS then you'll be treated to a complimentary limousine service to take you to the airport. The airline utilises CTW chauffeur driven limousines for London departures and Tristar for other UK airports. You must be within 50 miles from one of the selected airports and submit your booking request no later than 3 working days before the departure of the first flight segment. The service is also available if you've upgraded your ticket to First Class using Miles & More miles.
If you're flying in First Class from Frankfurt, Munich, Zurich, Geneva or Vienna you won't even need to walk to the plane: instead you'll be driven straight to your aircraft in a limousine or an exclusive minivan.
Etihad
Etihad actually discountinued its worldwide car service for First and Business Class customers back in July 2017, which is a shame, although you will still enjoy a complimentary chauffeur service on arrival and departure in the airline's Abu Dhabi hub. In Abu Dhabi the airline operates a full Mercedes Benz fleet – all you have to do is request a car up to 24 hours before your flight.
The airline said in a statement that many passengers prefer to make their own travel arrangements and therefore decided to cut the service in order to keep flight prices low and competitive.
Outside of Abu Dhabi, all other destinations now have paid-for options at negotiated local rates. This won't affect you if you're traveling in 'The Residence' though – guests travelling in The Residence onboard the flagship Airbus A380 fleet continue to receive complimentary chauffeur services at all A380 destinations – Abu Dhabi, London, Paris, Sydney and New York.
Virgin Atlantic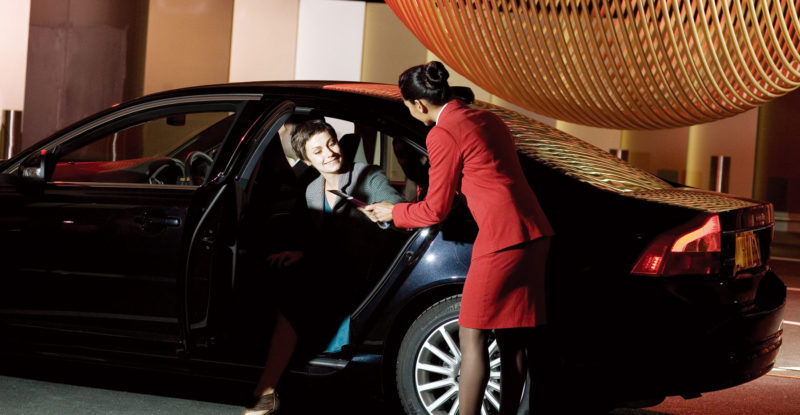 Virgin Atlantic doesn't have a First Class cabin, only "Upper Class", which is basically Business Class. The fact that Virgin Atlantic offers a complimentary chauffeur driven car for Business Class passengers is a real treat, since most airlines don't. You'll experience the VIP treatment from the moment you leave home with a pre-booked service that will whisk you to the Upper Class Wing at London Heathrow or right outside check in at London Gatwick. The chauffeur car service is complimentary for all J, D and C class bookings, with distances varying from location to location.
If you've used your air miles for Upper Class instead of cash then you can book a door to door car service from anywhere within 75 miles of London Heathrow, Gatwick or Manchester Airport for 17,500 air miles. The same goes for US airports.
British Airways
While BA doesn't offer a chauffeur drive service, the airline does offer a car service at Heathrow airport for First and Business Class customers who have tight connections. If you're at risk of missing your flight you'll be met by a customer representative and taken to your next flight in a luxury Jaguar vehicle. Somehow the thought of almost missing your flight doesn't seem like a bad thing after all…