In an age where more people are travelling than ever before, many of us are flying more frequently and becoming #avgeeks (aviation geeks). Even if you're not a plane spotter or an expert, you might still find yourself googling what aircraft type you'll be flying on before you book your First or Business Class flight. Many airlines are choosing to retire their older aircraft types and replace them with newer, next-generation models, so if you're faced with the choice of an older aircraft or a brand spanking new model with upgraded cabins, it's obvious which is going to be more appealing.
The Airbus A350 and Boeing 787 Dreamliner are being increasingly adopted by airlines, while the A380 is still a firm favourite due to its double decker configuration and space for ultra luxury cabins. But which is the best passenger aircraft in the skies? Let's take a closer look:
The Airbus A350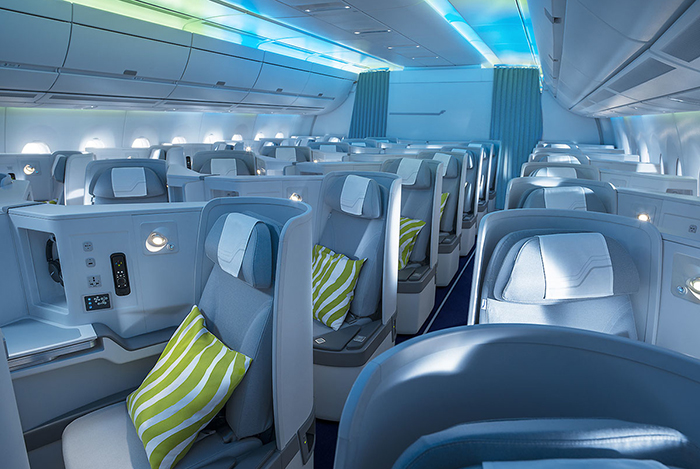 The A350 is the "newest" aircraft of the three listed here, offering the highest ceilings of any passenger plane and the best cabin pressure. The straight side walls and almost flat ceiling really do create a feeling of spaciousness when you're sitting in the Business Class cabin.
Just like the 787, both the fuselage and wing structures are made primarily of carbon-fibre-reinforced polymer, which means the aircraft itself is lighter and more fuel efficient for airlines than other aircraft types.
It's extremely quiet and has around 5% more humidity than the 787 Dreamliner. Fans of this plane also love the fact that it has a tail camera, which the Boeing 787 Dreamliner doesn't. Watching the scenery unfold as you take off and land is just as entertaining as watching the inflight entertainment.
The A350 also has more traditional pull down blackout shades, meaning you can block out more sunlight than you can on the 787. Since this aircraft is much newer, however, it also means that not as many airlines are currently flying it. At the moment you can try out the A350 on Asiana, Cathay Pacific, China Airlines, Ethiopian, Finnair, LATAM, Lufthansa, Qatar, Singapore, Thai, Vietnam.
If you like to fly First Class though you'll be disappointed, since current operators have chosen not to install First Class cabins on their A350s. If you want First Class, you'll need to opt for the A380 or Dreamliner.
The Boeing 787 Dreamliner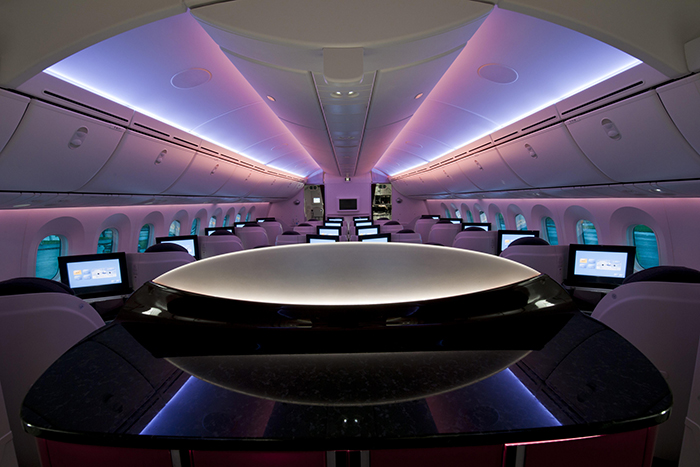 The major highlight of the Boeing 787 Dreamliner is the windows, which are around 65% bigger than standard airline windows. Not only this, they are electro-chromatically dimmable, which means that instead of pulling down a window shade, you can dim them at the touch of a switch. The overall feel is therefore one of more light, more space and more expansive, dramatic views. Travel on the Boeing 787 Dreamliner at sunset and the atmosphere is absolutely magical – just make sure you bag yourself a window seat. The downside to these windows is that the cabin is never truly pitch-black dark – the windows are always slightly translucent – plus things can get quite warm when the sun is coming through. This issue has led some airlines to install manual shades as well.
The 787 offers improved air pressure and humidity, helping to beat jet lag and ensure you'll arrive at your destination feeling much fresher than on older aircraft types. If you're curious about what it's like, check out our review of the Qatar Airways 787.
The Airbus A380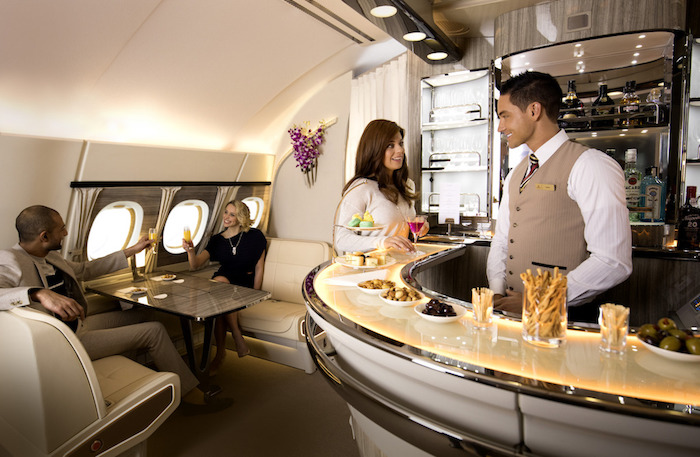 Still a firm passenger favourite, the A380 has both an upper deck and a lower deck, so airlines can choose to put First Class and Business Class customers all on one deck, or spread them across both decks. Many airlines – like Emirates and Qatar Airways – choose to have an onboard bar on their A380s, where guests can order cocktails and chat to their fellow passengers. "Shower spas" are another feature on some airlines, allowing premium passengers to take a shower at 35,000 feet. The aircraft is enormous and very spacious, plus movements feel very stable, so sometimes you'll barely even realise you're flying through the air in a metal tube. It's also incredibly quiet – definitely the quietest in the skies.
Of course what makes this plane so appealing for passengers is the sheer luxury available, particularly if you're flying Etihad, since the airline has opted for private First Class 'apartments' and a luxurious three-room suite called 'The Residence' – complete with living room, separate bedroom and ensuite shower room. Of course the downside of this aircraft is that you don't get the same cabin air quality as the 787 Dreamliner and the A350, plus it's not as fuel efficient or environmentally friendly.
So which is best?
If you're flying First or Business Class then the A380 can offer unprecedented levels of luxury, so if you're looking to try the most opulent seats in the skies, you might want to book a seat on the Etihad or Emirates A380. The A380 is awesome if you want extras like showers and an onboard bar. However if you're not too bothered about the extra frills and are planning to fly Business Class, we'd recommend the A350. This is definitely the newest aircraft to date, offering ultra-high ceilings, a quiet cabin and great air quality. The dimmable windows on the Dreamliner are like Marmite – some people seem to love them while others aren't so keen. If you want to enjoy beautiful vistas then they're great, but if you love watching movies then you might prefer traditional black out shades.
All three planes are fantastic though, so a First or Business Class flight in any of these three is definitely going to be an enjoyable experience.