The best cheap business class flights to Auckland we found for a client in the past month were for an amazing £2,289 return. To get today's best price simply complete the form on this page and we'll get back to you quicker than you can say Mission Bay Beach.
Average flight time from London to Auckland: 23 hours 30 minutes
Airlines with business class flights to Auckland from London: Air New Zealand, Emirates, China Southern, Malaysia Airlines, American Airlines, Qatar Airways, Korean Air and more.
Main Airport: Auckland Airport
Distance from London to Auckland: 11,411 miles
Business Class Flights to Auckland
Due to the distance from London to Auckland, there are no direct flights available. However there are a number of indirect business class flights to Auckland stopping in the US, the Middle East and Asia. Air New Zealand and American Airlines stop in Los Angeles, Malaysia Airlines stops in Kuala Lumpur, Emirates stops in Dubai, Qatar Airways stops in Doha and China Southern stops in Guangzhou.
Air New Zealand flies to Los Angeles and then Auckland with a Boeing 777 aircraft. Business Premier features 6′ 7.5″ lie-flat beds with memory foam mattress, fluffy pillows and duvet. Seats are arranged in a herringbone layout for direct aisle access and are equipped with 12.1″ entertainment screens with over 1400 hours of entertainment. If you're travelling with a companion, you can dine together by using the ottoman footrest, which doubles as a visitors seat. At London Heathrow you'll be able to use the Singapore airlines SilverKris Lounge and when transiting in Los Angeles you'll have access to the Star Alliance lounge at Tom Bradley International.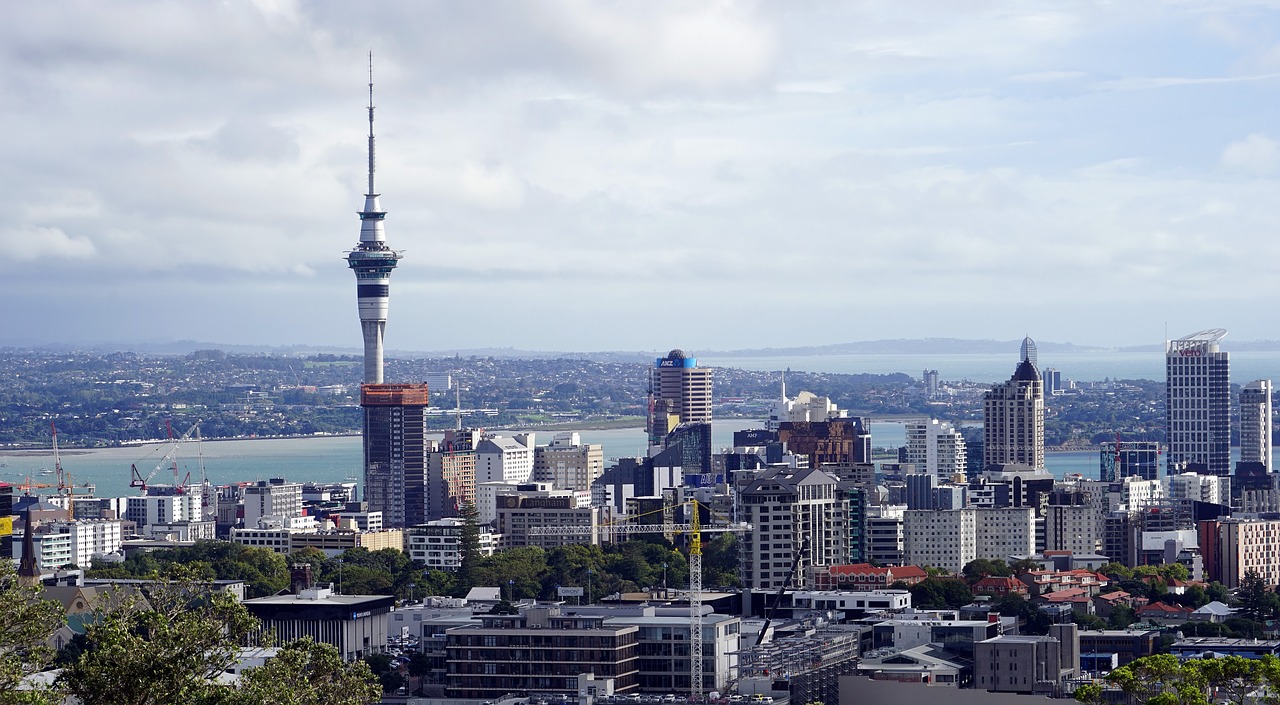 Getting to and from the airport
At Auckland Airport there are designated taxi ranks at arrivals outside door 8 at the international terminal and outside door 4 at the domestic terminal. You can pre-book online or over the phone, or you can pick one up when you arrive. Fixed fare prices cost from NZ$38 – NZ$75 one-way into the city and Auckland Airport charges a fee of $5 per pick up and $2 per drop off, which is included in the fare.
If you wish to take public transport, the SkyBus operates 24 hours per day, 365 days per year and will take you to the city centre. The journey takes roughly 40-60 minutes and there are two bus routes: one via Mt Eden Road and one via Dominion Road so there are plenty of convenient places you can catch the service.
Where to stay in Auckland
Why not compliment your business class flights to Auckland with a stay at the Hotel DeBrett, which comes highly rated on TripAdvisor. It is located in downtown Auckland linking two unique precincts – High Street's hip fashion and Shortland Street's tailored commerce. This stylish hotel only has 25 rooms, so it has an incredibly personal, boutique feel. If you're looking for a meeting place, the hotel's famous Art Deco inspired Housebar is a great place to enjoy a drink or two.
If you prefer to be located on the water, the The Sofitel Auckland Viaduct Harbour overlooks the glimmering Waitemata Harbour. This 5-star hotel has an understated elegance, with rooms offering floor to ceiling windows and private Juliet balconies that open up to either views of the city, a calming internal water feature or the marina.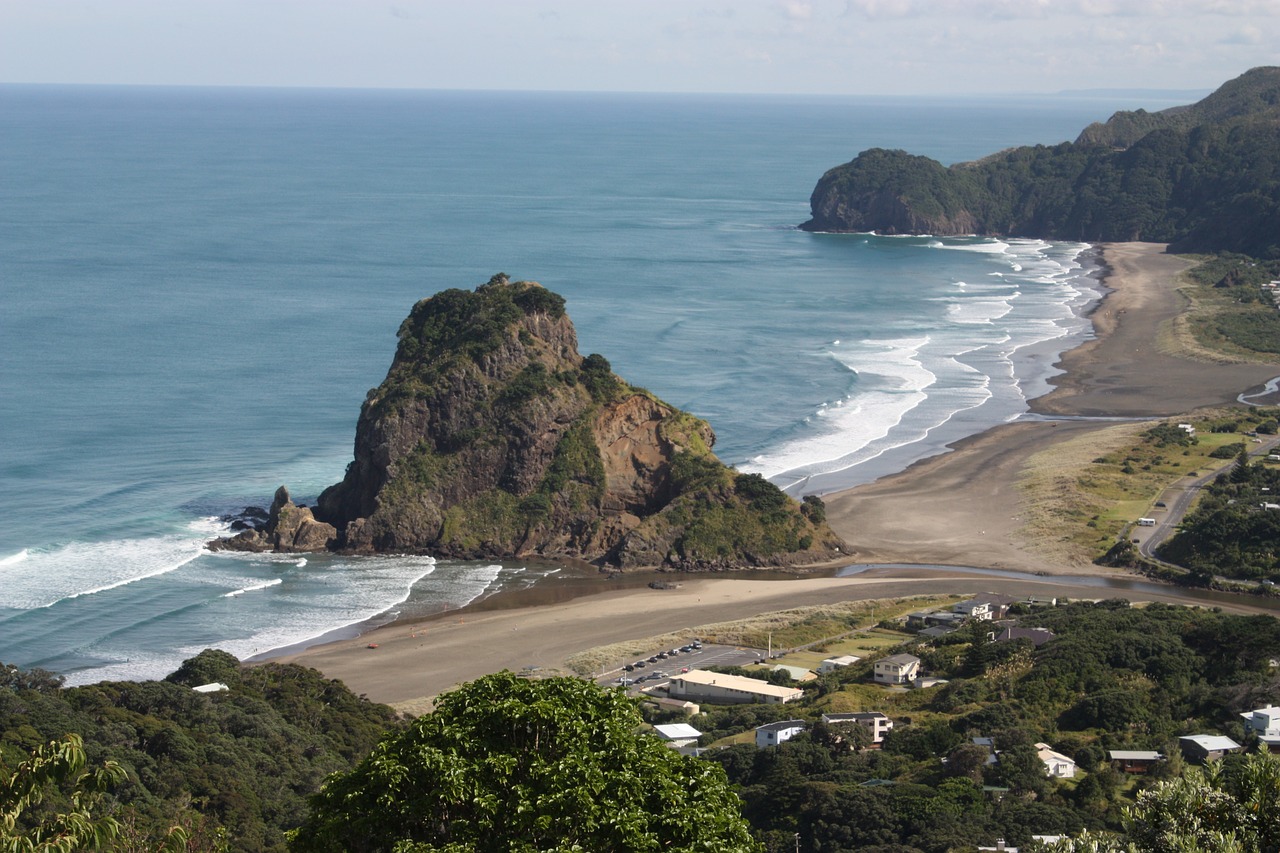 Things to do in Auckland
There's a good reason why you've just spent 23 and a half hours on your business class flights to Auckland. Known as the "City of Sails", Auckland is the gateway to New Zealand's north island and has so much more to explore than just the downtown area. The surrounding region has so many natural wonders, including volcanoes, rain-forests, hot springs, beaches and islands. Below are some of the highlights:
Sky Tower – New Zealand is famous for its bungee jumping, so if you're feeling brave enough, you can bungee jump from the Sky Tower and fall 192 metres towards the ground! If you're not so much of a daredevil, you can still enjoy spectacular views from this 328 metre-tall communications tower.
Hike Mount Eden – Mount Eden is a volcano with a 150ft deep crater and many visitors love to hike up here at sunrise or sunset for those picture perfect views of Auckland.
Waiheke Island – Just a 35-minute ferry ride from Auckland, Waiheke Island is filled with gourmet restaurants, cafes and wineries, making it a haven for food and wine lovers.
Practical Information
British passport holders can enter New Zealand as a visitor for up to 6 months on arrival without a visa. You must have an onward ticket and a passport that is valid for at least one month from the date of exit from New Zealand.  The country has very strict bio-security regulations – it is illegal to bring most foodstuffs in the country (meat and meat products, honey, fruit, dairy produce) and penalties are handed out to those breaking these rules. The UK government website says to take care when importing wood products, golf clubs, footwear, tents, fishing equipment and items made from animal skin.
To find your cheap Business Class flights to Auckland, simply complete the form on this page or call 0207 255 1234 to speak with one of SkyClub's fast and friendly experts.
We will find you special, discounted fares that are not available online. So, by the time you board your business class flights to Auckland, you'll feel happy knowing that you've paid less than the person sat next to you! Have a great trip and please, book with SkyClub.
Touch down destinations: